How's you're vegetable garden doing these days?
It's late September, hot, muggy, and how my garden's doing can be summed up by, "I forgot about my garden."
Every year, every single year, in the springtime I am positively giddy about planting a garden. Then after three crippling months of heat and humidity and weeds and vine borers, I just stop taking care of it.
HOWEVER
Despite all that, my eggplant is ending this season strong. As in, we left for vacation and came back to six almost ripe eggplants, and now there are two more. I guess inattention is exactly what the plant needed.
I plant eggplant every year for two reasons:
the blossoms are so lovely
eggplant parmesan
Aren't the blossoms just SO lovely?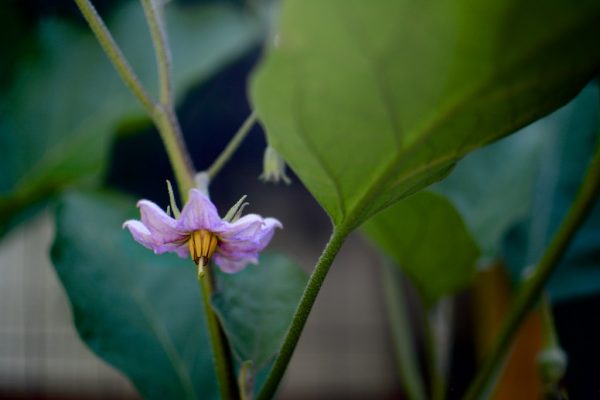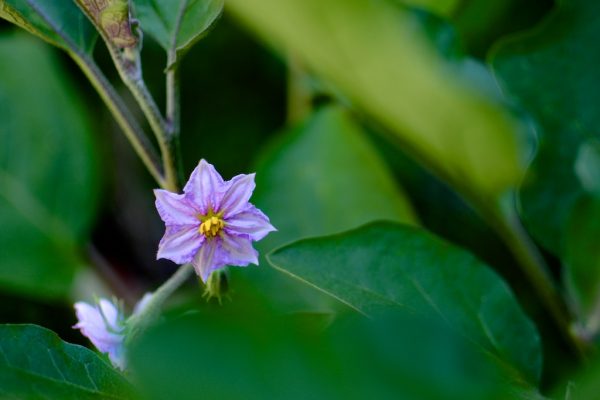 And eggplant parmesan, THIS eggplant parmesan is different than the breaded, a-little-bit-soggy dish you might be thinking of. It's more like an eggplant lasagna, maybe? Or eggplant parmesan if you skip all the work-intensive steps.
Eggplant Parmesan
I feel very very accomplished when several components of any recipe come straight from my backyard, probably similar to John Legend when he won the EGOT. This summer we grew eggplant, basil, oregano, tomatoes, and four children.
We did not grow the garlic or the cheese. But not bad anyway, hey? And four children!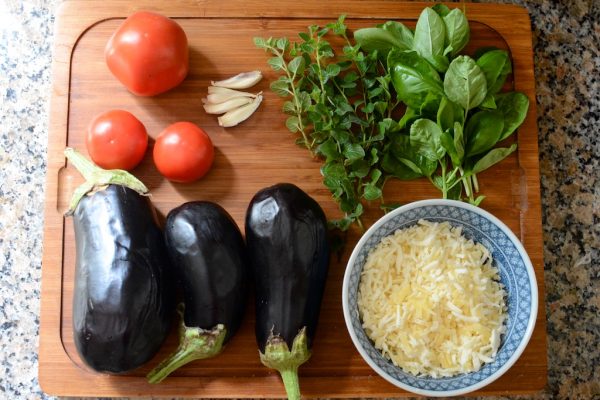 The first and most work-intensive step is to sweat the eggplant. This makes the eggplant more tender, flavorful, and reduces bitterness.
Slice the eggplant, and sprinkle with salt. I've always placed the eggplant in a single layer, but I recently stumbled up on this method, and I think I'll try that in the future because it looks a lot easier.
Let the eggplant sit in the salt for 20-60 minutes. You'll see beads of liquid coming out of the eggplant. Rinse, and pat dry.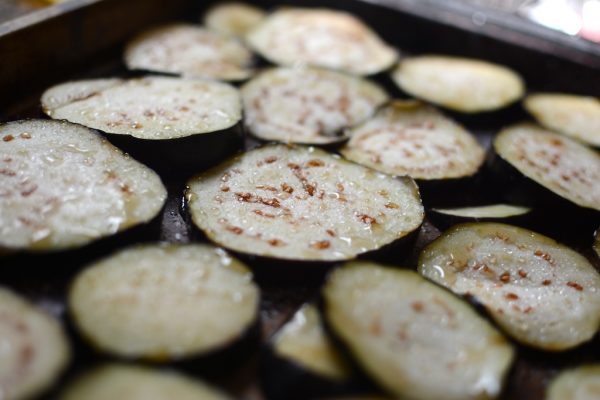 Next, arrange eggplant in a single layer, and drizzle with olive oil, minced garlic, oregano, and salt.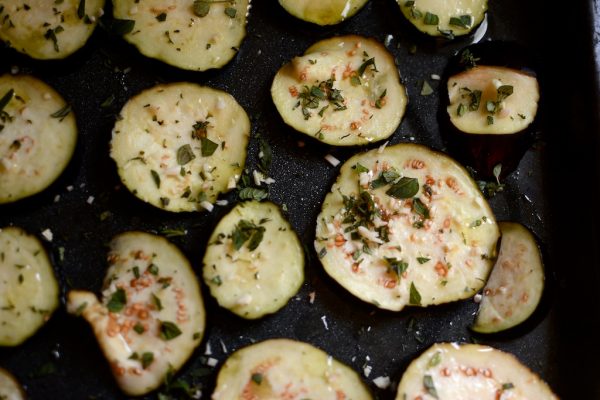 Bake until it looks beautiful and smells amazing. If you need to, taste-test a few pieces directly off the pan. Sometimes I cook extra because I know I'll plunder all the roasted, crispy pieces, as is the right of the person preparing dinner.
While the eggplant is baking, prep your sauce and cheeses.
(A quick note. Sometimes, if I have fresh tomatoes on hand, I slice a tomato and add it to the sauce because I like the texture and flavor it adds. Also, I've used that fake Parmesan cheese that you shake out of a can because I realize I forgot to buy the real stuff, and DON'T TELL ANYONE, but it turned out fine. I'm also usually heavy-handed with the cheese because I looooove cheese. Do no be afraid to switch up recipes to suit your preferences, especially a simple slam-dunk recipe like this one.)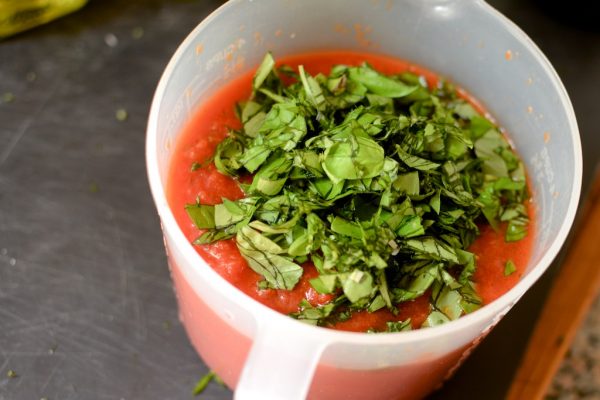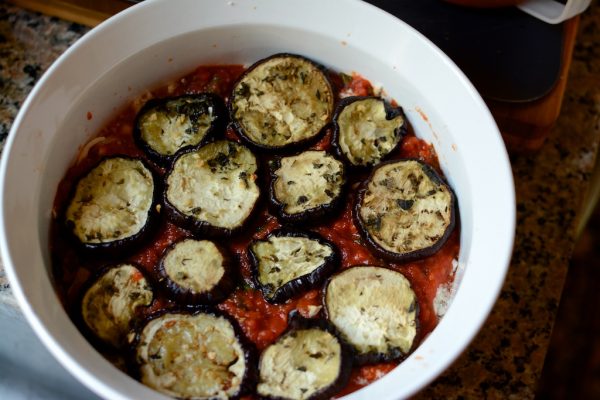 Next, layer the eggplant with sauce, cheese, and more sauce and more cheese, and it's ready for the oven.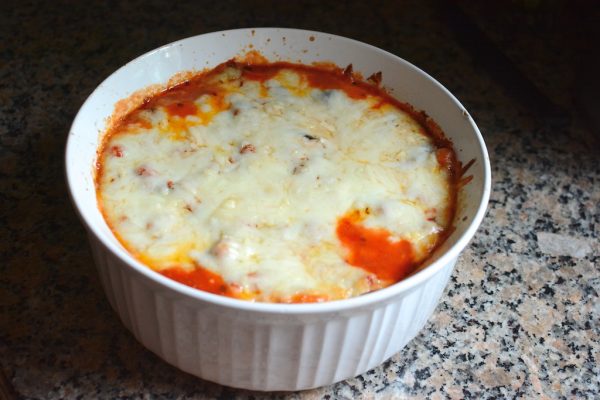 Someone please come teach me how to take appetizing pictures of saucy casserole-type dishes.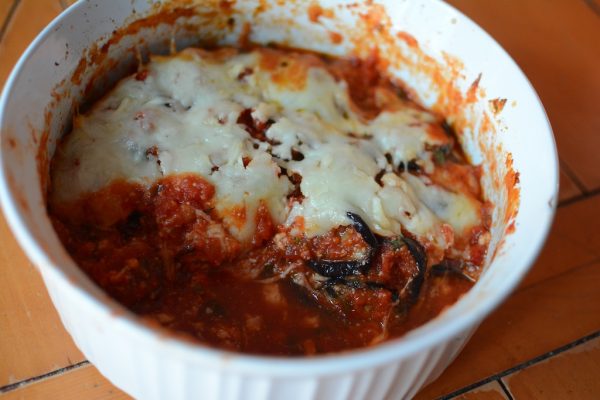 These pictures are reminiscent of pictures I took of a Hungarian wax pepper recipe. I've always looked back on those pictures with a side-eye because they look bleh, which is too bad because the recipe is WOW!
Here I am again with the same problem. I need a mentor.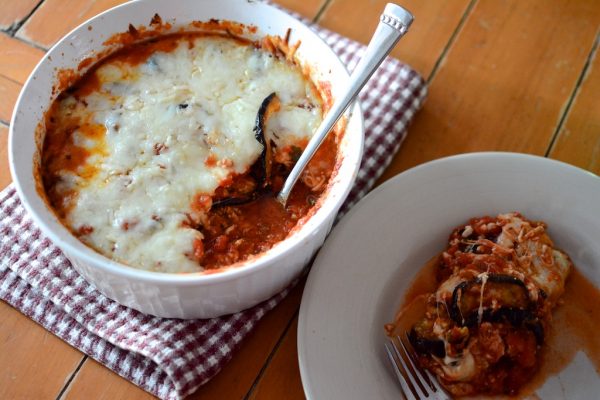 For the gluten eaters, I serve the eggplant over a bed of pasta. That's Tom's plate below. His fork is in mid-air because he could not would not wait for me to take a photo. Rude.
(For my kids, I give them pasta and spoon out some sauce. Then I give each child one eggplant slice and tell them that we'll pay the college tuition of any child that tries the eggplant. It hasn't worked yet.)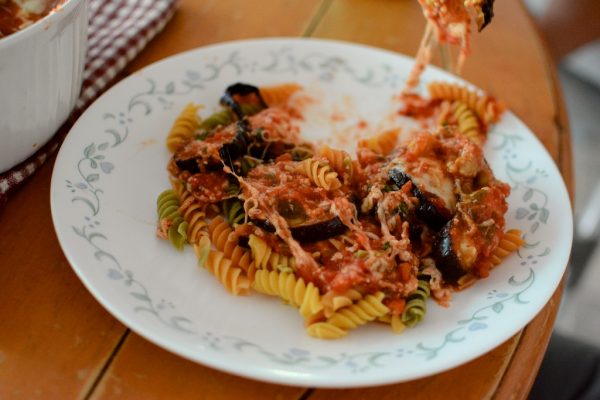 Ingredients
2-3 medium eggplants
olive oil
6 cloves minced garlic
4 T chopped fresh oregano
3 cups marinara sauce
4 T chopped fresh basil
1 1/2 cups shredded mozzarella cheese
1/2 cup grated Parmesan cheese
Optional: one large tomato, sliced
Cooked pasta
Directions
Trim stalk and end of eggplant and discard. Cut eggplants into 1/2 inch slices, then sweat the eggplant slices by liberally sprinkling each slice with Kosher salt on both sides. Allow to sit for 20-60 minutes, then rinse and pat dry.
Preheat oven to 375 degrees F. Coat a large baking sheet with cooking spray. Arrange eggplant slices in a single layer on prepared baking sheet, then drizzle with olive oil, garlic, and oregano. Bake for 20 minutes. Eggplant slices should be tender but intact.
In a medium bowl, combine marinara, basil, and sliced tomatoes if using. In another bowl, combine cheeses.
In a 2-quart baking dish, spread 1/2 cup of the sauce in the bottom of the dish. In order, add 1/3 of the eggplant, 1/3 of remaining sauce, and 1/3 of the cheese. Repeat layers twice, ending with cheese.
Bake, covered at 375 degrees for about 30 minutes or until heated through. Let stand at least 10 minutes before serving. Serve over cooked pasta, if desired.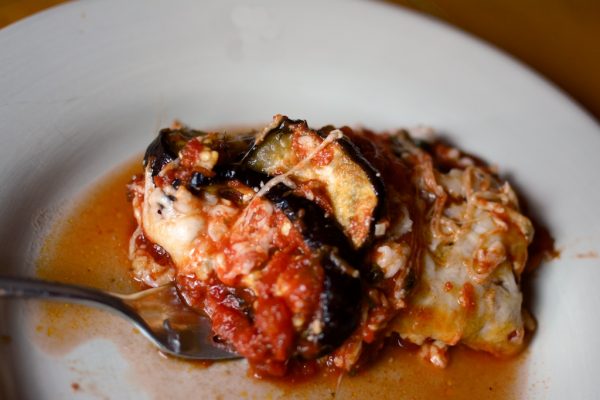 From the garden is a continuation of a series I started back in 2012 sharing my favorite recipes that use homegrown produce:
Blackberry pie & blackberry crisp