Every year I plant at least three jalapeño plants and harvest buckets of jalapeños every week. This recipe is why. I love jalapeño poppers.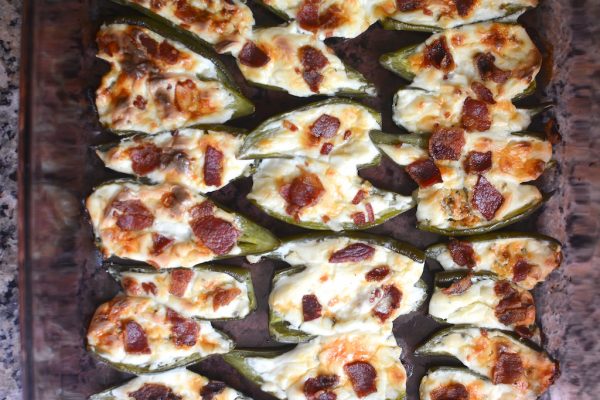 Years and years and years ago I posted my very favorite jalapeño popper recipe. You can find that recipe here. It's still a phenomenal recipe, but I haven't made it since I posted it back in 2012. In fact, I don't even remember what those poppers taste like.
The problem with that recipe is that it is very, very work intensive.
Soon after I published that post I found out I was pregnant with Mary Virginia and, well, I think the best way to describe my life since then is KABOOM!
BUT, even though I don't have time for my (formerly) favorite popper recipe, I still really, really love jalapeño poppers, and knowing I that the stage of my life when I was available to individually coat jalapeños with an egg wash, flour, and panko were gone, I started looking for a recipe that doesn't require so many steps.
Enter THIS RECIPE. One of my good friends served a pan of these poppers at a party. At that party I stationed myself by the food table and didn't speak to anyone because talking would slow down my popper consumption. The recipe is phenomenal and needs no editing. I made it, loved it, made it again, loved it again. And after about the third time I started switching a few things up to make it simpler, but (if you ask me!) just as good.
Here's the resulting recipe. It's low-carb, gluten-free, and MOST IMPORTANTLY it's a delicious snacks that your kids won't demand a bite of. Or if they do, they likely won't ask for a second bite. Winky face.
[Scroll to the bottom for the recipe, or read on for step-by-step instructions.]
Step 1: Start with a big pile of jalapeños. Wash, slice and remove seeds.
Tip! Wear gloves to protect your hands from hours of pain from capsaicin.
Tip! Wear these gloves to protect your tendons if you're clumsy with a knife like yours truly.
Step 2: Get some good gorgonzola and cream cheese.
I've done this with pre-crumbled gorgonzola. It was fine, but not as great. I recommend getting a fresh wedge of gorgonzola — this is Gorgonzola Mountain from Kroger, it's my fave.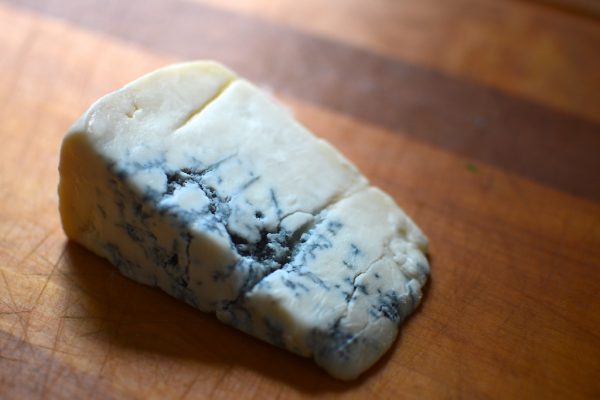 Rough chop the gorgonzola and mix it with a giant dollop of cream cheese.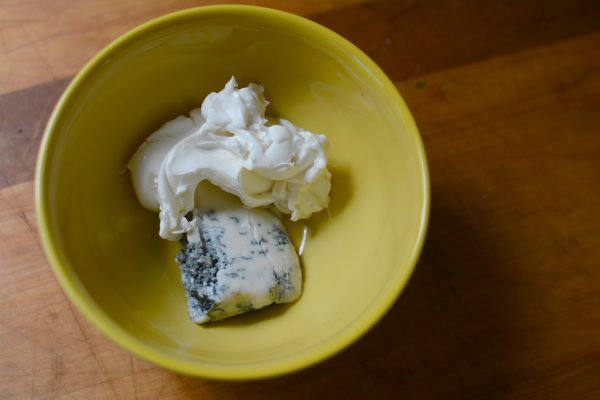 I know "wedge" and "dollop" aren't specific measurements, and for some people that makes for a frustrating recipe. But just know that exact measurements don't matter. Imagine it's naptime and I've frittered away most of my time watching Real Housewives, then frantically throwing this together juuuuuust before the baby wakes up. Mama doesn't have time to measure.
Roughly, I do 50-50 with the cheeses, erring on the side of more gorgonzola because I love gorgonzola.
Step 3: Fill jalapeños with cheese mixture.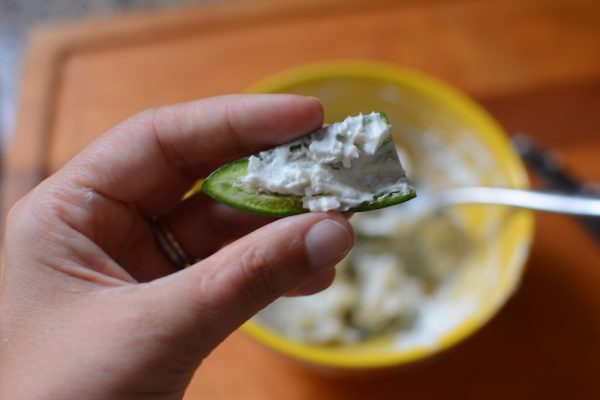 Or over-fill. Follow your heart with the filling.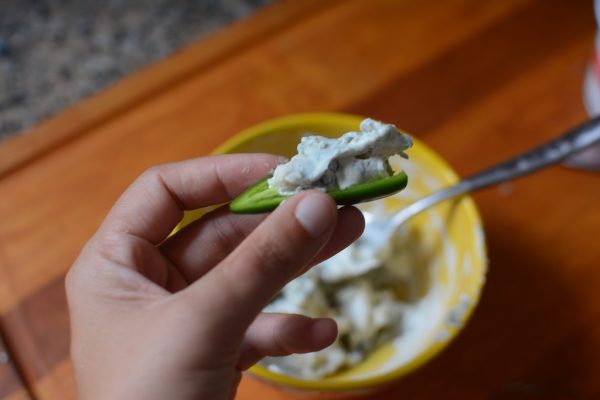 Step 4: Rough chop some bacon and crumble it over stuffed jalapeños.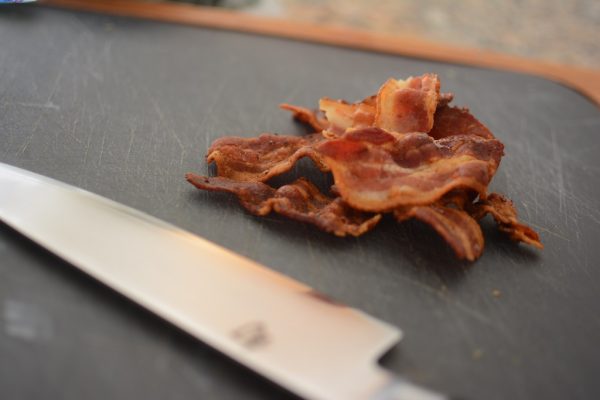 The original recipe called for bacon-wrapped peppers. Wrapping takes more time, so I crumble. It does mean less bacon which is lame, but it makes it healthier I GUESS.
Step 5: Arrange in a single layer in a baking pan and bake at 400 degrees for about 20 minutes.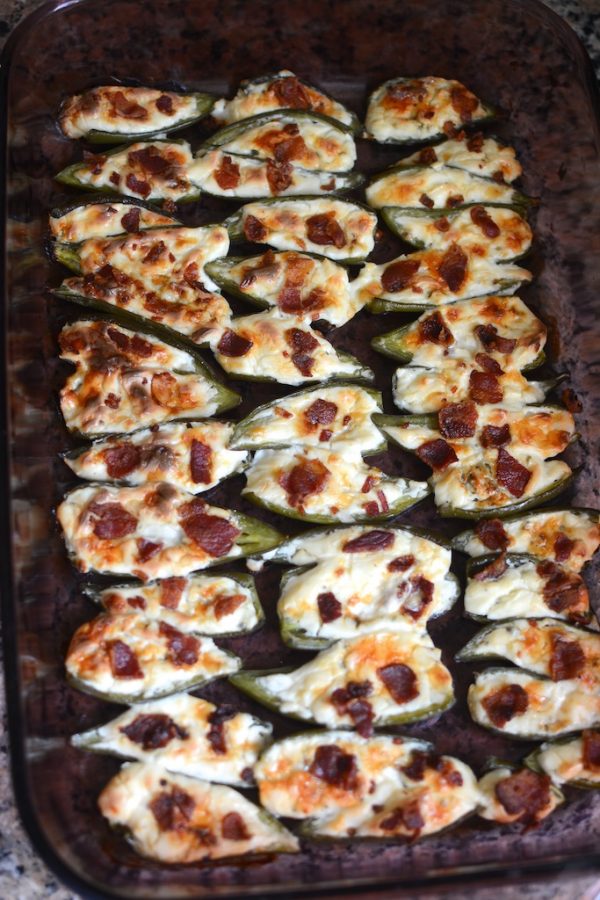 A pan of jalapeño poppers. My absolute fave.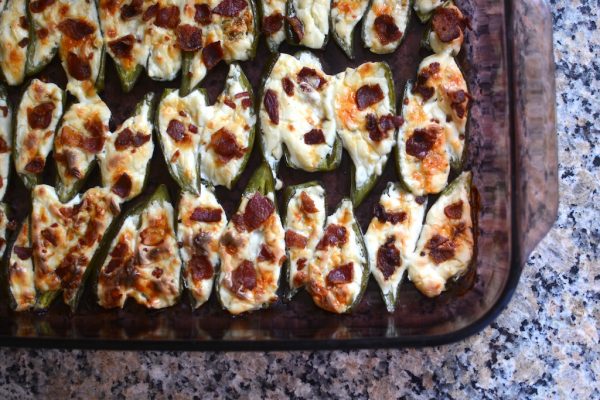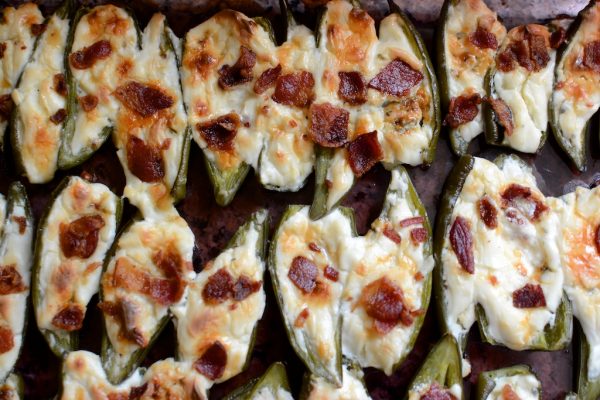 Jalapeño Poppers with Gorgonzola and Bacon
Ingredients
20 jalapeños
16 oz. cream cheese, softened
8 oz. Gorgonzola cheese
1/2 pound bacon, cooked
Directions
Preheat oven to 400 degrees F.
Wash, slice, and devein the jalapeños.
Combine cream cheese and Gorgonzola, chop Gorgonzola first to make it easier to combine.
Spoon cheese mixture into each jalapeño and place in a single layer in a baking pan or baking sheet.
Rough-chop the bacon, and sprinkle evenly over jalapeños.
Bake for 25-30 minutes, or more for crispier peppers. Remove from oven and serve warm.
Note: These can be made ahead and frozen. Just assemble and freeze in a single layer for about 30 minutes. Once they're frozen, you can store them in a sealable freezer bag for long-term storage.