I'm Amanda Krieger and this is my blog.
I'm also on:
This blog is about a lot of things: food, faith, knitting, gardening, running, parenting, but it's mostly about my family and my kids.
I  named this blog "Living on Grace" because the street we lived on was Grace St. To be honest I've never really liked the name and am always, in the back of my mind, trying to think of something new. Especially because we moved in 2016 and no longer live on Grace.
Got any suggestions?
I grew up in Southwest Virginia, Tom grew up in Richmond, and we met at Virginia Tech. We were great friends in college and stayed in touch after graduation, but we never dated.
Tom is a determined, focused man, and in 2007 he set a personal goal to start dating his wife by 2008. On December 30, 2007 he threw a Hail Mary and asked me out on a date. We dated, got engaged, and then got married July 3, 2009.
David Andrew, was born August 16, 2011. Since that great day in history, my house hasn't been completely clean even once. It got even worse Mary Virginia was born June 7, 2013, and we just gave up when Thomas Christopher Jr. was born May 19, 2015.
We are very, very tired.
And very, very happy.
BUT WAIT! THERE'S MORE!
In 2017, just when we thought we couldn't get more exhausted, we had another baby.
Anna Leigh Krieger was born November 12, the day before Tom's birthday. From here on out I will be reusing the same joke, "Happy birthday, Tom, I got you a baby."
Tom will never laugh.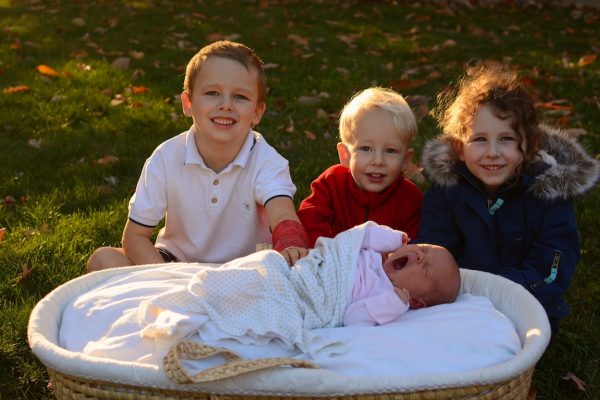 Thanks for reading, and thanks for sticking around.
I'm continuing to write even though blogs aren't cool anymore because I love to write, and I love chronicling my family. My dream is that one day my kids will read what I wrote about them and see their mom in a new light, and have a teeny tiny glimpse into just how much I loved them.
(Plus, I was never cool anyway.)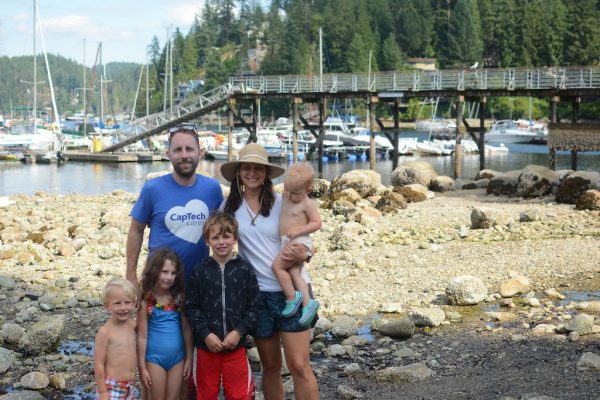 I started this blog a few days after I got home from the hospital with David. I wanted a way to share photos and stories with family living overseas, and because I was completely overwhelmed by the idea of leaving the house with a newborn, but I still wanted to occasionally interact with the outside world.
Back then I mostly blogged about my baby and running, but then the blog sort of changed and grew, and now it's about whatever comes to mind, and I love it as a creative outlet and as way to connect with people all over the world. After resisting starting a blog for years, turns out I love blogging. I'm a writer by trade (I've worked at a newspaper, then as a freelance writer/editor) and so far this is my favorite medium. I love creating content, writing, and learning about photography. But my absolute favorite part of blogging is recording my kids' at this fleeting, wonderful stage. All these memories, I'd forget them otherwise.
I hope you enjoy your time here.
New here? Here are a few places to start…
Meet the family
I have an amazing extended family. During the first year of the blog, I wrote about each of them on their birthdays. You can meet my family (with some other birthday stuff mixed in there, too) through the birthdays tag.
Parenting
I have no idea what I'm doing, honest. We didn't know what we were doing when our first child was born and we still have no idea what we're doing with three children. You will not find parenting advice here; you will find honest talk about how hard it is to love and guide a child in the parenting tag.
The kids
I wrote an update about each of my kids every month from birth to two years, and again for each birthday beyond that. (If you're a new mom, you might relate most to David's updates.)
David Andrew
Mary Virginia
Thomas Christopher
Anna Leigh
Running
I blogged a lot about my return to running after David's birth, and running through my second pregnancy. Read those posts at postpartum running, running & pregnancy, running, and racing.
CREDIT & DISCLOSURE: Living on Grace is a participant in the Amazon Services LLC Associates Program, an affiliate advertising program designed to provide a means for sites to earn advertising fees by advertising and linking to amazon.com
All images posted on the blog are taken by me, and content written by me and are property of thekriegers.org. I'd be nothing but flattered if you cited any of my writing (properly cited and linked OF COURSE) but please contact if you'd like to re-use any photos. Especially anything with my kids, I'm sure you understand.