The other day Mary followed me out to our garden while I was planting some broccoli and Brussels sprouts. Last year both plants were complete failures, but I decided to try again. After all, it's 2020! Anything is possible!
Mary was chatting to me about her new stuffed animal obsession (bunny surprise) and I gave her a job — to snip all of the arugula flowers.
In my mind, I was thinking she'd just snip the flowers and discard them, but apparently I hadn't described our task very well, because Mary thought she was harvesting the flowers.
Turns out, this was a happy accident. From that task, Mary decided to make a salad out of everything from the garden.
Directly from farm to table, Mary picked, washed, and served a kale and arugula-flower salad with cucumbers and tomatoes.
After writing a post about watching David mature and grow, Mary knocked it straight out of the park by making a salad.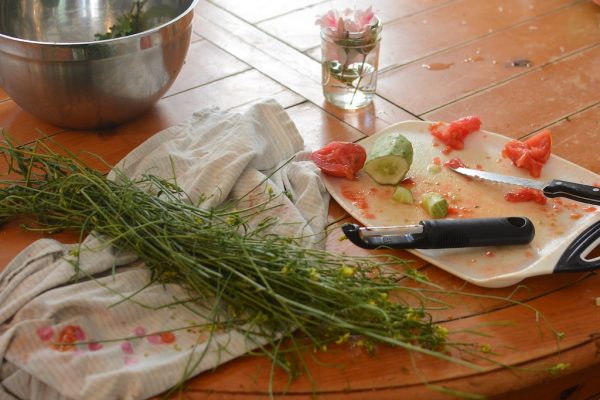 I forgot to mention that this all happened before 8:30 a.m.
At 8:31 she's peddling salad and I'm doing my very best to hold her off until, I don't know, maybe 9?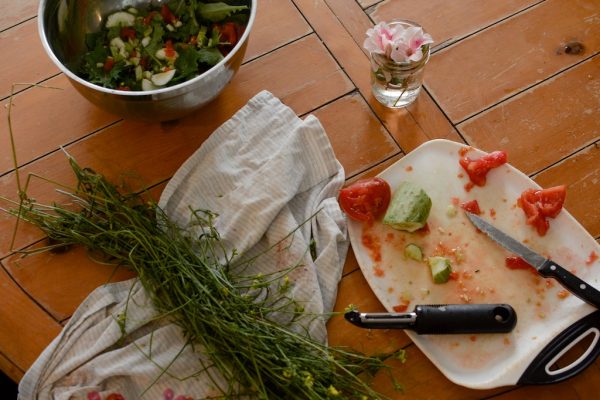 She was so excited to take Tom a bowl up to his office, and after several SEVERAL postponement attempts on my part, Mary asked me, "Ok but WHEN can I take it to him?"
"How about lunch?" I suggested. "Daddy just ate breakfast, and salad is more of a lunch food."
She looked past me. Then walked past me, holding her bowl of salad, and said, "Well then we're just going to have to disagree."