Suburban gardening is almost exactly like urban gardening. The only differences are that we don't keep up with new music and we pay lower taxes.
After nearly two years of barely doing anything to take care of our yard, Tom and I devoted several weekends to mulching, weeding, and getting our garden started.
We removed lots and lots of shrubs. We have a lot of landscaping, and besides being overgrown, we'd decided we didn't love a lot of it, so we replaced several bushes with things like blueberry bushes and fig trees.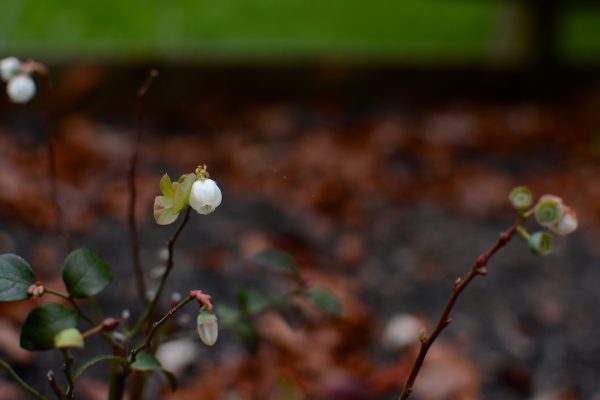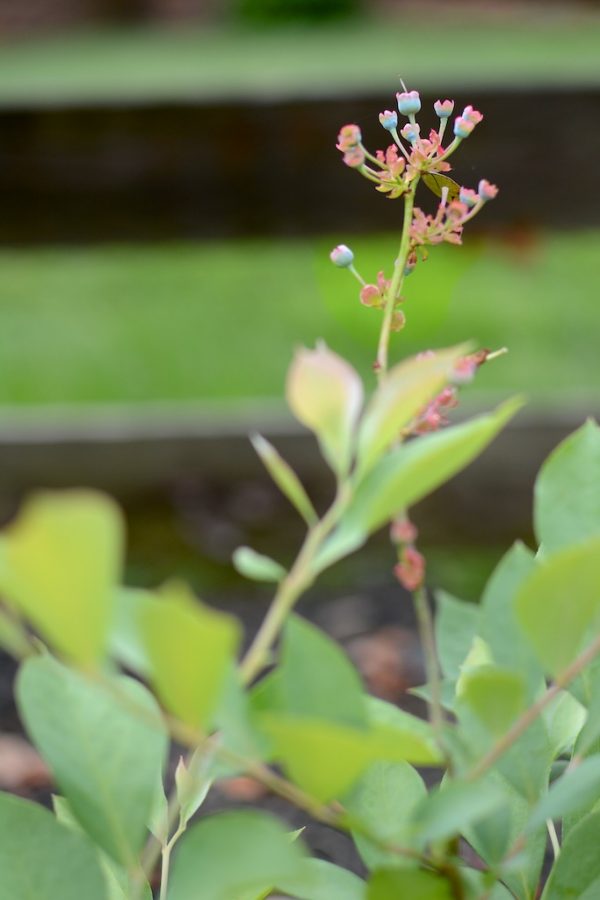 We have a small little raised bed in our backyard that we've used that the past two years. But we've always wanted more space for more plants. Most of the full-sun space in our yard is either the pool or in our front yard, so we started brainstorming. We could plant vegetables around the edge of the pool, or we could get creative.
I listened to this podcast and it gave me the idea and guts to turn one of our front yard flower beds into a vegetable garden. Why not use your front yard to grow vegetables? In fact, according the Freakonomics the concept of a yard is a pretty new phenomenon; most people used to grow food right up to their doorsteps.
We are hoping to keep our garden a little neater (more weeded and under control) than past gardens. It is our front yard, after all. But besides that I'm actually really excited.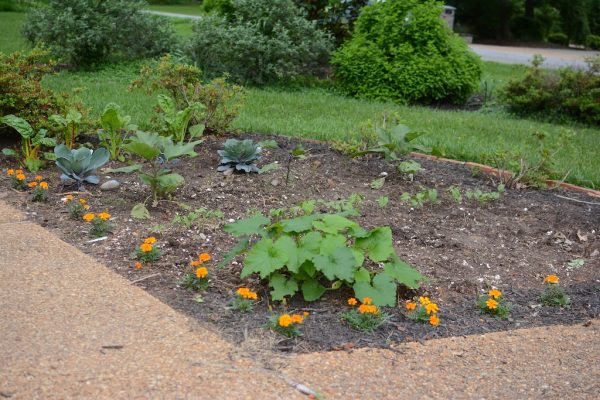 Vegetables in the foreground, respectable flowering shrubs in the background.
Tom's mom helped me with the configuration (because I'm not one for vision) while Tom turned the soil and added compost. I slowly filled it with veggies.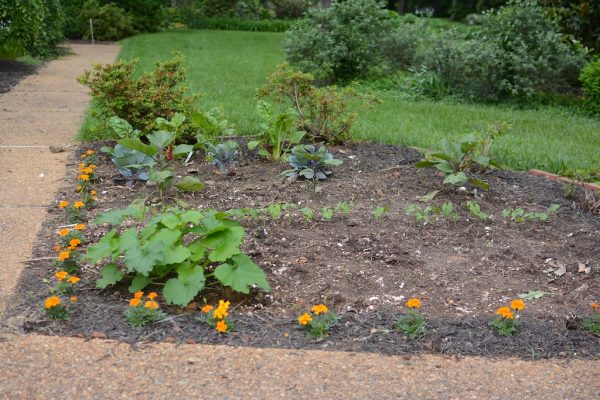 We have Swiss chard, cabbage, eggplant, a row of bush beans, zucchini, a little spaghetti squash seedling, and onions between some of the rows.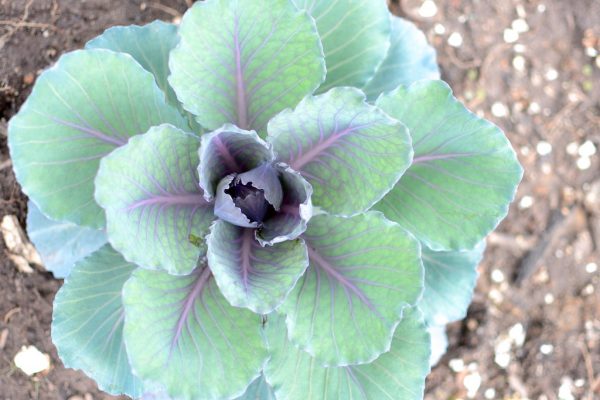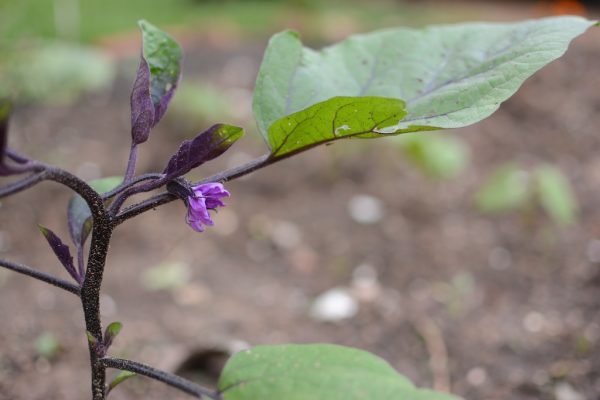 Across the way we have jalapeños, Hungarian wax peppers, and one serrano pepper plant for all of Tom's favorite spicy recipes.
We grew them in this same spot last year and they did great.
That's our goose watching over everything. When we first moved to this neighborhood Mary was still obsessed with ducks. This goose was on the front stoop at one of our neighbor's houses, and we'd always walk down the street to visit the goos (and the neighbor). When she eventually moved, she gave us her goose.
Here's the whole thing in all its front yard glory.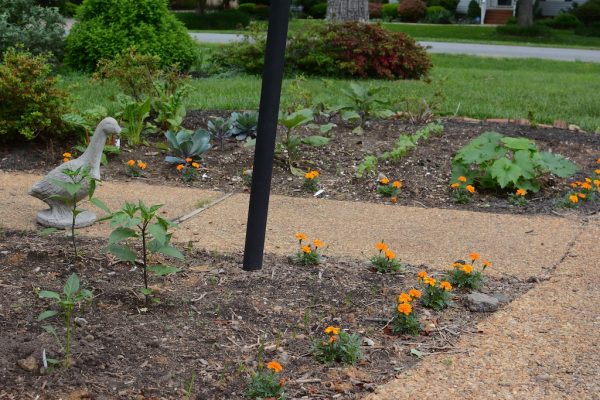 We're still using our backyard raised bed, it has tomatoes, cucumbers, and kale (including one kale plant that turned out to be a cabbage).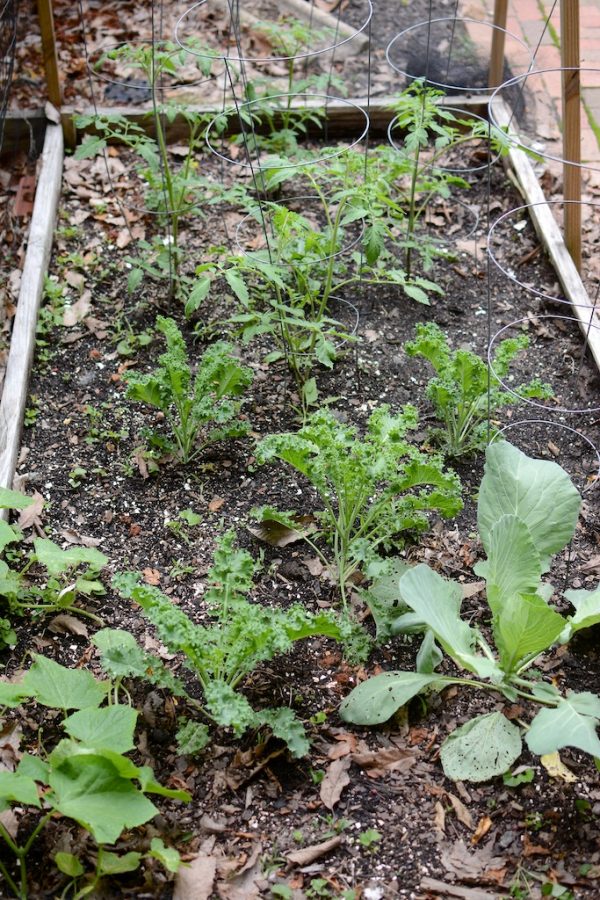 Speaking of cabbage, eggplant has long been my favorite plant in the garden only because the flowers are just so lovely. But red cabbage is in the running to take that spot. Just look how gorgeous.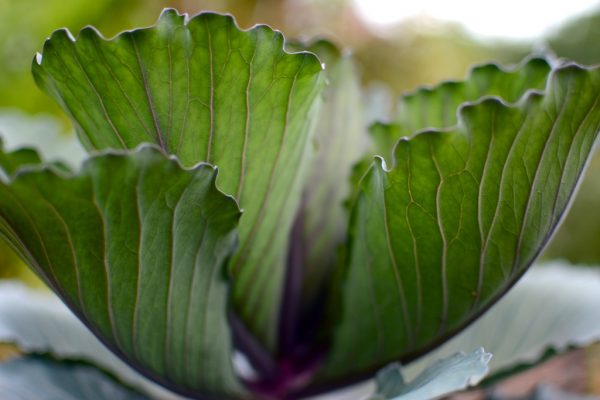 And if they do well, I'll continue my garden recipes series and share my favorite red cabbage recipe.
I have a lot of help watering. A LOT. In fact, when it comes to taking care of the garden, I feel like I'm the inverse of the Little Red Hen. Eeeeeeveryone wants to help (Stealing my trowel! Fighting over the hose! Digging way too close to the plants!) but then no one wants to eat the harvest.