School supply shopping for Thomas: a new hose nozzle.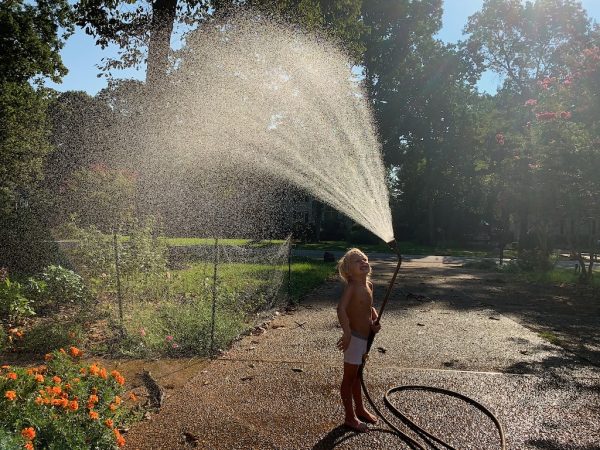 I called the school today and officially withdrew Thomas from kindergarten. I cried, of course. (I always cry.)
I waited as long as I could. Hoping, perhaps, that on September 2 I would wake up with news that everything was back to normal. Schools would open without masks or social distancing. My children would be welcomed onto the school bus with a warm smile from the driver, and into the classroom with a reassuring hug from their teacher.
I read an article recently that said that sometimes the people who are outspoken about their opinions because they are unsure of them. It is the quiet, relaxed person who is confident; no need to plaster every family gathering with their opinion.
Ooof. That stung.
I've literally never once passed on the opportunity to share my opinion.
It also stung because, even though I know this is the right decision for our family, I still feel really sad about it. Thomas is missing out on going to school the same year as many of his friends. Everything we had been looking forward to and planning for will sit on the sidelines until next year.
Thomas doesn't care. He'll spend the year playing with kinetic sand and chasing our chickens. He'll play with the hose and distract his older brother and sister while they're in school, in our dining room.
Speaking of them, they don't care either.
They'll start third and second grades, virtually, the day after Labor Day. I guarantee you that when they log on and I hear their teacher welcome them to the virtual classroom, I will duck into the kitchen to cry. (I always cry.)
Moments like this give me a chance to grieve everything that's going on. My kids are missing the classroom, yes, but that is only the beginning. There is incalculable suffering as a result of this virus, with no end in sight. It is helpful to grieve.
My kids don't care about virtual school because they don't understand what they're missing out on. They sort of think of this pandemic as a giant worldwide snow day; the longest spring break ever.
In fact, nearly six months into the greatest pandemic in modern history, my kids are relatively untouched. We are employed, nourished, and safe. That, I suppose, makes us some of the lucky ones.