This morning I registered Thomas for kindergarten. Through my mask I told the school administrator that we registered last year, then decided to wait a year. You know, because surely by September 2021 this pandemic would be a terrible, distant memory. We both had a hearty perfunctory laugh. Hardy har har…Har. Har. Har.
I wrote on his form that sending him to school felt like putting an exotic animal in the zoo. How else could I explain to his teacher what she is in for?
In true COVID-style, the kindergarten registration process was truncated. There were no decorations, no teachers welcoming the kids. No kids. No teachers. Just me and a member of the administration.
We chatted briefly and I told her that, though Thomas has been to preschool in the past, he hasn't been in over a year since the pandemic began. In fact, I told her, he hasn't been more than 10 feet away from me in a year. Then I giggled the insane laugh of a stay-at-home mom in a pandemic whose only "me time" this week was a 30-minute kindergarten registration appointment.
"I think he'll be fine," she assured me.
When I got home, Thomas and I had a long conversation about kindergarten. I told him how much FUN it would be, but also that he would have to wear clothes. All day. Yes, even on the playground.
He mumbled in reply that he didn't want to go to kindergarten because he didn't know the rules. How scary for a kid this milestone must be. It's so big, so unlike anything else. You don't even know where this "kindergarten" place is, all you know is that your mom talks about it in her all high-pitched and nervous/peppy voice, and she's individually labeling crayons. That's not a good sign.
You're gonna be fine, Thomas. Don't worry about the rules. Just keep your clothes on and be yourself. Really. Catch bugs on the playground, cross your eyes to make your friends laugh, and always call dibs on the Magnatiles.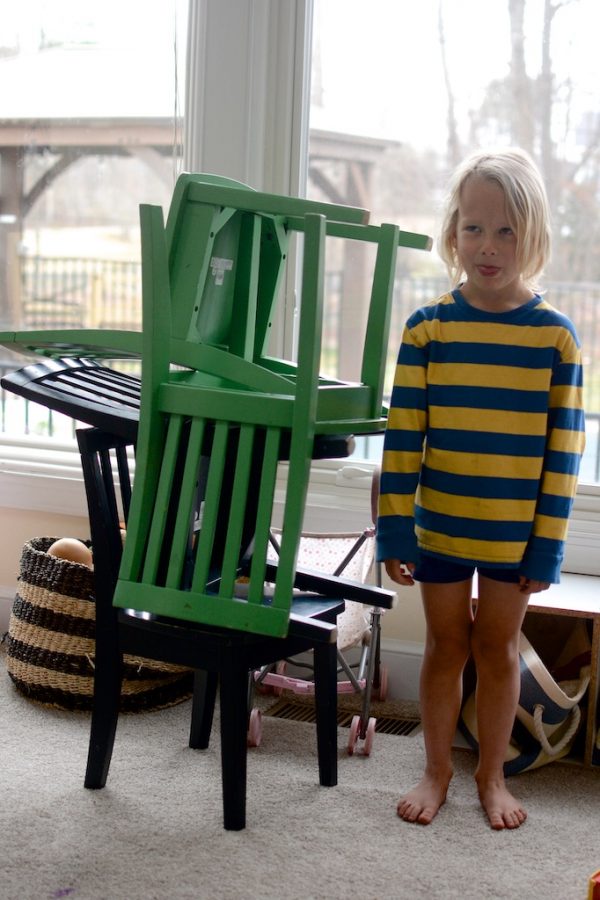 Earlier this month, Thomas spent 30 minutes working on this chair tower. I was so impressed that I asked to take a picture.
Taller, more imposing towers have been constructed, for sure; it was the 30 minutes that impressed me — an eternity for a 5-year-old. He tried, failed, reconsidered, stepped back, started again. He worked on his project until the chairs were balanced just the way he wanted, then he called me to show off his achievement.
This is hard work. This sort of focus and determination is something that his Mom is still working on. This is why I know that Thomas is going to thrive in school, where he'll be challenged to think in new ways, and to unleash all of that creativity and adventure that has kept me on my toes for the past five years.
He's going to be just fine.