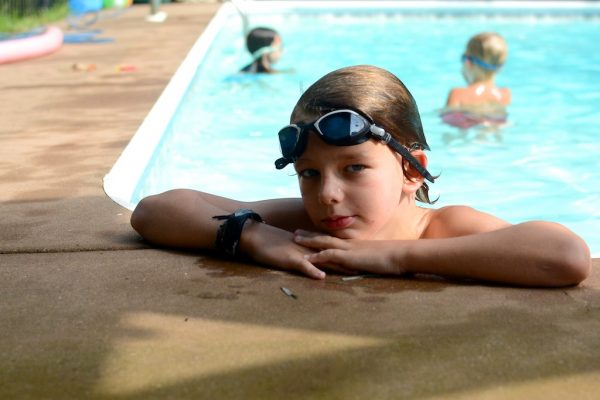 Well, here we are. Summer is nearly over; we're in the countdown to back-to-school for the strangest academic year ever. That's a true statement, right? I'm pretty sure I can say that without fact-checking. School has never been so strange, uncertain, controversial, and wildly different from one district to the next.
My kids' school will be 100 percent virtual for at least the first nine weeks. Regardless of my opinion about this decision, I've decided to be optimistic about the upcoming school year. If you know me at all, you know that optimism isn't my strong suit. But because I believe that this matters, I'm starting this school year with gusto. I've decided to put trust in the teachers and educators, and in their ability and commitment to find new and exciting ways to teach. I'm not counting out my kids, either, who have from the beginning amazed me with their resilience and desire to learn.
I'm choosing to look forward to this year with rose-colored glasses. As we begin a year that no one ever wanted, I hope this virtual classroom teaches them some very valuable lessons.
1. Education (and school!) is a gift
All that groaning eye-rolling about getting ready for school? All that foot-dragging and constant reminders to get out the door? I don't want any more of it. We tolerated it before because school was always there; Monday through Friday without fail. Whelp, now it's not and don't we wish it was?
We try to explain to our kids that school is a gift, a treasure, a door to worlds and discovery, and all the other lame things parents and teachers say.
This year, perhaps they'll believe us. Perhaps in the lack they'll see the richness that they used to have. Perhaps this will whet their appetite for seeking knowledge and not taking educational opportunities for granted.
2. Virtual is not real life…
Remember the debates about in-person versus virtual school? And some people had the nerve to argue that virtual wasn't as good as in-person? WE ALREADY KNOW THAT. Virtual is a sad, poor substitute for the beautiful, rich, in-person experience of a classroom.
It's a sad substitute for basically everything else, too. Screens are tools, but they are limited. If at ages 9 and 7, my kids learn that screens do not deliver education, friendship, or intimacy  the way real-life experience does, perhaps this year will be worth it.
3. …and screens are deceiving.
Just before a video call with his class this year, I had to remind my son to get dressed. He considered his outfit and realized that all he had to do was dress from the top up. No one would know. Just like that, he has the tools to be a social media influencer.
Because virtual is not real life, it's easy to control what others see. It's all about lighting, angles, a good crop. When my kids clean two square feet of their room so that it appears tidy to their classmates who won't have a full view, this is the chance for them to see that the online version isn't always the full, accurate view of them or of others.
4. There are lots of ways to learn
Here's the thing, I cringe at the idea of my kids looking at a screen for five hours a day. This is exactly what all moms in my generation have been warned against: screens are brain-melting monsters. I've spent nearly a decade limiting screens. WHAT ARE WE DOING!? We're pivoting, that's what we're doing. We're learning that you can learn on a screen. And we're learning that this very experience is it's own lesson.
When my kids look back on this time in history, I hope they reflect on the ways they learned to adjust and adapt to change. I hope they remember what it was like to be challenged to learn in a new way.
5. Academics are important
We didn't go on vacation this year. When our new baby cousin is born in a few weeks, we won't go visit her in the hospital. We aren't going to restaurants, and my kids haven't been in a store since March. A lot of stuff isn't happening. My kids' world has been relatively unscathed, and yet it has been turned upside down. We have put so much on hold, and yet  we have found a way to go back to school.
Grownups have been arguing about schools for months. People have changed careers, hired help, and are risking their health to make sure our kids are learning. Education is important, kids. See #2.
6. You are safe
I've read a lot of articles about the pros and cons of in-person and virtual school. There is a lot of talk about the social and psychological harm being done to our kids by keeping them out of school. There are just as many articles about how sending kids to a socially-distanced, masked school will cause just as much harm.
Of everything I've read, the one thing that stuck with me is that regardless of world events, a child's mental health is determined by knowing that they are safe and loved at home.
I'm not good at teaching. I'm no good at schedules or keeping a clean house. But I'm really good at loving my kids. I'm not a Pinterest-mom who's going to set up an at-home school with a new desk and whatever else very-prepared people do. But I will clean off a spot on the dining room table and make room in my day to let them know that they aren't doing this very hard, very new thing alone.