For the past almost-eight years our cat has watched in horror as we have, on a nearly every-two-year cycle, added babies to our family.
He was annoyed after David was born, incredulous when Mary was born, apoplectic after Thomas, and after Anna's arrival he's been trying to blend in with the furniture as he silently plots our demise.
Being a cat in a family with four small children is not always easy.
BUT
We're planning to add another member to the family. We just started doing some research on adopting a dog. (Sorry for that click-bait title, Mama's gotta get those page views!)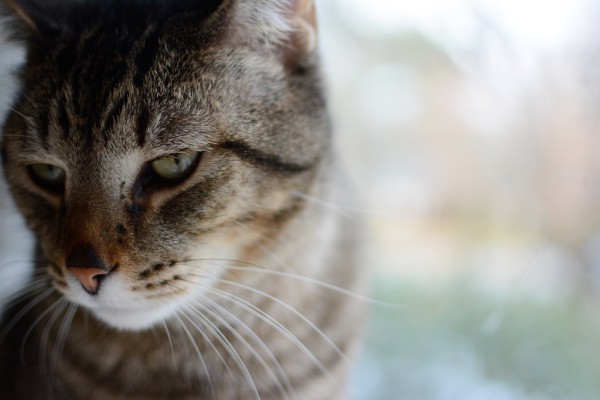 Tom and I have always wanted a dog, but we're incredibly cautious about adding to our tower of responsibilities that is already dangerously teetering on the edge of collapse.
We have always loved dogs and wanted our kids to grow up with dogs, but we've got enough to do, thank you very much. Whenever our kids ask why we don't have a dog we answer completely honestly, "because we got a sister instead."
Another one of my hesitations is that I don't really know how to take care of a dog. I grew up with dogs, my family always had at least one dog. But I also grew up in a rural area where dog-ownership looked very different than it does in the suburbs. We didn't walk our dog or have to pick up poop. There were no leash laws, and our dog (we mostly had Labs) literally never came inside. Ever. The only exception was when my mom and dad left us alone and we'd let the dog inside as an act of rebellion.
But it's 2019 and I live in the suburbs, where dogs aren't allowed to stay outside because they are much more delicate than dogs were during the mid-90s in the country. Dogs must be kept inside where they won't get dirty and can monitor their Instagram accounts.
I'm only 25 percent joking. The remaining percentage is completely serious.
We've always wanted to get a rescue dog, and assumed that the best dog for our family would be a mixed breed. Then we started researching and we think we have found the perfect  breed. [DRUMROLL…] We're pretty sure we're going to get a Greyhound.
If you're furrowing your brow right now, hear me out. From all of our research and YouTube-watching, Greyhounds seem like the perfect breed.
They don't shed, they don't bark, and they're gentle. They like to lounge around all day, but they also love to play and fetch. They do require sweaters in the winter, and a warm, cozy bed, but that's ok because dogs in 2019 can't stay outside all day anyway!
Don't tell our future greyhound this, but at first Tom and I were kind of like, "Well, they seem like the perfect dog…but they do look odd."
Maybe you're thinking that, too? If so, might I suggest you spend a few nights this week looking at YouTube videos of greyhounds and reading greyhound fun facts, like this one: Did you know that greyhounds can run up to 45 miles per hour? And they get up to speed IN THREE BOUNDS! Also, did you know that greyhounds can see BEHIND THEIR HEADS?
This is our favorite video. https://www.youtube.com/watch?v=jc8Hno4M0Qs&t=13s
And this one: https://www.youtube.com/watch?v=cwO1vF2GWkM
They're super-cool dogs, and after we learned about them Tom and I both agree that they're beautiful dogs, too.
Mary isn't completely convinced. We got a couple of dog care books from the library and she keeps finding pictures of adorable fluffy puppies (The Bernese mountain dog! The Lhasa Apso!) and showing us, "Look this cute one! Don't you like this one?"
Is it a greyhound? No? Then we're not interested.
She made a list of the cutest puppies and walked them around the house asking for votes. Tom and I voted greyhound, and guess what, kids? Mom and Dad are the only ones who are legally old enough to vote!
Brigham is oblivious, but he should be paying attention. The only requirement the hospital had when they sent us home with our babies was that we had a car seat. Dog adoptions, though, don't happen without a home visit, three references, and a CAT TEST. If Brigham is as smart as we think he is, he'll start a sabotage campaign right now.
But we hope he doesn't. Even a grumpy old cat can benefit from having a dog.