Every Christmas I make loaves and loaves and loaves of cinnamon bread. The first time I make it, the kids run to the kitchen like they just heard that Shawn Mendes was playing a concert in my stand mixer. (JK, my kids don't know who Shawn Mendes is. But now that I think about it, they'd be excited to see any tiny person in my stand mixer.)
By the time January rolls around, cinnamon bread has become a predictable feature on the counter beside the bowl of apples and bunch of bananas. That's when I hang up the recipe until next year.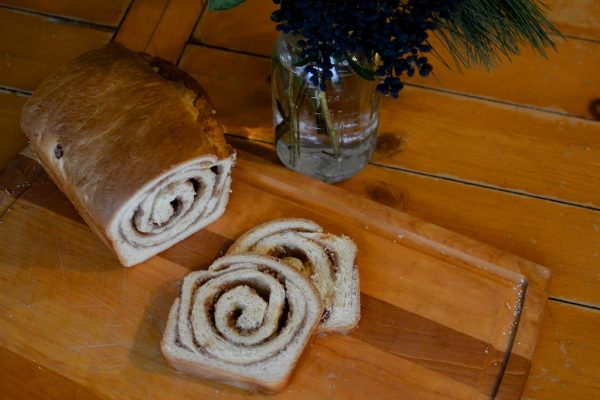 This bread has become a full-on Krieger family Christmas tradition, just as much as stockings and Mom feverishly knitting from October to December.
I posted a picture of our bread on Instagram, and I got more requests for the recipe than I've ever gotten for anything since I first got on the Internet with AOL back in 1997. There's good reason. This bread is SO good, and I will never depart from it. The secret is in the filling.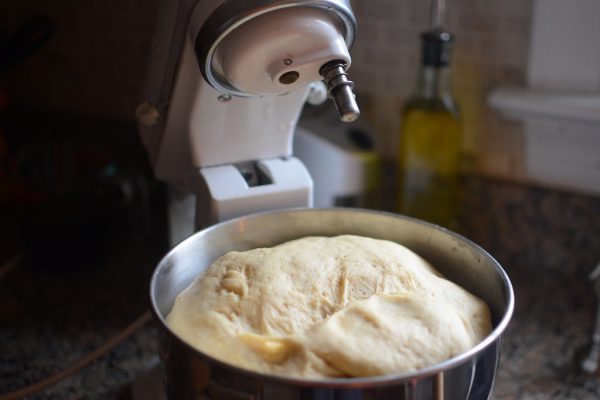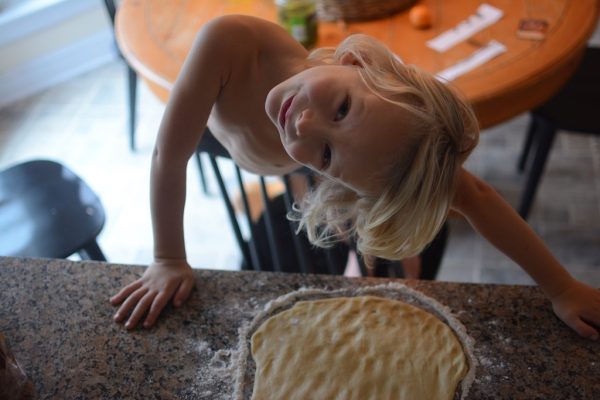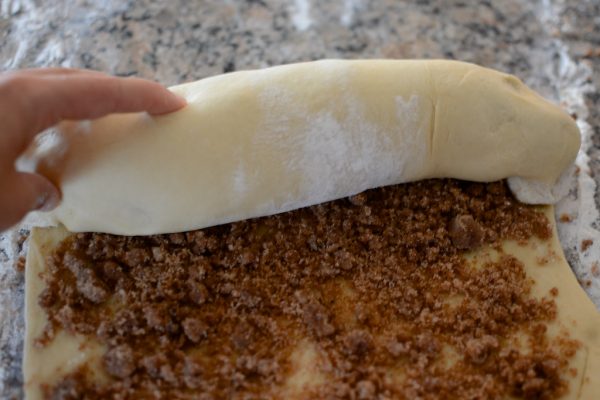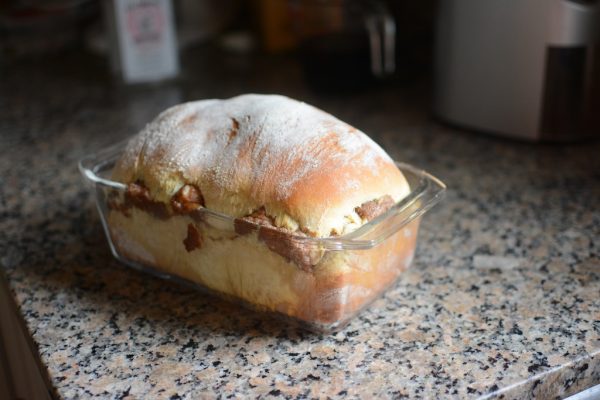 I should mention that this is NOT my original recipe. I was gifted a loaf of this bread years ago by a very talented baker, Sue Miner. After that loaf I obsessively searched for a comparable bread. I tried recipes from my favorite cookbooks and bloggers and I was always dissatisfied. Finally, I got her recipe and I saw what all those other recipes were missing — flour in the filling. I would have never guessed.
Over the years I've altered the recipe a bit to fit my family's tastes, but I've never topped the original genius of that loaf I received from Mrs. Miner. *Enjoy*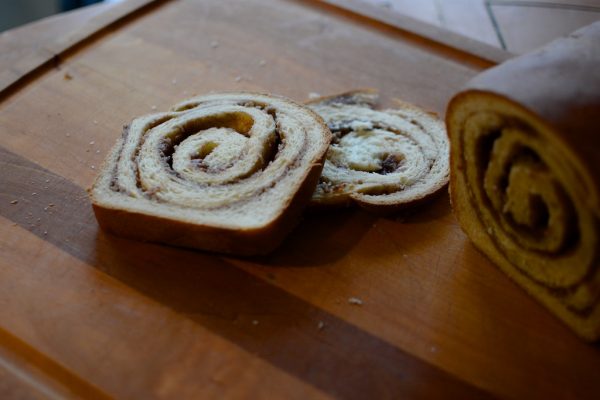 Cinnamon Bread
Ingredients
3/4 cup warm water
3/4 cup sugar
2 Tbsp yeast
3/4 cup warm milk
3/4 cup softened butter
2 eggs
2 tsp salt
6 cups bread flour
For the filling:
2 cups flour
2 cups sugar
2 sticks butter
2 Tbsp ground cinnamon (more or less to taste)
2 eggs
Directions
*Makes two loaves*
Combine water, sugar and yeast in a large bowl (or bowl of a stand mixer). Allow to proof for at least 5 minutes. Once yeast is bubbly, mix in milk, butter, and eggs. Slowly add flour, one cup at a time. (If you're using a stand mixer, use the dough hook for the entire recipe.) If dough is sticky, add more flour one Tbsp at a time until it forms a smooth ball. Knead by mixer or hand for 5 minutes.
Grease the dough and bowl and cover with a damp towel. Allow the dough to rise until it has doubled in size (an hour or two).
Make the filling by melting butter over low heat, then adding flour, sugar, and cinnamon. Remove from heat and add the eggs, mixing well with a spoon.
Divide the dough in half and turn it out onto a floured work surface. Using your hands or a rolling pin, roll the flour into a large rectangle no wider than your loaf pan, and about 24 inches long. Spread half of the filling over each rectangle. Roll rectangles into a loaf, tucking in ends as you roll to keep the cinnamon mixture inside.
Place in an un-greased loaf pan, seam side down.
Bake at 325 degrees for 45 minutes.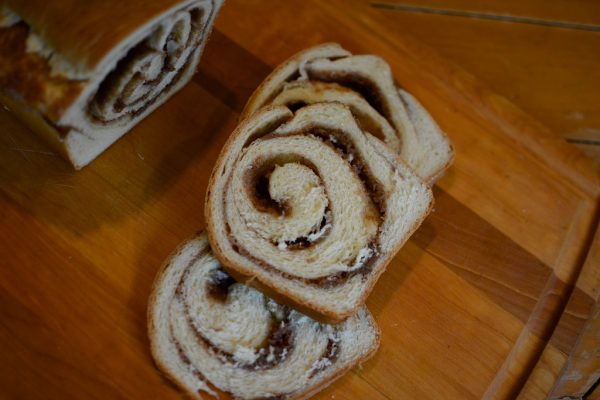 Note: The most complicated thing about making swirl bread is that the layers tend to separate. (The loaves in these pictures aren't bad, but they aren't food-magazine-perfect, either.) Separation doesn't change the taste, but it makes for a less attractive loaf. This particular recipe is prone to separation because the cinnamon filling is so generous. The egg in the filling helps with binding, but if you still have issues you can also reduce the filling or sub the white sugar for powdered sugar. There are some more tips (and explanations) here.