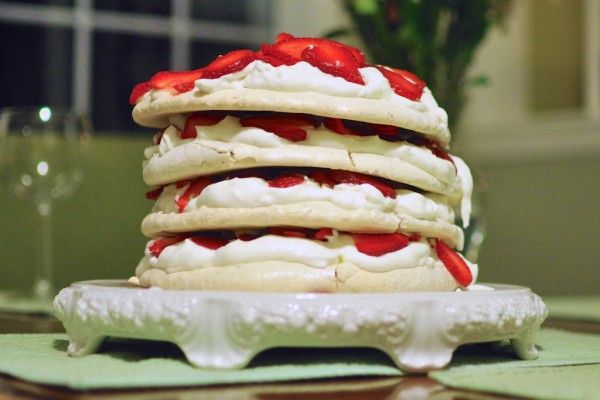 Strawberries aren't in season this time of year, but don't let that stop you from making this cake.
It's red, sweet and special; perfect for Valentine's Day.
Don't let this stop you either: If you add up the time it took to shop, whip, slice, allow the meringues to dry, and include a few breaks, the whole process took me from 7:30 a.m. to 8 p.m.
I promise it won't take you that long.
I made it for my mom's birthday a few weeks ago. We have a strict rule in my family that the birthday person can't contribute to the cake in any way. She didn't help crush the pecans, slice the strawberries, or separate the eggs, but she did entertain my toddler, hold my baby, and make me breakfast, lunch and dinner.
I like to make a birthday cake for my mom every year, and I try to choose one that's complicated enough that it makes her know she raised a daughter who knows her way around a KitchenAid Mixer. This cake is complicated, and it's also perfect for my mom because it's gorgeous, delicious, and it's gluten-free. Did I mention that my mom loves following health trends and fad diets? For those reasons she's not eating gluten.
JUST KIDDING, MOM.
But I'm not kidding about it being gluten free. Or delicious.

Make sure to take a bunch of pictures of it before you slice it, because it doesn't slice well, even if you use a super-sharp knife.
But don't worry, it's still delicious when it's smooshed. And still gluten-free, too.
I got the recipe from here. But I've made this cake a few times now, and I've tweaked the recipe a bit.
Strawberry Meringue Cake
Ingredients
1 cup chopped pecans
Parchment paper
Masking tape
2 tablespoons cornstarch
1/8 teaspoon salt
1 3/4 cups sugar, divided
7 egg whites, at room temperature
1/2 teaspoon cream of tartar
2 (8-oz.) containers mascarpone cheese
2 teaspoons vanilla extract
2 cups whipping cream
4 1/2 cups sliced fresh strawberries (Sliced peaches or blue berries would also work well.)
Directions
1. Preheat oven to 350 degrees. Bake pecans in a single layer 10 to 12 minutes or until toasted and fragrant. Cool completely (about 10 minutes). Reduce oven temp to 250 degrees.
2. Cover 2 large baking sheets with parchment paper. Draw 2 (8-inch) circles on each piece of paper. Turn paper over (so the ink doesn't come in contact with your food); secure with masking tape.
3. Using a rolling pin to roughly crush pecans. (If you use a food processor for this step you won't be able to taste the pecans as well.) Mix with cornstarch, salt, and 1/2 cup sugar.
4. Beat egg whites and cream of tartar at high speed with an electric mixer until foamy. Gradually add 1 cup sugar, 1 Tbsp. at a time, beating at medium-high speed until mixture is glossy, stiff peaks form, and sugar dissolves (2 to 4 minutes; do not overbeat). Slowly add pecan mixture to egg white mixture, gently folding until just blended.
5. Spoon egg white mixture onto circles drawn on parchment paper (about 1 1/2 cups mixture per circle), spreading to cover each circle completely. Gently "shimmy" the pans to encourage the egg whites to settle and create a flat disc.
6. Bake at 250° for 1 hour, turning baking sheets after 30 minutes. Turn oven off; let meringues stand in closed oven with light on 2 to 2 1/2 hours or until surface is dry and meringues can be lifted from paper without sticking to fingers.
7. Just before assembling cake, stir together mascarpone cheese and vanilla in a large bowl just until blended.
8. Beat whipping cream at low speed until foamy; increase speed to medium-high, and gradually add remaining 1/4 cup sugar, beating until stiff peaks form. (Do not overbeat or cream will be grainy.) Gently fold whipped cream into mascarpone mixture.
9. Place one on a serving plate and spread one-fourth mascarpone mixture (about 2 cups) over meringue; top with 1 1/2 cups sliced strawberries. Repeat layers 2 times; top with remaining meringue, mascarpone mixture, and halved strawberries. Serve immediately, or chill up to 2 hours. Cut with a sharp, thin-bladed knife.
Enjoy. And in honor of my mom, make sure to lick your plate clean.
Happy birthday, Mom. And happy Valentine's Day, too.