Christmas morning anticipation — Tom gathers the kids on the stairs to read the Christmas story before rushing down to see presents.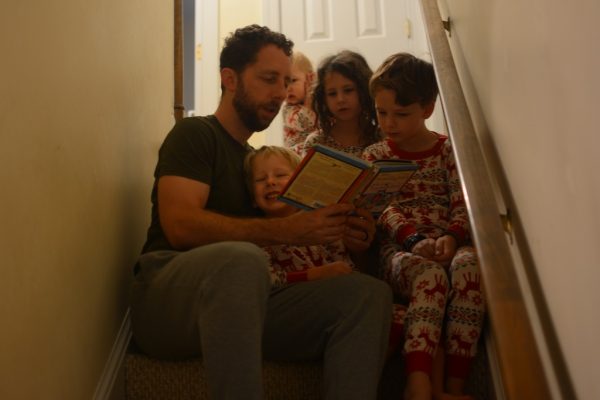 Before you get distracted by David and Mary's looks of concentration, Thomas's impish grin, or noticing that this is the first year Anna isn't being held by one of us — before you get sucked into any of that Christmas magic, let me set the scene for you.
On a normal morning our kids generally get up sometime between 6:30 and 7 a.m., but they aren't supposed to come out of their room until 7. We emphasized this rule on Christmas Eve, but didn't really worry too much about it because our big kids are pretty reliable sleepers these days.
Tom and I set our alarms for 6:30 — giving us enough time to wake up and make coffee and put cinnamon rolls in the oven, fluff a few bows, and put the finishing touches on Christmas morning. We went to bed exhausted and excited.
At 3 a.m. we woke to the sounds of our kids yelling at each other. Mary had woken up and, since she doesn't have a watch, she didn't know what time it was. She woke David to ask him if it was morning, and he wouldn't answer her because that's what big brothers do. Instead, they woke us up with their 3 a.m. bickering.
Our three big kids share a room, so the only silver lining is that they didn't wake Thomas. But between three trips to the bathroom for each of them and general Christmas Eve excitement, they didn't go to sleep until 5:30.
Tom and I turned off our 6:30 alarms and when the kids woke up at 7 they were greeted by Scrooge and the Grinch.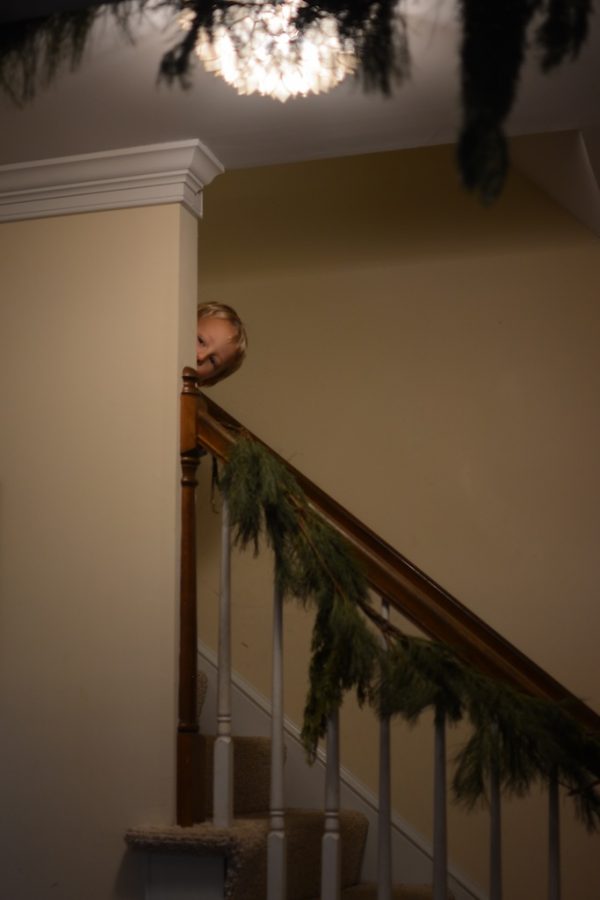 That's why Thomas was peeking around the corner at the tree. Because we grumpily told the kids to wait on the stairs while we started coffee and tried to find a little Christmas spirit under the pile of dishes we were going to clean up before the kids woke up.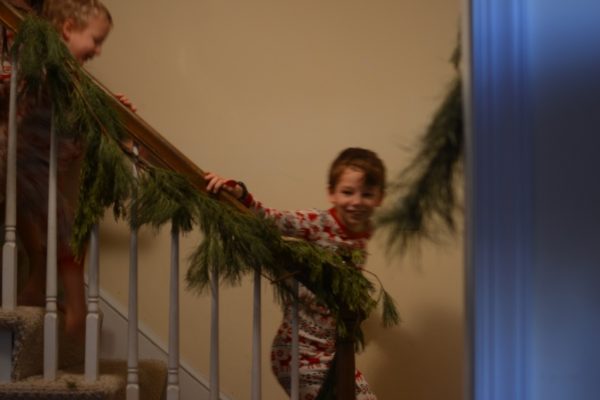 Finally released — first glances at the tree. The kids are always faster than my shutter speed on dark Christmas mornings.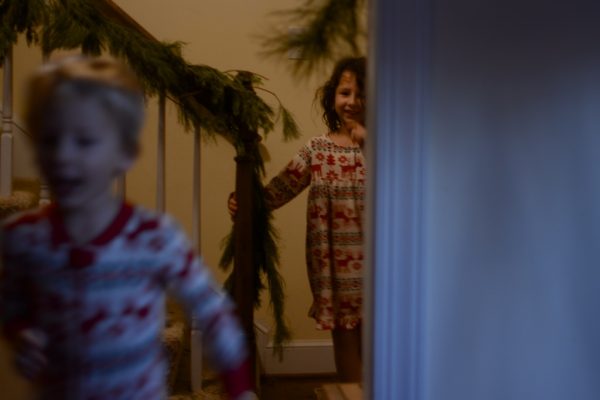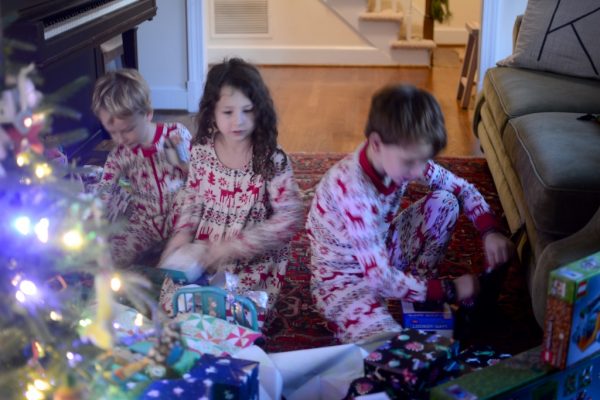 A flurry of presents and excitement and kids who are trying to take it all in. Everyone was too excited to even notice that Anna was still sitting on the stairs, wondering what in the world was going on.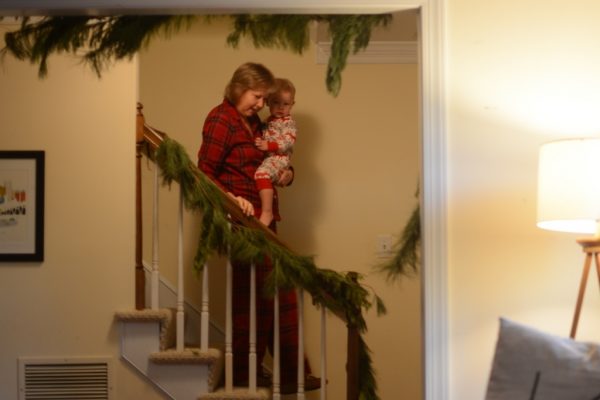 Thankfully Grammy noticed, and demonstrated how to walk down the stairs at an appropriate speed for the low light conditions.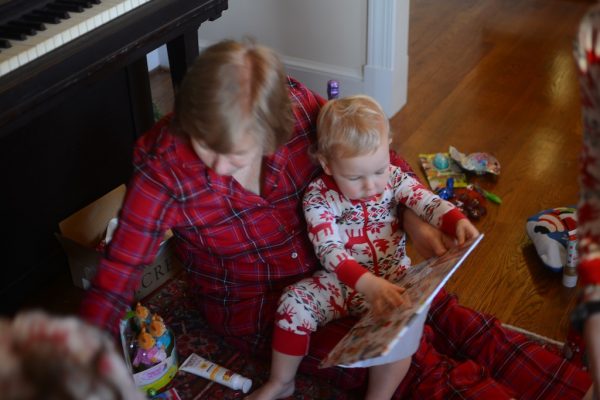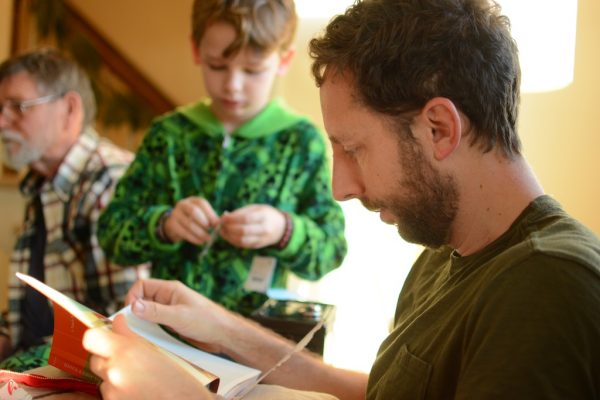 A week before Christmas, Thomas was reminiscing about when David had a slinky, and said, "I used to love watching David play with his slinky."
I decided to get Thomas one of his own. When he saw it he immediately gave it to David.
The kids are always so sweet on Christmas morning. David helped Thomas open his presents and read instructions, and they're always so excited for each other.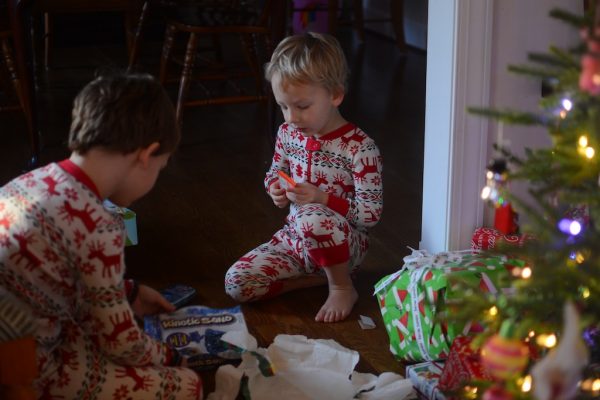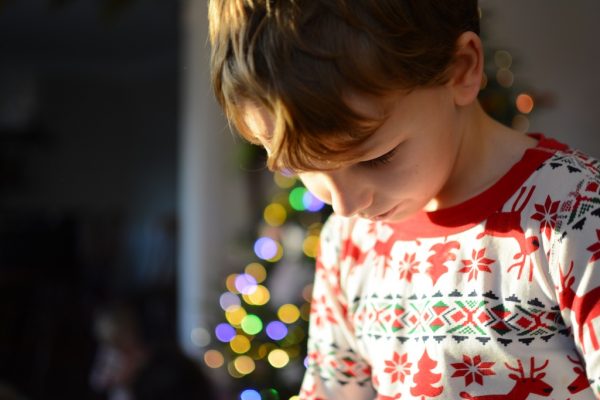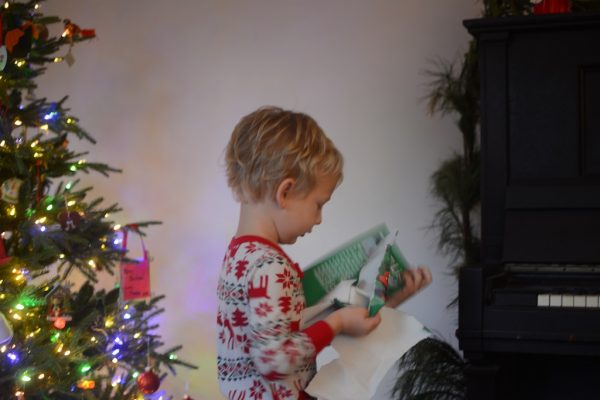 Thomas opening a book about the fossa, his new favorite animal. If you want to be utterly horrified and aghast, learn a little about the fossa.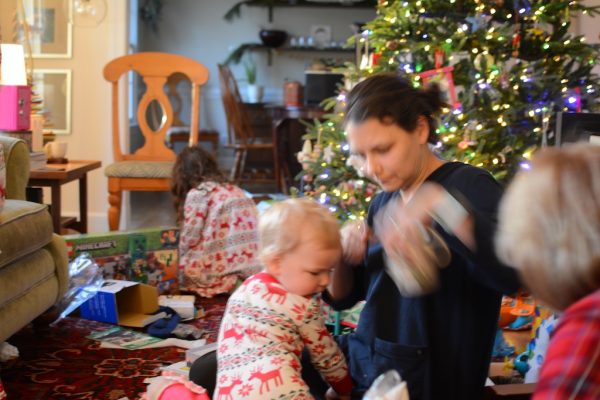 At one point I made a snide comment about the kids keeping us up in the middle of the night, and Mary said, "MOM! We said we were sorry! We were just so excited!"
That's when I realized that no one likes a Grinch, especially on Christmas morning. And they had apologized, and I couldn't blame them for being excited. In fact, I'd spent the past month stoking their excitement. Like the mature adult I am, I apologized for bringing it up again. (And silently started planning a complain-y blog post.)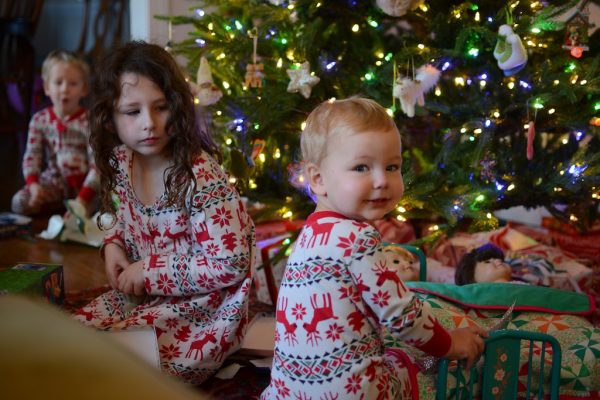 My mom sat with Anna and opened her presents, but she was still confused about what was going on. Mary got an American Girl doll bed for Christmas, which we thought Anna would try to steal. After all, putting dolls to bed is her passion in life.
Instead, she shocked us all and spent Christmas morning trying to sneak off with Thomas's Octonaut Octopod.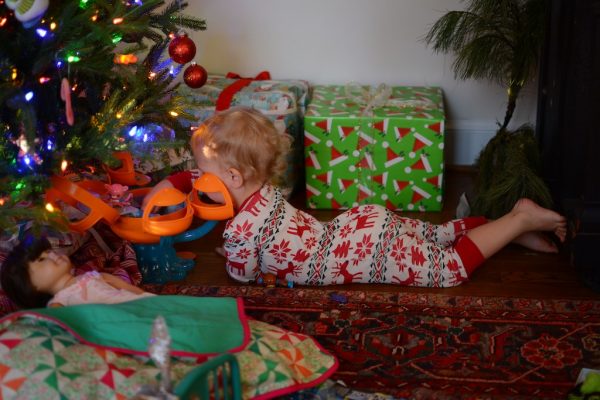 The scene where the Grinch's heart grows: opening handmade presents from her kids.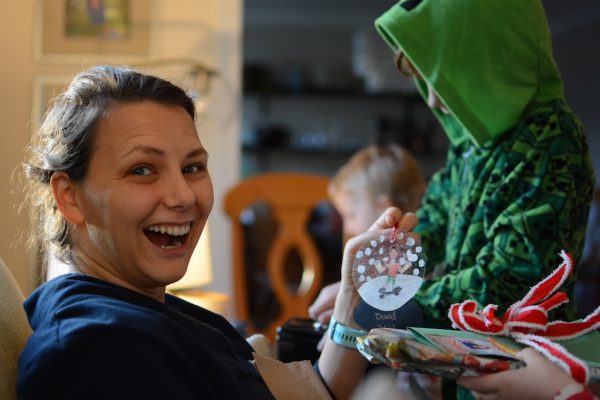 Our family opens stockings after presents, drawing out the presents after the big surprises under the tree.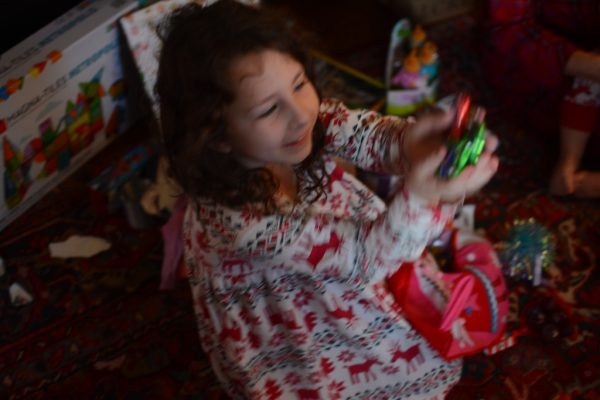 Finding peppermint patties in the bottom of her stocking. Mary and I both love peppermint patties. Santa knows.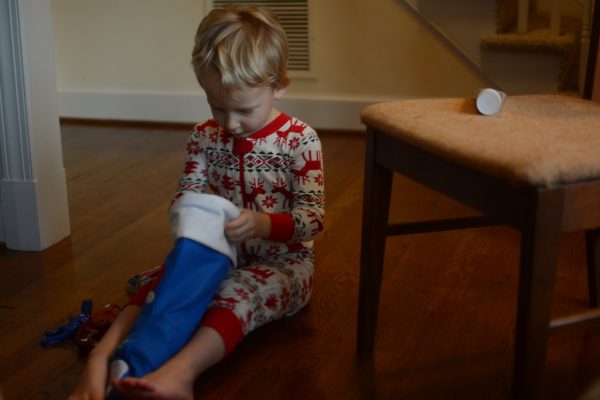 When everything was opened, we refilled our coffee cups while the kids surveyed their gifts. Thomas and Anna climbed into my sleeping bag (why is my sleeping bag in the play room?) with his new Komodo Dragon stuffie.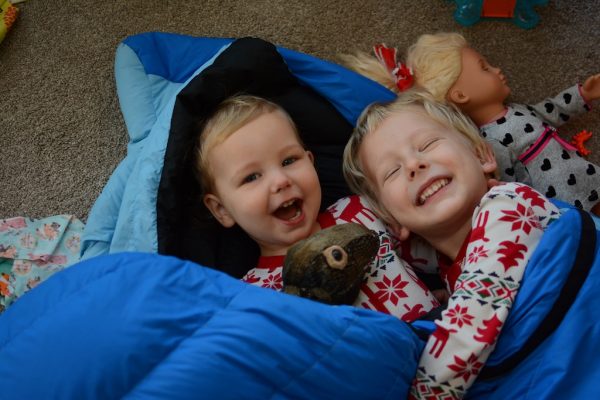 We had a lazy breakfast (or at least I think all the kids ate something?) and before we had a moment for the post-Christmas let-down to inch into our living room, we were gathering kids and presents for Christmas #2 with Tom's side of the family. We left our Christmas with two more Christmases to go — looking forward to days of family, presents, cheese boards.
We spent Christmas morning the same way we spent the Christmas season, and the same way we're heading into the New Year — exhausted and full of gratitude.
Merry Christmas, and wishing everyone a happy, healthy, blessed 2020.