Merry Christmas!
This Christmas will go down as the one that was bitterly cold — when the temps got down so low that we had to put a heat lamp in our chicken coop.
Not as cold as the North Pole, though, because Santa and his reindeer had no problem making deliveries.
Before the kids come downstairs we make coffee and Tom reads the Christmas story on the steps. This year we also had to wait for Anna to wake up. She was tired from a late Christmas Eve bedtime, and we let her sleep until 8 a.m.
That's the sort of thing that needs to be documented, right? A 5-year-old waking up being WOKEN up at 8 a.m. is  maybe even more remarkable than 11 degrees on Christmas Day.
Tom reading the Christmas story. I accuse him of being drunk with power on Christmas morning. When I was a kid, we just ran to the tree and our parents tried to keep up. With my own kids, we've somehow imparted the idea that they aren't *allowed* to go downstairs until we say so. They wait upstairs while Tom mills around, makes coffee, gets a little breakfast, reads the morning paper and whips up a watercolor of the morning sunrise.
He says I'm wrong but, um, scoreboard:
Waiting for the final release (guess Tom wanted to marinate a leg of lamb first) and the kids wanted to recreate this photo: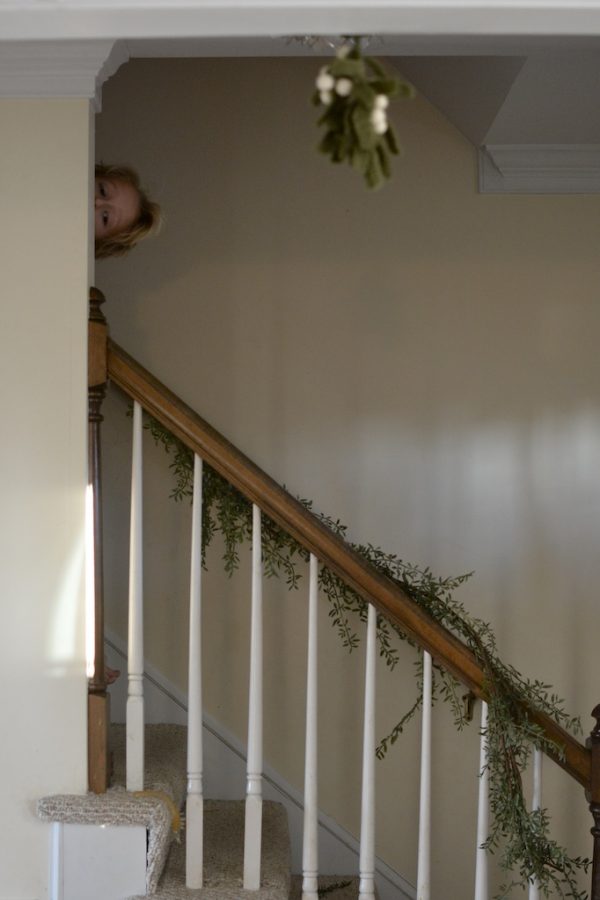 Then they all piled up…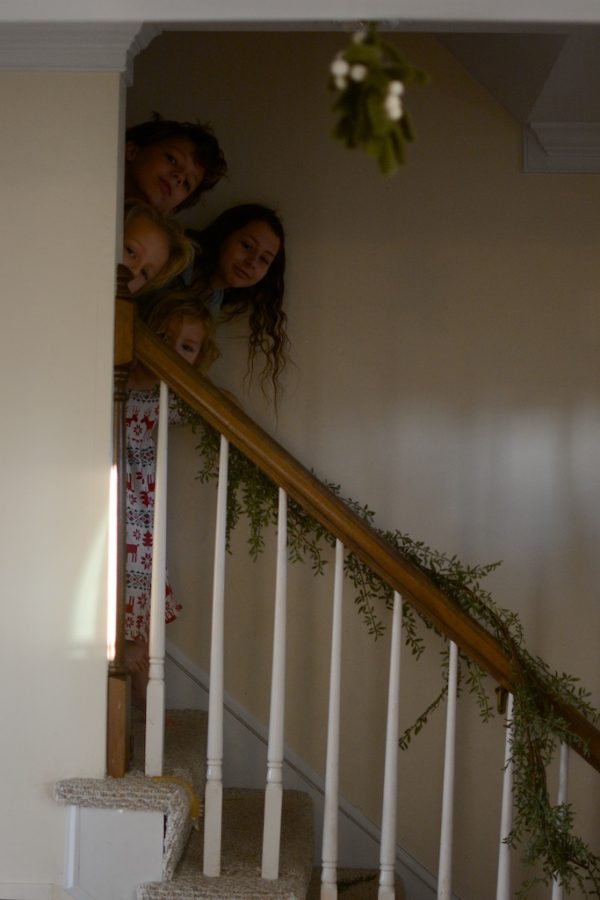 Morning sun and bed head.
Last year I started a new tradition — each kid gets their own paper, but I don't tell them who gets what. Then I get each kid an ornament and they unwrap the ornament to see which paper is for which kid.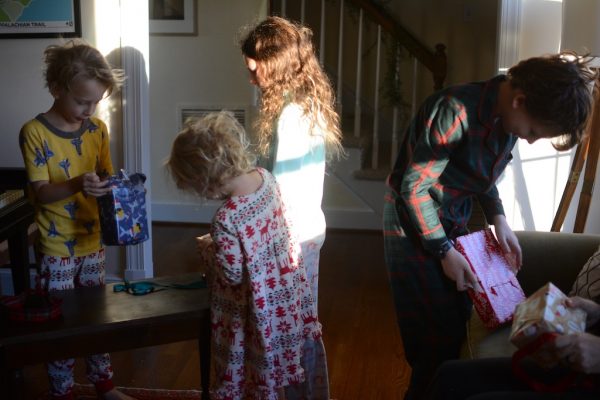 The boys got chess pieces. Their first act was to smash the pieces together, breaking the knight before we even had a chance to hang it on the tree.
Anna got a Bluey ornament.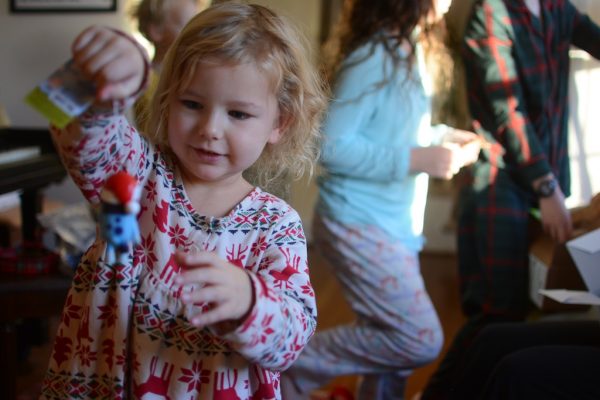 Thomas got an A for his incredible facial expressions. (And, once again, I get an F for my ability to capture these moments in the low morning light.)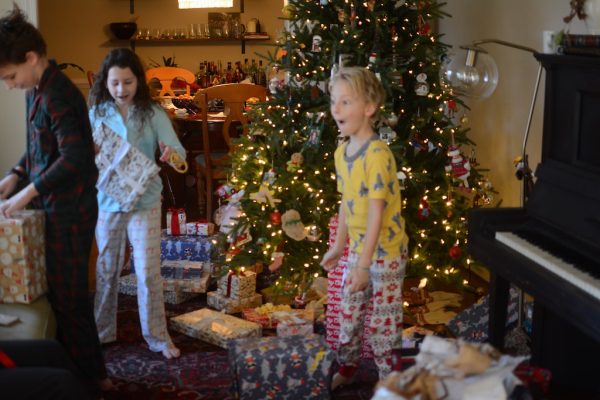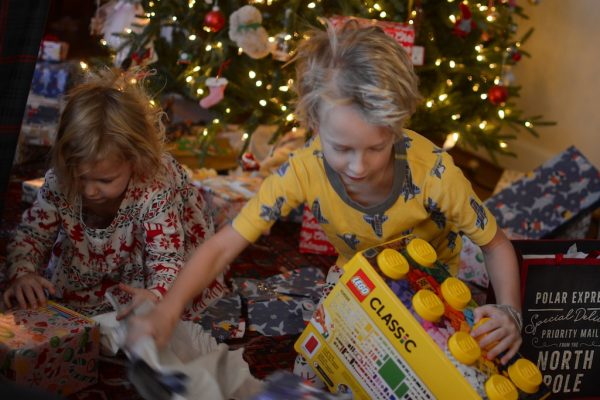 David opened a giant box of long sleeve shirts that he didn't ask for, because he had the gall to grow out of every single long sleeve shirt he owns.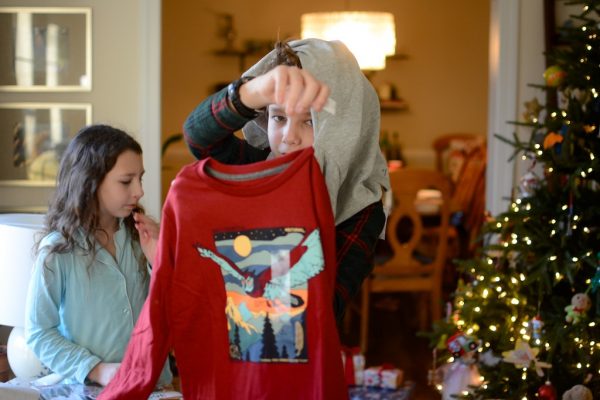 Mary, on the other hand, mostly asked for clothes for Christmas. (She also asked to get her ears pierced, which was her big gift.)
She only got a few things because shopping for a clothes for my fashion-forward daughter is the most terrifying thing I've ever done. This sweater got a "I wasn't sure about this at first, but now I like it." That's the absolute best I can hope for.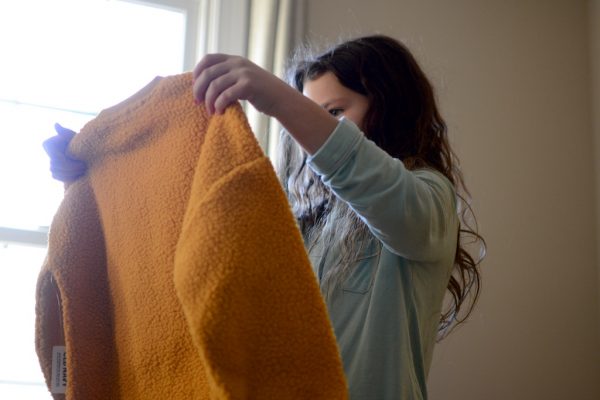 Thomas, again, with the facial expressions.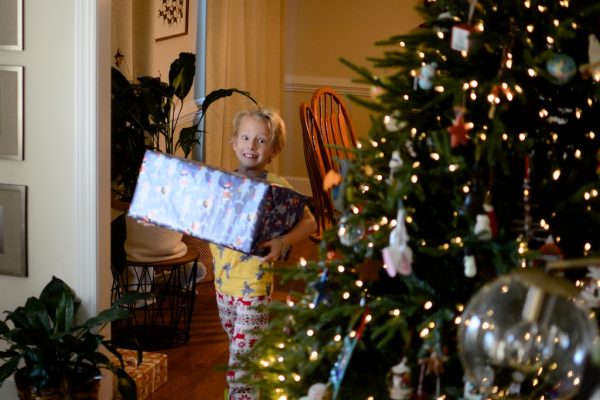 And AGAIN!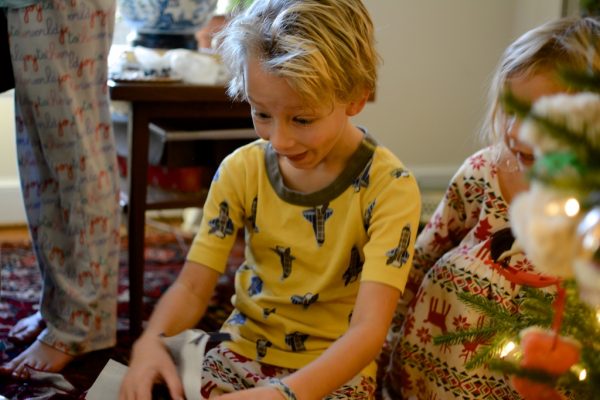 After opening presents we put on our holiday best and went to church. I'll admit, I was a bit grumpy about interrupting my cinnamon rolls and pajamas for church — how dare the birth of Christ get in the way of my STOCKINGS?? The reason for the season!
The worship service ended up being so wonderful. It was so beautiful and meaningful — what better way to spend Christmas than to gather to proclaim his birth?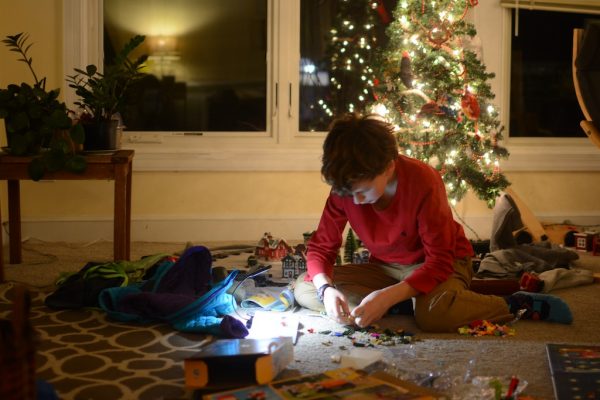 On Christmas Eve we learned of friends who suffered a great loss on Christmas Eve.
Their deep grief juxtaposed with the merriment and joy of Christmas is — to borrow a word from our pastor — disorienting. It has caused me to reflect on the coming of Christ in a more full way. This isn't just a celebration of his birth. We are, on Christmas morning, celebrating his birth, but also his life, his death, his resurrection. The joy of his birth is that he has conquered the death.
Joy, grief, longing, fulfillment. Almost, not yet, already.
Jesus has come; go tell it on the mountain.