Merry, merry Christmas from the Kriegers!
Merry Christmas, especially, from Anna's bedhead and Thomas's cowlick, and four kids who, when they find out that all kids aren't forced to wait at the top of the stairs for their parents to get a cup of coffee and walk around aimlessly for a few minutes.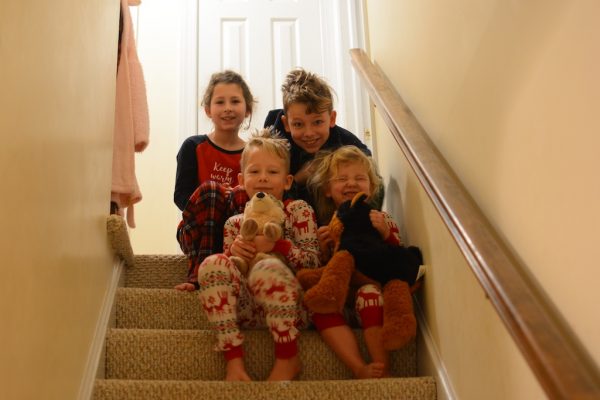 Our Christmas tradition is for Tom to read the Christmas story to the kids while I tell the story of how I initially thought this tradition was a terrible idea, and now it's my favorite thing.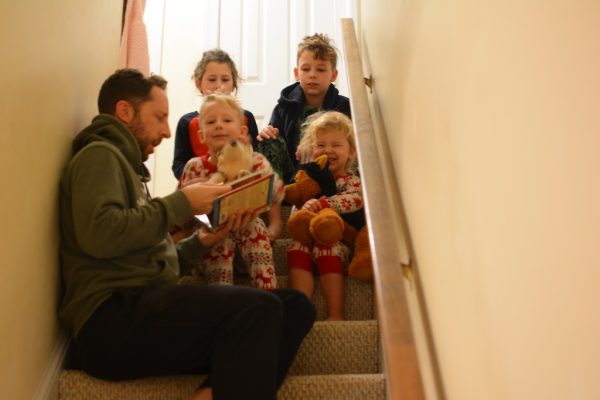 I never use name tags for the kids' presents, I just give every kid their own wrapping paper. This year I wrapped ornaments with the kids' initials on them as a "reveal" of which paper was for each kid.
This is a bad picture — but it does illustrate why, when I went back up the stairs a few hours later, it looked like a family of badgers had gotten into a fight with a wrapping paper store on my steps.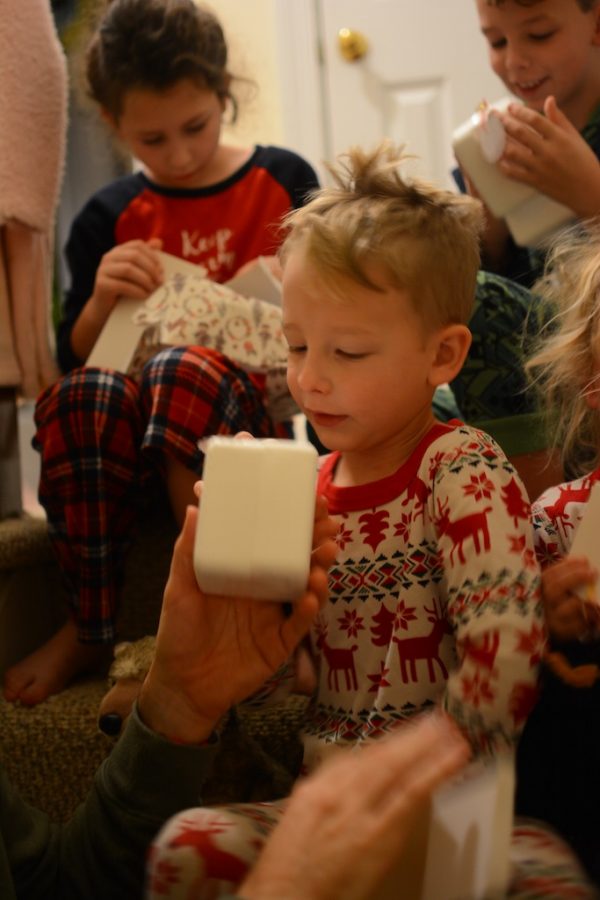 PRESENTS!!
Every year I'm shocked at how a full month of daily Amazon deliveries condenses into a small piles of four presents. And then those giant Amazon piles that condensed, expand again when the toys are opened and strewn through every room in the house.
David, holding up his new Lego set. He's 10 this year and I'm starting to wonder how long he'll ask for Lego. I'll remortgage our house to buy him over-priced sets as long as possible, because Lego is the one thing that can compete with gaming consoles in our house.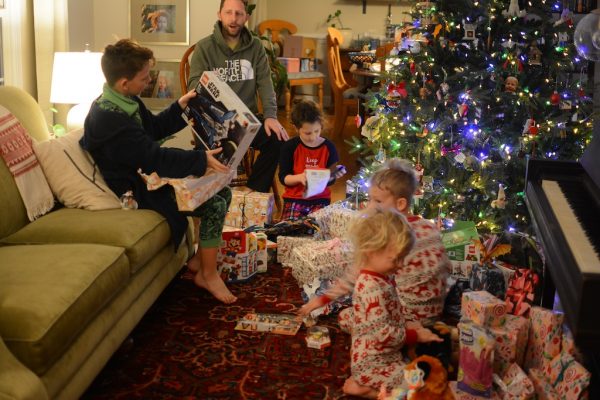 Art supplies — fancy pencils, pastels, charcoal, and a giant sketch book. Mary asked for almost no toys this year. She asked for art supplies, a typewriter, and clothes.
I got her almost everything on her list, and still I was terrified that she'd be disappointed on Christmas morning with nothing to play with.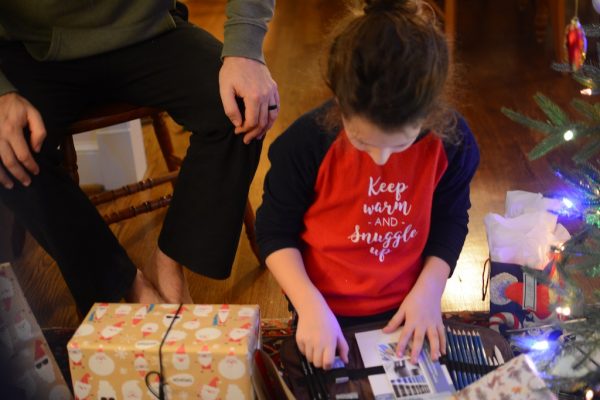 Meanwhile, this one unwrapped an entire pile of toys. Especially, her favorite, plastic farm animals.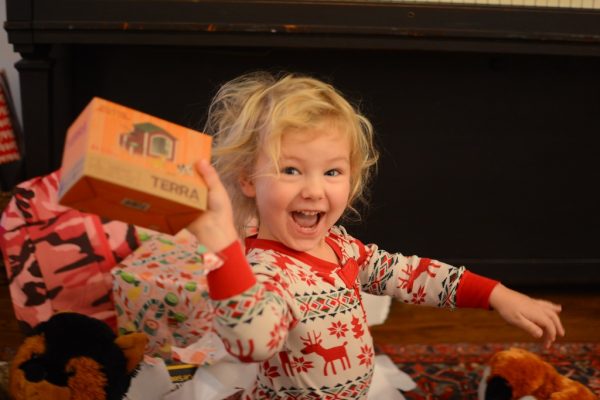 I got David this shirt because I thought it was cool, even though I know that Mom thinking a shirt is cool is the #1 way a shirt becomes UNCOOL.
New Years resolution — play a lot of Nirvana so this doesn't happen to David.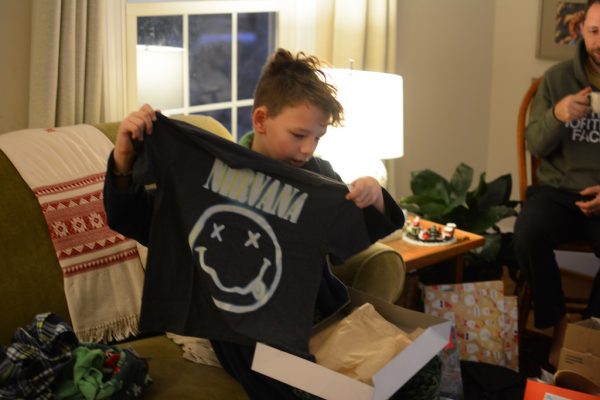 Stockings and a great shot of that bed head.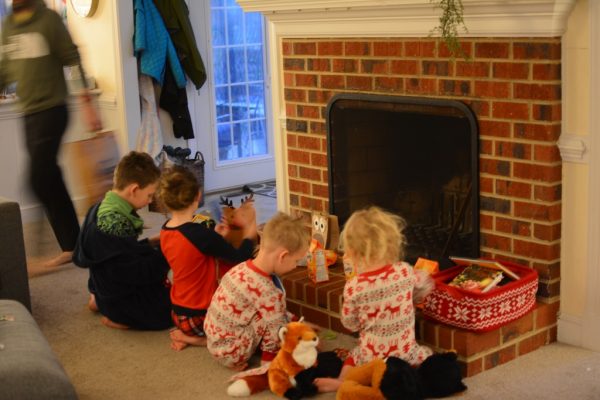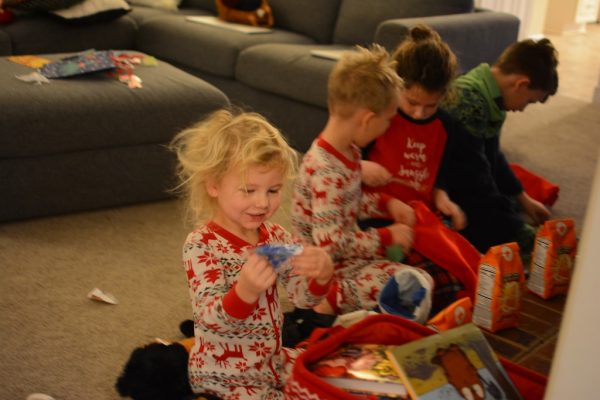 A big Christmas gift this year was a family guitar. Thomas has shown a bit of interest in Tom's guitar, which was all it took to send Tom researching guitars for kids.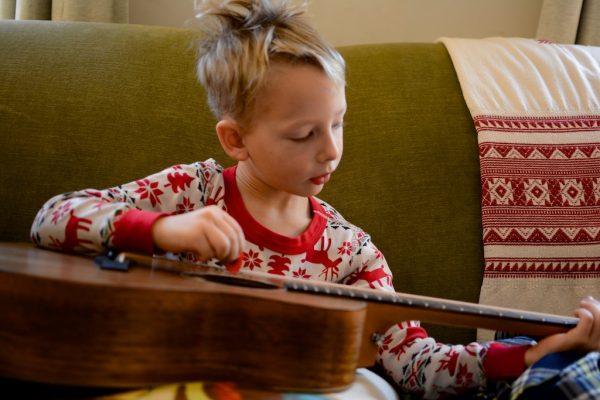 The guitar is still a bit big for Thomas, so he plays it in his lap.
The strings make Thomas's fingers hurt but he still plays, which Tom says is an excellent sign of musical prowess.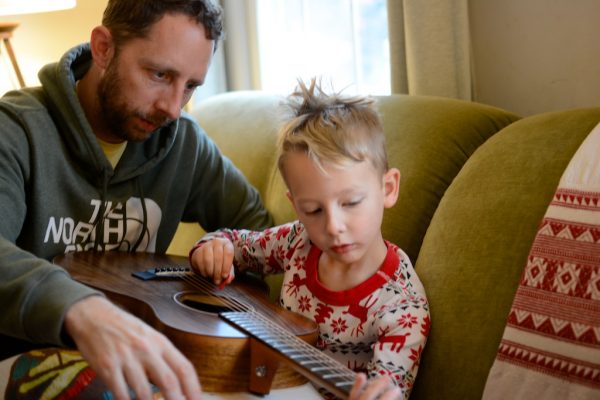 My contribution is taking these pictures, which I hope he'll use as the cover art for his first multi-platinum album.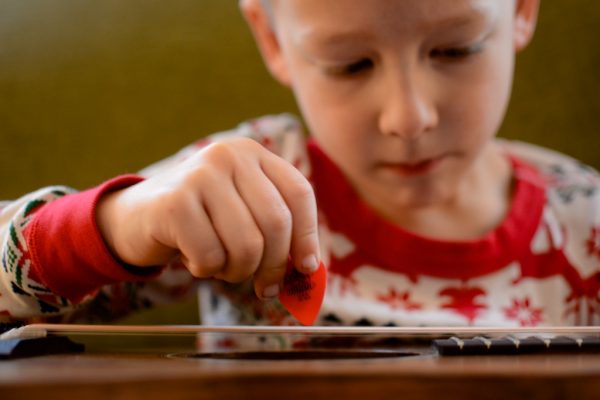 We spent this holiday with cowlicks and bed head, building Legos and playing guitar, all together and at home following our first-ever real Covid-19 exposure since the pandemic began nearly two years ago.
Our family has given up very little in this pandemic. We've been incredibly blessed and insulated from so much of the devastation laying in the wake of this virus. And even a quarantine over Christmas wasn't so bad. Sure, we have fancy Christmas outfits that we didn't get to wear, and a few celebrations that had to be postponed. But I think that when we look back at Christmas 2021, we'll remember it just like any other. We ate a lot of sugar, watched a lot of movies, and spent way more time trying to figure out where to put all these toys than we did unwrapping them.
We were all together, just like every year. Perhaps the circumstances change, but the celebration doesn't — Emmanuel, God is WITH us, redeeming this broken world and our broken hearts. Rejoice! Our Savior is born!