I am interrupting my previously-scheduled recap of our trip to Vancouver to get back to my previously scheduled weekly photo project.
Last week Tom had a work trip, and I decided to take the opportunity to take the kids to visit my parents. I have a lot to say about this trip. I could do an entire week of posts recapping this trip, especially writing about my newfound confidence to do things like drive three hours with all four kids by myself. But I'm going to restrain myself in light of the giant basket of laundry that is currently sitting to my left.
We had a great trip, thanks to my parents incredible help and patience and willingness to hopscotch through their living room to avoid Legos. Sleeping in past 6 a.m. would have probably helped their spryness and dexterity, but I guess we'll never know!
Instead of single portraits of each child, this is a collection of my favorite moments from the week.
The 52 Project — A photo of my children, once a week, every week, in 2019.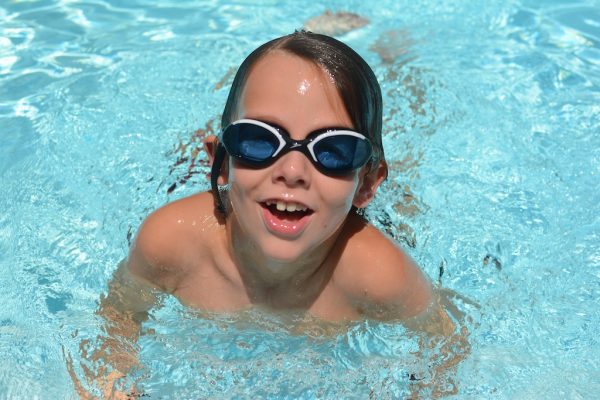 David / Five years ago I took David and Mary (ages 3 and 1) to my parents house by myself while Tom hiked the Appalachian Trail with a friend. My sister was there solo with her four kids, (I traveled from Richmond with two kids, she traveled from Taiwan with four). It was exhausting and I swore off solo travel. During that trip David would wake up in the middle of the night asking to go swimming. A lot has changed since then. David's love for water hasn't.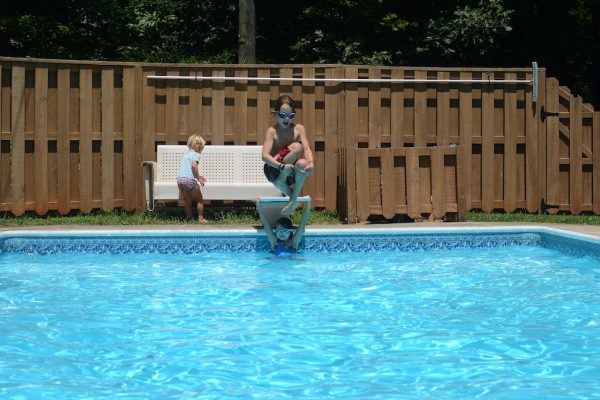 –  –  –  –  –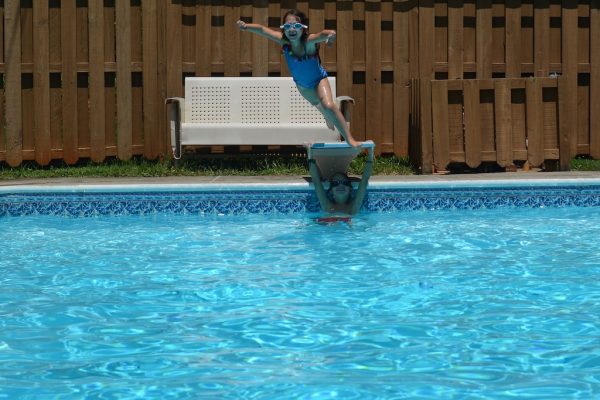 Mary / Sometime last week Mary decided she was going to start swimming underwater. After years of fastidiously keeping her head above water at all costs, she decided to go under. It seems unreal because four days before this photo she was still cringing when water dripped on her face when I was washing her hair.
I couldn't have made her do this. She didn't respond to any amount of convincing or bribery. She just decided she was ready, and she did it.
Now look at her go! And I'm just here, sitting on the sidelines taking photos, awash with pride.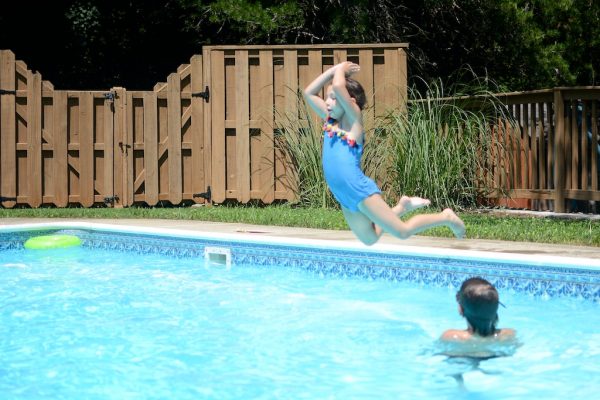 –  –  –  –  –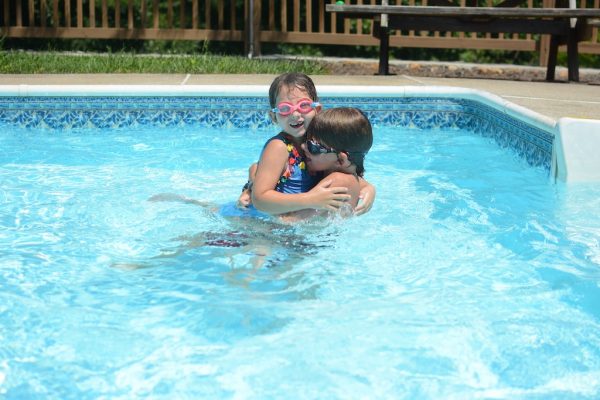 David and Mary / I have a picture of me and my siblings in this exact same pool in this exact same pose taken nearly thirty years ago.
They were wrestling and Mary stopped and asked him, "David when you said you were going to kill me, you weren't being serious…right?"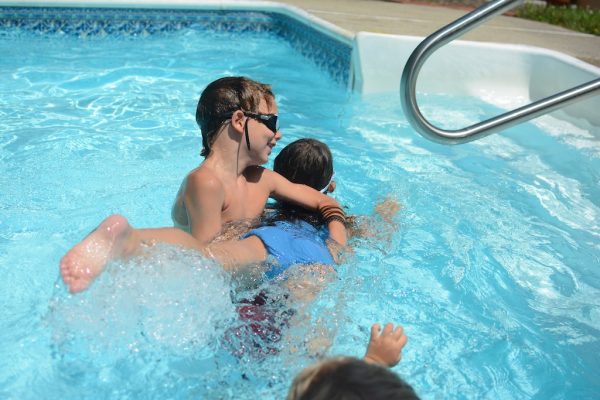 –  –  –  –  –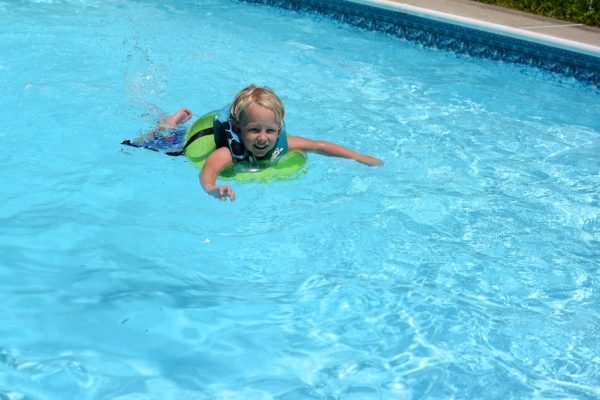 Thomas / Every morning Thomas was up before six even though he needed at least three more hours of sleep. He rallied as much as he could. Sometimes he wanted to swim, sometimes he didn't. Sometimes he was in a mood to play, sometimes he wasn't. He was always, always in the mood for bacon.
One afternoon we convinced him to lay down and rest. When he fell asleep we all exhaled.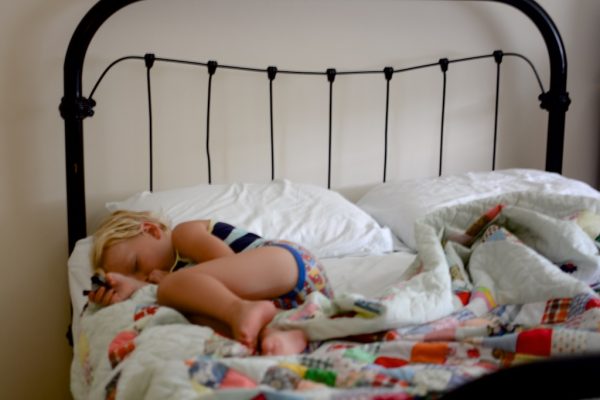 –  –  –  –  –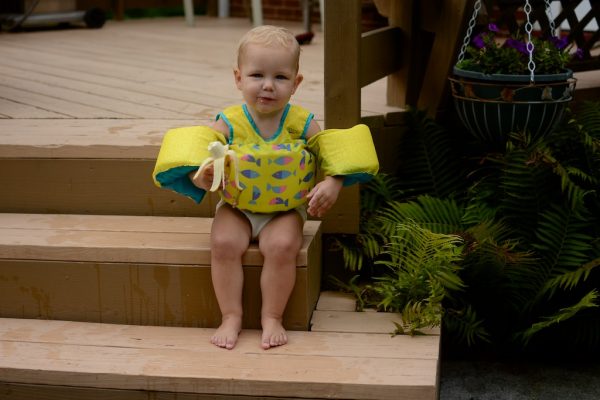 Anna / Our little traveler. She was great, flexible, and very, very pleased with how easy she could use my parents' doorknobs. Her favorite thing was their stairwell and standing up during meals. We were all rooting for her to try the diving board, but she preferred sitting on the side of the pool
–  –  –  –  –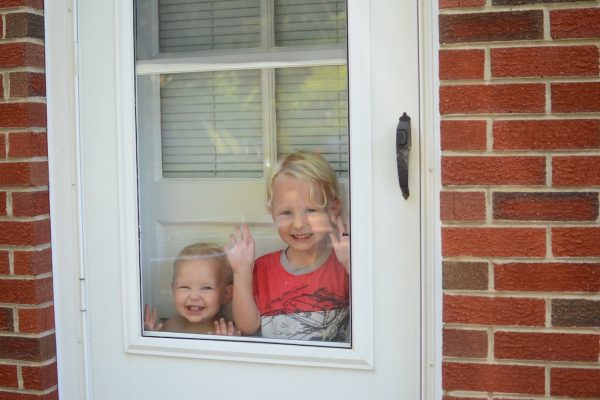 Thomas and Anna / Tom's dad always says that every kids' favorite toy is a door. Here's more evidence — Thomas and Anna loved to trap themselves between the door and the screen door. It was all fun and games until Anna's fingers got pinched.