I'm writing this on the eve of the first official day of my kids' spring break from school. The break hasn't even started and we've already more spilled drinks and danced nude in the sprinklers more than any MTV trip to Cancun.
We don't have any huge plans for the week. We're going to eat whipped cream on our waffles, dye Easter eggs, make slime, and spend time with our cousins. We're going to stay home and be lazy and play outside as much as possible.
Even though we don't have big plans, I've been looking forward to the kids' spring break since their winter break. I love when everyone is home. Plus, when they don't have school I don't have to make it to the bus stop on time two times a day!
But in case you are assuming that any of this implies that we will spend our no-school days holding hands and making daisy chains, YOU HAVE BEEN MISLED! There will be a lot of fighting, whining, messes, and a LOT of me taking away their TV privilege only to immediately regret taking away their TV privilege.
It will be an exhausting week, but all my weeks are exhausting, right? I'm home every day with two toddlers, and when the big kids are home it changes the dynamic in a wonderful way. The big kids are so creative and energetic, they come up with great games and have the attention span to carry out fun ideas. The person most affected by this is Thomas. When the big kids are home, Thomas gets to be the little brother, and the little brother role is one he's happy to step into as long as it means his big brother and sister are including him.
See this? Can you believe wild Thomas allows this stuff? Only for his sister…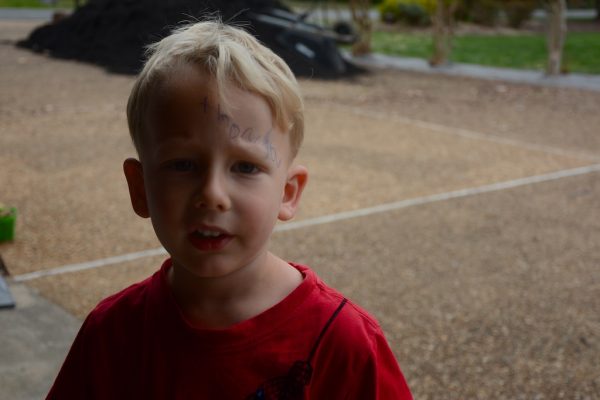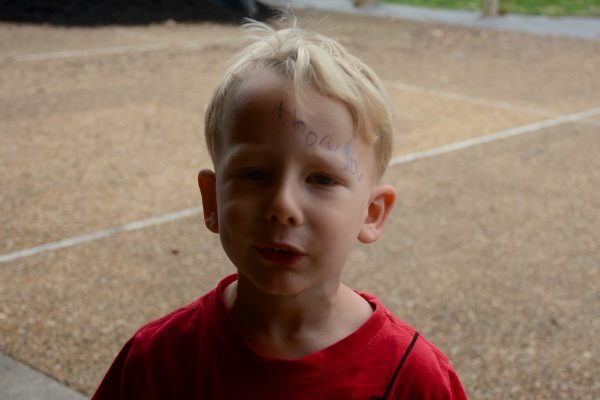 When I saw Thomas with his name scrawled across his forehead I laughed out loud and ran to get the camera.
I asked him to stand still for a photo, and here he is explaining to me that, "I can't just stand STILL! That's not how God made me! We are made to move and get energy! I can't just stand, Mommy!"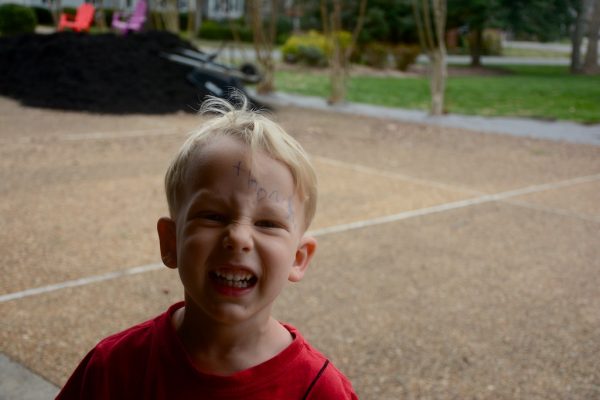 Oh, really? You can't stand still? Maybe not when I ask you to, but it sure doesn't look like you had any trouble standing still for your sister.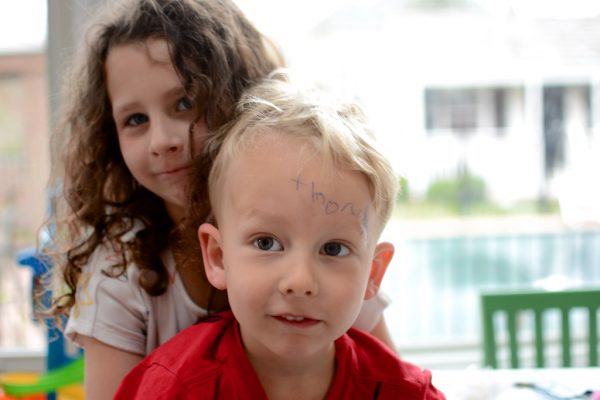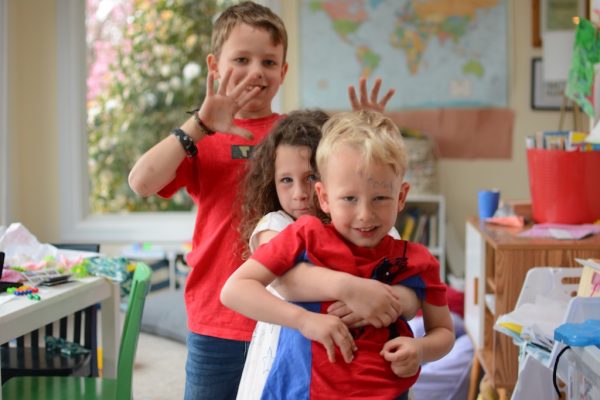 But seriously, drawing on the littlest kid's face? Mary is already a pro spring break-er. I'm just glad she didn't use a Sharpie.