Discerning readers will notice that I already posted about Halloween night, so a post about all of our Halloween prep is out of order. But I cannot move on with my life without showing you the REST of our Halloween fun. I'm super pregnant. Tying on my shoes is a huge accomplishment, so imagine how accomplished I feel about DECORATING PUMPKINS that WE GREW.
Mary Virginia and Thomas both wanted to paint the pumpkins they got at preschool, which we did the weekend before Halloween.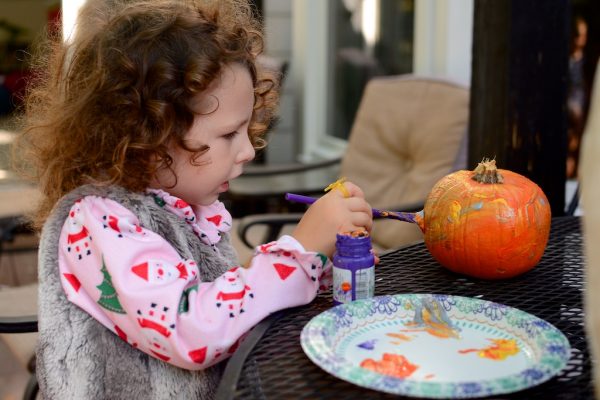 To everyone who I'm SURE will email me for sources, Mary Virginia's pajamas are hand-me-downs and her vest is last season from Target.
I know everyone is really, really ready for cooler temperatures, but I was thankful for warm weather so we could paint outside.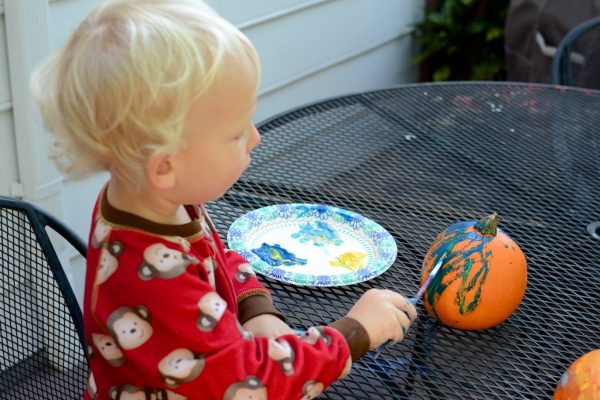 Thomas did a craft in his class where he painted his hand and then put the handprint on paper. It's his favorite way to paint, and he does it every single time we paint.
Just like this.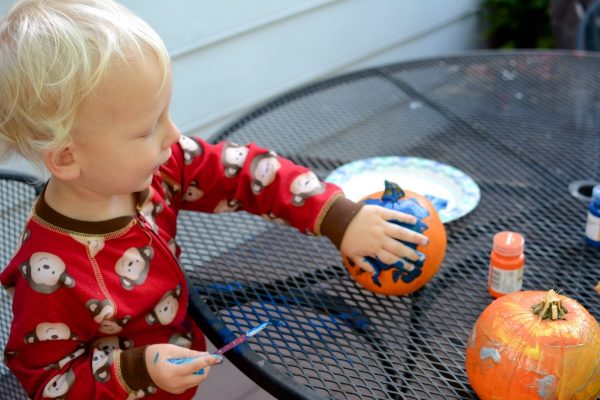 We also happened to have Hedgie, Mary Virginia's class pet, last weekend. Her teacher made sure Hedgie came home BEFORE the baby's arrival, and to call that a mercy is an understatement. Hedgie had a very, very mundane weekend with our family of painting pumpkins and one very exciting trip to Kroger, but we filled out Hedgie's journal and returned it on time! LOOK AT ALL OF THESE ACCOMPLISHMENTS!!!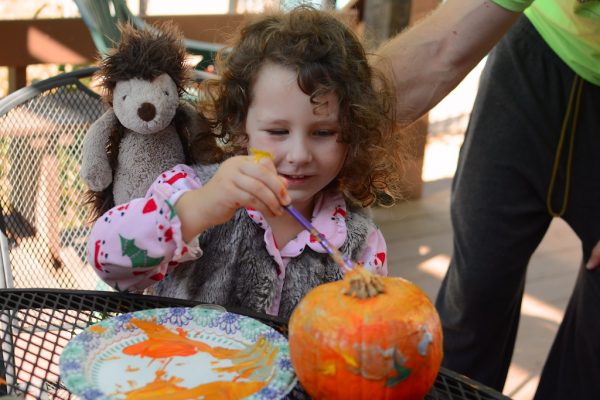 David wanted to paint one of our home grown pumpkins, and he looked at the shape and asked if he could paint it into a skull.
I know I'm biased but WHAT A GREAT IDEA.
We decided to make a glow-in-the-dark skeleton, so we started with 386 coats of glow-in-the-dark paint. Maybe we should have tried 387 coats (or maybe used glow-in-the-dark spray paint?) because the pumpkin didn't really glow like David imagined, but he didn't mind.
After all those coats of glow-in-the-dark, David and I looked at pictures of skeletons on Pinterest and he drew a skeleton template (that I doctored a little) and then traced onto the pumpkin. Then he painted the shapes with black paint.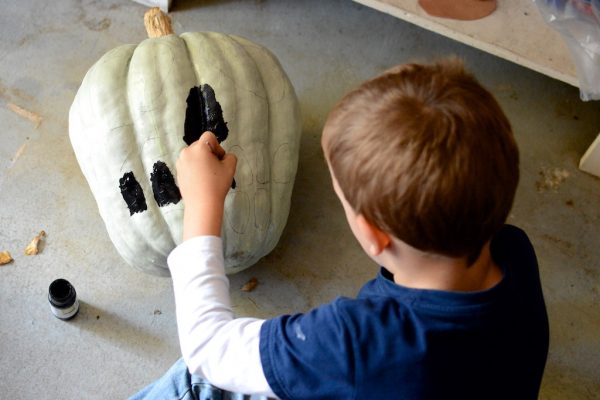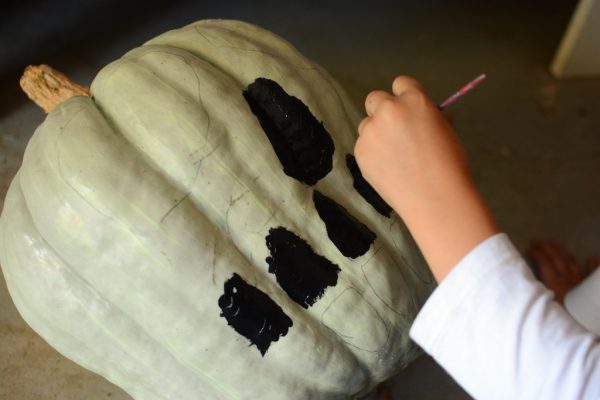 Thomas wasn't involved in this process at all and yet he somehow got black paint all over his shirt.
This light is awful but we COULD NOT WAIT to show off the finished product.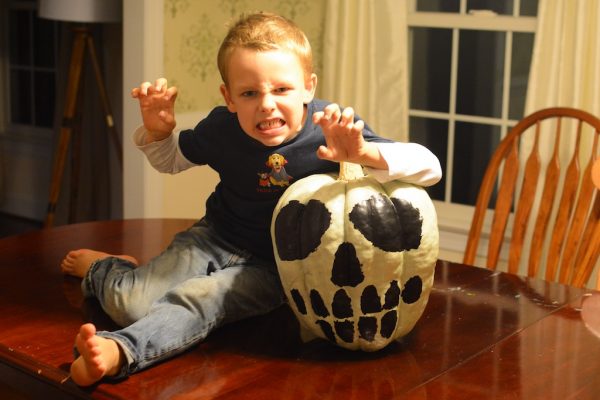 And here's the best picture I could get of it glowing.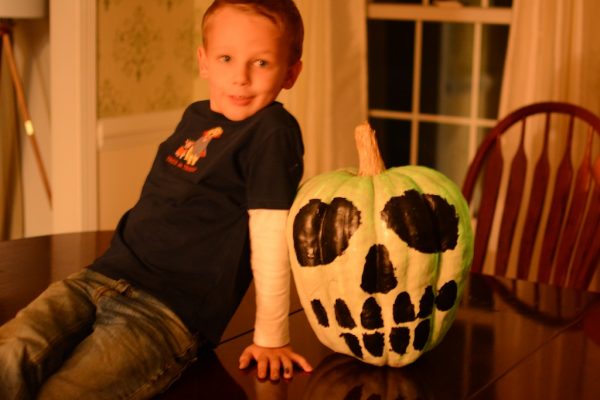 This picture is super weird but David thought it really captured the essence of his vision.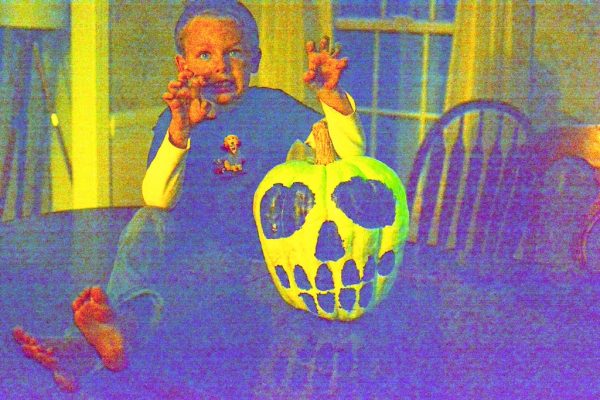 ANOTHER ACCOMPLISHMENT I need to point out — David's school celebrates Halloween Day as book character day. David decided to dress as No, David, and I was like, "Here you go again with the amazing ideas."
Here's "No, David" on our porch with his amazing skeleton pumpkins, and most of the other pumpkins from our pumpkin plant (he got the orange one from his pumpkin patch field trip).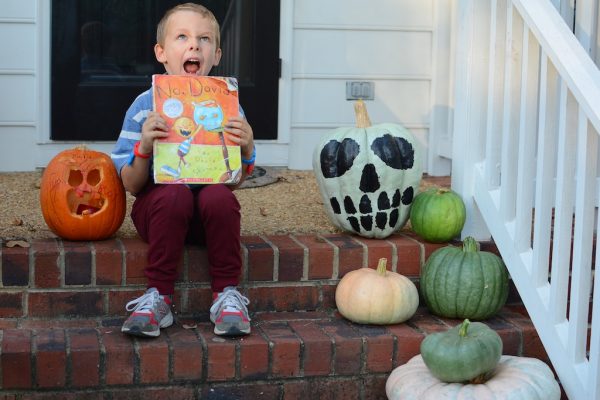 I had to scramble around to get him a blue striped shirt and red pants, and when I bragged about my ACCOMPLISHMENT to Tom, my dear husband noted that we also have books about dinosaurs, why didn't he just wear his Halloween costume to school?
Ok. Another phenomenal idea. Also a very obvious idea that would have required zero scrambling.  But since he didn't mention it until THAT MORNING I'll never forgive him. Just like I'll never forgive him for sleeping soundly all night while I uncomfortably toss and turn with Braxton Hicks. THE NERVE.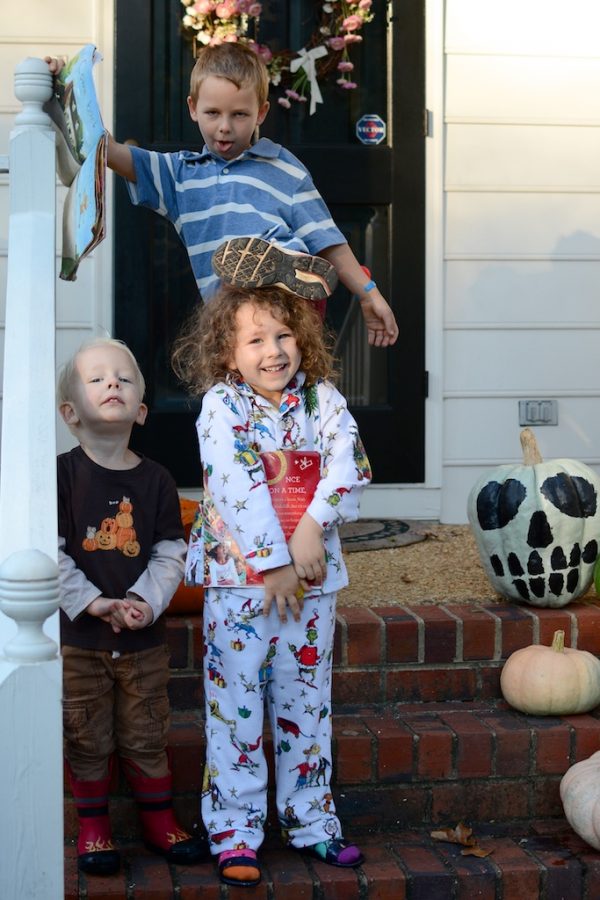 The little ones didn't have to dress up, but if you ask me they're dead ringers for Cindy-Lou Who, and our very own little Titch, who's always in character (if you've never read that book, it's a great one).