One of the things I love about having a blog for this long is that on any holiday or season, I can easily look back and see how my family has grown and changed through the years.  Easter egg dyeing is a great example. This is a tradition that dramatically changes as your kids get older. (Also true for Christmas tree decorating, Valentine making, trick-or-treating. Ok, also for everything in life, like getting dressed in the morning and having a conversation.)
I love being able to look back at the year the year I realized that the key to this craft is doing it OUTSIDE, with wine in hand. The year I thought we were going to blow up the house. The year we really hoped Thomas would be distracted by a popsicle, and we were wrong. The year I completely forgot to dye eggs so we painted them (and dyed more a week after Easter).
This year will go down in history as the year that Mary and David were part scientist, part artist; the year all Thomas did was eat; the year Anna discovered food dye and fell in love.
(Oh, and also as the year that we were in quarantine. Who could forget spring 2020?)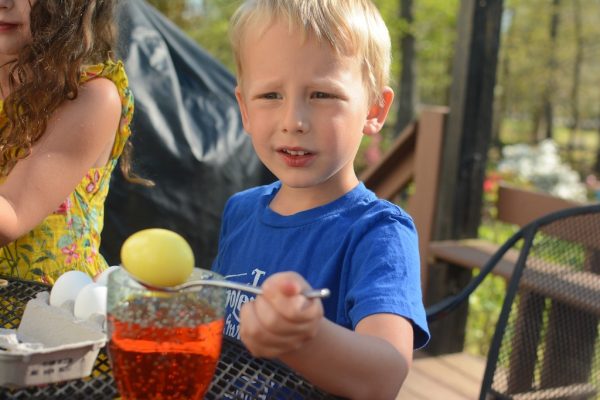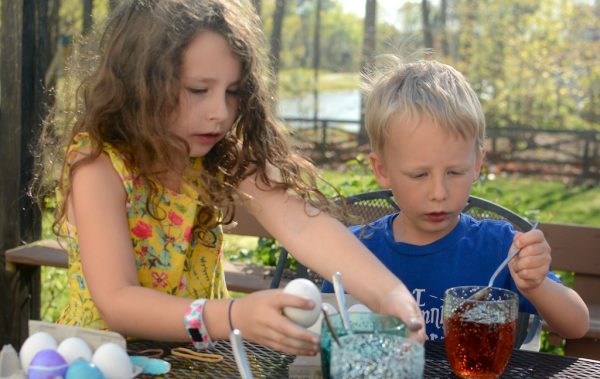 This is Thomas dyeing the only egg he dyed — a yellow egg. I gave the kids six eggs each, and Thomas broke four. Each one he touched fell to the floor. I have no idea how it happened, it's not like he's normally a clumsy kid. It's not as if he was being reckless. Perhaps the problem was that he was trying to be careful.
Either way, it didn't matter. Thomas wasn't even a little bit interested in dyeing eggs. All he wanted to do was eat the eggs.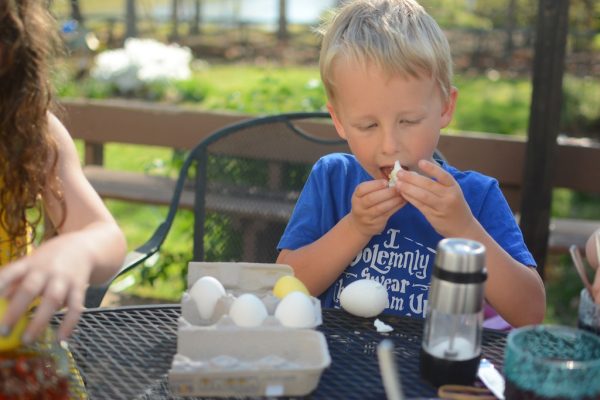 Mary and David were hard at work the entire time. Since we don't use any fancy kits, the kids are a little limited in what they can do. Mary made stripes with a rubber band, and David worked on making tri-color eggs.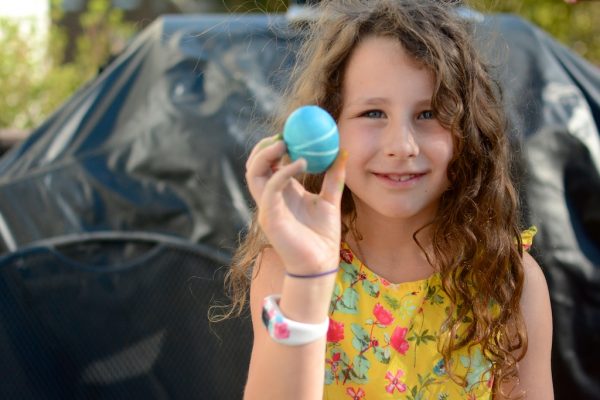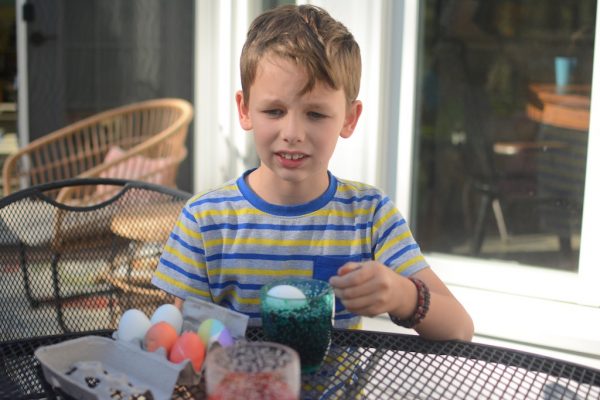 David's pained, far-off face is because he was counting to make sure he dyed each color the same amount of time. I call this picture "the angst of the over-achieving first-born."
Meanwhile…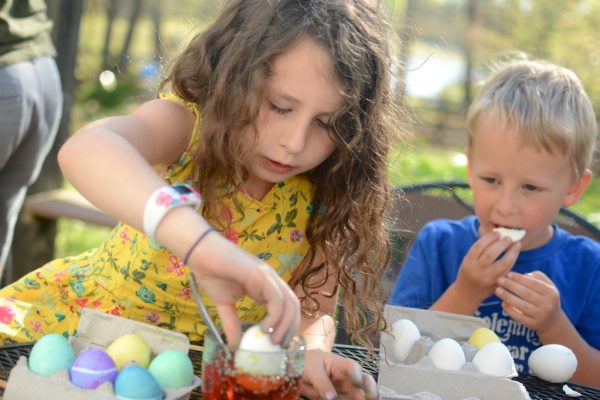 Thomas is still eating.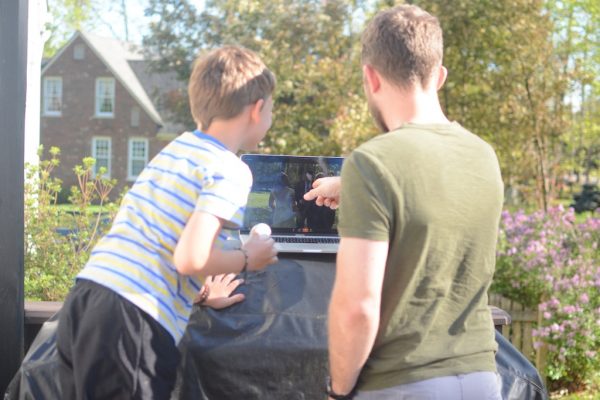 The same afternoon our friend got married on Zoom. That's how I learned that I cry at all weddings including Zoom weddings.
(Thomas just ate through the wedding.)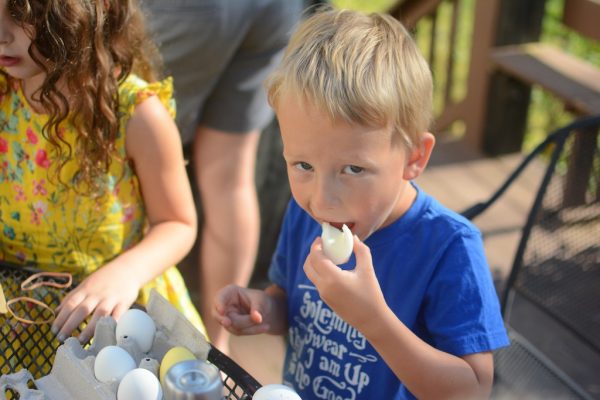 Anna woke up from her nap just before we did the eggs. She had her normal post-nap popsicle and then David showed her the ropes.
"See these cups? You put the egg in the cup! It changes the color!"
Those furrowed brows, she isn't convinced.
Taking a closer look…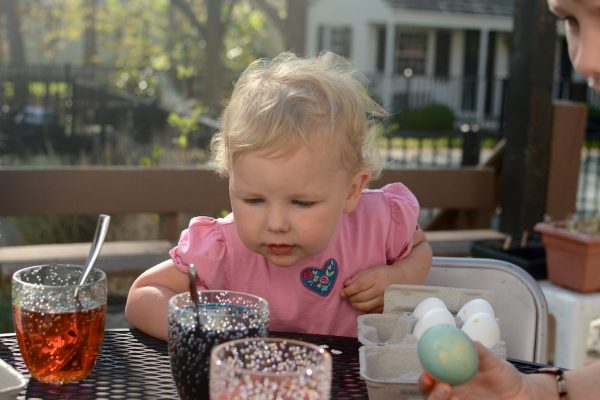 We put one of her eggs in the purple dye, which made her even more skeptical.
Hold on! We haven't checked on Thomas in a while. Thomas, how ya doing, Buddy?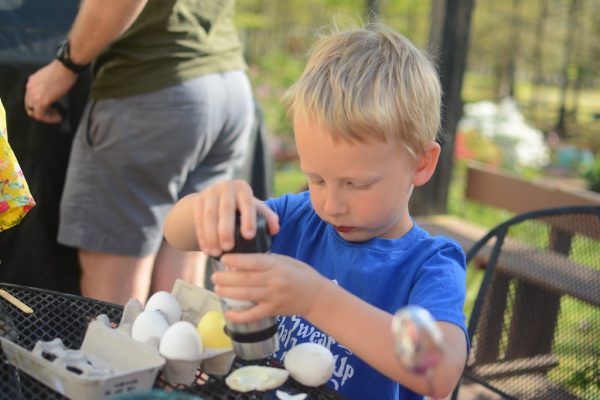 Help yourself to some salt! So sorry, don't let us interrupt you.
Mary lifted Anna's egg out of the purple dye and! VIOLA!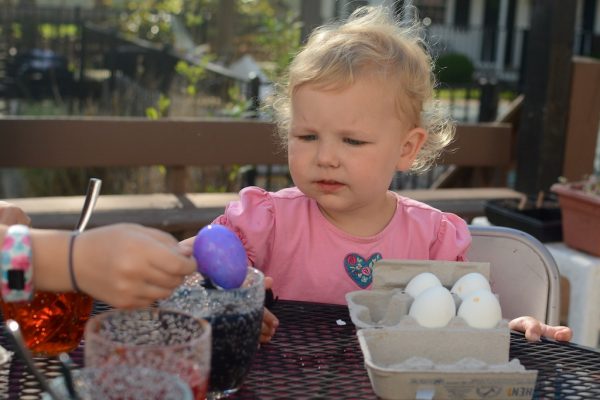 Anna is sold.
Someone has a new favorite tradition!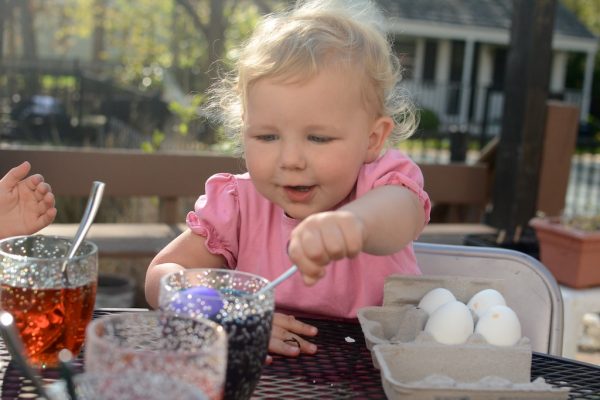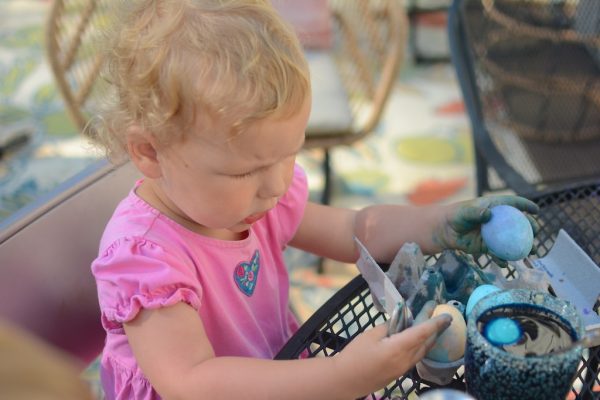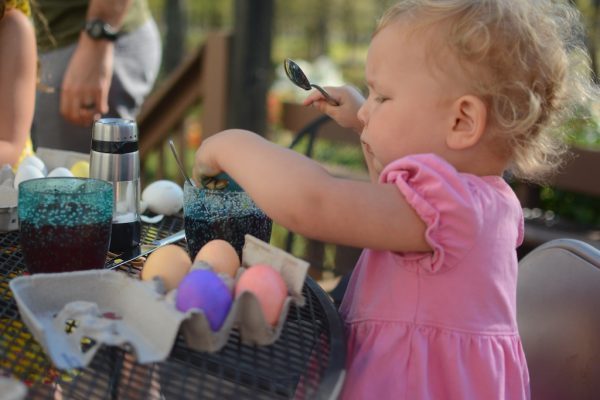 Look how serious. She is just the sweetest ever ever ever.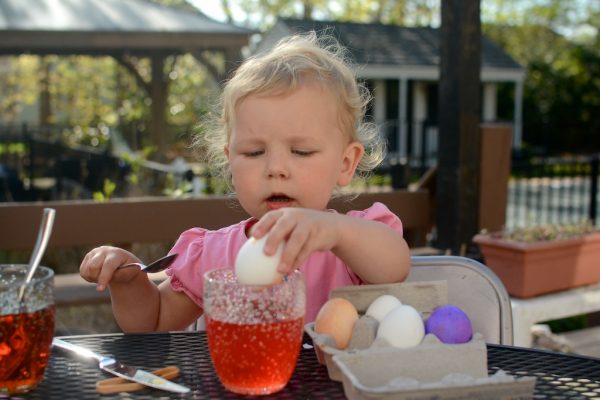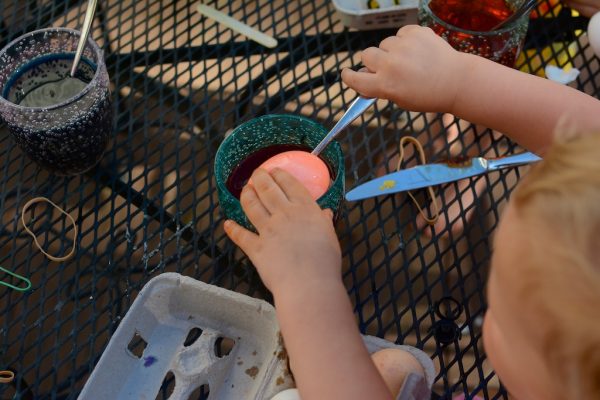 Anna dyed all of her eggs, and when she ran out she didn't even care because, did you know that you can dye your skin, too?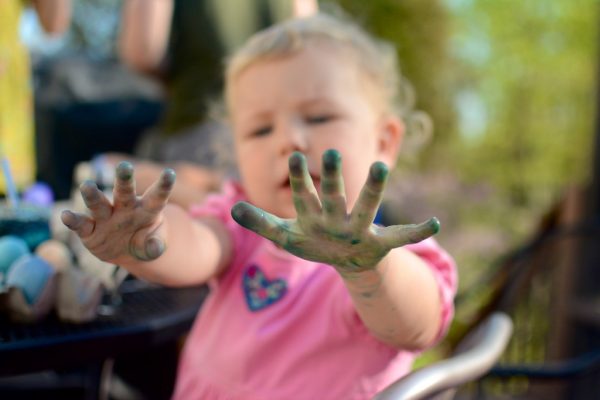 So, so proud of these blue fingers.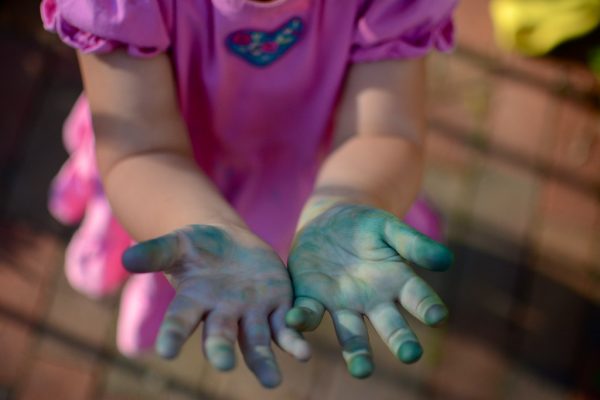 And even more proud of this sweet crate of eggs.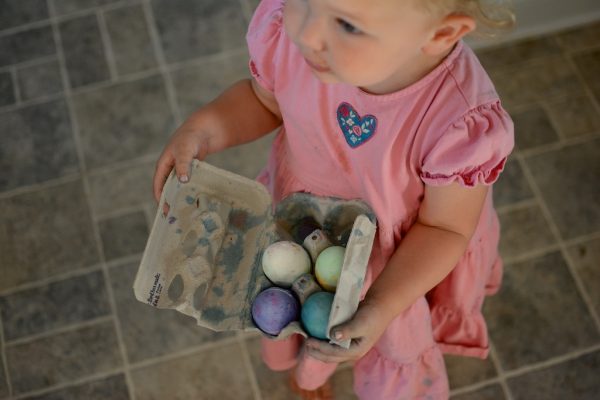 David and Mary realized that the longer you leave the eggs in the dye, the more vibrant the colors become. Tom took them to visit his grandmother in her quarantined home, and when they were gone they left eggs soaking.
When they got back — jewel tone eggs.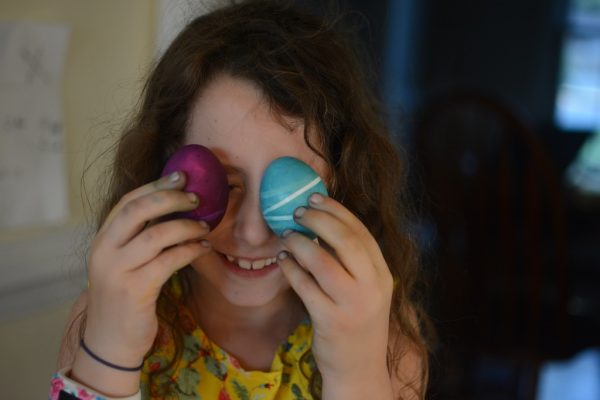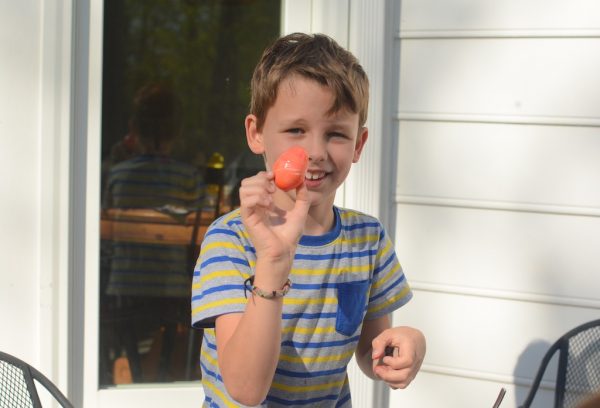 I cleaned up the mess, reflecting on how next year will be totally different. Anna will be 3.5. David will be 9.5. Will he still be interested in dyeing Easter eggs? When do kids stop wanting to do things like dye Easter eggs with their family?
Of course the biggest difference, Lord willing, is that we won't be in quarantine. Mom won't be watching a Zoom wedding because, by then, we'll be saying things like, "Remember last year when all the wedding celebrations were cancelled and everyone got married online?"
Next year we'll dip eggs in dye. We'll watch the colors change and reflect on how simple traditions like these were the ones that helped us remember that one day everything would be back to normal.