Sometime in July I started feeling the walls close in.
It's 2020, I'm sure you can relate.
In fact, I probably felt like that even earlier than July, I just didn't realize it.
It was hot, school was on hold for the foreseeable future, and our routine of having no routine was feeling claustrophobic.
Since summer was almost over and we still haven't been many places since March, Tom and I brainstormed a quick end-of-the-summer getaway. We decided to pack up our bathing suits and masks and take our first-ever family trip to the beach.
Not in the 10+ years of our marriage have Tom and I been to the beach, which means our kids are similarly deprived.
(Fact check: Thomas corrected us and reminded everyone that we went to the beach in Vancouver. We also took David to a beach for a wedding. And once Tom took the kids camping where there was a beach. Those are all true. HOWEVER. We've never taken a beach vacation. Until now.)
On Monday morning we all woke up like normal, and then we told the kids we were GOING TO THE BEACH!
All we had to do was, ya know, pack and clean up. (This, if you have children, translates to running around your house throwing things into bags and yelling at everyone for at least four hours.)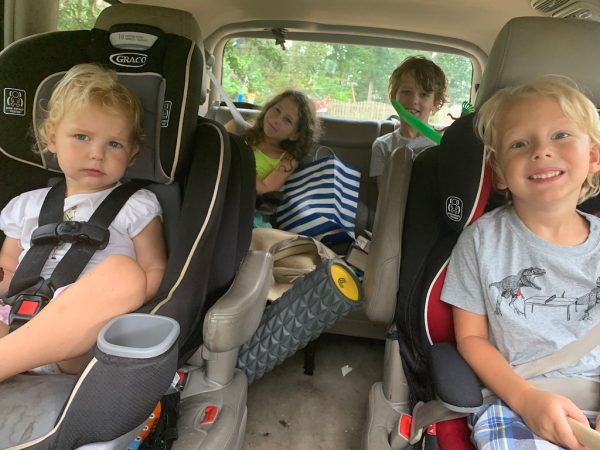 Perhaps the best thing about taking your kid to the beach for the first time when they're nine is that they LOSE THEIR MIND when the finally do go to the beach.
David — my kid who has been water-obsessed since the day he was born, who we used to have to trick him into taking breaks from the pool because we were worried he'd drown himself, who used to wake up at 2 a.m. and ask to go swimming — has actually chilled out a little about the water. But the ocean brought that crazy water love back out.
He sprinted straight into the ocean, before we even had a chance to warn him about the waves or undercurrent.
He was immediately pummeled by a wave, I saw nothing but legs in the air and foam. Then I saw his head pop up and a huge smile.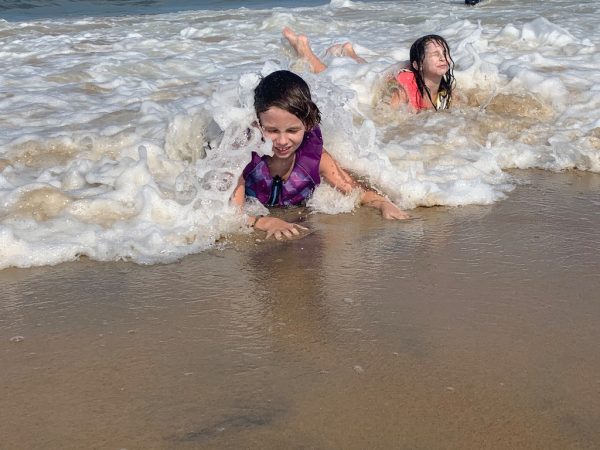 David mostly stayed in the ocean (especially after we bought them boogie boards on the second day), and Mary played in the surf and collected shells. Thomas ran between the two — the water and the sand, and Anna stayed safe and dry up by our umbrella. Occasionally she'd start packing up our stuff and ask when we were going home.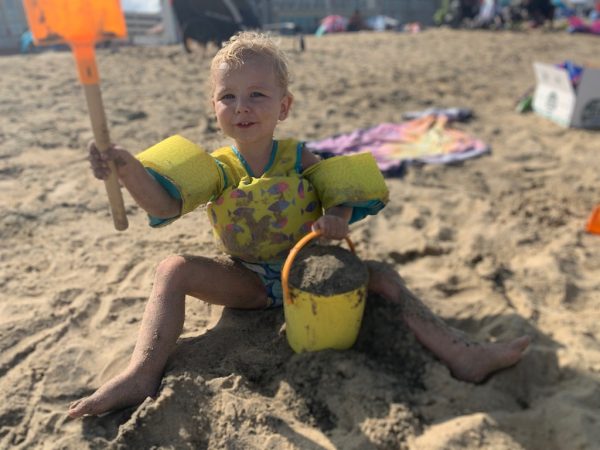 Speaking of packing up our stuff — all you people who go to the beach all the time WERE NOT LYING about all the schlepping. WOW! And I even thought of myself as pretty good at schlepping after all these years.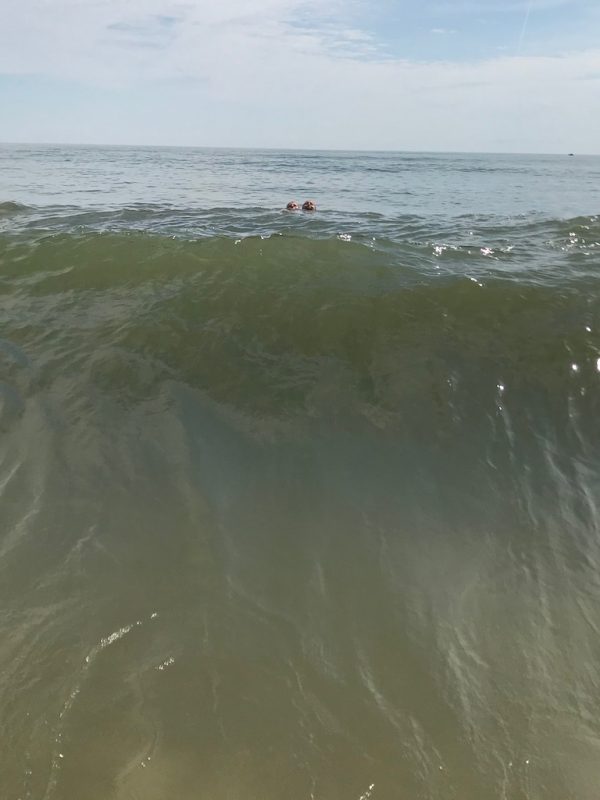 This is David and me at the top of a wave that somehow looks 20 feet high.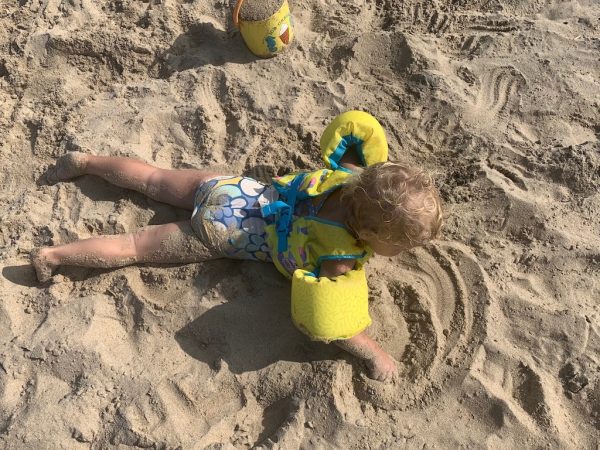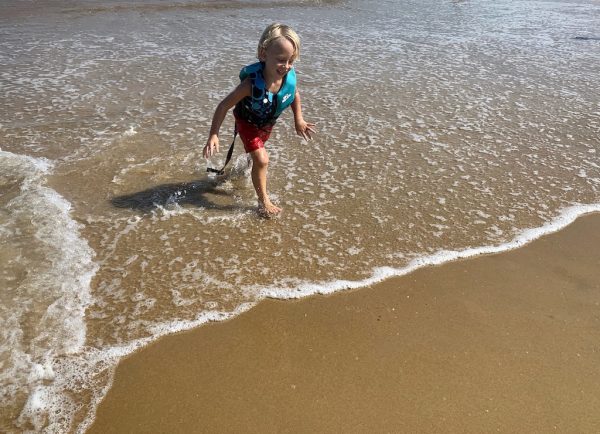 Going to the beach during COVID-19 is a bit of a bummer because we couldn't do many of the things that make beach trips fun. Walks along the boardwalk to get ice cream, going out for putt-putt, joining another family to make a sand castle — we didn't do any of that.
However, I suppose that's a benefit to going to the beach for the first time during COVID. My kids didn't miss all that stuff. For them it's all sand and surf and a frozen pizza Mom brought from home back in the hotel room. And masks. And NO TOUCHING ANYTHING, KIDS!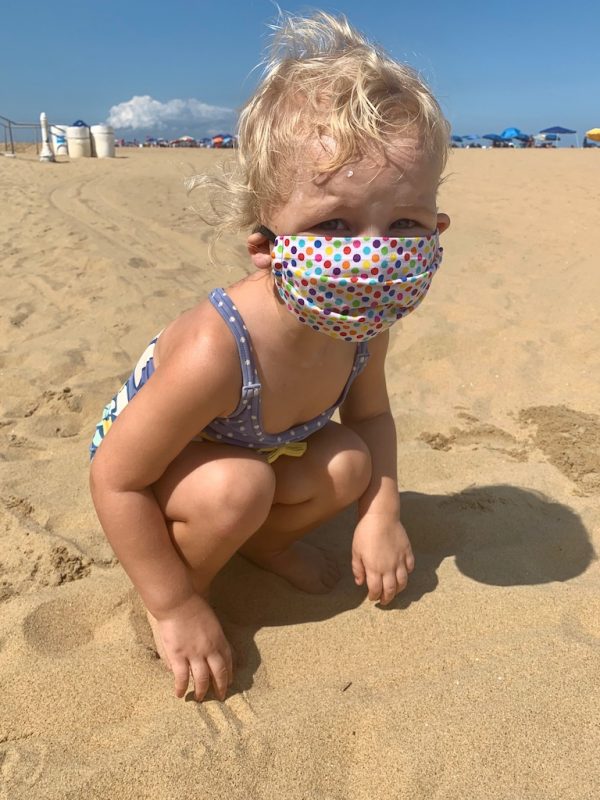 Next year — I say that about so much — next year things will be back to normal (I hope, I hope, please, Lord Jesus). School, sports, work, and a beach vacation.
We're already talking about next year because we had such a great time, even with all that schlepping. (And SAND! THE NEVER-ENDING SAND!) Perhaps I'll become a beach person after all; all it took was watching my kids have the time of their lives.