We just got back from family vacation, and I honest-to-goodness barely have time to mine through the piles of laundry we brought home before school starts tomorrow.
The vacation-to-school boomerang is a lot to take in. I can't figure out if it's better for me to be busy — that way I have less time to prune myself in a stew of anxiety and sentimentality — or if it's too much craziness for a person like me who could, um, let's just say grow in her organizational skills. 
What I do know, for sure, is that I'd love to be lifted straight out of back-to-school to do lists and schedules and placed back in Deer Valley, where there's no WiFi and DEFINITELY no bus routes to stress over.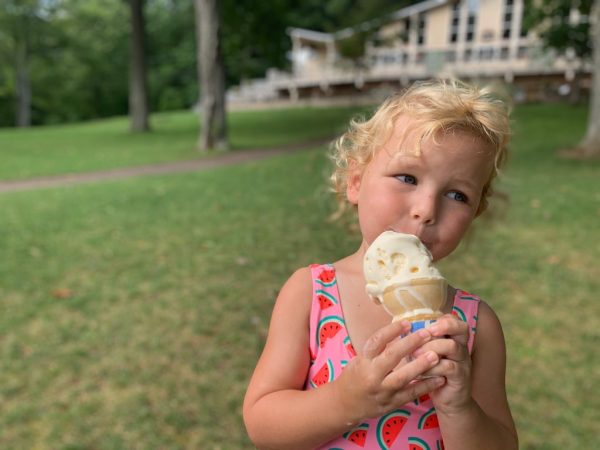 One small scoop looks different at Deer Valley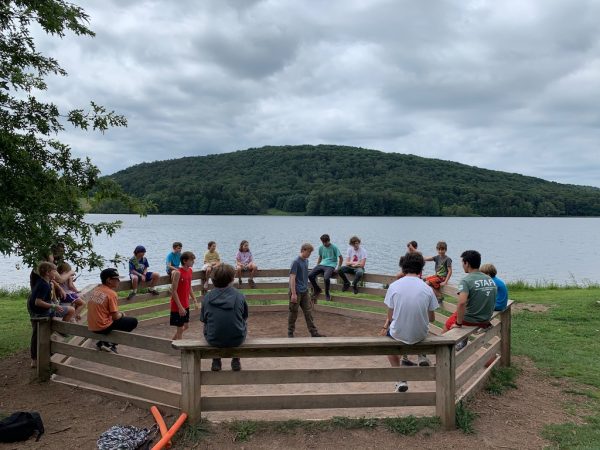 The kids playing Gaga. The older cousins were obsessed with this game all week. 
Deer Valley is a YMCA Family Camp which I describe as a sleep-away camp, except your whole family is there. We went for the first time two years ago, took last summer off, then returned this summer.
(I wrote about our first summer here and here.)
Last year I didn't really know what to expect. I was leery, unsure, kind of deer-in-the-headlights about the whole experience. I didn't fully grasp the concept, all I knew was that I had a nursing baby that wasn't interested in skipping nap time even if it happened to conflict with family tie-dye.
This time was completely different. This time we had bad weather,  and COVID restrictions, but we still had a week of incredible adventures, fun, family time, and we were outside for 14 hours a day.
I love Deer Valley, even when it's raining, cold, and we can't gather inside.
My only regret is that I didn't bring warm socks, and I didn't take more pictures. Here are just a few of my favorites.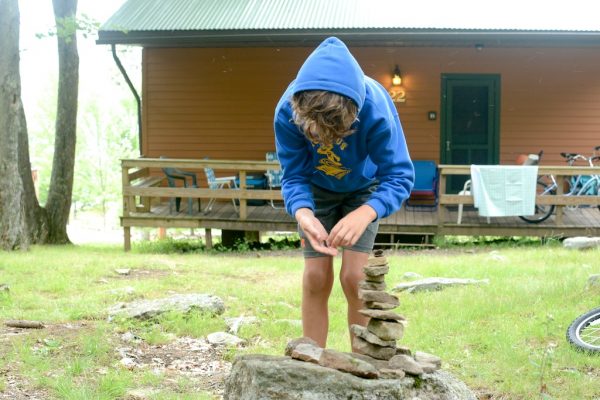 One day the adults were trying to plan out the day and the kids kept being kids and interrupting, so Uncle Steve showed them how to make cairns and challenged them to see who could stack the most rocks.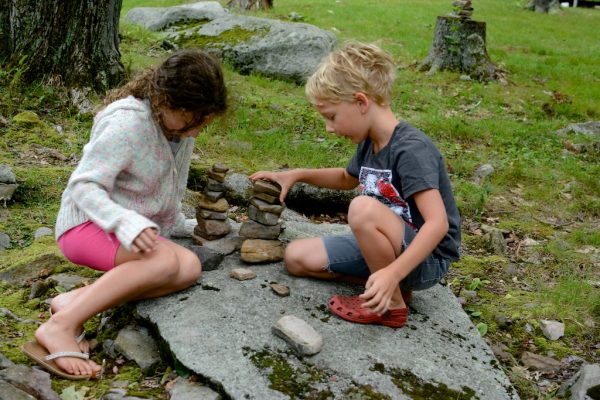 I'm pretty sure Caleb won, but actually Uncle Steve won because this simple activity captivated the kids, and they kept returning to it throughout the week.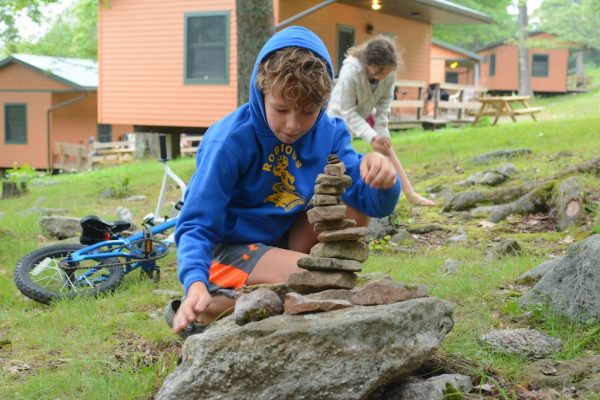 Can you see what Thomas put at the top of his cairn?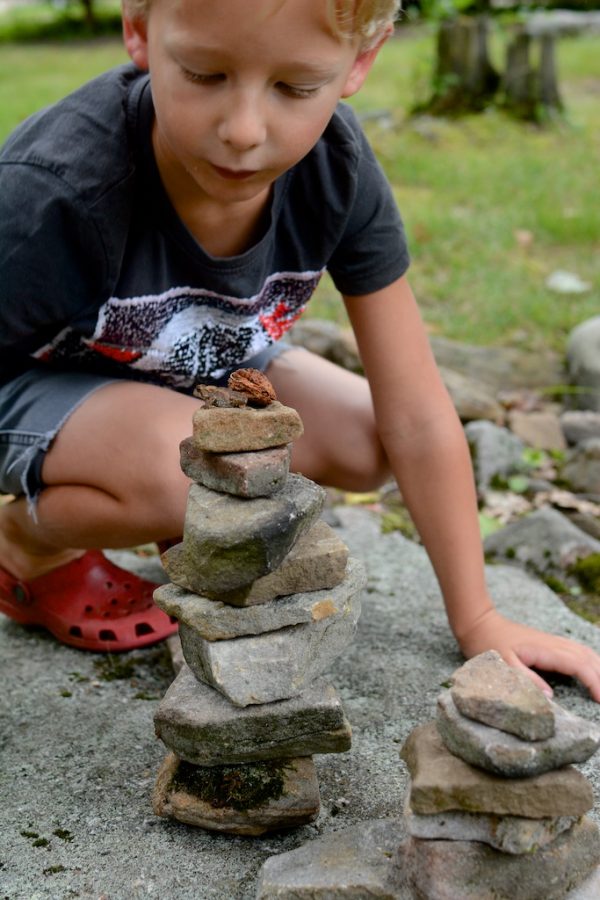 Grey skies and blue eyes.
It's 90+ degrees in Richmond, but all week in Deer Valley (Fort Hill, PA) it was cool and rainy. Hoods up, kids!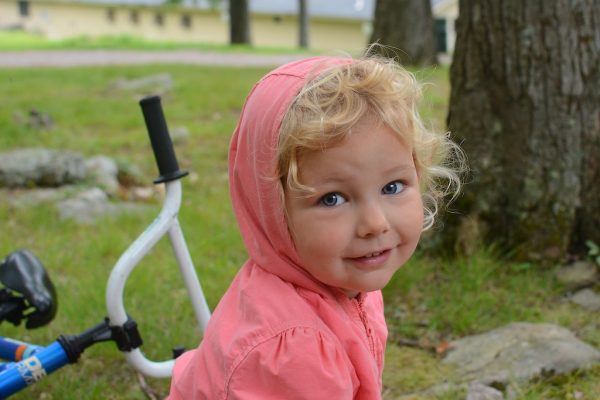 Tuesday was David's birthday. I decorated our cabin with lame Minecraft swag that I bought last minute, and we celebrated with gifts, donuts for breakfast, and a surprise jar of pickles — his very favorite.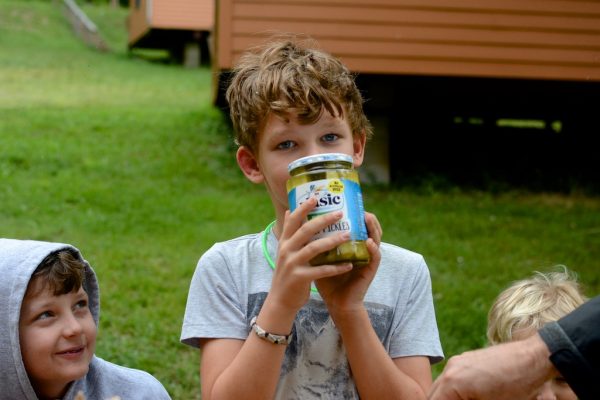 For dinner the camp served cake — a nice coincidence.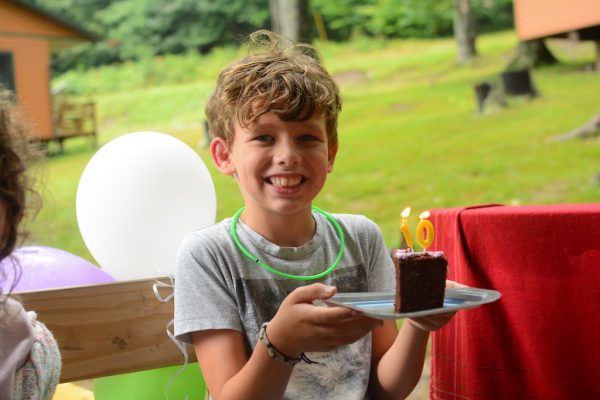 Troubadour!
At the end of the morning, Mary's group always did a sing-a-long. I sneaked up on them for this picture of them singing and dancing to "Ghost Chicken."
Anna found this feather, stuck it in her bike handle bar and said, "Everyone will see this and say, I wish I had a feather in MY bike!"
Sigh.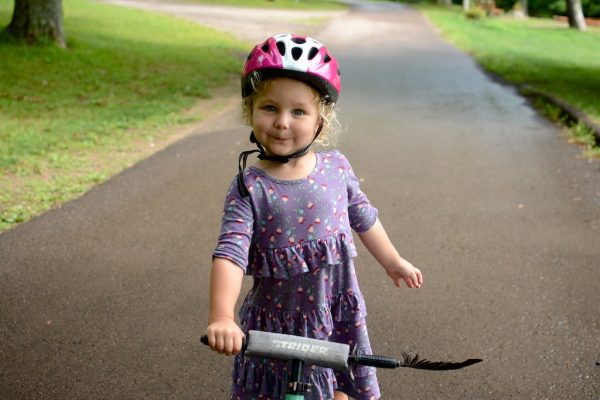 Thomas spent most of his time on the waterfront, the playground, or doing this — riding his bike along a little flat stretch of pavement.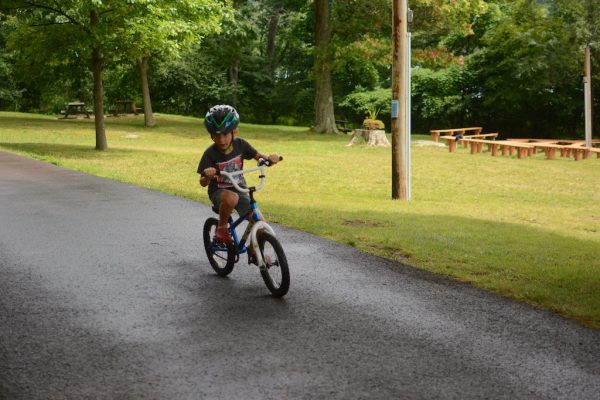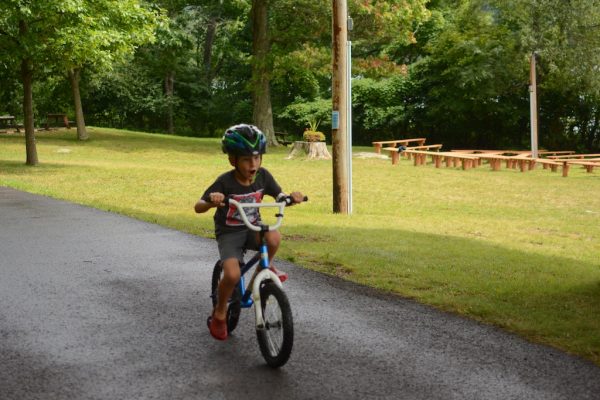 Last time we were here, Thomas was three and he was using the balance bike Anna is riding now. All week he'd ride the balance bike to the top of this hill, and fly down while adults watched with wide eyes and gasping when he used his Crocs to skid to a stop.
Now Thomas is six and getting used to a real bike. All week he slowly worked higher and higher up the hill. He didn't quite make it to the top, but I was even more impressed watching him build confidence, push himself, and figure out his own boundaries.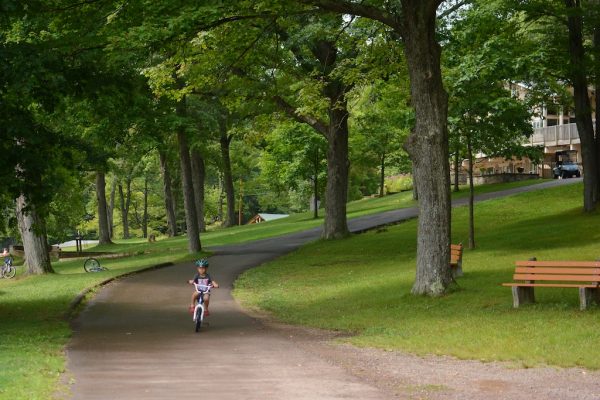 The whole week was rainy, but Wednesday was nothing short of a washout. All day people were walking around talking about how surely the rain must stop some time, and  "Biblical proportions" of rainfall.
All of Deer Valley is outdoors. Even the cabins where we were staying don't really have room to hang out in, especially if you happen to travel with four kids.
We rallied, we got wet, and we got creative. And, to be honest, we also got a bit grumpy here and there. But only here and there.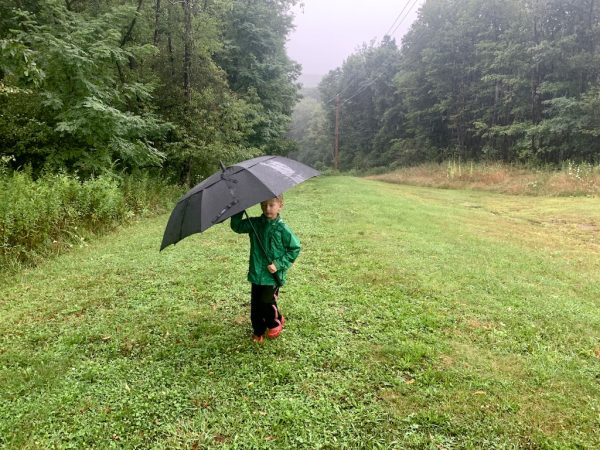 Retreating to archery — one of the only indoor activities.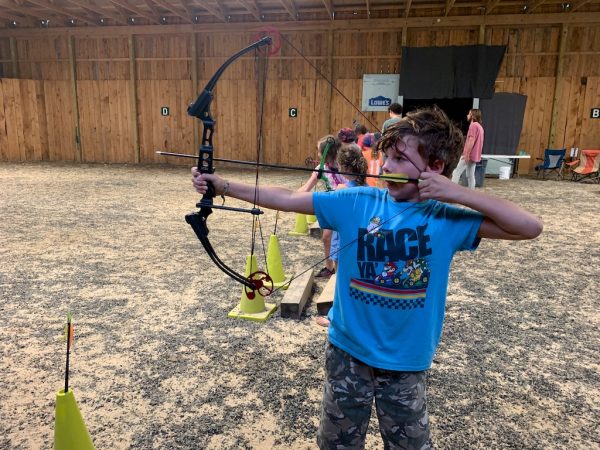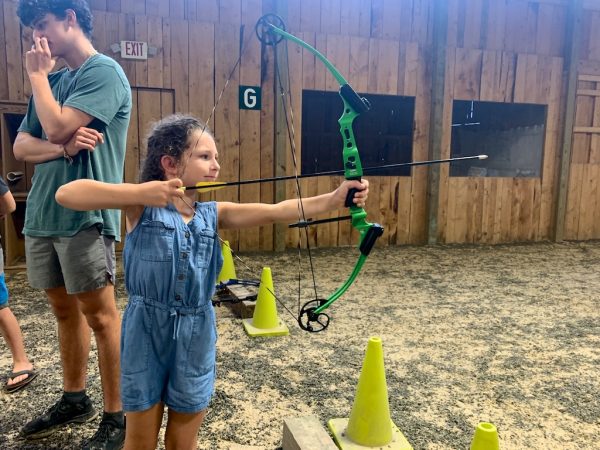 Thomas shot one arrow and then called it a day. He spent the rest of the time hiding gravel in the sand of this giant room and making me look for it.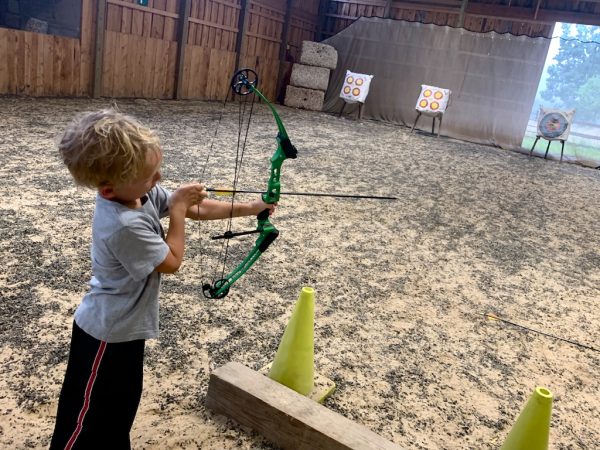 After swimming, Thomas warmed himself by the fire. He looked so cute surrounded by the teen boys on the waterfront.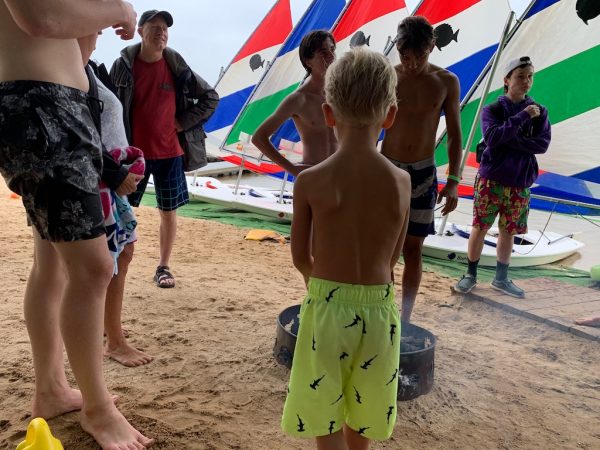 When the boys left he built a moat around the fire to keep people out.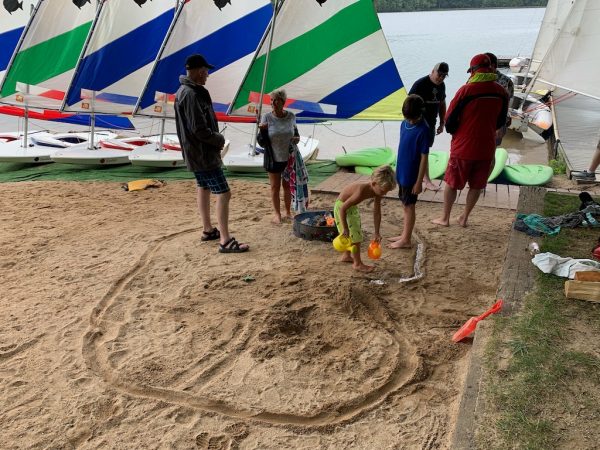 When the skies were clear (and sometimes when they weren't) we rushed down to the waterfront.
Tom took Anna sailing. She told him she did *not* like that slow boat. Then when it went faster she screamed at him to slow down and take her back, please, Daddy.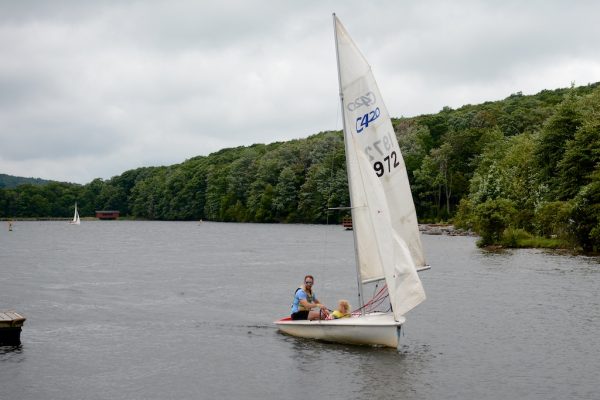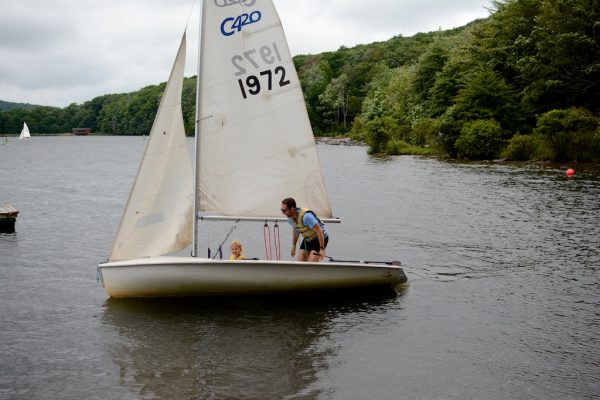 Mary decided to take the Deer Valley junior skipper sailing course. I was SO PROUD of her for all she learned, but mostly for stepping out of her comfort zone and trying something new.
This is her sailing with her intrepid and patient teacher, Hanna.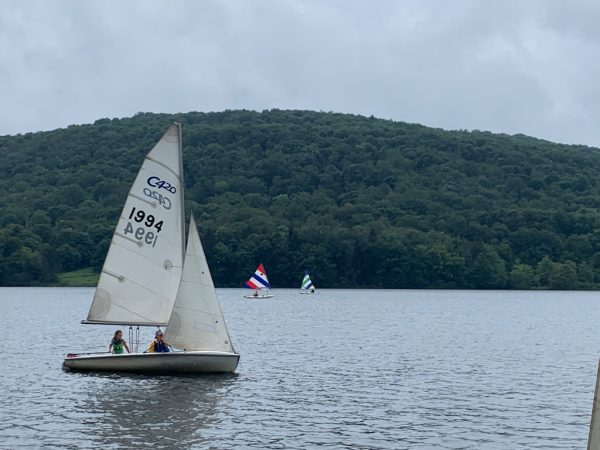 Guess whether or not I choked back tears when they called up all the Junior skippers to receive their certificates.
I told Hanna that after the wild sailing trip Mary took her on, I'd buy her a bottle of wine. Then it occurred to me that she might not be 21. And if she is, do 21-year-olds even drink wine?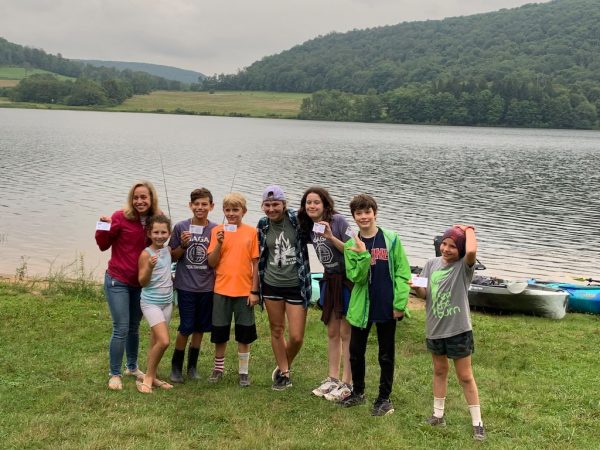 Saying goodbye to our home for the week — Cabin 21.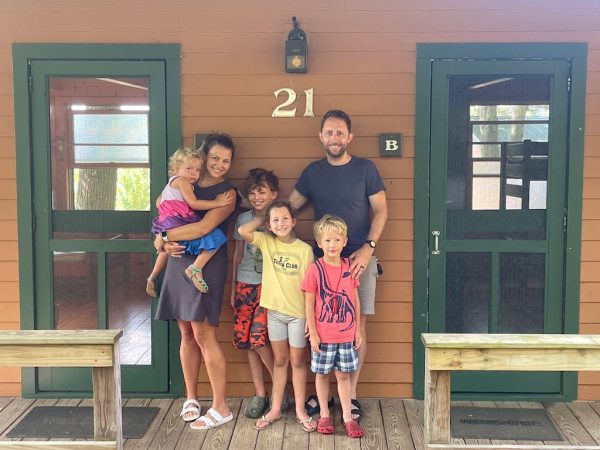 On the drive home we cried, we slept, and mostly we talked about how we couldn't wait to go back to Deer Valley next year.