Every summer when we go to Deer Valley, people ask us what it is.
Short answer: it's a family camp!
Or, as I like to say, "it's like summer camp but your mom and dad are there."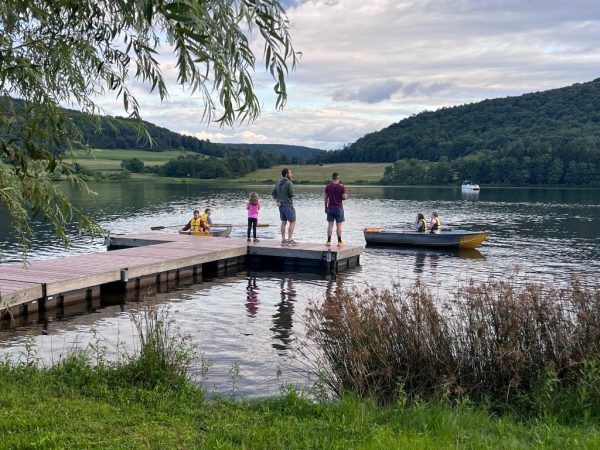 Perhaps a better description is that it's like the camp in Marvelous Mrs. Maisel except instead of a beauty pageant there are pickleball tournaments. Or like the camp in Dirty Dancing, but instead of dancing there's a camp-wide game of Assassin.
It's a week of no Internet, bunk beds, ice cream every afternoon, and absolutely positively no saying "I'm bored."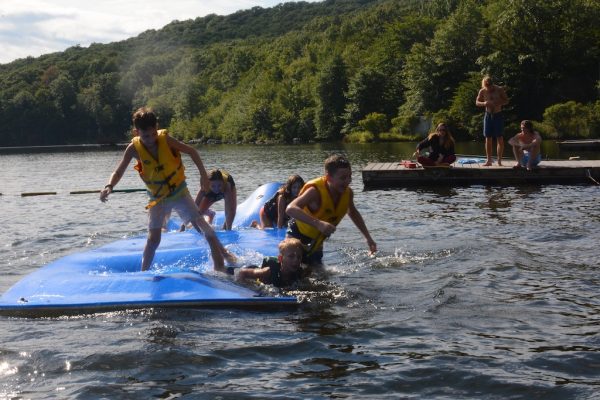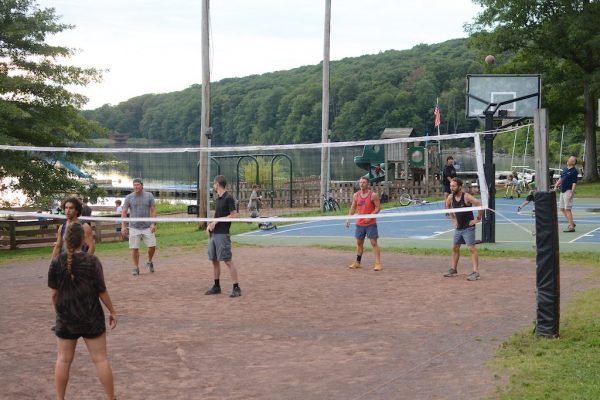 We think this might have been our best trip to Deer Valley yet. We had beautiful weather, and most everything had opened back up after Covid. Our kids had a fantastic time — they're getting old enough to feel comfortable roaming camp independently. I think they feel like Deer Valley is "their" place as much as we do.
And I still can't think of any vacation we could take where they play outside from 7:30 a.m. to 10 p.m.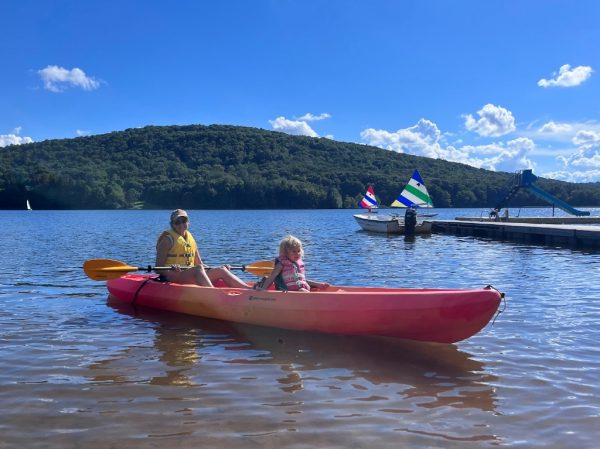 Marathon training at Deer Valley meant halving my weekly mileage in exchange for hiking and sleeping in. I got a few runs in on the beautiful trail around the lake (in the absolutely luxurious, delectable low-humidity of high-elevation Pennsylvania).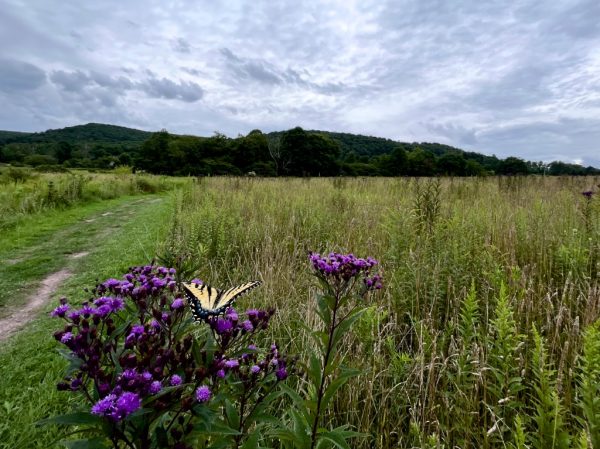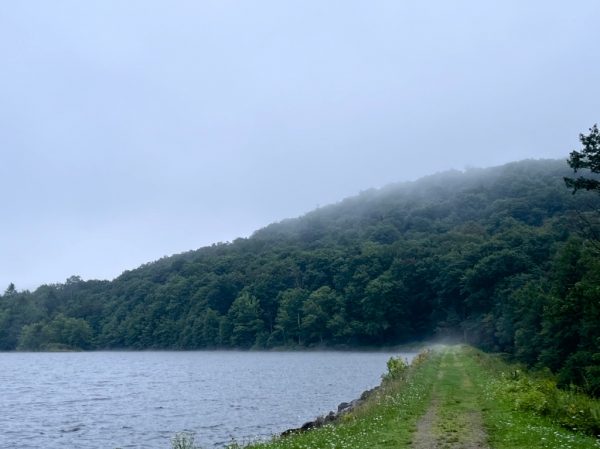 Speaking of humidity, one reason we look forward to Deer Valley is the weather. Richmond becomes positively unbearable in the summer, and Deer Valley promises reprieve from the high humidity and 100 degree days.
But then Deer Valley over delivered the very first day. It was rainy and in the 50s. It honestly seems impossible that the weather can be so different without changing time zones.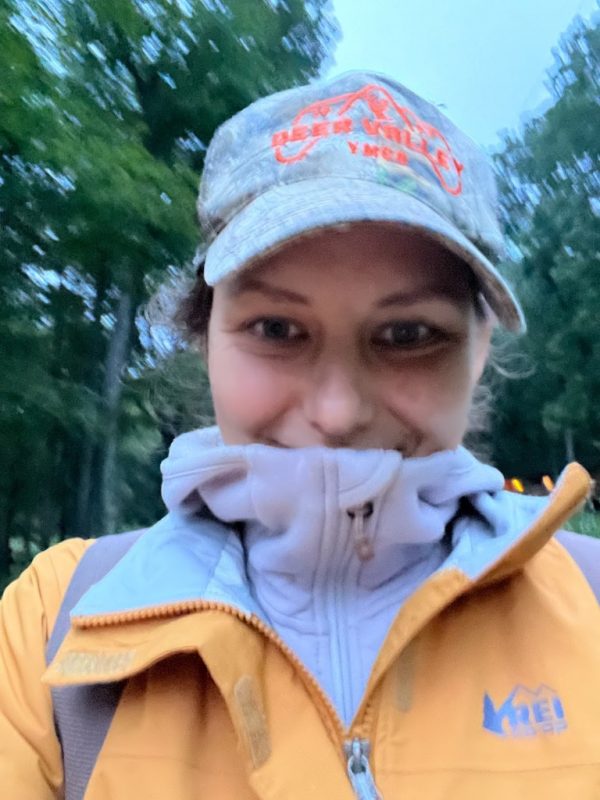 We had to pivot straight back to cool-weather parenting: here, kids, this is a hoodie. This is for wearing in the morning and then leaving at the Ga-Ga pit in the afternoon.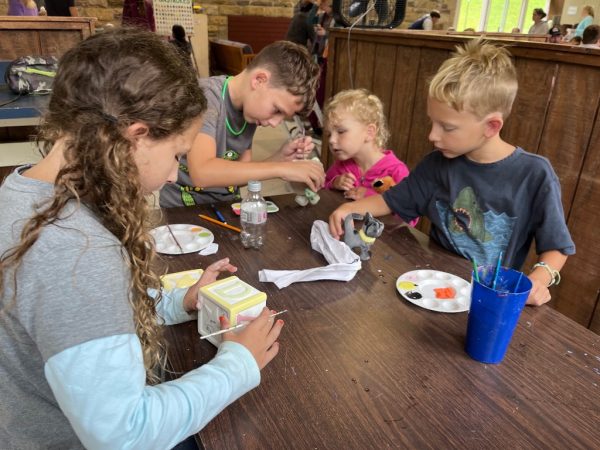 Indoor activities: painting in arts and crafts and the reading nook in the cafeteria after meals.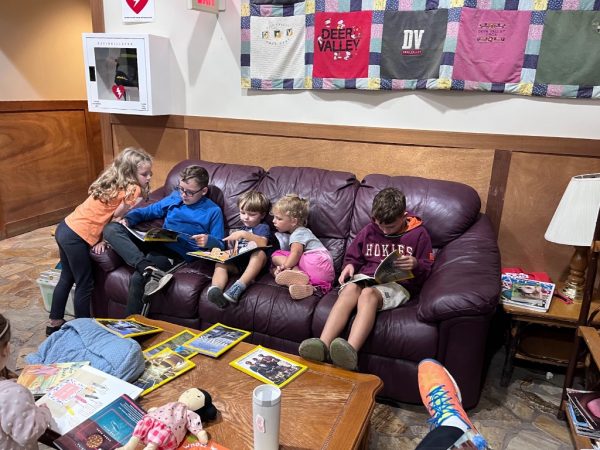 Our family is in the stage of life where we're gradually growing out of baby gear. On our first trip to Deer Valley we brought two gigantic strollers, a pack-n-play, and 438 diapers. This year we didn't need any of that, and I tried to talk Tom out of the bike trailer, but he disagreed. "The kids will LOVE the bike trailer!" he insisted.
He was right. The 4-year-olds LOVED the bike trailer. Tom carted them around the camp and getting them from place-to-place almost completely diminished the pain of getting preschoolers to transition from one activity to the other. "I know you don't want to leave the playground to go to dinner, but what if I told you you could ride the BIKE TRAILER!?!?"
After each meal, Anna would ask Tom to take her on a ride and he always, ALWAYS said yes.
Once, after a ride, Anna said to me, "Dad LOVES riding us in the bike trailer."
It was one of my favorite moments of the whole week. Little does she know, what Tom actually LOVES is seeing how much she loves it.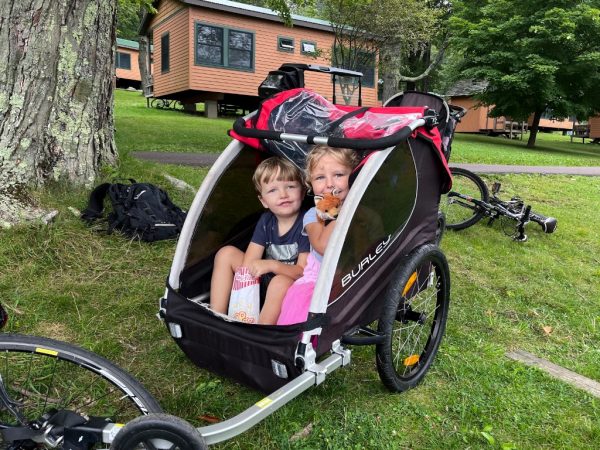 High ropes course! The first year the ropes have been open since we started coming.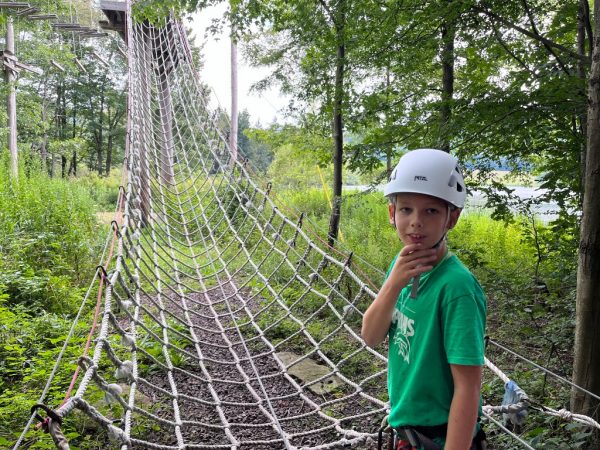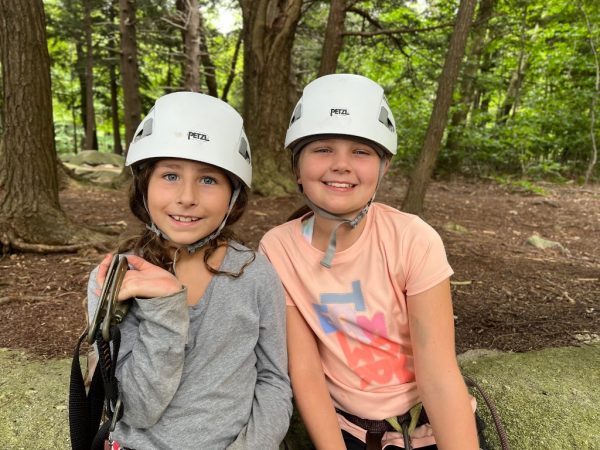 SCREAM IF YOU'RE FOUR AND TOO YOUNG TO DO THE ROPES COURSE AND YOU DON'T CARE BC THAT MEANS YOU GET TO PLAY WITH YOUR BEST FRIEND!!!!!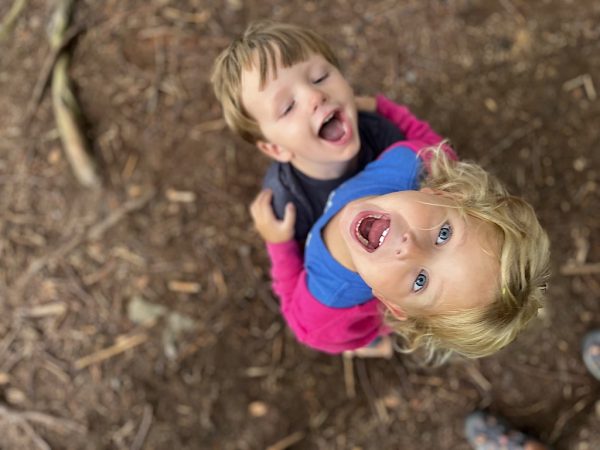 Thomas opted to not do the ropes course. I would have never, ever, in a million years predicted that my child who I caught literally hanging from our chandelier, would one day pass up things like ropes courses and roller coasters.
Instead of a high ropes course, he opts for an activity that has *actual* danger — building a giant fire.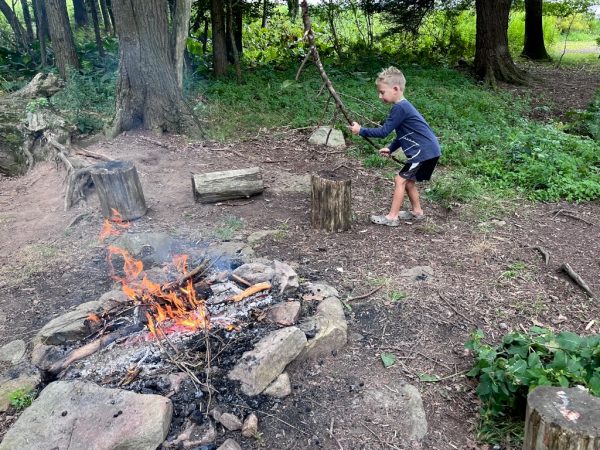 Anna-corn, the rare Deer Valley unicorn.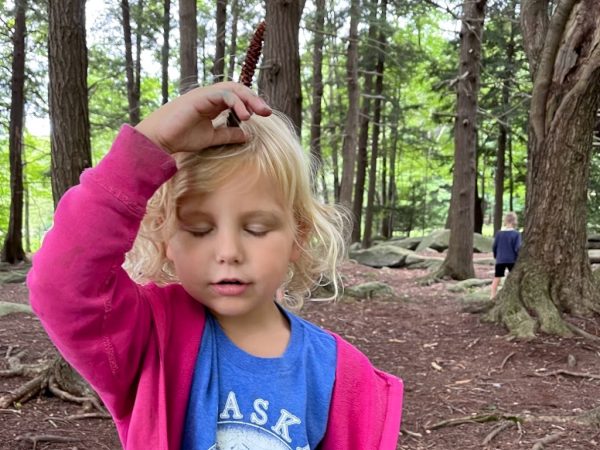 At lunch one day one of the staff came up to Tom and said "You're in the rock-paper-scissors tournament. Single-elimination. Starts right now."
Tom made it all the way to the semi-finals. This picture is of him losing in a heartbreaking overtime round. Paper covers rock.
We also participated in the camp-wide adult game of Assassin. I won't talk about it too much here because if I start I might be the first person to reach the WordPress word limit. I will say that it was SO FUN. And that it's possible the very intense Kriegers attracted a few side-eyes from their opponents.
I'll also say that we're already scheming to win next year.
Lindsay and I carried these logs for an entire day to gain immunity. If you took your hand off the log for any reason, you're fair game. By the end of the day I couldn't remember life without my log.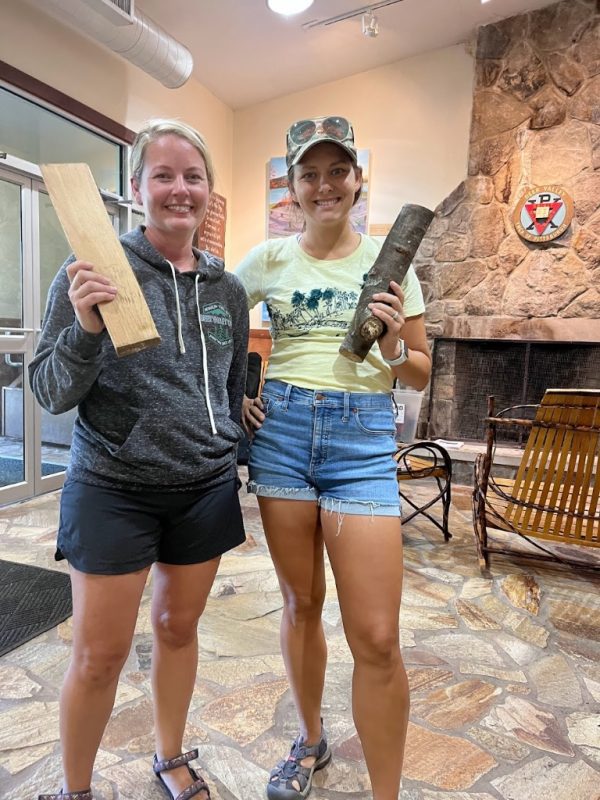 Because I'm usually focused on the family aspect of Deer Valley, I never really talk enough about the staff. There's a full staff of mostly college students who tirelessly work behind and in-front-of the scenes to make sure you and your kids have the most incredible week.
They do the kids' programming in the morning, run the waterfront, snack bar, games. They basically set the tone of FUN at camp.
For example, one night they hosted pirate games. Anyone who wanted could complete a set of "pirate challenges." Then at the end, the staff had dressed as pirates and the kids got to soak them with water guns on the lake.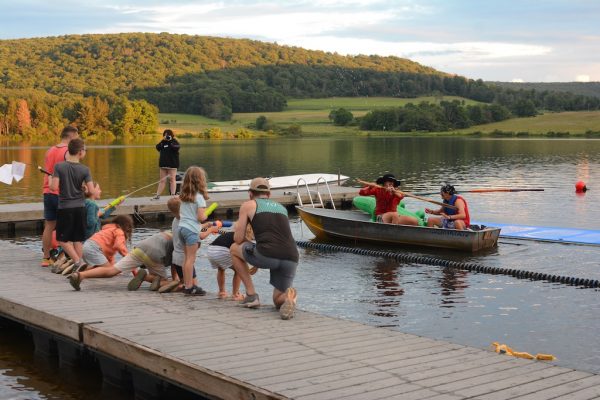 Evenings at Deer Valley.
If you told me that part of our camp fee somehow covered beautiful evenings like this, I would believe you.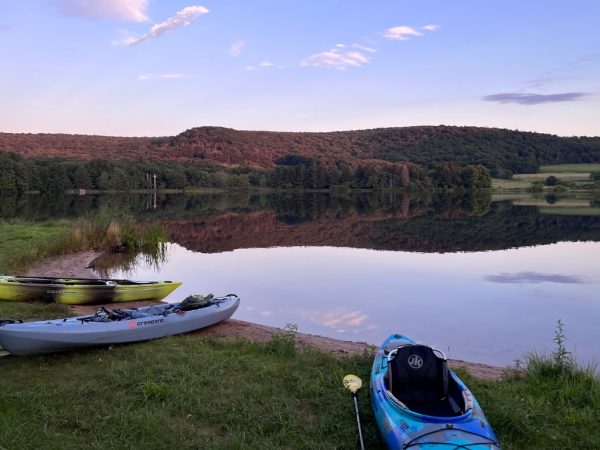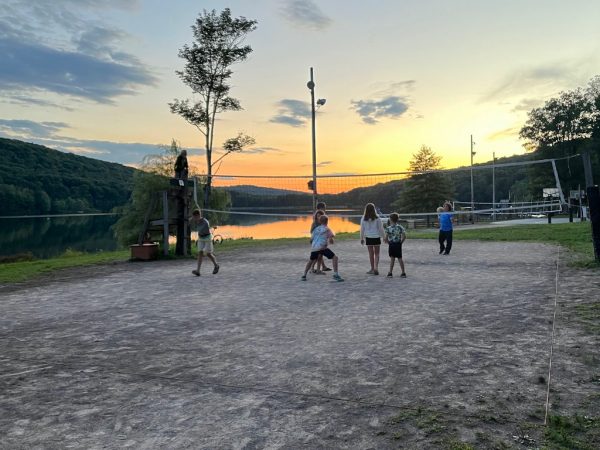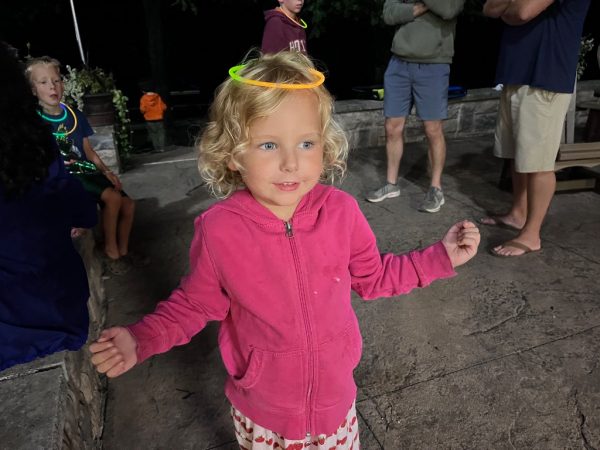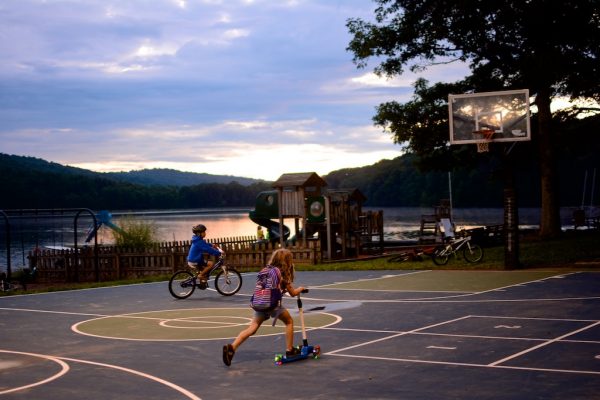 The waterfront. The water was too cold for Princess Mom, but just right for wrestling your cousins (and Dad!) on the big floating mat and sandcastles on the beach.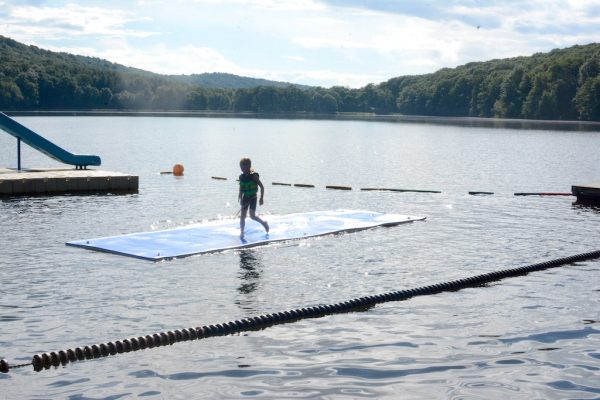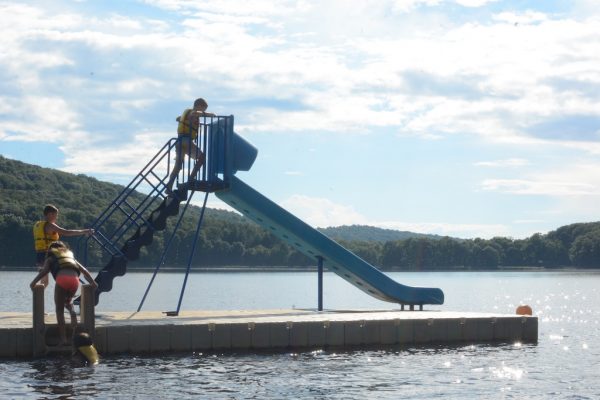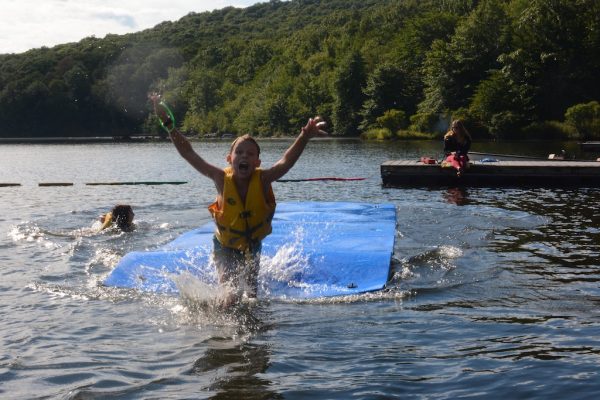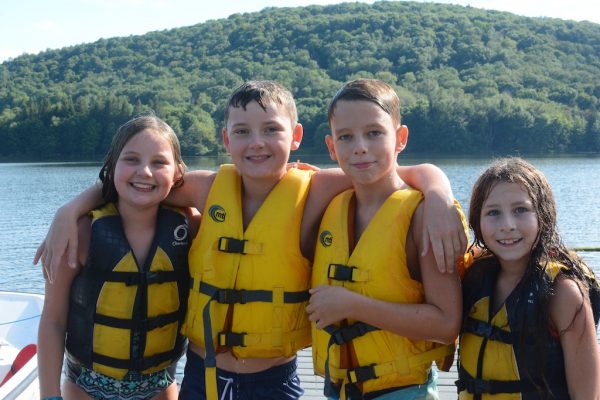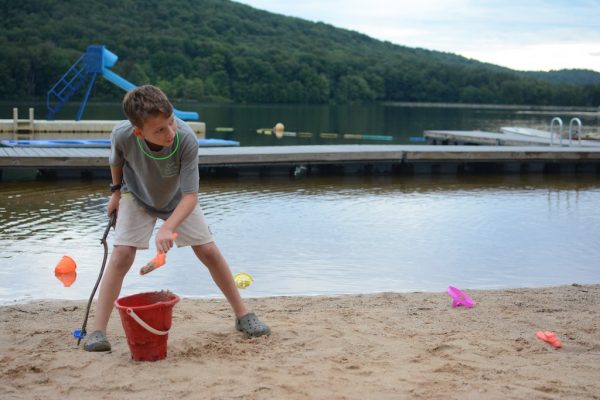 The playground, where the littles spent so much time.
I can't tell you how great it is to be able to give your kids independence. You want to go to the playground? Sure. Have so much fun.
And they did.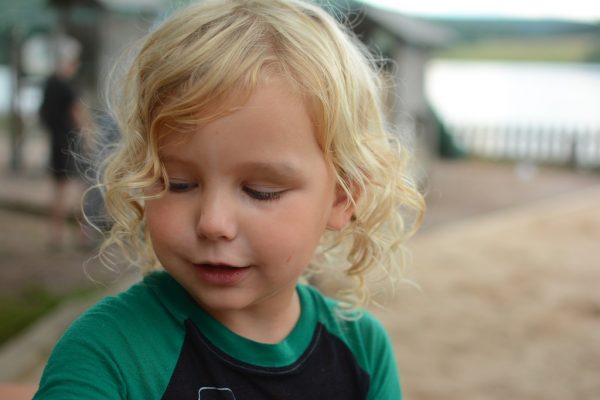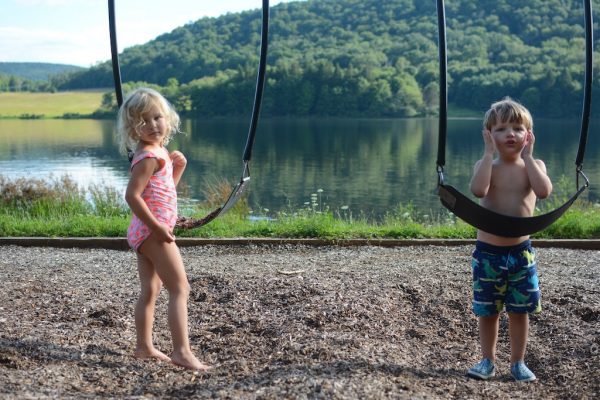 The Gaga pit. Where champions are made and dreams are shattered.
Or where you can just hang with your buds, whichever you choose.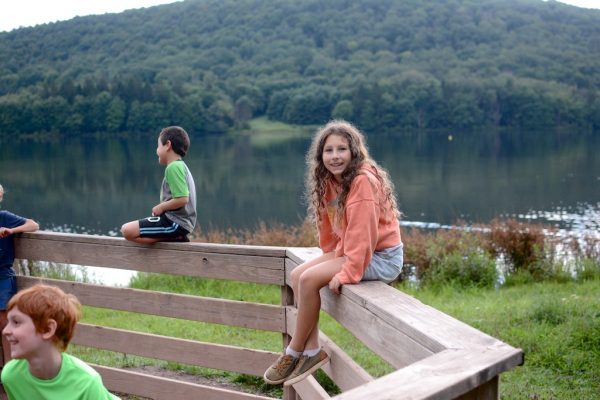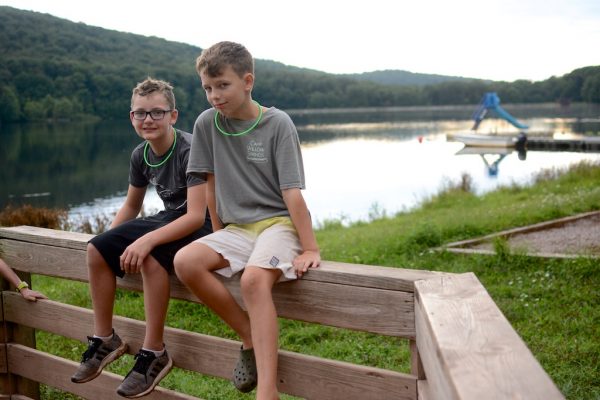 End-of-the-week sunset pontoon ride. Between this photo and the photo below, I said something poetic like "All I want is ONE photo! Is that too much to ask? To smile for your mom who literally sacrificed her career, her mental health, and her actual body for you."
Beautiful memories.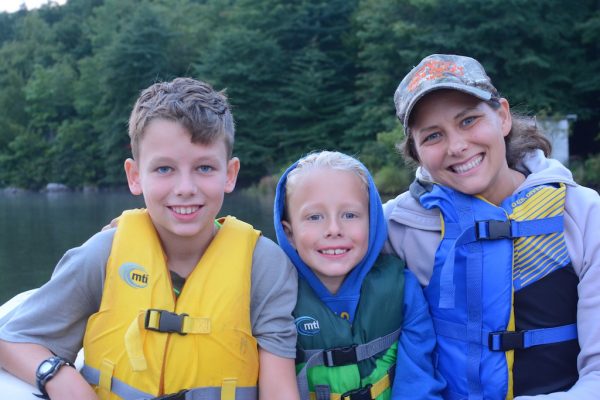 (Next time I'll just take a picture with the girls.)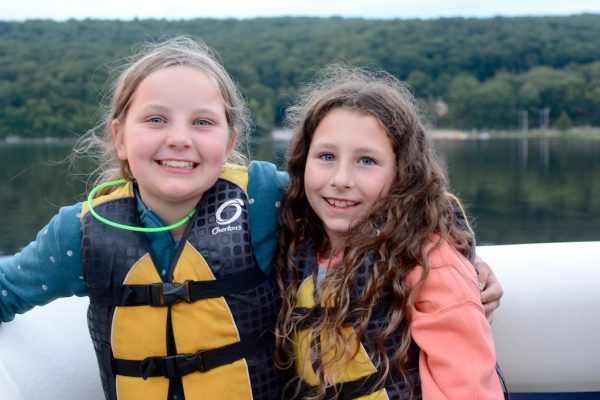 S'mores around the campfire. Top night.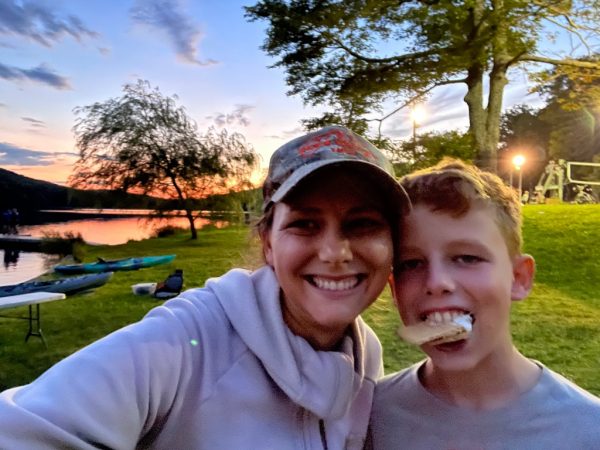 This year I learned that we really need to take our family photo at the beginning of the week. Sure, I like these happy-tired end-of-week faces. But everyone is sad about leaving and can't get past the news that their bike is already packed up so they can't ride down by the volleyball courts before dinner. Sorry, Thomas.
It's hard to smile when you're leaving, ya know?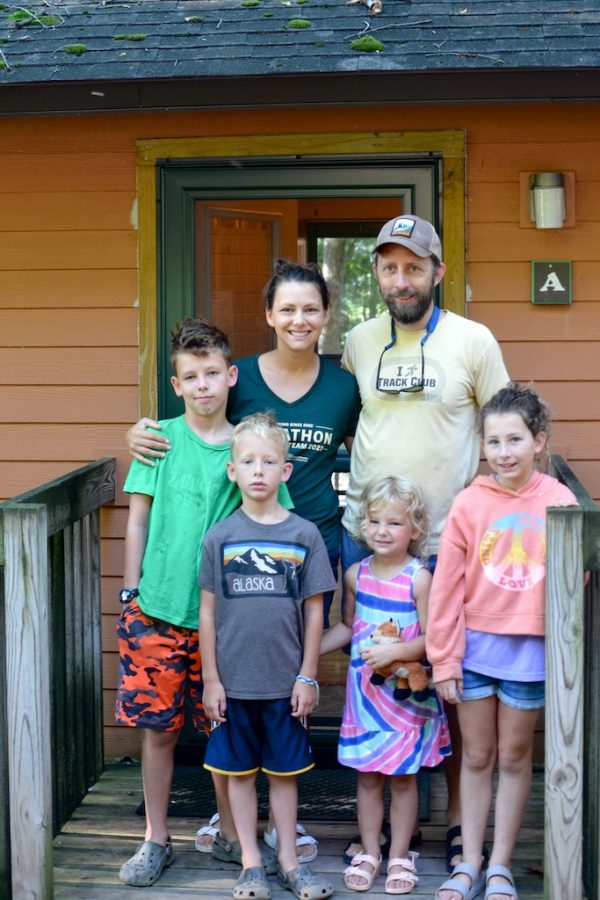 We think this might have been our best trip to Deer Valley, but now that I think about it, I suppose we say that every year.