David and Mary were fighting about what would happen if, sometime in the future, they found out that Tom and I were actually some sort of royalty. Like, how do they handle the sudden bump in status? What about all the wealth? Or the horses and carriages, what's a commoner to do!?
This argument was getting a little heated. (I'm sure you can completely understand — they have to get this sorted out!) I'm a little fuzzy on the details here, but I think David was trying to explain the concept of primogeniture to Mary, when Mary just interrupted him —
Mary: Well, Mom IS a queen so that makes me a princess.
David: Yeah but that doesn't matter because you're more Dad than Mom, look at your hair!
Mary: I have something from Mom that's more special than hair. I have Mom's EMOTIONS!
(Boom. She got him on that one.)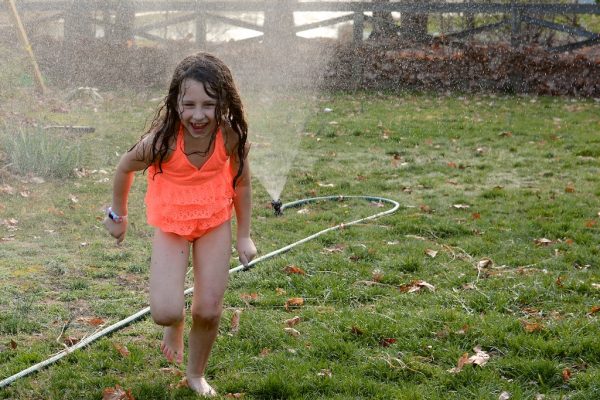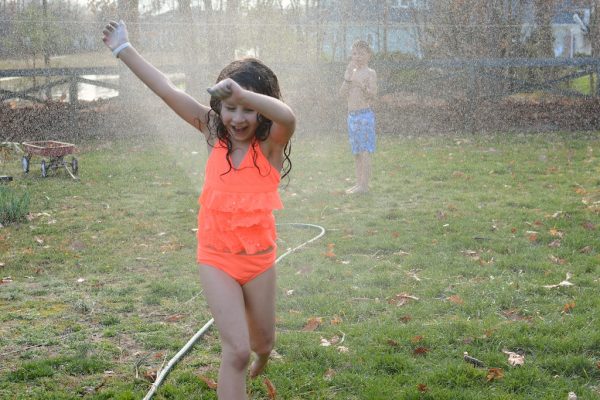 I love these photos so much, I can't help but smile when I look at them. Does anyone remember when she hated water so much that I genuinely wondered if she'd had some sort of trauma involving water? And now look at her! 
If you're struggling with a difficult toddler behavior or habit, look at these pictures and smile: kids grow up! They change! Eventually, they run through sprinklers, hands lifted in joy.