For the past few months I've had a standing social engagement on the calendar. As far as I can remember, it's one of the only times I've done something like this in years.
I don't take the kids, and I don't arrange for childcare. I just walk out of the house like an actual grownup and meet my friend Cabell for an hour-ish by the river.
(BTW, we all know that part about me undramatically walking out of the house was a lie. What really happens is that I spend 10 minutes peeling toddlers off my back, running around the house looking for my hat, my chapstick, my Easy Glide. I  text my friend that I'll be late AGAIN, peel more toddlers off my leg, and scream at Tom as I back out of the driveway, "ARE THEY ALL OUT OF THE WAY!? I CAN'T SEE EVERYBODY!")
Cabell and I have run thousands** of miles together , but almost never without kids — never on our own terms. This is the first time there isn't a pregnant belly, a nursing infant to hurry home to, or toddlers screaming for snacks.
**(I really balked at the word thousands. Thousands? Really. Hundreds feels too low but thousands feels so high. Is it possible that we've run thousands of miles? Whatever, the miles you run pushing a stroller are like dog years, so the math works.)
At sometime around the new year (when reports of coronavirus were starting to come out of China) Cabell and I had the audacity to make standing plans to run together once a week. I'm happy to report that it went really, really well.
We had amazing head-clearing conversations, we got to catch up in a way that isn't possible over text, and the best part was that we actually started gaining fitness. We started running harder, faster, and we could tell in our bodies (and our undoubtable Strava pace reports) that our hard work was paying off.
That's when we decided to run the Monument 10k and set a time goal.
Time goals are scary (for me! I am a wimp!), because they mean you plan to show up on race day and perform.
We talked about our time goal incessantly to each other, but almost never breathed it to anyone else. Each week we ran intervals, tempo runs, and a long runs, and over and over we nailed our paces — surprising each other and ourselves.
Since having kids, my racing mantra has been, "I don't care! I just want to have fun! I just want to feel good at the finish line!"
That is still my mantra, it really is. These years of having babies and the brutal cycle of gaining and losing fitness have given me a new gratitude for my body and the ability to run at all. 
But in tandem with that, for the first time since October 2010 I wasn't pregnant or nursing. My body was fully untethered and I had the energy and mental space to actually consistently train. For the first time in years I was thinking, "I'm grateful to be running AND I want to push myself."
For months we were running, training, and staring down the 10k.
You see where this is going, right?
You dear reader, reading this in April 2020 are now in an existence where thousands of people lining the streets is an actual misdemeanor. You know what's about to happen. The 10k will be cancelled.
You are correct! Well done!
My race is gone, and so is my standing appointment to run with Cabell, because we can't figure out a way to run six feet apart and still be able to complain about our husbands leaving dirty laundry on the floor.
What you DIDN'T see coming is that when the originally scheduled race day rolled around, I was sick in bed with my second bout of strep throat.
If the 10k hadn't been cancelled, I wouldn't have been able to run anyway.
I would have spent the morning in bed with bulging tonsils, feeling incredibly sad for letting my friend down on this day we spent so much time and energy preparing for.
On the morning that Sportsbackers encouraged everyone to run a #10kanyway, we decided to run a 10k the following weekend. Cabell ran a 5k that morning and I went back to bed.
It occurred to me a few days later, when I finished my antibiotics and was feeling much better, that there's solidarity in the sweeping cancellations. We are all at home missing birthdays, graduations, proms, school, work, hugs from neighbors, pick-up basketball games. It's sad to miss that stuff, but there's comfort in knowing that we're ALL missing it.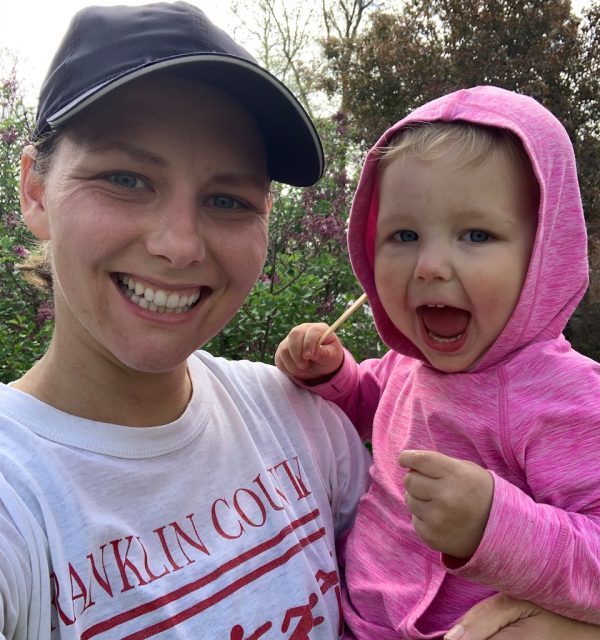 Me and Anna after I ran my solo 6.2 #10Kanyway last weekend. 
25,000 runners who were planning to race the Monument 10k had their race deferred until September. (Same with athletes who had been training for months for much bigger races. Not to mention the Olympics.) If I had woken up on race morning with Strep throat and the race had gone on without me, I would have been devastated in the most awful, self-pitying way possible.
There is comfort, in a way, in the solidarity of knowing that everyone's everything has been cancelled.
This isn't supposed to be a Pollyannaish exhortation — "look at the silver lining of this dangerous global pandemic that is taking lives and crippling the global economy!" Instead, it's a reminder. We're all individually in this together. We're all feeling unique effects of the cancellations, closings, and shortages, waiting with hope against hope for the day when our race will be rescheduled, businesses will open, schools will be back in session, and it will be safe to go outside again.