When I got home from the 8k, Tom was outside with all the kids. They rushed the car and smothered me with hugs as if I was returning from war.
Thomas rifled through my bag and found my post-race food. I had two small bags of pretzels and one bag of trail mix. He held it up and announced, "We can have a food party!"
"EVERYONE INSIDE!" I announced. "We're having a food party!"
The kids split the pretzels and ignored the trail mix (they can spot a nutritious snack from a mile away). I got four wine glasses from the cabinet and split my one, small PowerAde four ways. (I'd tried to get more PowerAde but was corrected, "Just one per runner, please.")
We toasted to the race and the kids lost their ever-loving minds, because PowerAde and its compatriots are my kids' drug of choice. If it meant a midmorning 1/4 cup of PowerAde, my kids would be signing me up for a race every Saturday.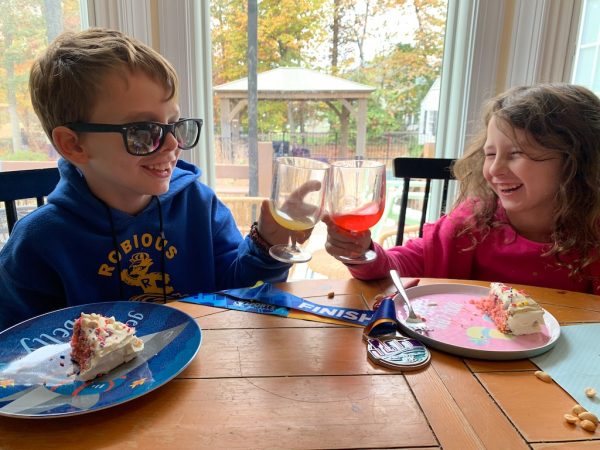 The kids enjoyed their "food party," which turned out to be approximately six mini pretzels per person.  (Pause for just a moment to reflect on the fact that Thomas thinks two small bags of pretzels and trail mix that he doesn't like constitutes a "food party." Does this mean that I've raised my kids that appreciate the small things in life? Or have I really lowered the bar THAT MUCH that the moment my kids see some unscheduled processed carbs, they're like SOMEONE SEND AN EVITE, WE'RE HAVING A PARTY!!!!)
While we were eating, Mary asked the inevitable question that every parent is asked after entering a race, "Mom, did you win?"
I paused and considered how to break it to her that there were nearly 3,000 people in the race. Some of these runners are very, very fast. Some had traveled a great distance to run and win because winning is their job. And not only did I not win, I didn't come close. In fact, I didn't win or place or get in the top 50 of any category.
I thought about explaining that, but I knew they wouldn't get it. My kids enter races to win. If you aren't trying to break the tape then what are you even doing?
I answered that I didn't win, but that I did meet my goal, which was to have a good time.
"Ooooooooh," Mary replied, lifting my medal and inspecting it. "So that's why you got a medal. Because you met your goal!"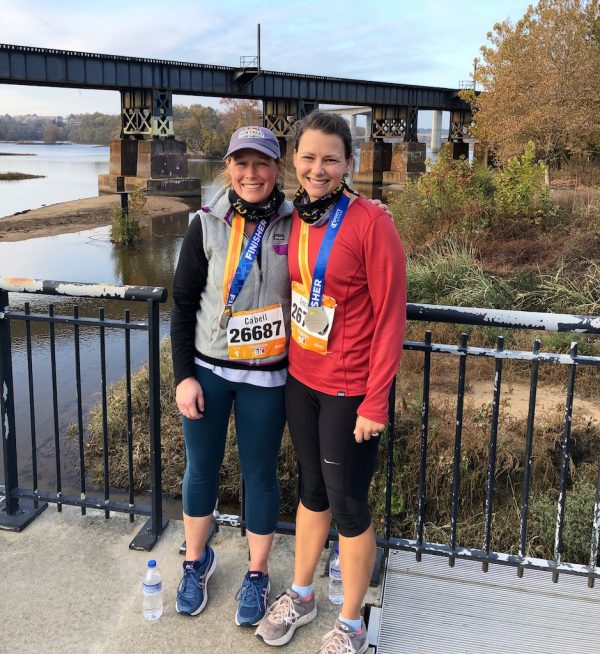 I have been a competitive runner since I was 14. My introduction to running was in track and field, and then cross country. For me, from the beginning, this sport has been linked to racing. I have never been particularly fast, I have never won races, but I have always had my eye on a starting line. And I have always taken racing very, very seriously. Too seriously, in fact.
Every time I've run a race I've done it with a keen sense of pace, splits, and a goal finish time. And I did all of this with joy-sucking seriousness. (Which, again, doesn't make sense because I promise I was never very fast.)
This fall, I set my sights on running the half-marathon. I barely got into the training when I realized that I just wasn't ready for the distance — my hips and hamstring are still furious that I've been pregnant four times. I spent the summer in physical therapy but there wasn't time to heal and get strong enough for long runs.
(Side note, does it count as a postpartum issue if your baby is TWO YEARS OLD?)
We ditched plans for the half-marathon and decided to run the 8k instead. Once we did, the stress of training, injury, and figuring out how long runs fit into our schedule simply melted away.
I didn't think about training for the 8k at all. I ran a few times a week, and when Cabell and I were on the starting line I truly didn't think at all about our finish time.
We ran all eight kilometers (almost five miles) chatting, wishing it was warmer, and only occasionally checking our pace.
We had a great race. It's taken me 23 years of running, four kids, and friend who I only get to see on race days to get me there.
This is a new phase of running, and I'm loving it. I remember when I had David, I said that I felt like "a shadow of my former self." What I didn't realize at the time was that in the process of leaving my former self behind, I was stepping into something new. Perhaps, I'd venture to say, something better.
This doesn't mean I'm not hoping to train for longer races, set goals, and see what I'm capable of in a race. But this nearly 10-year season of pregnancy, injury, and postpartum running has opened my eyes to the value of different goals (that will perhaps even lead to faster race times, eh?).
I'm loving the freedom of enjoying running and racing for the sake of being outside, feeling strong, and enjoying the sport.