I used to run the Monument Avenue 10k every year, but I haven't run it since two years ago when I was pregnant with Anna.
Coincidentally, I also haven't run six miles since two years ago when I ran the 10k, pregnant with Anna.
I hadn't trained and I had no one to run with, but I was excited to run the 10k. I knew it was going to be a tough six miles, but I love this race.
And so there I was on race morning, circling downtown Richmond for 25 minutes looking for a parking spot. The only moment I regretted signing up for the race was when I surrendered my search for street parking and decided to park in the parking garage. The attendant told me it was cash only. Pay in advance. $10. TEN DOLLARS CASH!? I'm not a pirate! I do not carry that kind of money on me in CASH.
Eventually, thankfully, I found a street parking spot. I jumped out of my car and started hustling (Not too fast! People who don't train have to conserve energy!) to the start.
It was raining, I wasn't ready for the distance, and I was alone. My perennial running partner had plans on the morning of the race, and I hadn't found anyone to run with. I started shivering and so I picked up my pace and tried to remind myself why I signed up for this race at all. Why did I want to do this? Because I was clawing for this part of myself. Despite my many, many efforts, maintaining a running routine has been hard. This race was just one way of saying I'm not letting this part of me go.
Even if I'm not running regularly or racing well, I'm not letting ago.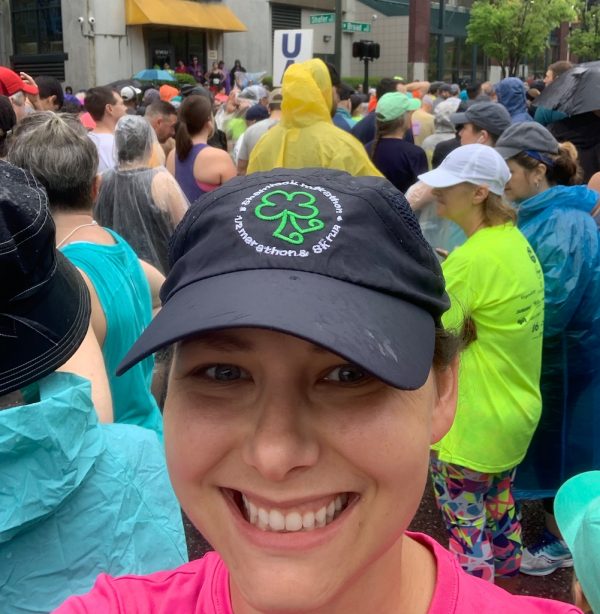 I ended up walking with another woman on her way to the starting line. She told me that she was late to her wave start because she had to take her 16-year old to a PSAT class. And the moment she finished running, she had to go pick him up.
Meanwhile I was exhausted because I'd been up with two of my kids the night before — one who decided to break her sleeping-through-the-night streak, and one who happened to have a hard time sleeping so he decided to read a book AT 4 A.M.!
Just that morning I'd told myself, "This will be easier when they're older." Then I met real-life proof that I was wrong. Racing will never be free of complications. Even when they're older, I will always toe the starting line as a mom.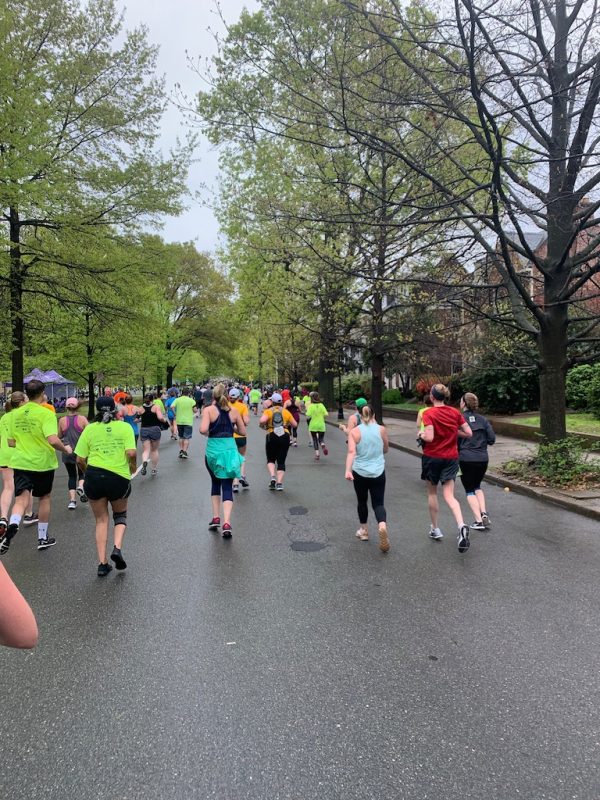 The 10k was everything it has always been — crowded, fun, full of energy. It was raining but besides that, the weather was perfect (and I might DEFINITELY argue that running in rain is better than running in the fog of pollen that has been hanging around Richmond).
At the halfway point I saw Tom. He gave me a kiss, and I let my three oldest kids run bit of the course with me. It slowed me down by two minutes (TWO MINUTES!!) but David and Mary are still talking about how they ran some of the 10k. Worth it.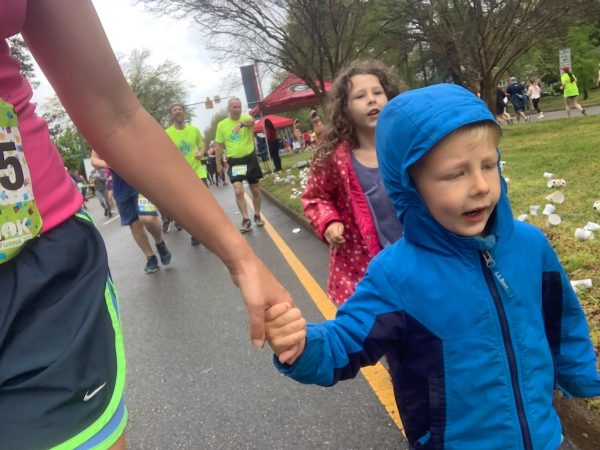 I ran an ok pace (about 10:15/mile), and  I felt good enough to push my pace just the slightest bit after mile five and finish strong with a 1:05.
Running the 10k without training for it was sort of like seeing an old friend who's just a bit miffed that you haven't returned any of their texts. They'll forgive you, of course, but not without letting you know they noticed.
What I'm saying is this: the race was fine, but after my relatively easy effort, I wasn't able to walk down stairs for three days.
I could call the race unremarkable except that it serves as a marker of where we are as a family. I've run this race single, engaged, married, pregnant, postpartum, and now with four kids and a creaky hip to show for it.
It was a reminder of how much I love this sport. Running alongside all ages, levels of fitness, and abilities is a unique experience afforded by running. We are all different, and all have the same 6.2 miles to cover.
It was a reminder of how much I love this city. Richmond was undeterred by the rain, and Monument Avenue was lined with people cheering, brunching, doing tai chi, and playing music. I was running by myself but I was entertained and encouraged the entire time.
I snapped this selfie at the finish line. I was done! And smiling! I sent it to my mom and to Tom and immediately got responses cheering me on.
I'll be back, 10k. And I might even get around to training one of these days.