Let's take a trip back in time, shall we? Let's go back to Monday. I had gone to sleep the night before with a bit of a sore throat, and woke up feeling like I'd swallowed a meat grinder at some point in the night.
Tom had just gotten over an awful sore throat (he tested negative for strep, but they still treated it with antibiotics because his throat looked so terrible) so I figured I'd muscle through it for a bit and then go to the doctor in the next few days.
By the time Tom got home from work I was curled in a chair under a blanket, and I texted him because I couldn't talk, "I have to go to the doctor."
I hobbled to the doctor, where the entire population of Richmond and surrounding areas was holding sniffling, sneezing, aching, coughing, stuffy-head, fever festival. Eventually, I tested positive for Strep. When they told me I started crying tears of joy. The doctor must have been confused, but I was elated. A diagnosis with a solution! HUZZAH! She gave me antibiotics and, if I hadn't had a fever, I would have skipped out of the office. I texted friends and family the update with that smiley face emoji wearing a party hat. We quickly nominated strep as our favorite illness.
Turns out, I knew nothing about strep. WHY DID NO ONE PREPARE ME FOR STREP!?
I suppose I just thought adult strep was like little-kid strep — start antibiotics and then you're basically fine.
I DID NOT KNOW that in adults it's not such a float down the lazy river. I went to bed Monday night and didn't get up until Wednesday. Imagine how furious my Apple watch was. Time to stand! Time to stand!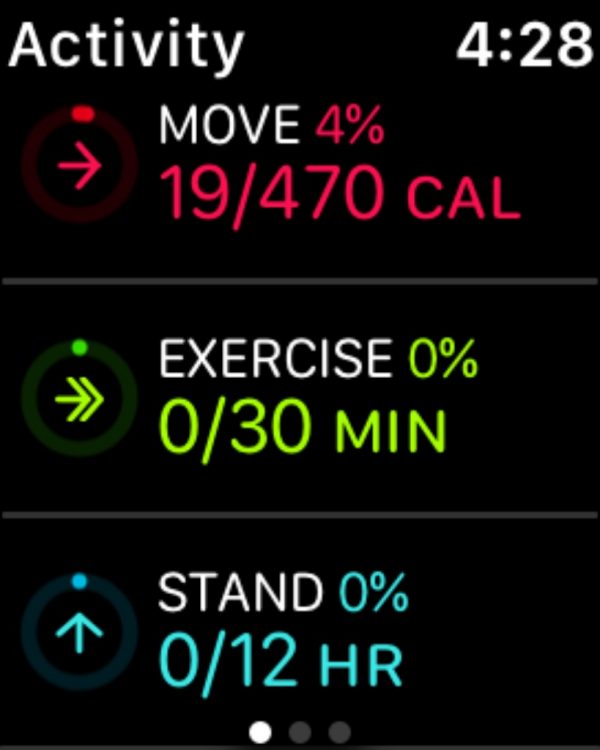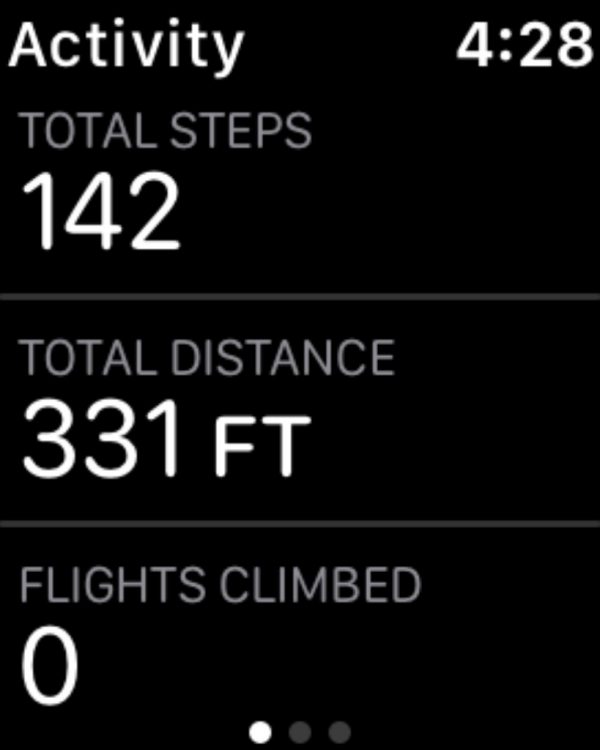 After 72 hours in bed with a fever, spitting into a cup because it was too painful to swallow — I finally got out of bed. In the time between Monday and Thursday, two things happened.
First, the hyacinths in my backyard bloomed.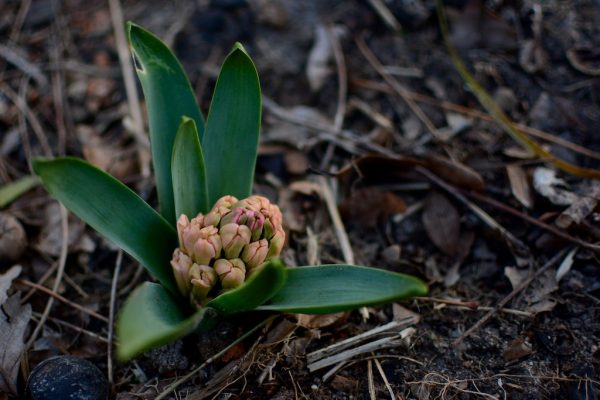 My sister-in-law got me these bulbs for my birthday. If you need a late summer/early fall birthday gift, this is a brilliant idea.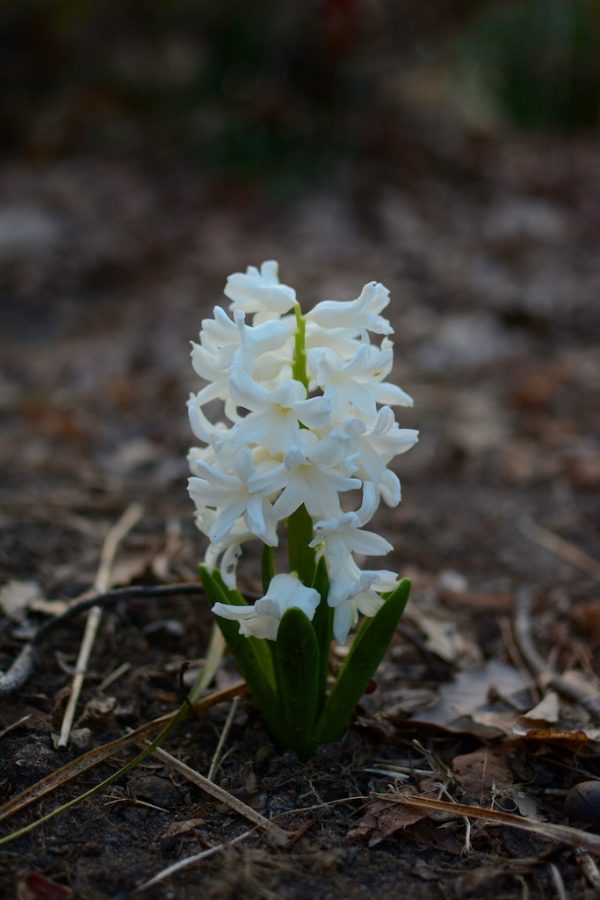 Second, the WHO declared the coronavirus a pandemic. And (as you probably already know, since this site is hopefully not your primary source of news) that changed everything. Tom is working from home, the kids are out of school, and we're critically examining our calendar to determine how we can most responsibly help our community stay safe.
We are incredibly privileged. Tom can work from home, and childcare isn't an issue. We are very aware that that isn't the case for a lot of people.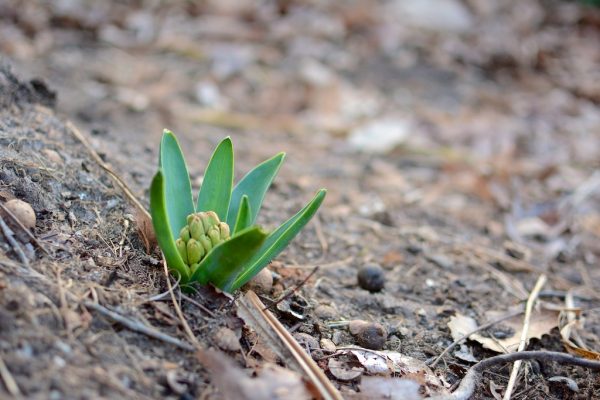 I was feeling overwhelmed by all of the cancellations and headlines, so I did something I almost never do. I looked at Thomas and Anna and said, "Get in the car! We're getting donuts!"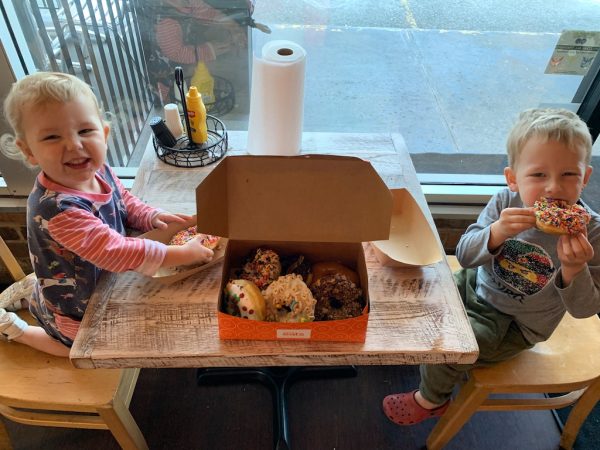 After dinner, Mary set up a table and plates, and we all had donuts. I told the kids that they were in celebration of a lot of upcoming time together. That is the silver lining of social distancing — extra time with my family.
Tom is going to join us for lunch every day, and we're going to empty our art cabinet and trash the house.
We ate donuts and talked to the kids about expectations for the upcoming two weeks — about things like chores, screen time, and (sadly) no playdates. I told them that I wasn't happy for the circumstances but I am so happy to have the gift of two weeks together.
Then we all got into a huge fight and everyone went to bed early.
Everything is canceled — school, soccer, the 10k I was training for. Our family has decided that we will not go to the gym, church, or other large gatherings. It feels so strange. I am optimistic that these drastic steps will make an impact, that we'll all remember this as a giant precaution and not a giant catastrophe; the worst of times.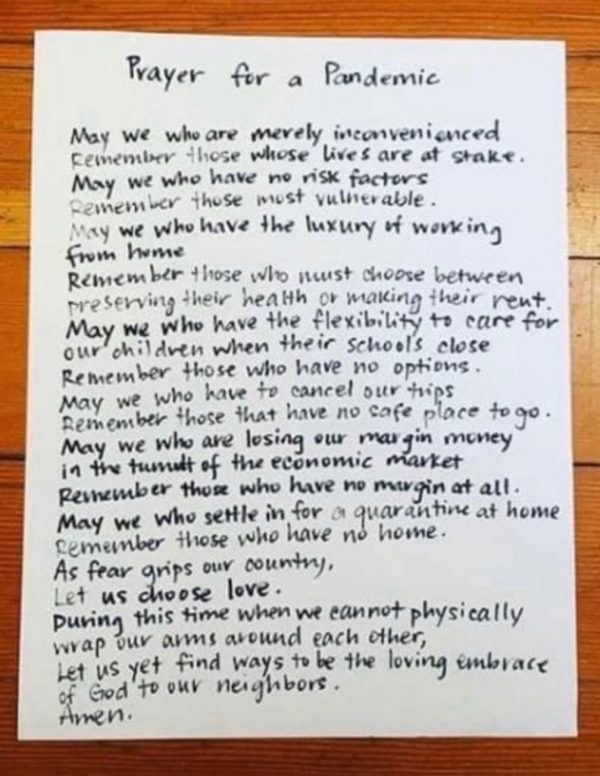 My friend Tori posted this prayer on Instagram, but I'm not sure of the original source. If you know, let me know so I can appropriately credit.
How are you managing? How is your family and community weathering this storm?