I've run (or walked) the Monument Avenue 10k almost every year since I moved to Richmond in 2006. The nice thing about running a race for more than a decade is that it becomes a bit of a marker for your stage of life.
There was the first year, when after racing the 5k in high school, a 10k was double the distance of any race I'd ever run, so I trained for it like a long distance event. There were the years that followed, when I invited friends from college to run and hosted a big spaghetti dinner at my house the night before the race. Then there were the pregnant/postpartum/nursing. Now the "now" years. Now I'm done with pregnancy and babies, and I'm figuring out how to fit running and fitness in with motherhood and keeping up with the Real Housewives.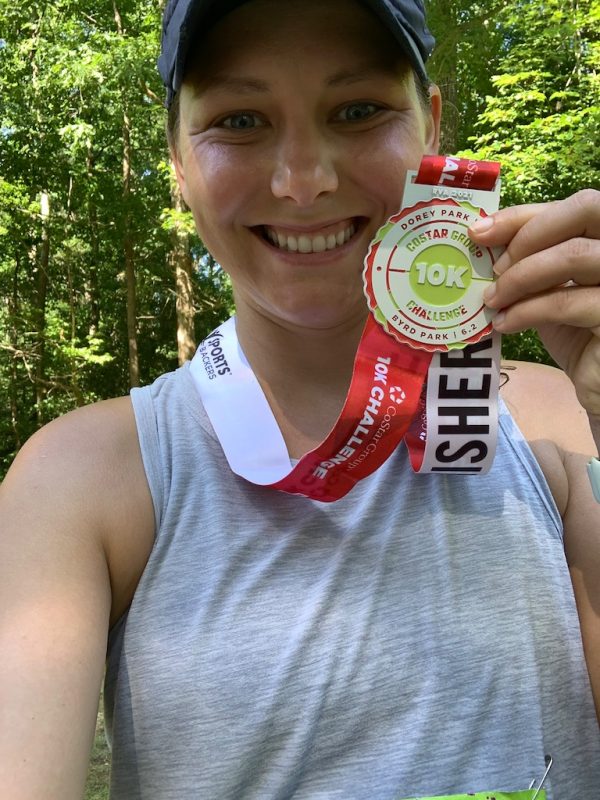 It's all so fun to look back on — the year it snowed, the year Tom ran 36 minutes, the year I dropped my phone in a porta potty, the year I was pregnant with Anna and didn't know it. Perhaps my least favorite, was the year all races were cancelled. We ran the race virtually three weeks after my tonsillectomy, and I ended up hyperventilating on the sidewalk because, even though I ran seven miles the day before my surgery, I was so out of shape from my recovery.
This year's race could have many names — The year we signed up the night before the race. The year the hardest part of the race was finding childcare. The year it was easier to run it twice than run it once.
My choice for this year, though, is "The Hot Year."
Cabell texted me a day before the race, "If we're gonna do it we need to sign up…now."
I stared at the registration and felt terrified to race a 10k. Running a 10k is fine, but racing one…uuugh. Cabell just wanted to run easy, for fun! I trusted her, but I didn't trust myself. There's something about a starting line, ya know? I knew I couldn't trust myself to not try to at least push the pace, and sitting on my couch with a computer in my lap, I wanted to keep Starting Line Amanda from making decisions Couch Amanda wouldn't approve of. That's when I noticed the 10k Challenge — run the race twice, once on each course, over a single weekend. If anyone could muzzle Starting Line Amanda, it was definitely Endurance Challenge Amanda.
Two 10ks in 72 hours might not sound like a world-record endurance event. But! If you include the hours of frantic texting that ensued as we tried to coordinate schedules and childcare, it just might be.
That's why this year will go down as the year we ran at Byrd park at 2 p.m. in the direct sun, because available childcare trumps available shade. We'll remember this year as the year we finished our water three miles in, and after four miles we felt like ants on the sidewalk, being fried by a magnifying glass. At five miles we knew for sure that this race was not going to be fun or fast. Instead, it was going to be about focus and fortitude — forward motion, consistency, and keeping an eye on the course markers because running a step further than 10 kilometers would be a tragedy.
Even though we run at least 8 miles every Saturday, the heat of that first 10k wiped us out completely. We both needed at least 48 hours for our core temperatures and heart rates to get back to normal. BUT! The 10k challenge waits for no heart rate! 18 hours later (just enough time to wash my lucky race hat!) we drove to Dorey Park (where is this park again?) to do it all again.
We'll remember this second race as the one where our legs were tired and heavy before we started. It was earlier a smidge cooler and shadier, but a heck of a lot more humid. We'll remember the hills, and how at mile 2 we weren't sure how we'd make it four more miles. But then, somehow, we made it 6 miles…and then 6.1 miles…and then when both of our watches said 6.39 miles when we crossed the finish line, we KNEW something was up.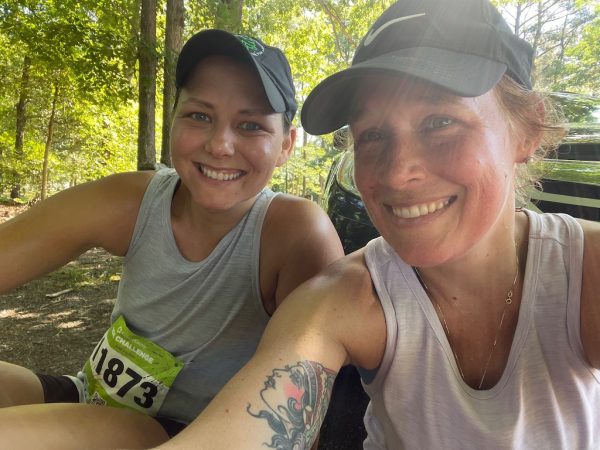 The year we'd rather run far than fast, the year we were hot, and barely got any post-race snacks. This is the year we ran two races and still didn't run out of things to talk to, and hopefully the last virtual race we ever run again.
This'll be the year that we got the special fancy medal, which always makes all that sweating well worth it.