Last weekend Tom's grandmother's neighborhood had a little carnival with a petting zoo, face painting, balloons, and vendors passing out plastic trinkets. Actually, "carnival" might be overstating the event. But since my kids haven't really been to a true carnival, we're sticking with it.
Carnival or not, this sort of thing is a kid paradise, so we do what we do anytime we hear of a free activity — we popped it at the top of our calendar and started hyping it to the kids.
On the morning of the event, I suggested that we all ride bikes.
Tom checked Google maps to see how far it was — four miles — and find a good route. In record time we were all in our helmets and arguing about whether or not we should bring water. (We'll get water when we get there! — Why would we not take water when we are ABLE to take water? — Ok, fine. — Great. Can I throw in a bunch of snacks, a few changes of clothes, and the couch incase we want to take a quick break?)
To take a family bike ride, Tom pulls Anna and Thomas in a trailer like this, I pull Mary in a tandem bike like this, and David rides his bike. Four miles (eight  miles round-trip) is a lot for a seven-year old, so we gave him a pep-talk in the driveway.
"David, this is going to be a long ride, but you're ready. You can do it," Tom told him. "Guys, there might be a point in our ride when we wonder why we decided to do this. But remember, KRIEGERS DO HARD THINGS!"
With that, we took off.
There were lots of moments when we were riding through shaded neighborhood streets that I wanted to stop and take a picture. It was really lovely, cycling with everyone. We've waited a long time to be able go on adventures together.
I couldn't take any pictures, though, because the ride-behind bike I use with Mary is incredibly unstable and if I take my hands off the handlebars for even a moment the entire things will veer into oncoming traffic. So, instead of photos to show, I have incredibly sore hands. (And lots of pictures of the petting zoo.)
Mary has gotten a lot more comfortable on the bike. She used to yelp and holler anytime we gained any sort of speed (including the speed necessary to keep the bike up-right), but on this ride she discovered that she can let go of the handlebars and clap.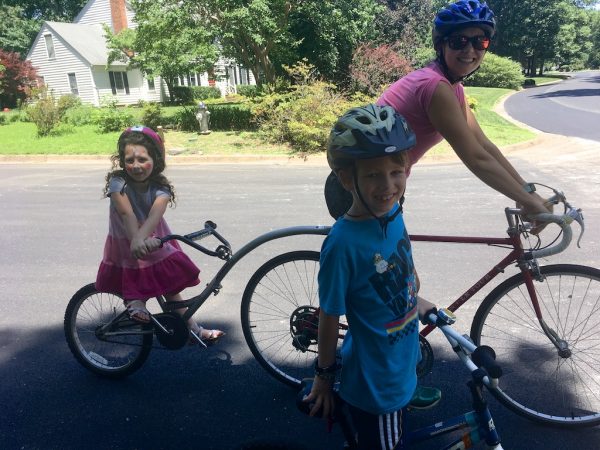 Tom snapped this photo when we were waiting for him to check the directions. Quick note: Mary's helmet placement is absolutely atrocious. Click here for correct helmet fit.
I realized on this bike ride that we're entering a new era of parenting. Since 2010 with almost no breaks, we've always had a baby, or I've been pregnant. I know that all women are different, but when I have a baby or am pregnant I'm not at all interested in any sort of adventure or fun. I have a strong urge to hibernate and keep my surroundings predictable and climate-controlled. I do not suggest a bike ride if a car is an option. But now Anna is older and a little more flexible. She's sleeping so I am too, and I'm feeling more like myself before kids.
When I suggested the bike ride I was fully aware that it was probably the first bike ride I'd suggested in years. We've taken bike rides and gone on other family adventures, but they were always initiated by Tom and I go along begrudgingly, knowing that the experience is better than whatever is holding me back — exhaustion, overwhelm, mama hormones that are telling me to cower in a cave until all harm has passed.
I like this phase — Tom and I are finally parenting at the same speed. For so long partnership meant dividing and conquering. Tom would take care of the big kids while I'd stay home with the baby. This worked for so long. We were able to support each other in our different roles, but they were definitely different. This is a new phase that I didn't even realize I was missing until this weekend. Tom and I are still very different in the way we nurture, instruct, and interact with our kids. But aside from that, Mom and Dad can both fully participate in this sweet season of life, full of adventure and fun, bike rides and pool parties.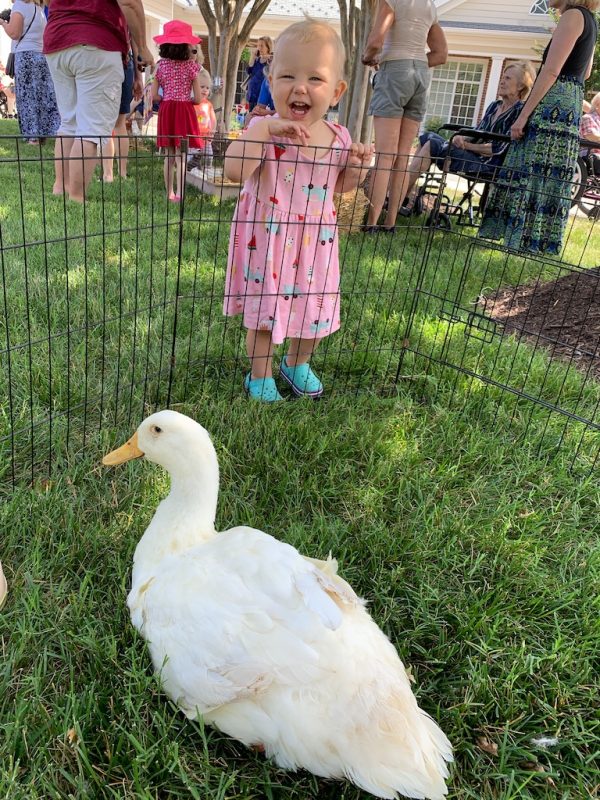 The petting zoo was really fun, but I think the real memory from the weekend will be the bike ride (just don't tell the goats).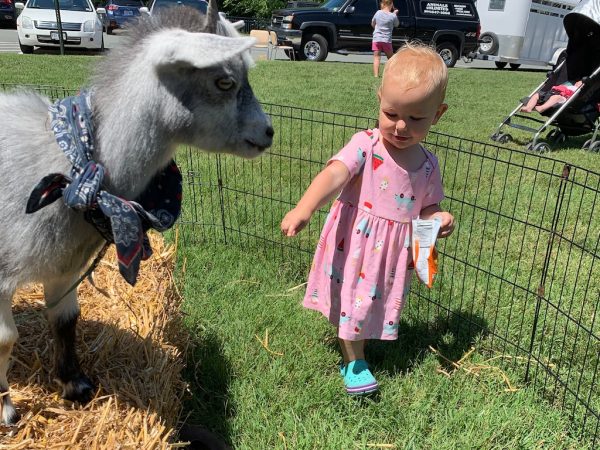 The ride to the carnival was mostly uneventful and fun until we got to the final road. It's a neighborhood road so we thought it would be fine, but we quickly discovered it has very little shoulder and cars drive on it very fast and shout expletives at dads pulling his kids in a bike trailer.
On that particular road, I was white-knuckling, focusing on keeping the bike steady and getting to our destination as quickly as possible. Mary and I were barreling down a hill at a speed that, to me, felt unsafe, but I had no choice because I cannot control the laws of gravity. So I'm speeding down the hill, gripping the handlebars so tightly that I thought blood might come out of my palms, and behind me I hear "clap! clap! clap!"
"MARY!" I yelled. "Do not let go of the handlebars!"
I've been encouraging her to take risks her entire life and she decides to go for it on the side of a two-lane highway with barely any shoulder.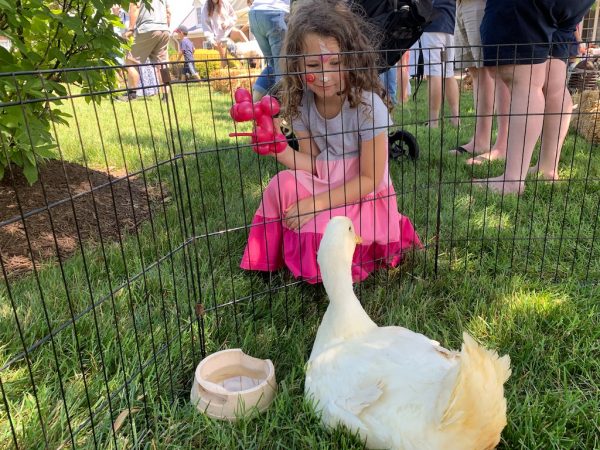 We decided to take a different route home to avoid that particular road. The route home was much safer, but double the distance. We ended up riding 12 miles that day. TWELVE MILES. I was so proud of everyone, especially David who rode the entire thing on his too-small bike that doesn't have gears. And he didn't complain once.
It was a huge effort for everyone, and when we got home we all sprawled out in the garage and drank Gatorade. We were exhausted, sore, and super happy. It was a tough trip but we did it, and we were together.
Mommy included.