I'm not going to use that cliché, the one parents always say at the end of the first year. The cliché I used when David turned one, the one I am so very tempted to use.
I am not going to say that this year flew.
The phrase implies that time slipped through our fingers this year, passing so easily that we barely noticed. This year has been fast but it has also been really, really hard. There are so many things that are easier about having lots of kids — there are so many things that I already know how to do or have experienced so I'm not as easily rattled. For example, when my baby wakes up with a 101 fever at 3 a.m., I don't call the all hours nurse line and fall to the bottom of a pit of worry. I know how to handle fevers by now. But there are also one thousand things that are more challenging because I'm managing them while also managing kindergarten, potty-training, and parenting through exhaustion because your baby has a fever so you didn't get any sleep.
It has been a hard year, but, yes, the year has flown. Not because it has been easy, but because it has been so full.
When Anna was born — beautiful and perfect, squirmy and bald — I never once imagined her turning one. But here she is. Even if I had tried, I could have never imagined how wonderful she would be.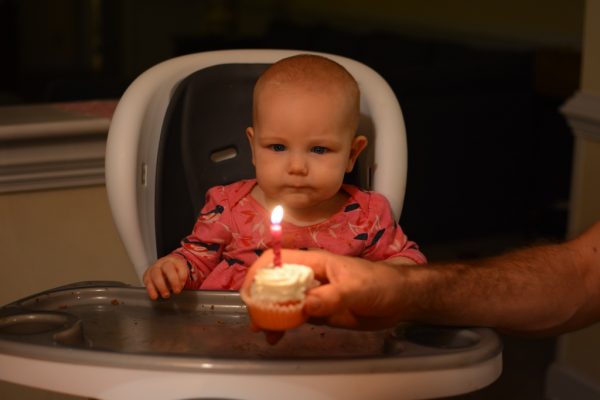 Month twelve was a huge month for Anna, and not only because she had a birthday. This month she started cutting molars, she got her very first bee sting, she started standing independently, and, CUE THE TRUMPETS! She slept through the night for the very first time!
And now cut the trumpets, because she hasn't done it again. But she did do it ONCE, so next time you hear me complain that I haven't slept through the night in seven years, you can remind me of that one night in October.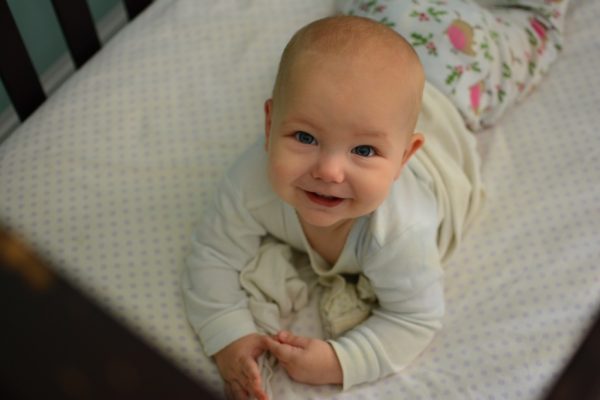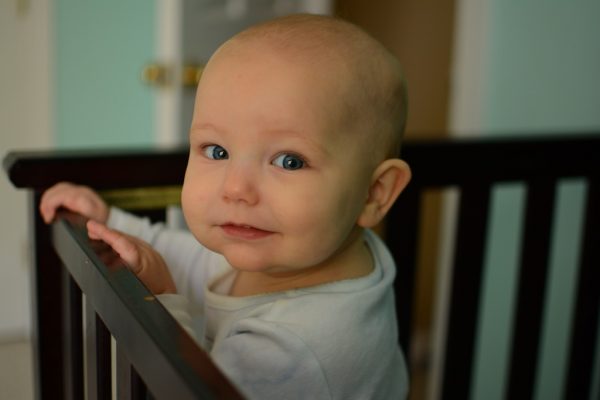 My sister says that you can always tell when someone is the youngest of four kids because whenever they walk into a room they automatically assume everyone loves them.
If you don't fully understand that statement, you should watch my family when we carry Anna into the room.  No matter what they were doing, everyone starts smiling and jockeying for the baby's attention. Even David, even when he's at a really great part of Harry Potter. She brings out the best in all of us.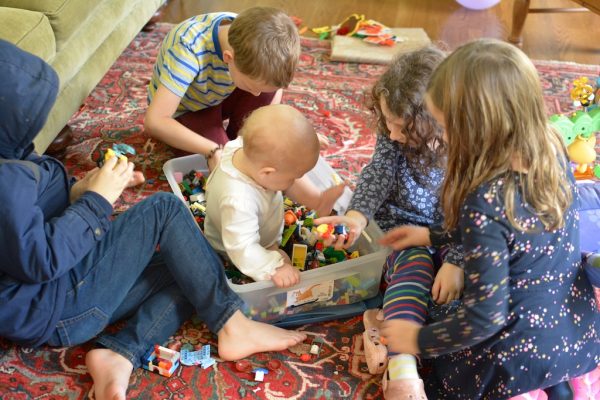 The kids say they can't remember our family before Anna was born. "Oh yeah!" Mary suddenly perked up. "I do remember when your belly was SO BIG!"
If you ever need help jogging your memory, you should have a daughter.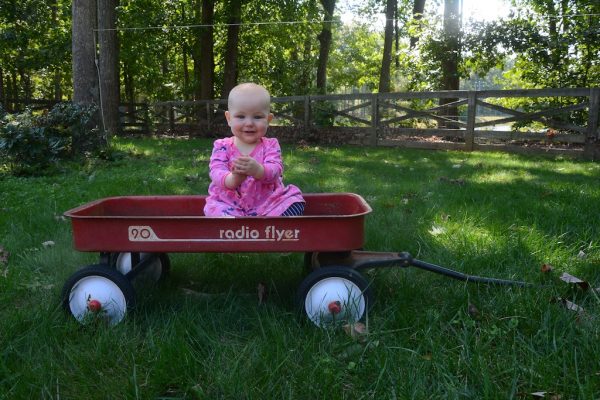 Anna sleeps with a blanket that she loves and rubs as she dozes off. And when she wakes up she throws it over her head and plays peek-a-boo until I get her.
Anna is wonderfully snuggly. She snuggles into our shoulder every time we pick her up, and especially when she wakes up from naps or when you rub her back. Anytime she sees a doll she grabs it and hugs and rocks it. She loves to be tickled, to play peek-a-boo. Her favorite time of day is when Daddy comes home.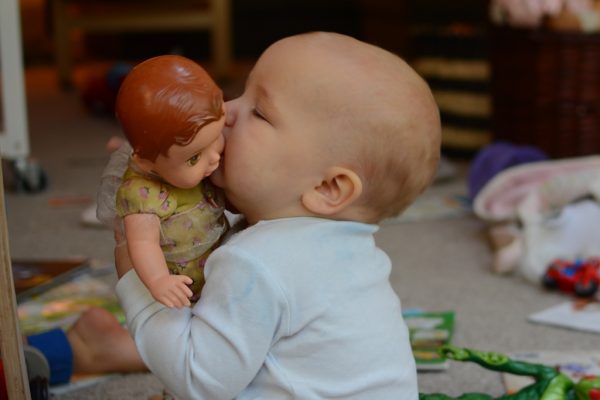 But her favorite thing? More than toys or siblings or even her parents? Our stairs. This girl is singularly focused on getting to the stairs. Climbing the stairs is the only thing she cares about, every day. If you need me, I'm retrieving Anna from the stairs, walking behind Anna while she climbs the stairs, or replacing whatever barrier she removed to get to the stairs. I've seen my 25-pound, bald baby move actual pieces of furniture to get to a flight of stairs.
One day, when she puts all that physical and mental focus on a sport, she will win an Olympic gold medal. And in the press interviews she will tearfully proclaim that she owes everything to the stairs. Oh, and also her parents.
Anna's worst qualities are her fierce curiosity, her determination, and her uncanny knowledge of how to arc her body in a way that makes it impossible to change her diaper. Aside from that last one, I hope nothing about her ever, ever changes.
My darling, beautiful baby girl.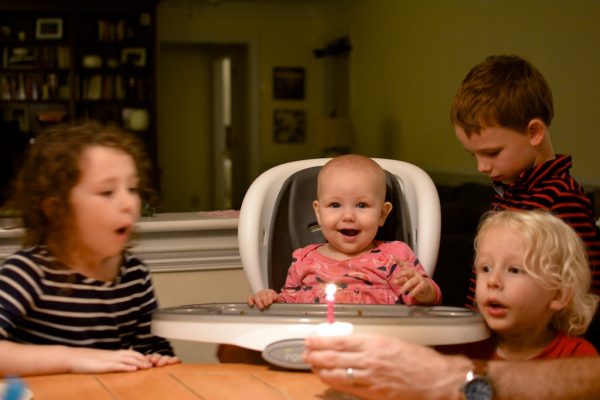 Dear Anna,
Isn't it funny how I fixate on milestones? As you get older, you'll come to roll your eyes at your mother's sentimentality about firsts and lasts and even halves. I have anticipated and dreaded your first birthday, as if on day 366 something about you would change and would be taken from me.
All year I've concentrated on savoring you as a baby; enjoying and acknowledging the special things about you this first year. Because you are my fourth child, and because there is SO MUCH else to do, I have placed high priority on letting you be a baby and not just sidekick to the big kids. It has taken effort, but it has also been so completely natural. You are such a wonderful, delightful baby. You have made it easy to slow down and enjoy this precious year.
What I realized on day 366 is obvious — there is no deadline. You are still my baby, and it is still my privilege to breathe you in, to bask in your sweetness, to revel in watching the world through your beautiful blue eyes. You are only just beginning.
In you, God gave our family such a gift, and we are so grateful.
Happy birthday, baby girl.
Love,
Mama