At time of publication, I've spent five and a half years of my life nursing a baby.
Of course, that's not five and a half years of non-stop nursing. But, yeah, actually. In a way, it is.
Five and a half years! That's longer than I was in college, longer than I've lived in any home since childhood, longer than the first marriages of Britney Spears, Kim Kardashian, and Katy Perry combined.
With all that experience one could say I'm a self-proclaimed breastfeeding expert.
So you can imagine my surprise when, last week, I came down with the tell-tale symptoms of mastitis. 
Sorry. I try to keep it clean here on the blog, stay away from foul language and whatnot. And THAT, the m-word, is the dirty word of breastfeeding. Now I know why.
Even though I had all of the tell-tale symptoms that show up in every breastfeeding mothers' nightmares — swelling, soreness, redness, malaise, fever — I did not believe I had mastitis. First, because I've never had mastitis. I considered myself a person who did not get mastitis, as if that's a thing. (It's not a thing.)
Second, because I'm nursing an 11-month old, and only women who are nursing newborns get mastitis. Women who are nursing 11-month old babies do not get mastitis.  So says the statistically irrelevant survey I've taken of all of my friends. 
But what happened (I think) is that in the past few days it occurred to me that Anna nurses aaaaaalmost as often as a newborn, and when David was Anna's age, he weaned himself, slept through the night, and did our taxes. So Anna needs to get it together.
I cut out ONE feeding. ONE FEEDING. And Anna's response was to fire a shot across the bow in the form of mastitis.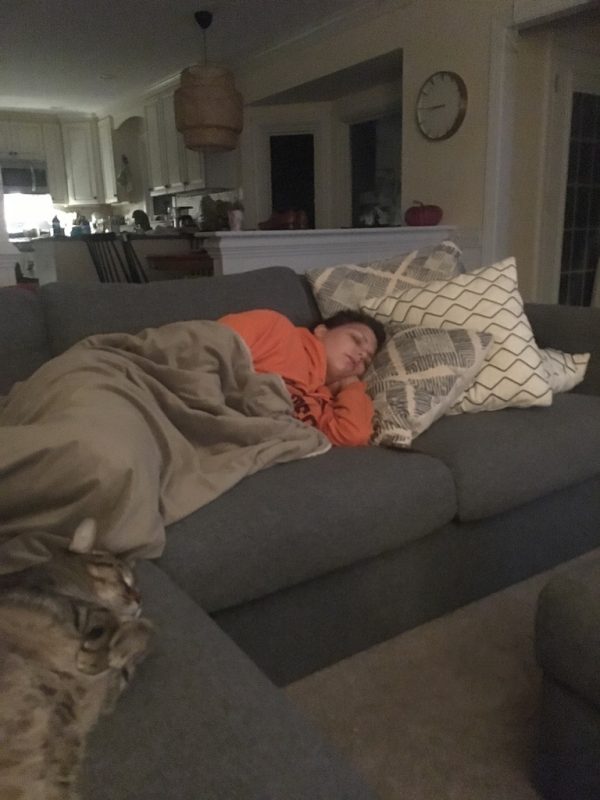 As my symptoms were getting worse, Tom took the three youngest kids with him to pick up my prescription, and David stayed home with me. David finished some homework, then we snuggled on the couch and watched funny cat videos on YouTube together, just like we did when he was six months old and got his very first fever.
This one was our favorite:
But then, because he's now a seven-year old and not a six-month old, he wanted to switch to videos about incubating snake eggs:
Anna's 11-month old mastitis turned into two cases of mastitis that I am still, after one week, a trip to the doctor's office, and two different antibiotics, recovering from.
I'm getting better, but Anna has completely made her point. I'm not actually planning to wean her anytime soon, but how will I ever wean her if this happens after one skipped feeding?
Am I the only person in the world who's gotten mastitis with an 11-month old?
Help a sister out.
And if you see me walking around moaning, with dark under-eye circles, slumped over with a limp, it's not a Halloween costume. It's mastitis.