One afternoon I was sitting on the dock while David played in the sandy area on the bank of the lake. Thomas was draping himself over my legs, doing that three-year old thing where he readjusts every two seconds or so, trying to get just a little closer to mama.
David and Caleb were both remarkably independent on this trip, a milestone we all marveled over. Watching them play actual big kid games like Battleship and Life, plop on the couch to read chapter books, and drag kayaks into the lake for a ride with absolutely no help from an adult is incredible. It's even more poignant to watch if you also have a nursing baby and a toddler draped over your legs.
David quietly stood up and put a kayak in the water, then paddled to the front of the dock and shouted, "Hey, Thomas! Do you want to go for a ride?"
Thomas sat up in my lap and touched his nose to mine. With raised eyebrows he whispered, "Mommy, did you hear that David said?"
"I did, Thomas!" I said, and gave him a big hug.
I watched them paddle away, replaying Thomas's excitement, trying to memorize his eyes, flung wide-open and full of joy at the prospect of a kayak ride with his big brother.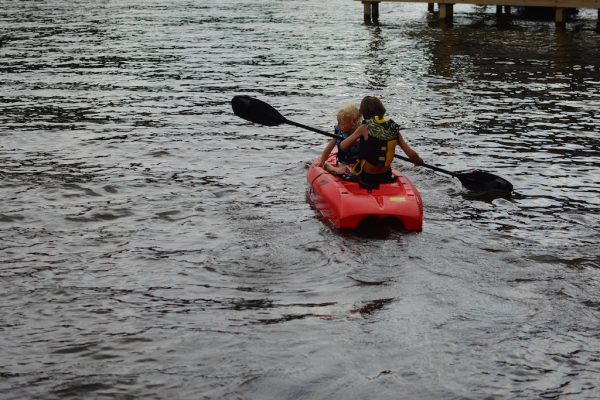 When they returned, I greeted them with towels and walked them up to the house.
"Mommy?" David said as I wrapped him in a towel and walked him to the shower. "Do you know why I asked Thomas to go for a kayak ride?"
"No, why did you?" I asked.
"Because I thought you might like a break."
And that's how David earned the title of best brother in the whole wide world and top-notch son with just one kayak ride.