In the past year or so David has become increasingly interested in creating. He loves to draw, color, paint, cut, glue, and everything else. I love watching him, in part because a few years ago he didn't like any of it — coloring, using stickers, or even playing with Play-Doh at all.  Anytime I brought out a craft it always took a lot of enthusiasm and involvement on my part.
I credit this new development partially to his maturity, and partially to his preschool teachers, who encouraged and praised his art skills. Often when we would get home from school, he'd run straight to the art table and try to replicate something they did in school, or add to something he'd started earlier that day.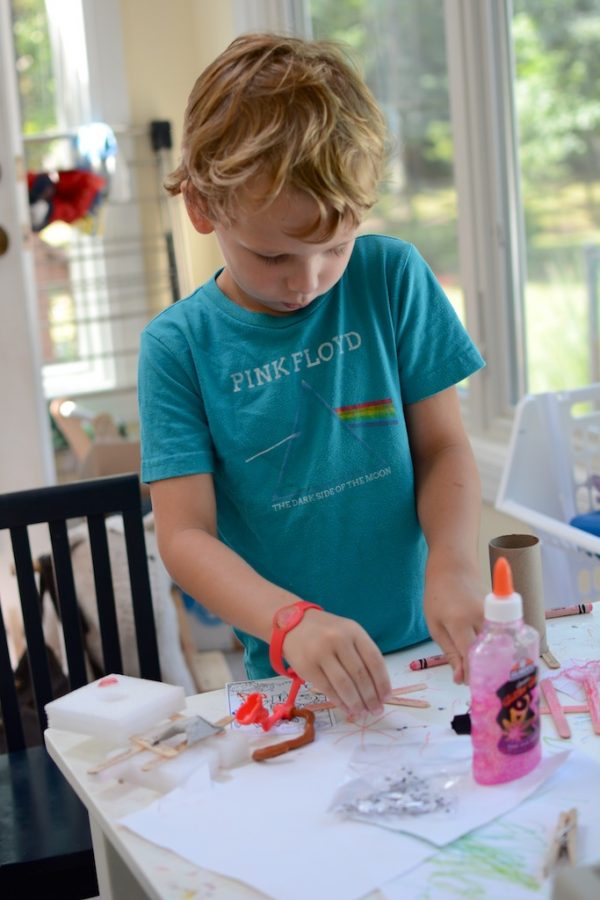 We have a little art space in their playroom with paper, crayons, and a bucket for coloring books — but as David has grown, it's gotten more crowded. Nowadays we have scissors, tape, and glue and lots of miscellaneous things like pipe cleaners, googly eyes, and lots of, um, well let's just call it what it is — trash. Stuff like packaging for curtain rods. Art stuff.
We were cramming it all into a cabinet along with some puzzles, but then the cabinet begged for mercy, so I decided to dig deep and I did something I've never done before: I organized.
I ordered these stacking storage bins from Amazon and, because I'm a mom that truly believes in the potential of a child, I plopped a trash can from Ikea beside it.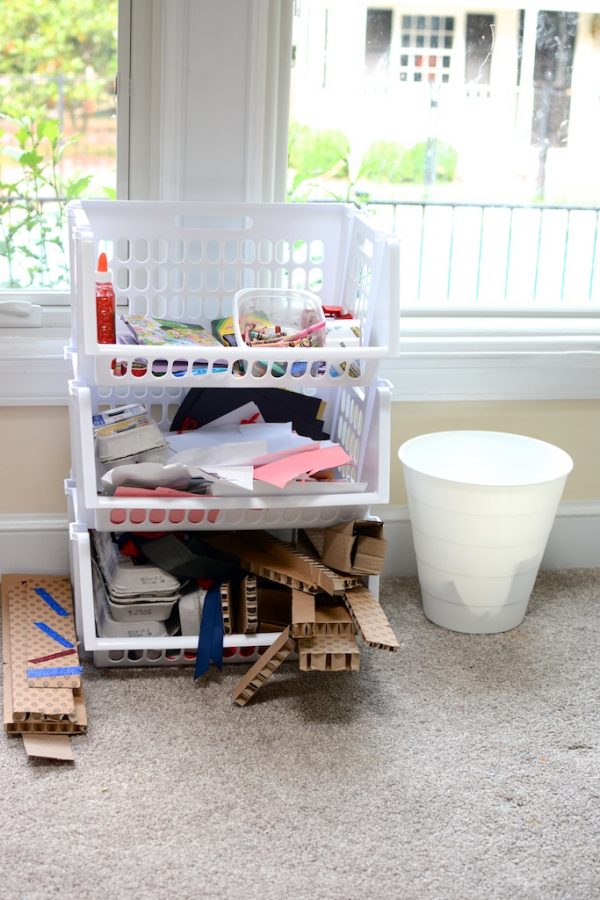 There is nothing complicated or fancy about this "system." (Generous use of the word…)
The top is for tools — crayons, glue, tape, stickers, a hole punch, and googly eyes.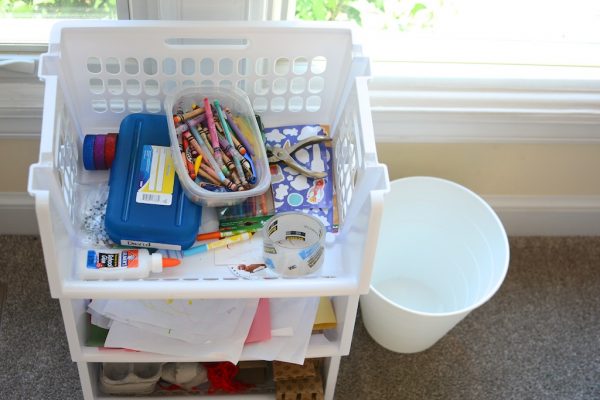 The middle is for paper. I intended this to be for unused paper, but who am I to give a suggestion to an artist? Especially a four-year old artist.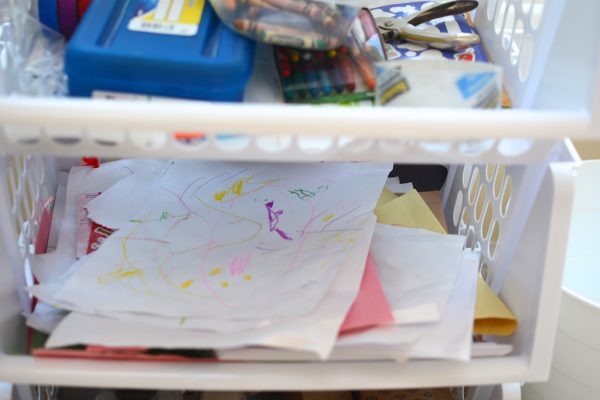 The bottom bin is for bigger supplies, things like egg cartons, yarn, cardboard scraps, straws, Popsicle sticks, and his favorite, used toilet paper holders.  I love adding to this bin without saying anything and waiting for David to discover it.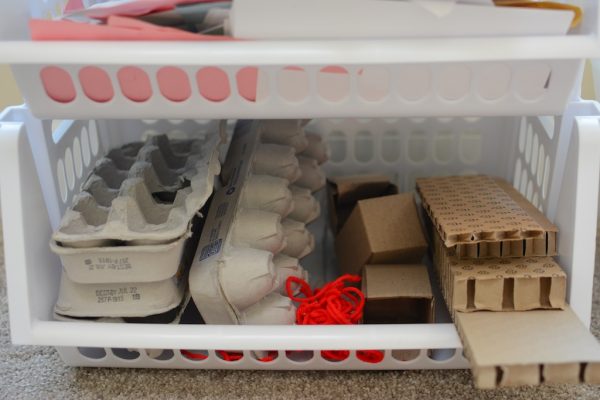 The effect has been amazing. David spends so much time creating now that he has so many tools and supplies handy. He even usually puts things away.
Is this why people like to organize? Is this what always happens when everything you own isn't piled up in the corner? When things are visible and accessible?
Here are some of my favorite creations — all made without any input or help from me.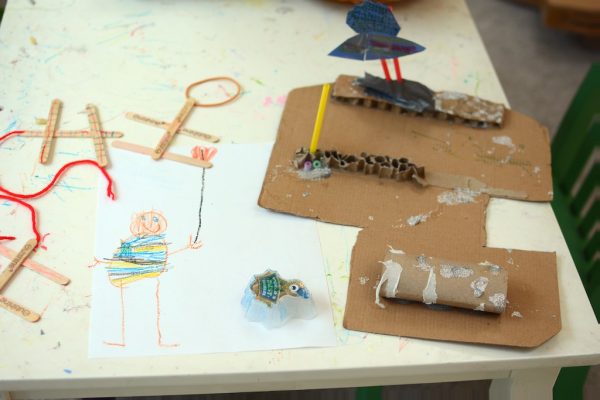 Above: Popsicle stick airplanes, a picture of David wearing his new favorite shirt, a Pokemon, and an obstacle course for our pet snail, Scaredy. (that, sadly, Scaredy never got to use. R.I.P. Scaredy.)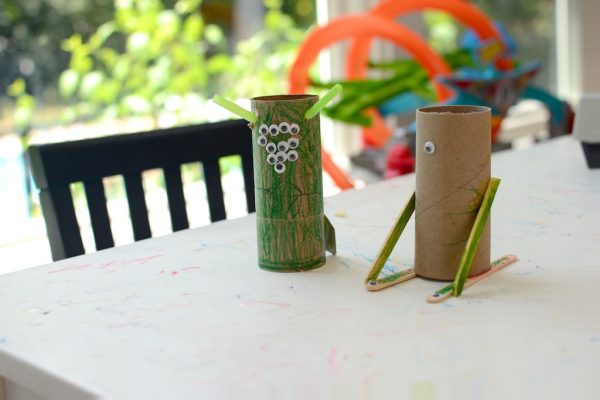 Two aliens — he put these on Tom and my nightstands when they were done. The left was for Tom (if you look close it has a tail). The one on the right is an alien skiing; that was for me.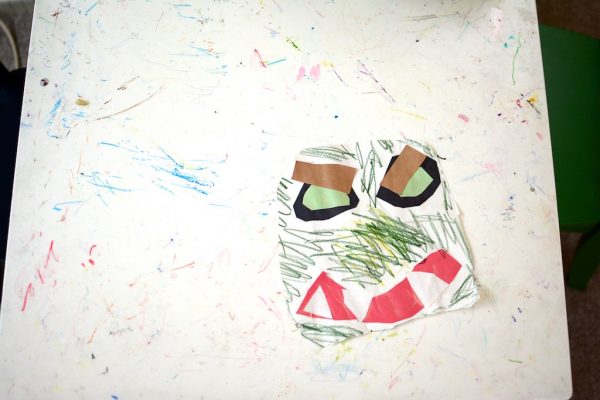 He made this monster face and I'm so impressed by it that I'm still not sure he didn't see the idea somewhere and replicate it. And even so, I think it's great.
I took a wide shot of the monster face because I wanted to show how well-used the art table. We got it as a Christmas gift from Tom's parents when David was a baby, and I think it's the single most-used item in our toy room, maybe even in our house. It's covered in stickers and crayon and glue, and honestly I think Pottery Barn Kids should use it in an advertisement. Who can bother with smudges on your workspace when there's so much creating to do?