Aside from maybe birth announcements and that one time Thomas told his preschool teacher that his favorite thing is when Mommy lets him "ride dirty in the car," few of my posts on Instagram have had as much of a reaction as this photo of the Lynn Canyon Suspension Bridge.
https://www.instagram.com/p/Bzl-RzjFHMP/
All suspension bridges warrant a big gulp and a bit of courage, but this was a special suspension bridge because it was a crowded suspension bridge. I've been on the suspension bridge over the Via Ferrata at Nelson Rocks, which has wooden planks spaced a foot and a half apart. Crowded was scarier.
BUT, I'm getting ahead of myself. Let's start from the beginning, when my sister told me we were going to Lynn Canyon and to wear hiking shoes. Check!
We showed up and ate our packed lunch at the picnic area. (There is a cafe at the park, but my sister's family are masters of packing meals. We didn't go anywhere without at least 20 sandwiches and a few bags of sliced apples.)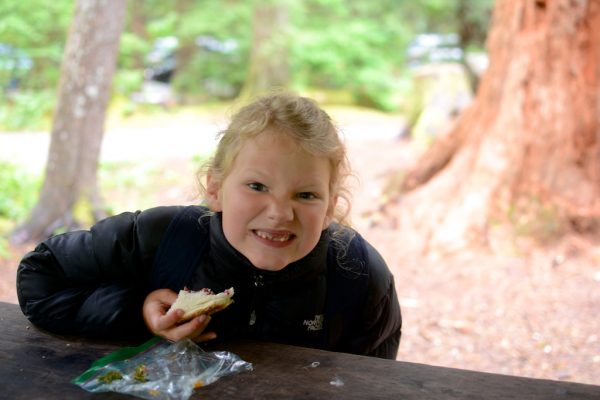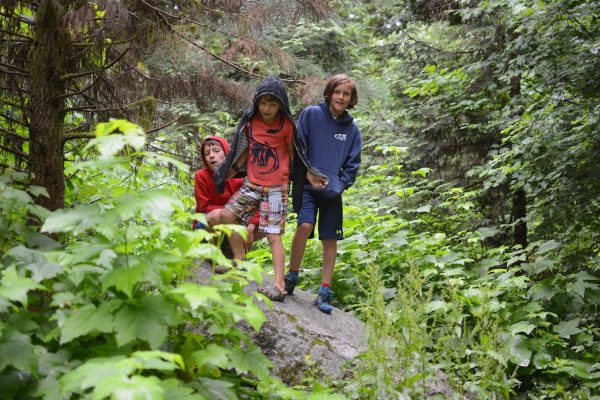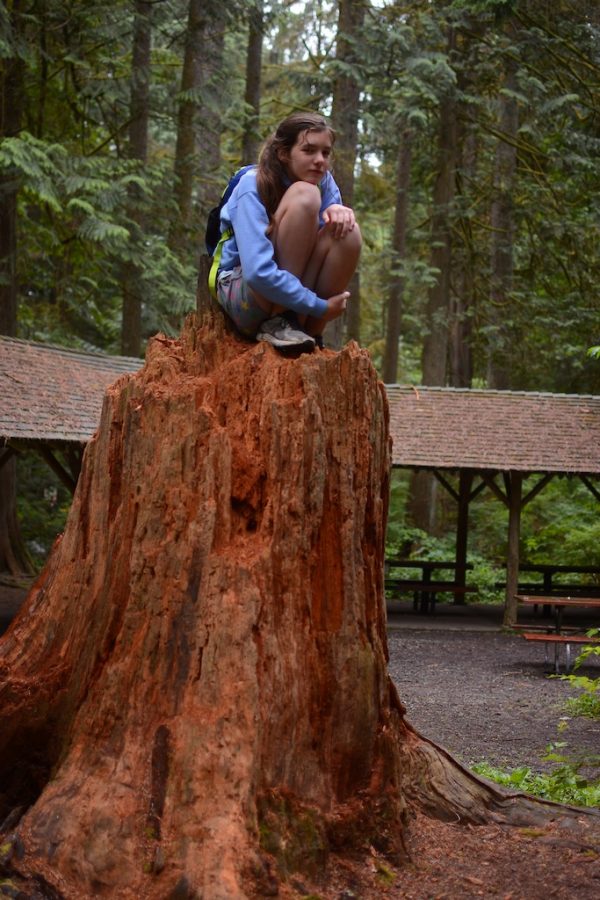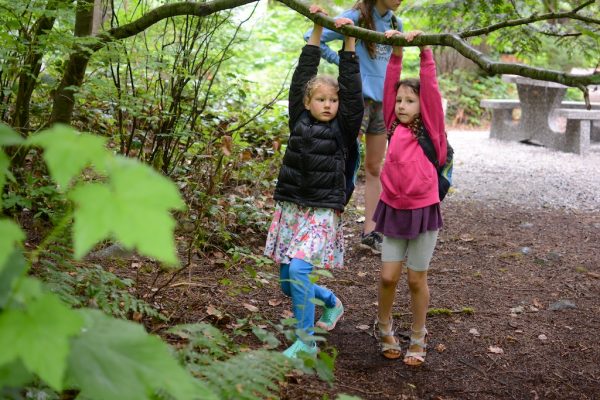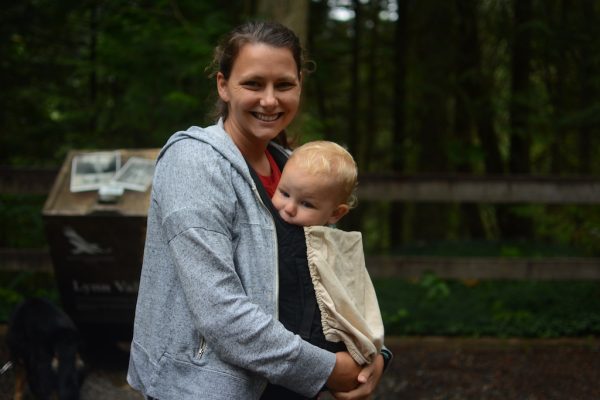 Funny enough, the majority of the photos I took were in the picnic area. It was lovely enough to warrant lots of pictures, but I think the real reason was the intermittent rain and, oh yeah, the kids running in every possible direction.
My sister didn't seem concerned, so I tried to channel her chill. Her kids are a bit older than mine (her youngest is a little older than Mary) and the difference I can see in her family is, what's the word? Aspirational.
I think that having four kids will be busy and chaotic (and require several bags of sandwiches) forever and always amen, but the difference between four kids who can all buckle their seat belts and stay awake for 12 hours straight without their insides melting, and, um, MY FAMILY is huge. There was such a difference in my tension level and my sister's, and it helped me see that sometimes I parent my big kids with toddler restrictions. Sometimes necessarily, and sometimes unnecessarily.
I tried to watch my exploring children with big-kid sensibilities and limited myself to shouting at them only every other time my heart jumped up into my throat. And in my defense, I'd like to share the signs that decorated the trails that my kid was zig-zag jumping around: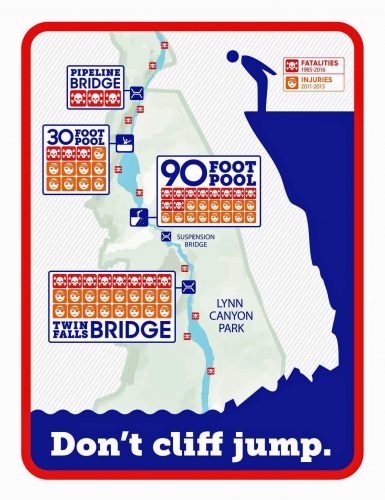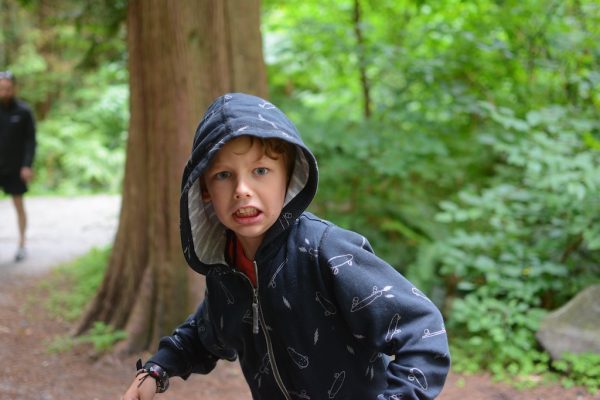 ANYWAY.
Where were we? Oh yeah, pre-hike lunch at the picnic area.
After lunch we headed to the trail head where we found 1) a bunch of those warning signs and two memorial plaque to lives lost in the spot we were standing 2) a big line.
The line of people distracted me and blocked my view of the bridge. Remember when I said I never read or researched anything we were doing? That's how I ended up standing in line for a suspension bridge without realizing I was standing in line for a suspension bridge.
Perhaps that sounds insane and doesn't make sense, but you have to remember that I was distracted by the big line and also my kids who were climbing up a hill that, at the base of it, had this sign: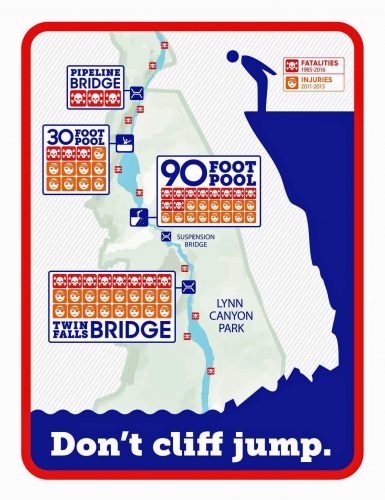 Or maybe it's more that even when I realized we were going on a suspension bridge, I didn't realize how terrifying it would be. If I HAD realized, perhaps I would have prepared my kids and, for example, paired them up with a trusting adult. Instead, I was wearing Anna, Mary was between me and my dad, Thomas was between my sister and mom, I have no idea where David was, and Tom was at the rear of the group responsible for zero children.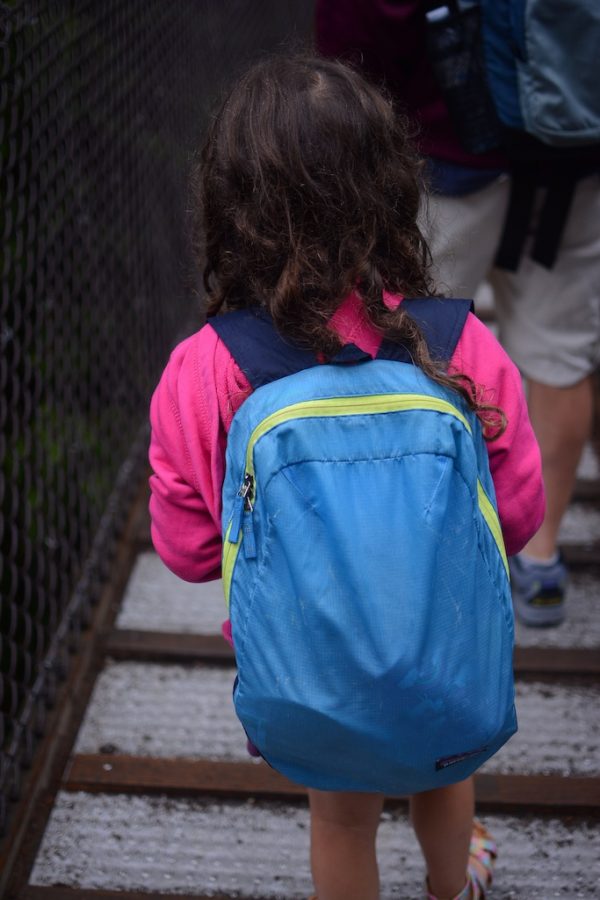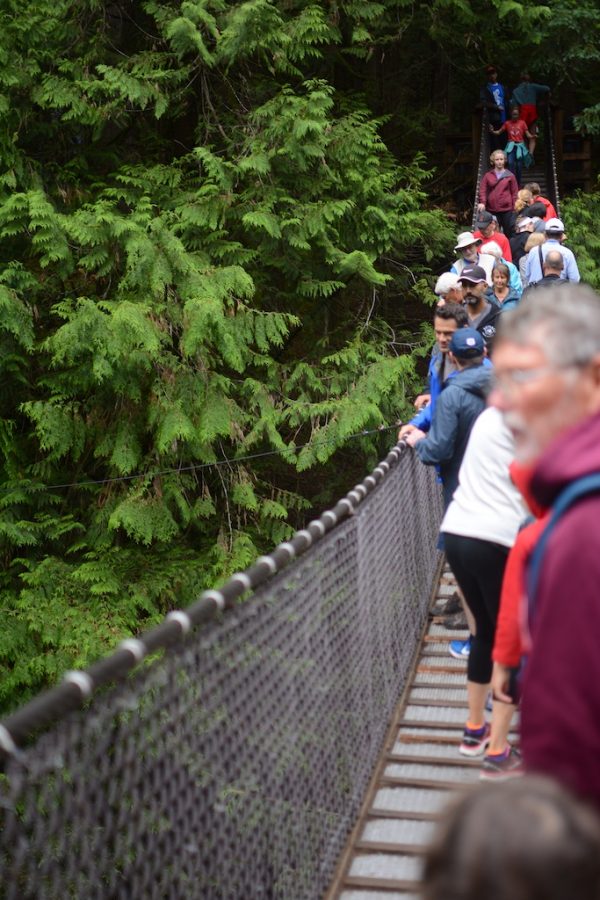 There were so many people on the bridge, and I am not exaggerating when I say they were all leaning over the edge and stopping to take photos like they were they were strolling along the Macy's holiday windows.
It seemed like we were the only ones desperate to cross the flippin' bridge and get back on solid ground, thankyouverymuch. (Emphasis on flippin'.)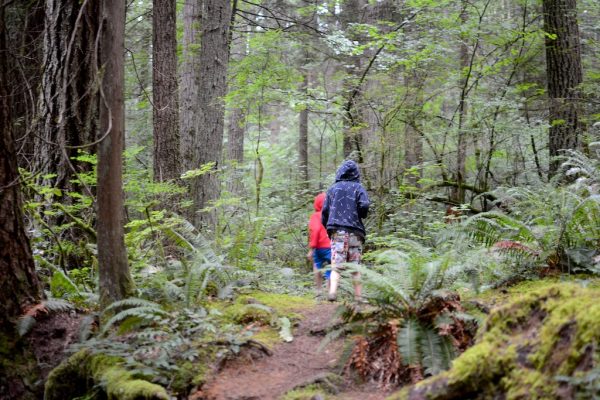 Ok, ok, ok, so now we're back on solid ground on a beautiful trail. It was raining a little and my nerves were still shot from the bridge, so hopefully now you understand why I was a little ON EDGE watching David and his cousins were exploring off-trail. (Eventually, Tom walked with them to make sure they weren't near any cliffs.)
[Just to be clear, hiking at Lynn Canyon is totally safe and there are fences blocking any potentially dangerous drop-offs.]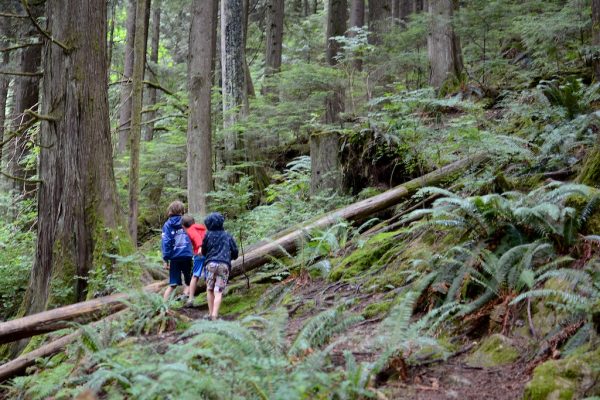 We hiked to the 30-foot pool and it was a great hike. (Special thanks to Lynn Canyon for using the Imperial system rather than the metric system. I guess 9.144-meter pool doesn't have the same je ne sais quoi.) The trail was great, well-maintained, and doable for kids. There was also lots and lots to see and explore, and I promise it wasn't all on the edge of a cliff despite what my heart rate might imply.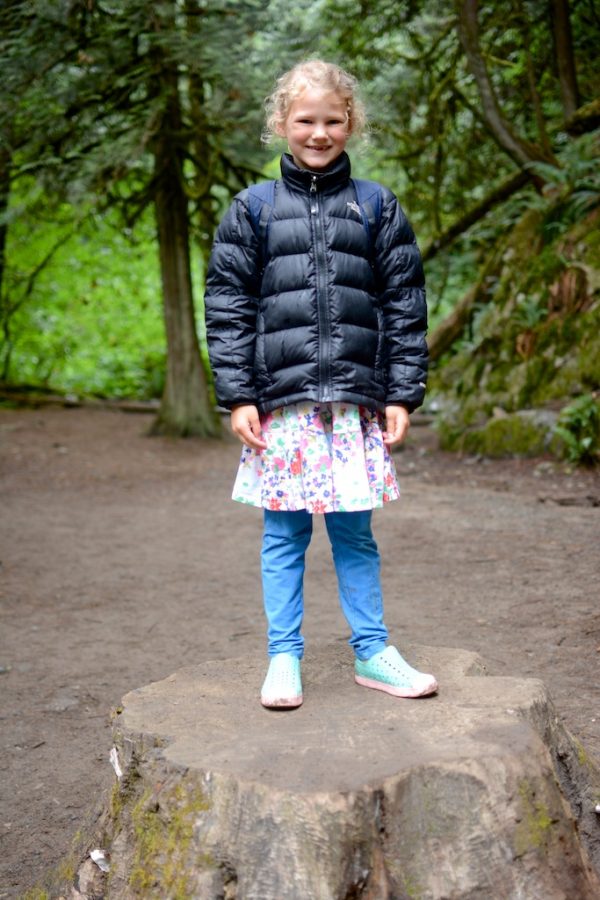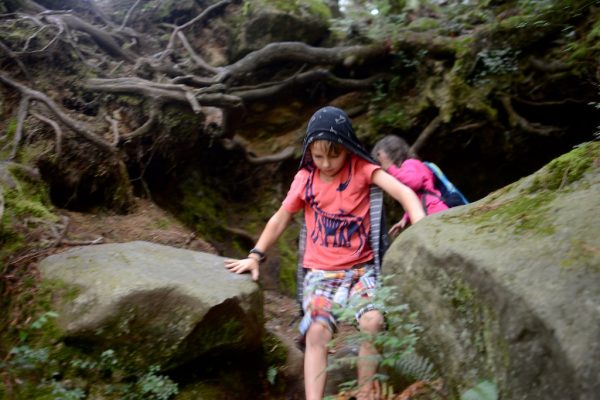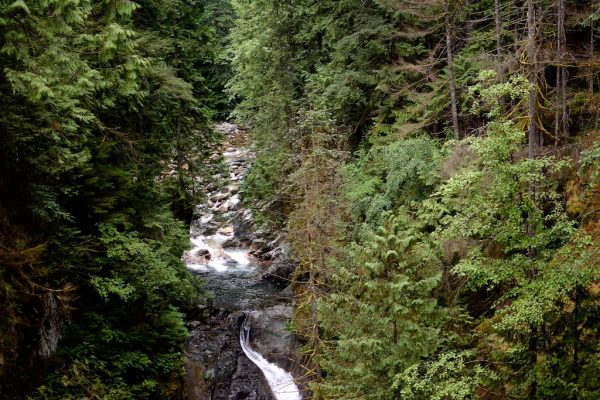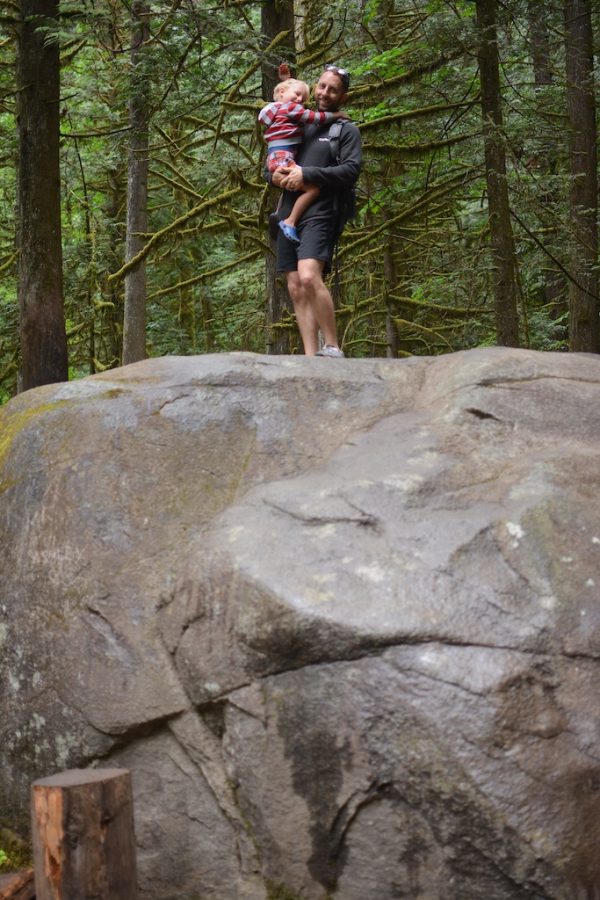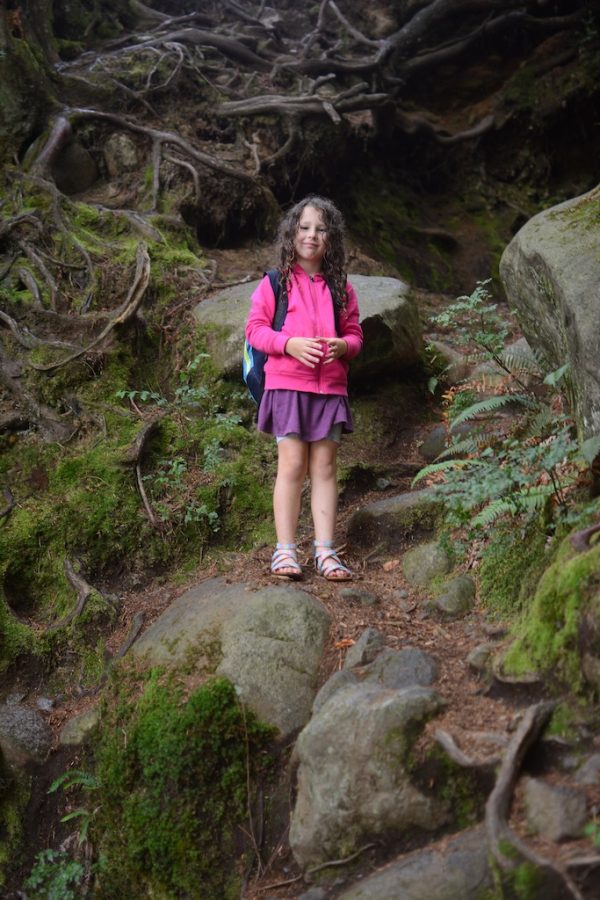 We stopped at 30-foot pool and let the kids explore. There was plenty to see and do.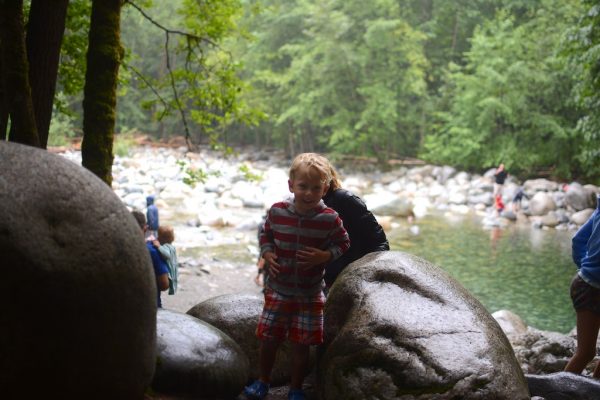 In the photo below you can see Kristie, Thomas, and Gabby in the foreground. In the background Jason is walking through the shallow part of the pool with David, John, and Abram.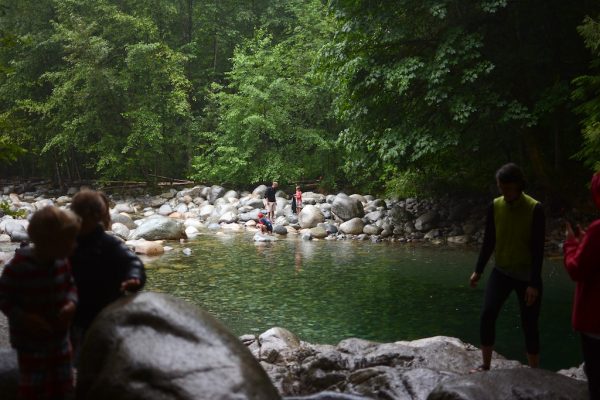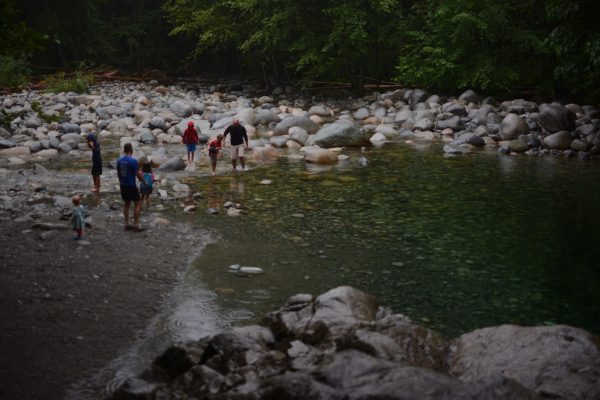 Kristie and Thomas, I assume she's explaining how canyons are formed.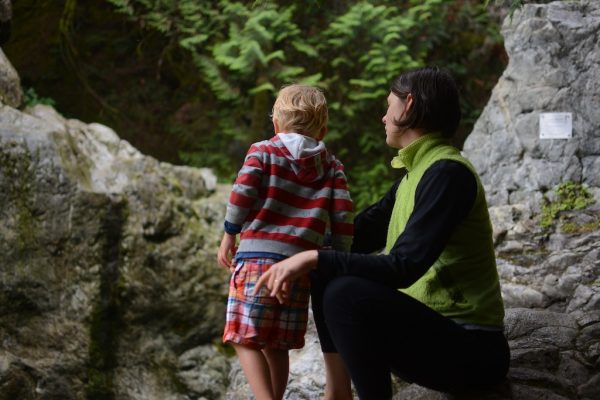 The 30-foot portion of the 30-foot pool.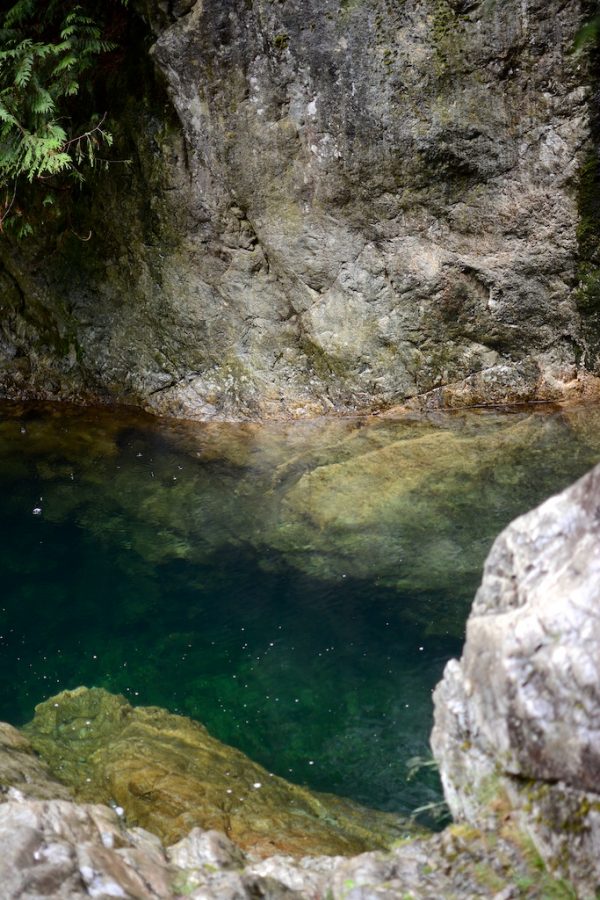 Just as we were planning to turn back, Thomas decided he was done. He closed his eyes and started screaming that he couldn't walk because he couldn't see. And when we suggested he open his eyes, he screamed even louder so he couldn't hear us.
That was the tone for the entire hike back. Beautiful scenery with a tantrum soundtrack.
We took a different route back so we didn't have to do the suspension bridge a second time, something our group unanimously agreed on.
The extra bit included a lot of stairs — a lot of down, then a lot of up. I walked with Mary and was trying to keep her motivated. When she saw the final flight of stairs I was worried her eyes were going to fall out of her head. But then? Then she rallied. She powered up the stairs without stopping and without complaining. And guess what? She was the first person of our 14-person group to make it to the top.
Therein lies the reason I'm so glad we did this type of stuff. Our kids got a chance to enjoy God's creation, have adventure, and push beyond their perceived physical abilities.
Oh yeah, and no admission fee!