On Sunday we had a little snow and ice storm. It didn't really amount to much, but the roads were covered enough that it wasn't safe for the buses in the morning.
Do you remember how you found out about school closings as a kid? The radio? The news?
These days, the school superintendent texts, emails, and calls parents. This generation of children completely misses out on sitting with your eyes glued to the television watching the news for the scroll of closings. Even if you have to go to the bathroom or need a snack, you CANNOT look away. My county started with an "F" and waiting that far down in the alphabet was agonizing. KIDS THESE DAYS! They have no idea what that sort of anticipation was like. They wouldn't survive a day in the 80s when children were sent out into the world without a coating of SPF 78 and portable yogurt.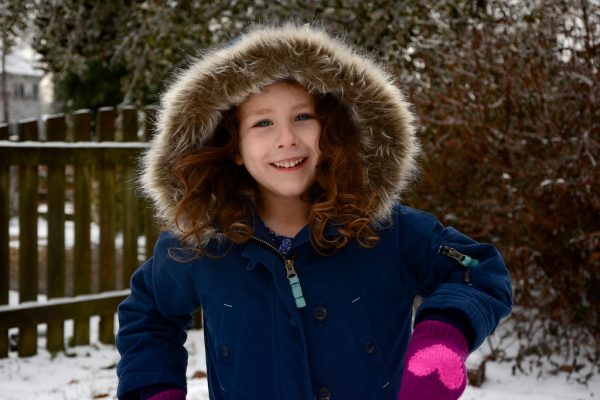 There wasn't much snow, but it was really the perfect amount for young kids. Deep snow can be overwhelming for them to walk in, and it's so hard to maneuver in all the bulky snow clothes. There wasn't enough for a snowman, but we also didn't need snow pants or giant gloves.
It was just right for running around and discovering how magical everything looks under a bit of ice.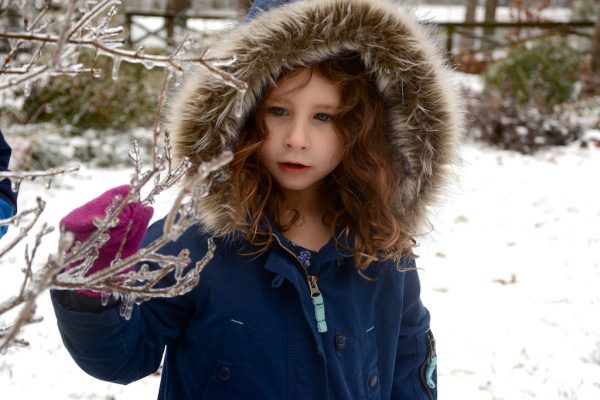 Mary loved looking at all the bushes — every twig and leaf perfectly coated.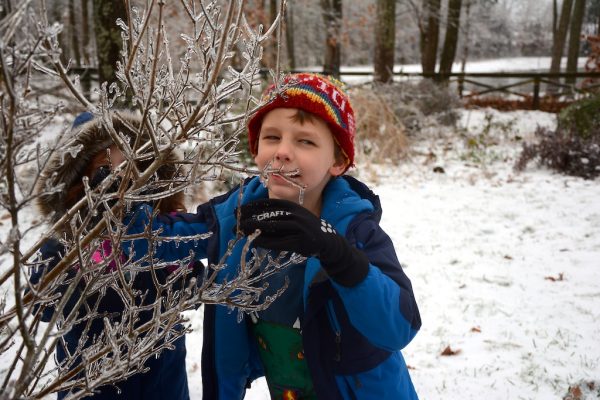 …David loved mocking Mary.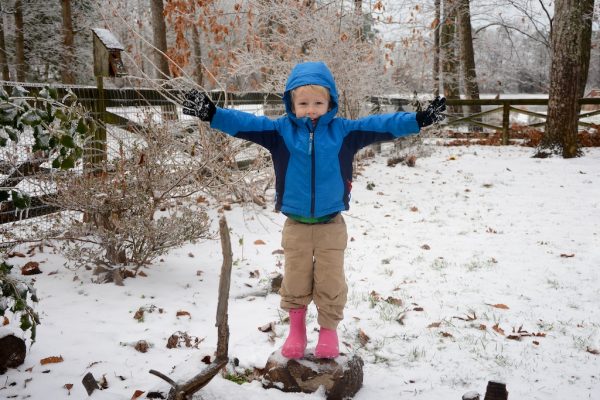 "Mommy! Take a picture of me!"
When your three-year old tells you to take a picture, you take a hundred pictures.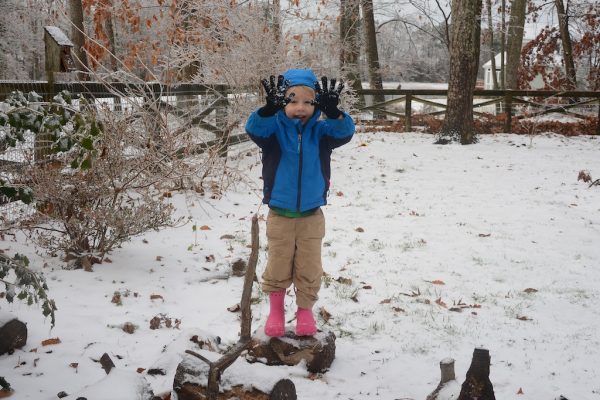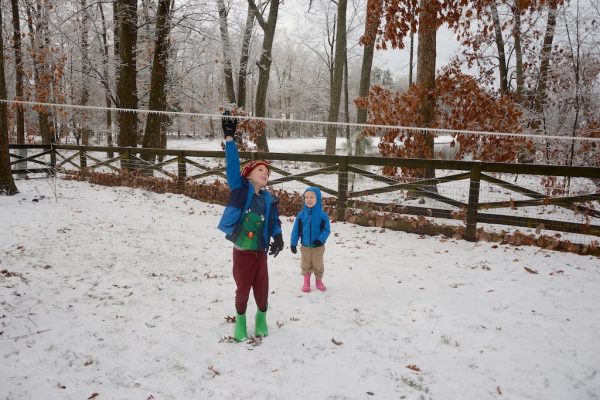 He thought ice would shower down from the clothes line (I did too). It didn't.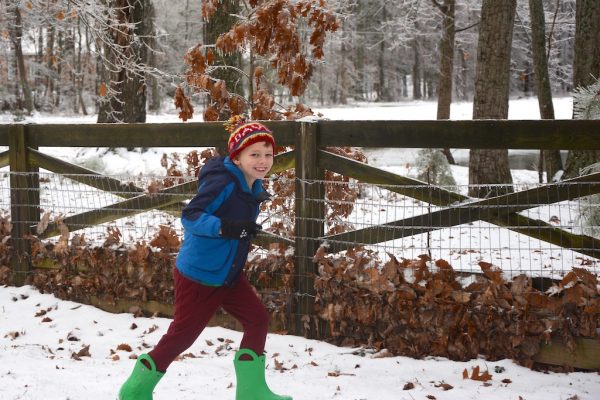 We played freeze tag in the snow. David's getting fast, but ole Mama can still out run him. Plus, I got to learn some playground lingo. "No doggy guarding!" Mary yelled.
Doggy guarding, turns out, is guarding someone who's frozen so other people can't un-freeze them.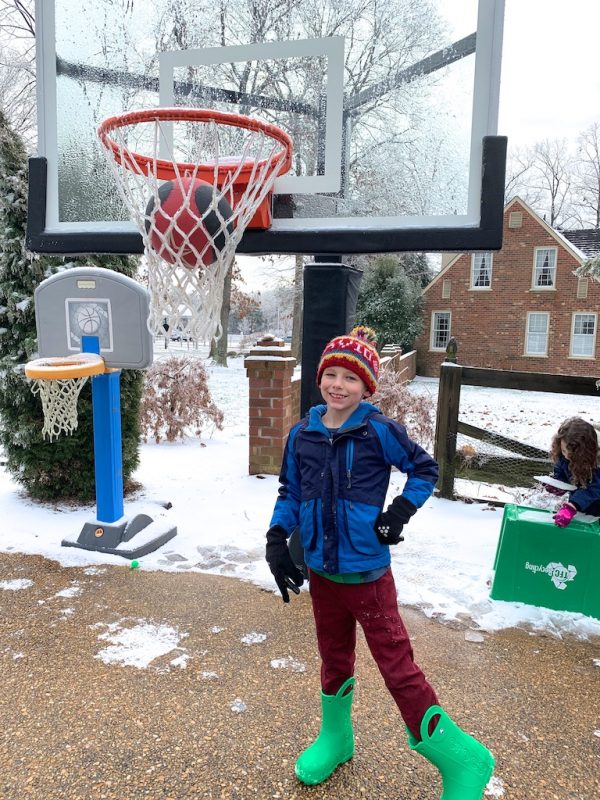 The basketball got stuck in the frozen net and David asked me to take a picture to text his teacher. KIDS THESE DAYS! WITH THEIR INSTANT PHOTOS AND TEXTING!
(We did, and she loved it.)
We went inside when Anna woke up from her nap. While we were taking off our snow boots I told the kids that I had a really good time playing with them.
"Me too, Mommy!" Mary said. "I never knew you had that much energy!"
Ouch. As if I needed more motivation for my New Year's resolution…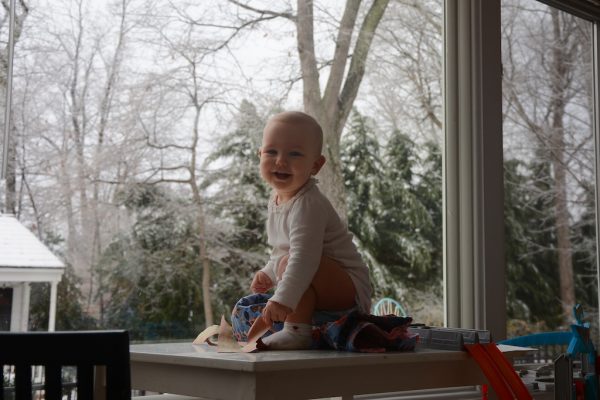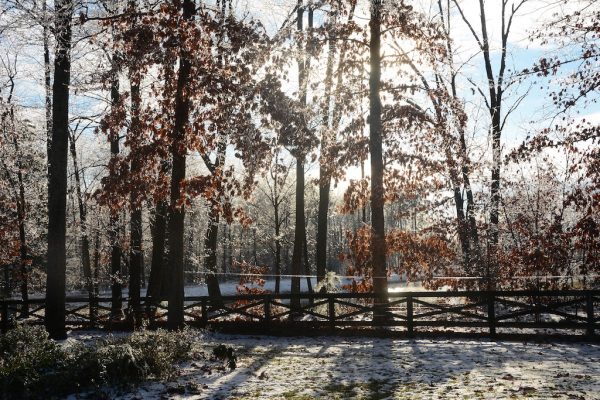 This morning the trees are still covered in ice, but the roads are clear so the kids are back in school.
The superintendent texted me to let me know.