I became a stay-at-home mom almost six years ago, and one thing (among many) I've struggled with for that entire six years is taking time for myself. It's one aspect of parenting that doesn't change. Kids go through all kinds of stages and phases, so my days and routines have changed drastically throughout the past six years, but one constant is that I crave a break.
What I'm saying is, in any other circumstance I'd be taking my employer to court for violation of the Fair Labor Standards Act. These children, they're slave drivers.
Don't get the wrong idea, though, I'm not being efficient all day. When nap time rolls around I have great intentions and then I end up putzing and never getting anything done — standing in the kitchen watching RHONY instead of prepping dinner, texting with girlfriends and scrolling social media for an hour instead of working on deadlines.
Nap time is my time to clean up, prep dinner, blog, reply to email, work on Etsy orders, and putz. Oh, and actually relax.
Unfortunately, my children don't nap six hours every day so I can't get all that done.
Actually, here's what nap time looks like in our house: Thomas naps between one and three hours (completely unpredictable!), David watches TV, and Mary Virginia takes a 40-minute rest time in her room, then she joins David for a show.
And it all happens in a vise, meaning the time is compressed and abbreviated and disappears almost as soon as it starts.
Recently I decided to try a new strategy. Instead of over planning with tasks AND also expecting some sort of mommy rest time to serendipitously appear, I'm scheduling me time.
This way, the time is focused and intentional and actually counts. I sit down with a book, or my Bible, and to make the time really extraordinary, I curl up with a bowl of Häagen-Dazs Ice Cream.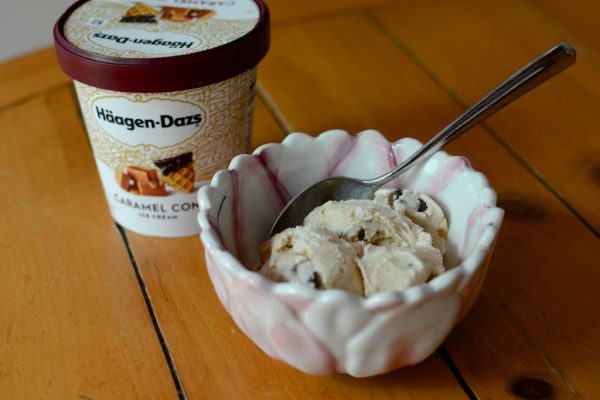 Instead of wasting my time with half-rest, half-work, half-distraction, slowing down turns even the shortest break into indulgence. And, ahem, ice cream makes the whole experience…extraordinary.
Ya gotta stock up on Häagen-Dazs at Martin's with this awesome coupon.
I asked David to smile normal but WHO CAN SMILE NORMAL WHEN THEY'RE HOLDING HÄAGEN-DAZS!??!?!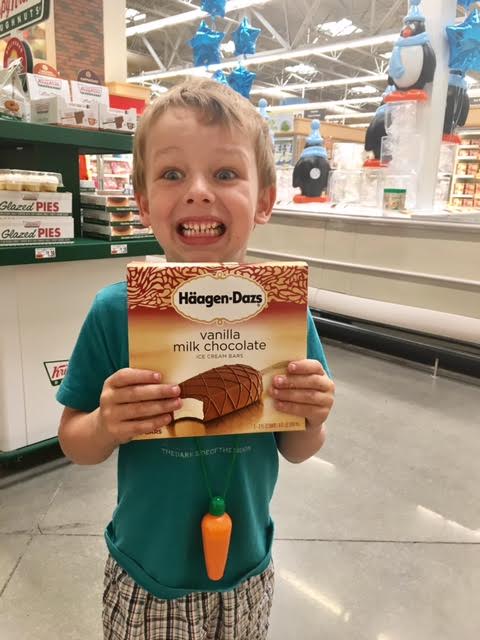 Thomas can, that's who. (Or maybe he was just proud of his tower?)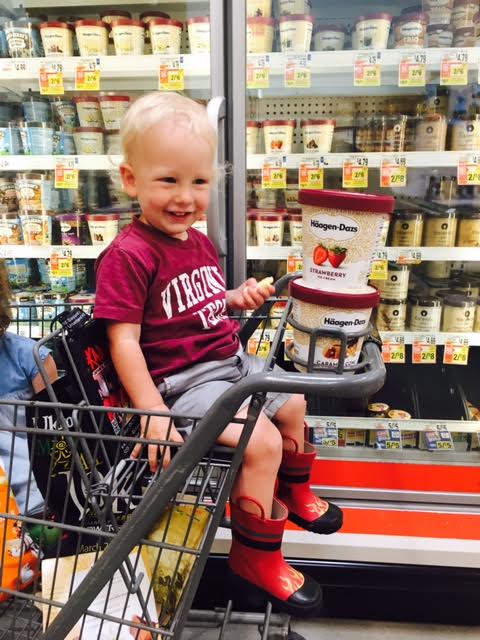 Thomas's tower constructed of my favorite, caramel cone, and Tom's favorite, strawberry.
I fill my bowl and sit outside for a few minutes — just me and my indulgence.
Ok, so it's not always just me and my indulgence. How's this for a little #reallife #momlife?
A little no-napper joining me for MY ME TIME!
Honestly, since Häagen-Dazs is involved I kind of don't mind.
Ok, maybe I do mind a little. Look at my face. That face says, "I mind."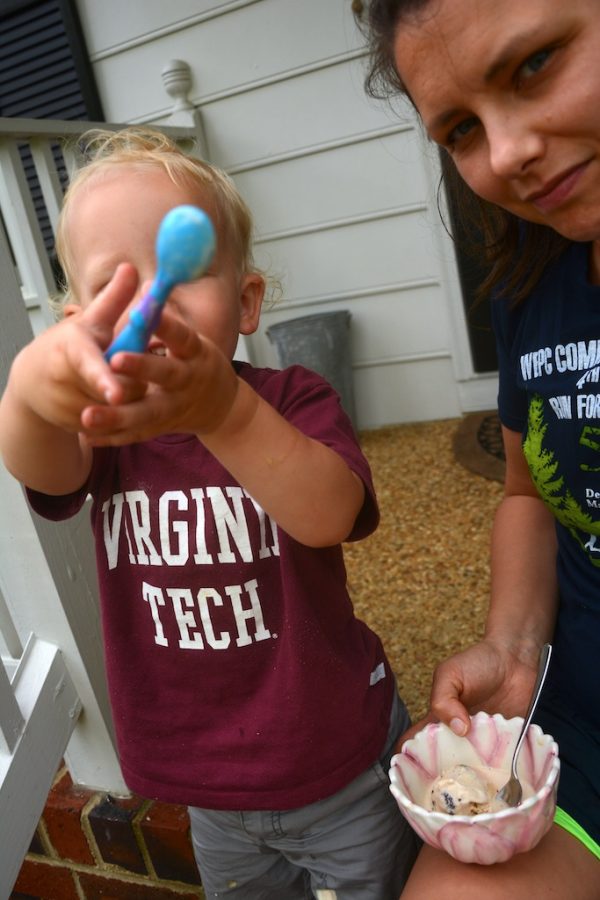 But even though a toddler is sticking his spoon in my bowl, Häagen-Dazs completely elevates the experience.
Sharing Häagen-Dazs on the porch is totally different than when he crawls in my lap every morning and demands half of my scrambled eggs.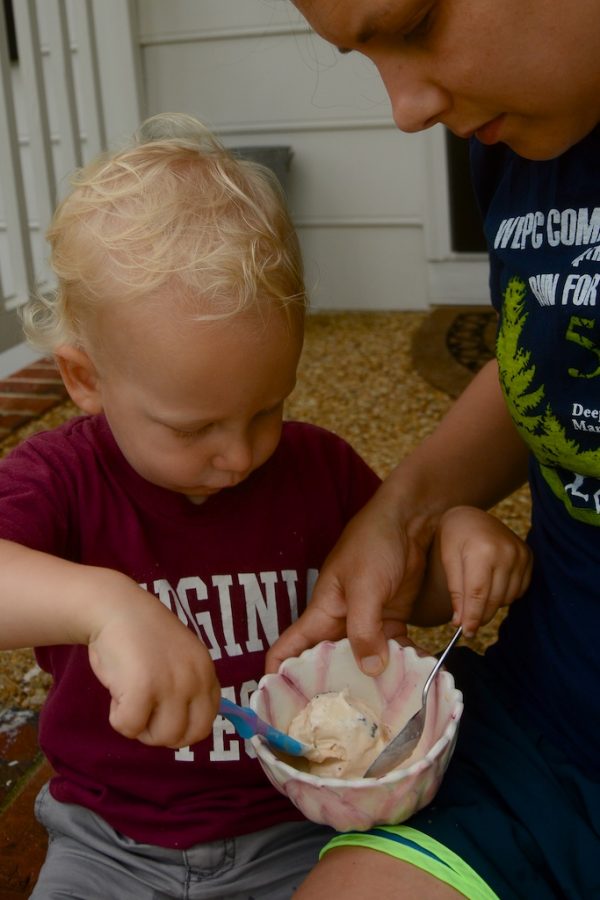 When everyone is up from naps, our routine is to go outside and have a snack on the porch — sometimes Popsicles, sometimes fruit, this time Vanilla Milk Chocolate Almond Häagen-Dazs bars.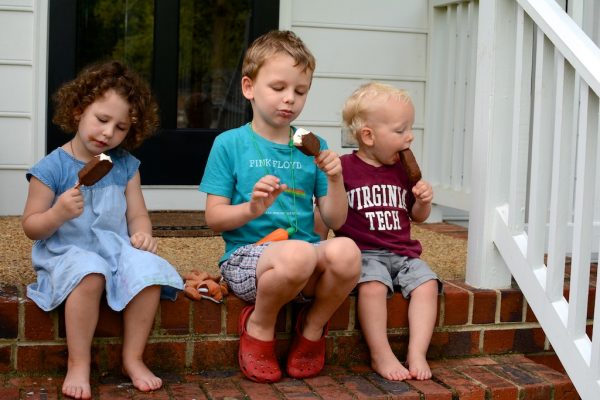 I asked David what it tasted like and he said, "Like chocolate. And vanilla. And delicious."
At first I thought maybe I should get him a thesaurus, and then I realized he was right — since 1960 Häagen-Dazs has focused on transforming quality ingredients into extraordinary ice cream, and that's what you get. Simple, delicious. Extraordinary.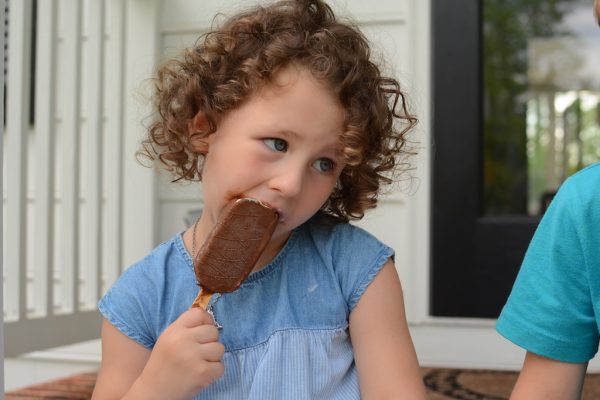 Have you had your Häagen-Dazs moment today?
Visit Häagen-Dazs on Facebook and Instagram.
And don't forget to click here for your very own coupon at Martin's.