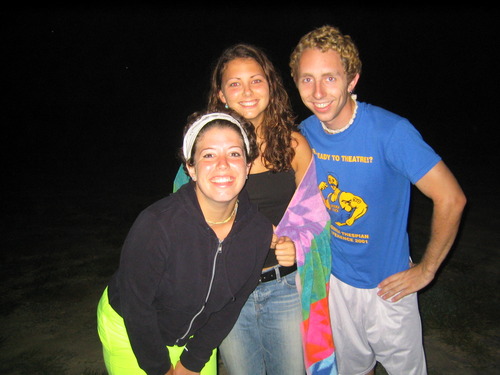 What did you do on Valentine's Day?
I know, it's practically March and it feels like May outside. I'm a little late on the Valentine's Day thing.
In the Krieger household, the stomach bug that seemed to be hitting everyone around us finally got around to us the weekend before Valentine's Day. One by one our kids got sick, and on Valentine's Day Tom came home with an upset stomach and a fever.
Either that or it was an elaborate ruse to get out of buying me a  roses.
Tom went to bed at 5 p.m. on Valentine's Day. After I got the kids to bed I sat on the couch and considered having a glass of wine by myself. Then I didn't, partially because it felt a little pathetic, but mostly because wine doesn't seem like the best choice for someone who is PROBABLY going to get the stomach bug very soon.
Maybe this goes without saying, but our Valentine's Day wasn't ideal.
And so begins the blog post that we've all read, and I've written, about how now that we have kids, romance looks different than it did when we were dating. And that being up all night with sick kids has replaced champagne and roses. About how Tom is a great husband but he's also a great dad, and my love for him is greater because of who he is as a father.
Those things are true. It's very true that our love is richer and more dimensional than it was years ago. It's true that since having kids I love so many things about Tom that I didn't even know about him when we got married.
Those things are true and they are important, but Tom and I are more than five years into having children, and if I'm honest, I think I'm too quick to shove things aside like Valentine's Day and anniversaries and date nights. I think it's because I think of Tom in his role as father as more important than his role as husband.
Does that make sense?
And what's worse, I also place my role as mother over my role as wife.
As parents, we give so much to our kids that our roles of mother and father have a tendency to eclipse the roles of wife and husband.
It's true that Tom's roles of husband and father are separate and also intrinsically intwined. It's impossible to completely isolate them. But each role has a place, and I think Tom and I think of ourselves as parents more often than husband and wife.
For example, on Tom's birthday I make sure to give him cards from the kids; a heartfelt note or gift from me is an afterthought. Or, Tom knows that the greatest thing he can do for me is take the kids to the park and leave me alone in the house rather than spending quality time together.
Those are small examples. And they aren't bad things. In fact, they're good things. I just think that often parenting becomes an excuse (and, actually, a very good excuse). I didn't pick up roses because I didn't have time. I didn't plan anything because I was too tired. That sort of thing.
To be clear, the stomach bug is a great excuse for cancelling Valentine's Day.
This year, Tom and I (ok, mostly Tom) are working toward setting new and beneficial habits, and this is one I want to be aware of. I can't — and shouldn't — isolate who Tom as the father of my children from Tom as my husband. But I can prioritize him as my husband. I can remember that I love Tom more because he is an amazing and supportive father and also recognize that we as parents should show our kids what a strong, romantic marriage looks like — one where the husband and wife prioritize each other in the chaos.
The chaos will always be there — things will not slow down anytime soon. And so will my spouse. And so instead of shuffling my husband down the totem pole until the chaos is quiet, perhaps a better route would be to figure out how grab hands and make time for our marriage above the chaos.
It's funny. When you're dating, grand gestures and quality time are easy. Several years and almost as many kids into marriage those things get hard — nearly impossible. But they might be even more important.
—
By the end of the week we were all feeling better and picking up the pieces — finishing laundry, catching up on chores, and picking out the same dress for the 48th time for the Father Daughter Dance.
Maybe the best news is that my Valentine's Day wish came true, I never got the bug. Until this I've gotten every other bug, cold, or virus that's come through house — or even just driven by. Tom's on the lookout for a card that says:
Happy Valentine's Day! Your immune system makes my heart pitter patter!
(Especially after that time I got sick and threw up all over him. Vomit on Valentine's Day is bad, but it can always be worse.)