Remember when this used to be sort of a running blog? If you answered "no," then you're in good company because NEITHER DO I!
Several years ago, I wrote a lot about postpartum running because running was a huge part of my life before pregnancy, and having a baby packs a wallop. Postpartum running was hard, unfamiliar, and uncomfortable, so I blogged about it because I wanted to hear other women's experiences. I wanted to make sure I wasn't alone. (AND GUESS WHAT? I WASN'T ALONE! THANKS LADIES!!)
Slowly I got back into shape, and even though it was hard, it wasn't impossible. In fact, I got up on my high horse and (privately) wondered, "why don't more women do this?"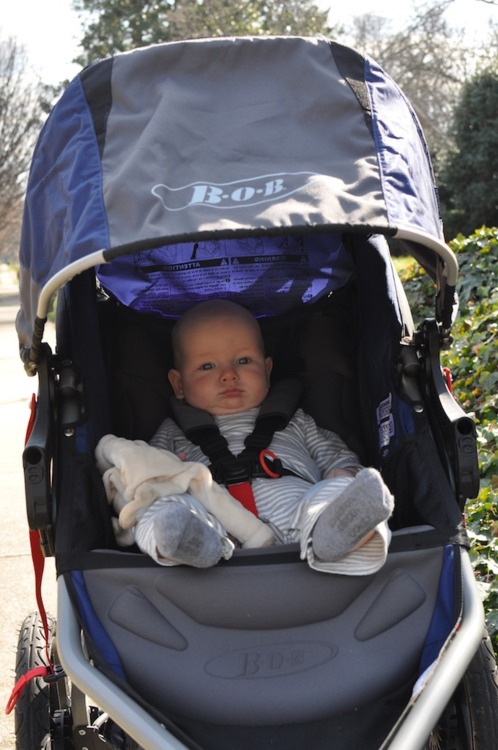 Then I got pregnant again, had another baby, ran a half marathon, got hurt, had another baby, and somewhere in there you could say I figured out why more women don't do this.
At some point, I just stopped running.
And, inevitably, this turned into a blog about the Real Housewives and Cheetos. I think I've found my niche!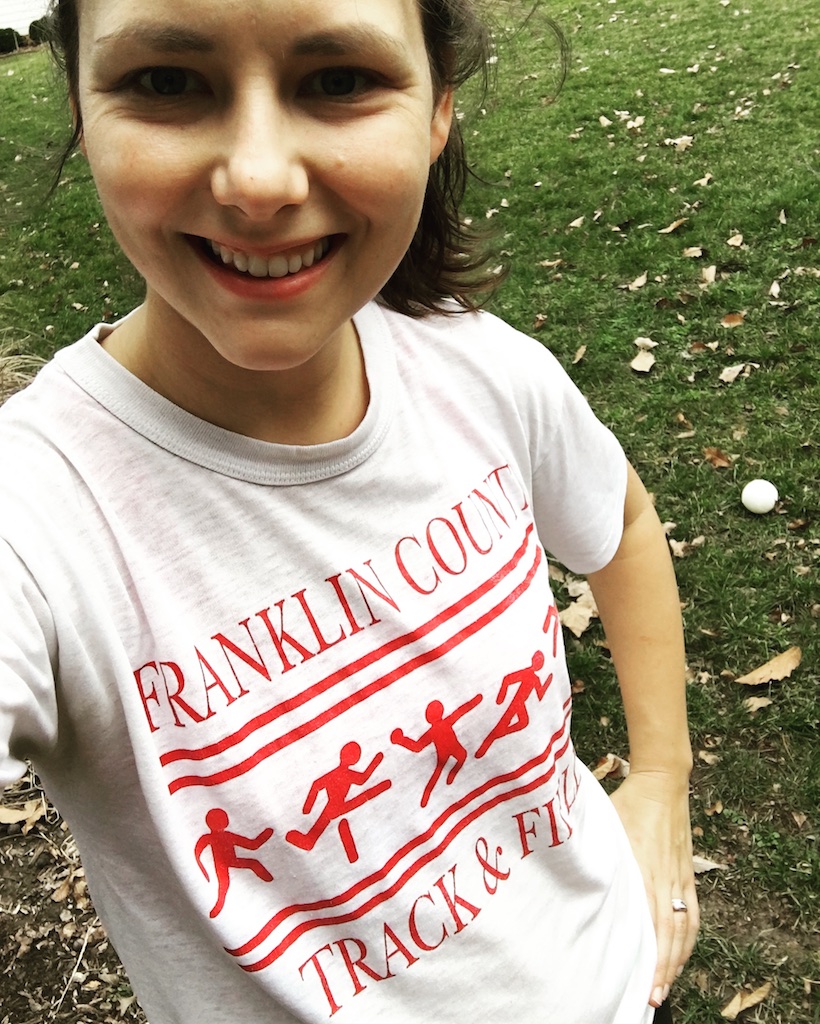 If you know me in real life, you've probably heard me talk – NAY! – complain about Tom's 2017 goals. They are ambitious (everything Tom does is ambitious) and they are awful.
He wakes up at 5:30 and is in bed by 10. He quit coffee, junk food, beer, and exercises every day.
You can probably imagine how it feels living with someone like that, when my goals are, in this order:
accurately predict at least one of Bachelor Nick's final four
stop losing Thomas in the house as much
 Even though I am very, very grumpy about Tom's new found enthusiasm for living his best, uncaffeinated life, the simple (awful) truth is that his miserable habits are rubbing off on me.
In the past three years I've become a different version of myself, a version that GETS THROUGH THE DAY. To do that, I don't exercise, I eat a lot of brownies, never wake up early, and ignore my husband while playing Candy Crush. I'm on level 2037.
It's not a version I loathe, because I know that this version of Amanda came from survival in a specific season.
It's similar to how you have completely different habits, say, when you're on a road trip. You don't normally eat jerky and Cheddar Chex Mix at 9:30 a.m., because a person on a 7-hr drive to the beach has certain nutritional needs.
This version of me – a version that does not exercise or read books – emerged shortly after I gave birth to Mary Virginia, we started getting sick a lot, and Mary Virginia earned the gold medal as the worst sleeper ever. And then I had another baby. With all of that going on, I didn't have room for much else and I'll be honest — I didn't feel bad about it.
I wasn't loathing that version of me, I was aware of it. I was aware that I used to be a person who exercised. Past tense. And I wondered if my life would ever boomerang back to that place.
As I type this I'm sure my kids are lining up to get the stomach bug or resurrect the epic case of pink eye that lasted for four weeks, but I'm going to type it anyway — we're stepping into a stage where life is the teeniest bit more predictable.
So I started running in August.
Running…very tentatively, with very little regularity. I'm still exhausted, overwhelmed, and am cautious of my old injuries. Do you like all of these qualifiers? TENTATIVE, CAUTIOUS, SLOWLY. Any time I say "running" I need to couch it with those words. And the word couch.
It's TENTATIVE, CAUTIOUS, and SLOW, but it's happening. And that's something.
I've been trying to run 2-3 times a week, usually between 2-3 miles.
After each run, I feel like I've run 15 miles. I'm achy, tired, and feel very much like I need to get around to the strength training and yoga I keep promising to do. But it's a good achy, one that's distinctly different than achy from spending all day refilling milk cups while carrying a toddler.
And also, because I can't seem to get out of bed in the morning and because I have three kids at home, this is how I run most days. David rides on his bike while I push the other two.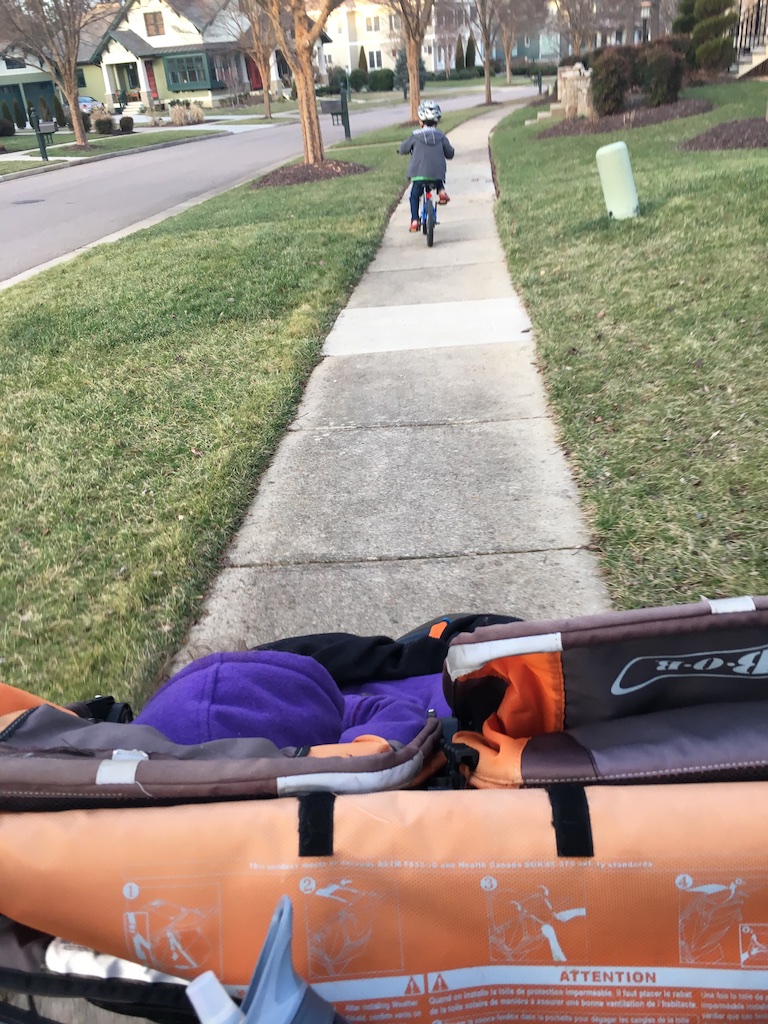 We go slow. We stop a lot to repeat rules about road safety, to pick flowers, or to look at the neighbor's koi pond.
This is just what running looks like right now, and it's not high intensity training, but it's not so bad. In fact, it's just a different version of why I've always loved running in the first place — because of how it builds community and relationships.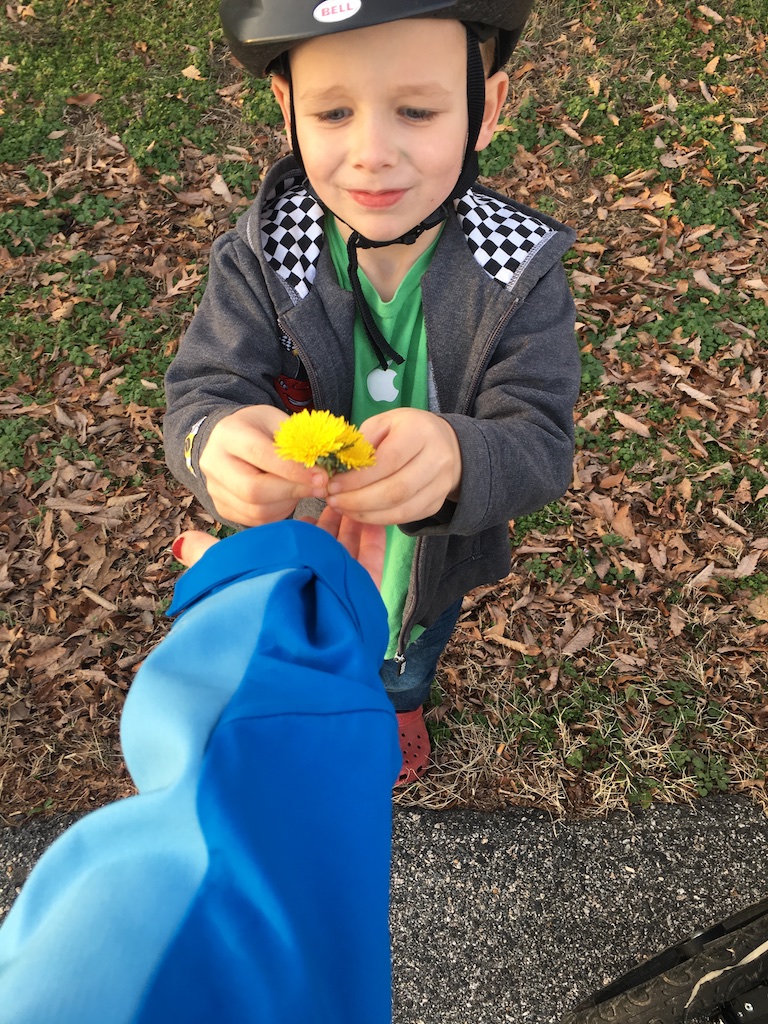 EVERY TIME I run I have this muscle memory-type feeling that wants to run higher mileage and sign up for a race — I have this weird temptation to dive in. Then something happens and I go three weeks without running, and instead of being inspired I feel discouraged about being back at square one.
Instead of doing that, I'm going to keep running where it feels comfortable. I'll never get race-ready pushing 55-pounds of toddlers in a stroller and walking up inclines because David can't keep momentum up hills. But we are outside, having fun, moving, and together. I'm ok if that's what my running is about for now.
– – –
Just like I did when I first started running and blogging, I'm writing about this in case there's anyone who can relate. Sometimes it seems like there are other moms who aren't as affected, whose postpartum recovery doesn't seem to spill past six weeks into months and years. But I don't think that's true. I think we're all figuring it out, because every day and stage gives us something new. I think we're all in this together.