At the end of June my two big kids went to their very first sleepaway camp.
Emphasis on very first because, unless I'm forgetting something, I don't think my kids have ever done any sort of significant camp…not even the day-kind.
Mary went to kindergarten camp and, for David? Does swim team count?
We are SO LAME.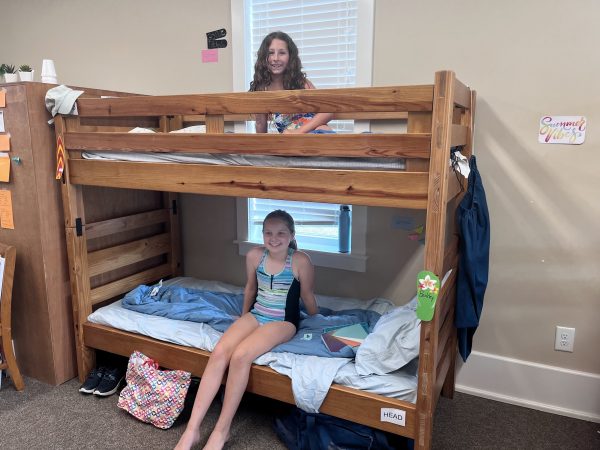 Last year one of my friends texted me to tell her kids were going to this sleepaway camp and asked if my kids wanted to go the same week. Without even asking the kids or consulting Tom, I fired back my answer: I'm not ready.
You read that right. I didn't say they're not ready. I said I, the mother, was not ready.
This year, we decided the kids were more than ready, and Tom convinced me that with weeks of preparation, I could be ready, too.
Sleepaway camp — even a short one — is a huge milestone. This is very different than a sleepover with cousins or a week with grandparents. They were away in the hands of a counselor that we literally meet for the very first time at drop-off. We had no way to communicate with them or enforce their bedtime.
Mostly, it's just that it's not home. As you cycle through all the reassurances you might be prone to give a nervous mom — it's safe! they'll have so much fun! they have friends! it's only a few days! — I agree with all of them. Camp is awesome, but it's not home. Home does not have a ropes course or nightly canteen with ice cream, and it definitely doesn't have a young, energetic counselor. But it does have familiarity and go-to snacks and your favorite spot on the couch.
Home also has mom, but let's not dwell on that one, ok?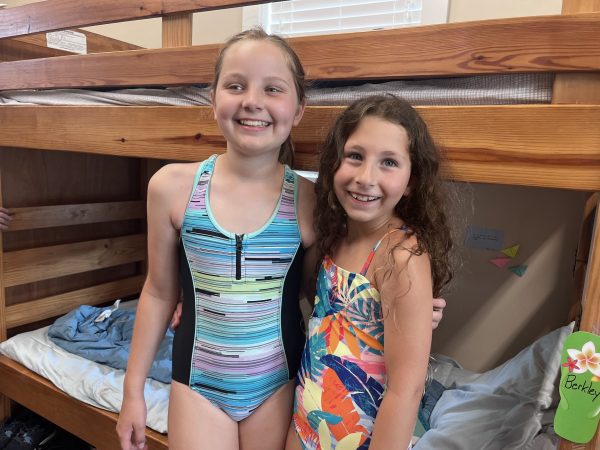 As camp approached, I scrambled to teach my kid life skills that hadn't occurred to me before. They don't put on their own sunscreen or bug spray or how to take dirty clothes off their body and put them anywhere besides the floor. When you're at home these are the things we're working on, but when they go away you look your kids in the eye and you're like,"It is GO TIME on all this training, ok?"
My main concern was what would happen to my fifth child — Mary's hair. Mary's hair is long, thick, and curly.Maintaining it is a full-time job for me for which I get zero pay and whatever is the opposite of benefits.
Mary's hair is like kudzu, and if I let my guard down for too long it takes over everything. At home we have detanglers, backup detanglers, conditioners ,and special brushes. What would happen when it's out of my care for four whole days??? When she's NOT HOME!?
When we were a few miles away from the camp I saw a sign for camp. Suddenly, out of nowhere, a wave of emotion rolled over me and tears fell from my eyes.
"Oh no," Tom said. "You're not going to cry at drop off are you?"
Honestly, I had no idea. I never want to cry. I never plan to cry. It just happens. This is just how God made me, ok? Some moms are super chill and cool, and some moms cry, OK!?!?
I'd like to share, with only a slight bragg-y tone, that I did NOT cry at drop off. In fact, I was super chill and cool.
Except maybe when I said "David! Your counselor is a history major! David loves history. David, tell him what you learned this year about the Civil War!"
Not. Cool, MOM.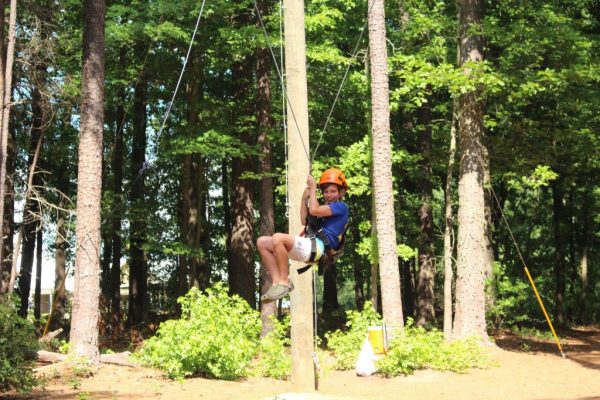 The four days without them passed quickly. When I went to pick them up they were all smiles and the stories from the week were positively spilling out of them.
The trapeze! The songs! The food! They both told me that they had so much fun but they were also ready to come home.
Mary mentioned that her counselor offered to French braid the girls' hair in the morning. I was amazed. That's a LOT of hair. Obviously the 20-year-old counselor hasn't been traumatized by brushing a toddler's hair.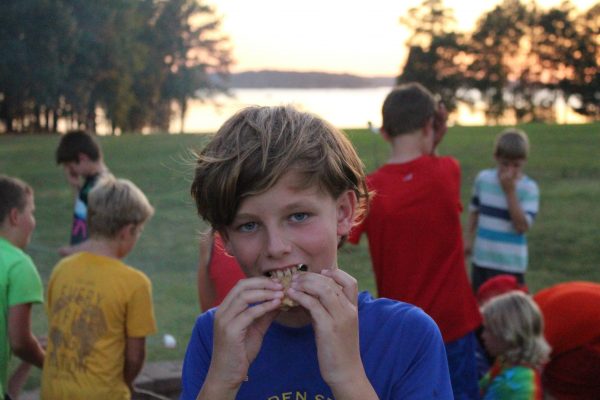 When the kids got home they were too exhausted to unpack or even fight with their siblings. All they had energy to do was collapse in a heap.
Stories kept tumbling out as the weekend went on. They shared camp songs, friends they'd made, and even a few tough parts.
Camp wasn't home. Mom wasn't standing on the sidelines with a box of Bandaids, a water bottle, a reminder that bedtime is in 10 minutes, and a hand out in case of any tough patches. But it being not home was precisely what made camp the awesome, growing, challenging experience that it was.
Camp was everything everyone promised it would be. It had my kids out of their comfort zones, trying new things, meeting new people, and so tired that they slept in for a week.
Camp was awesome.
But it's good to be home, too.