A few months before Mary's birthday, she started planning her party.
I generally don't start making actual plans for her birthday until after Thomas's birthday, but this year I made an exception. Mary is the youngest in her class, and she has been positively hungry  to turn six for a long time.
(She's actually the third youngest. Earlier in the year two kids celebrated their half-birthdays, and Mary thought it was their real birthday.)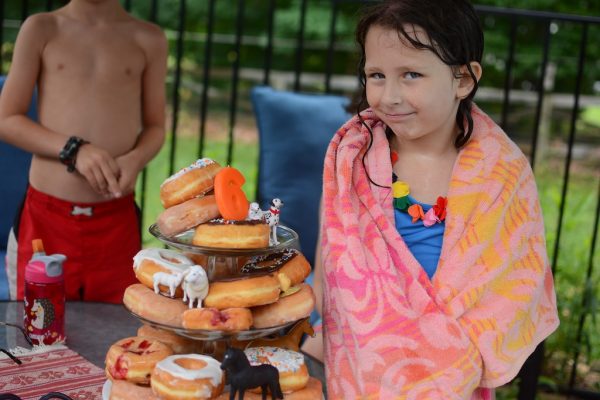 We decided to have a pool party to celebrate her birthday, and when I asked her who she wanted to invite she said "everybody."
Um, Mary, can we narrow it down a little?
"Everybody."
We settled on all the girls from her class and a few close friends. (Thankfully her class is mostly boys. WHEW!)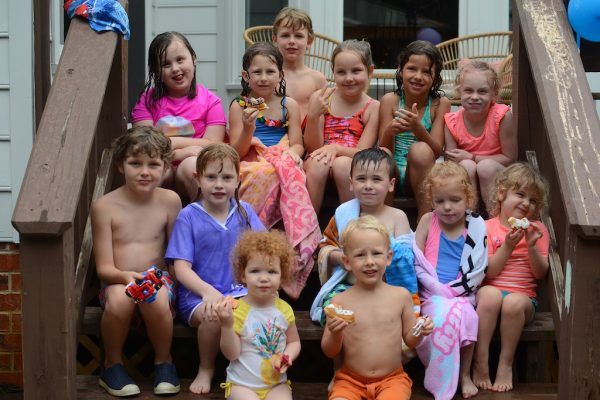 As the party drew closer, I had to rein Mary in terms of decor and all other complications. I'm sure there will be a day when she has the focus and attention span to make garlands, and party signs, but now she's all about vision and not about execution.
She gets a gold star for asking for a donut cake. It turned out much better than my other cakes, whenI decide to be a professional baker (without any training or tools).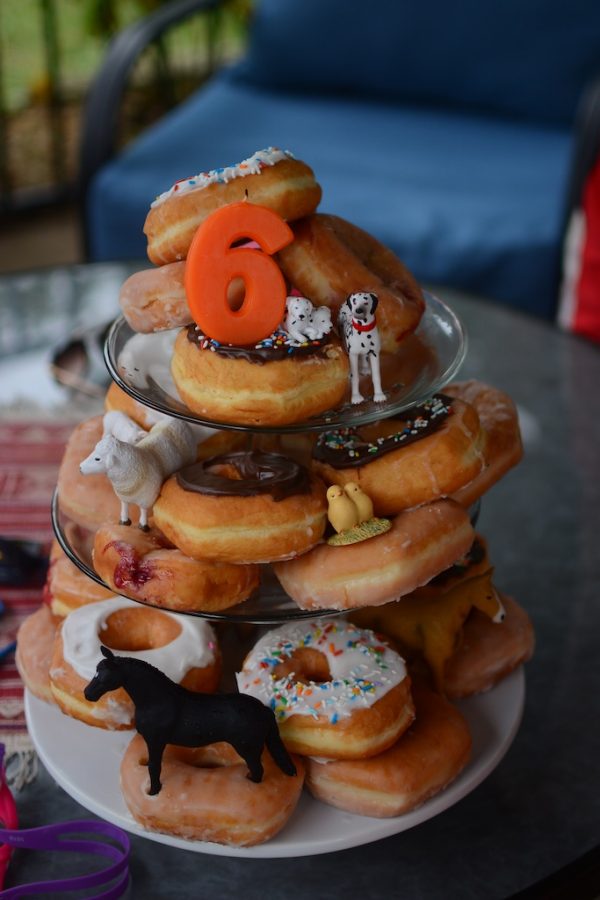 (She was inspired to add the animals by her cousin Psalm's first birthday cake.)
Since we were inviting Mary's entire class, neighborhood, and everyone we happened to see at Kroger the week before, I kept everything else really simple. Mary wanted a catered lunch, I countered with a big bowl of Cheetos. Mary wanted real mermaids swimming in the pool, I countered by promising to dig through our party cabinet and put up any decorations that happen to fall out.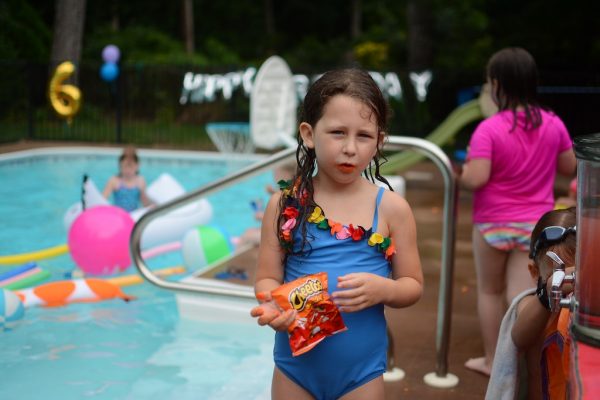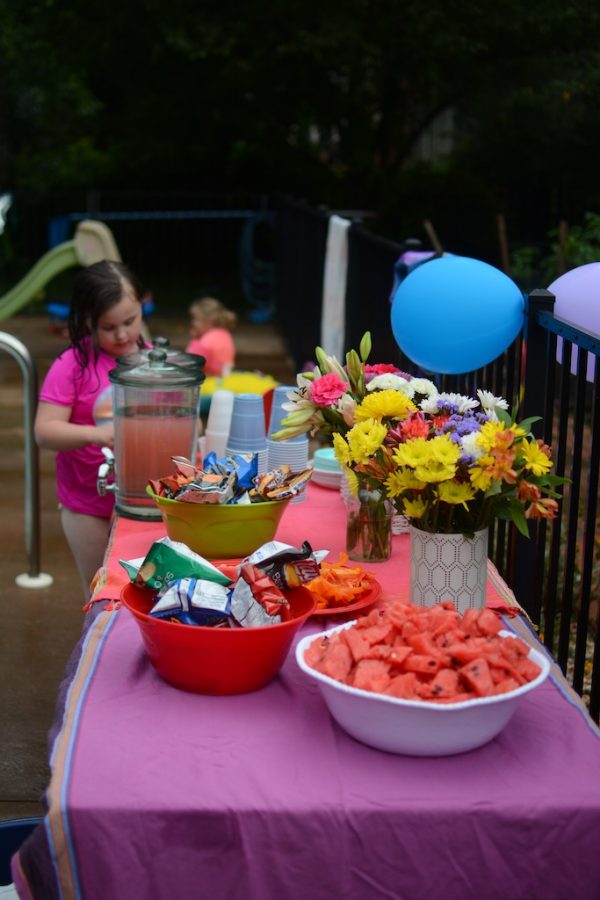 A week before the party we were expecting 20 people for a pool party. Outside. As an after thought, I looked at the weather. We had had weeks of solid sun and heat, so imagine my surprise to see that the week of Mary's birthday was going to be cold and rainy. Emphasis on cold. And rainy.
I held out hope for the forecast to clear up, but the closer we got to party time, the worse it looked. On Friday we got something like 13 inches of rain, and I sent a sad message to all of our party attendees to let them know that rain or shine, the party would go on. You can probably leave your sunscreen at home, but please, PLEASE bring your "a little rain can't keep us down!" attitudes.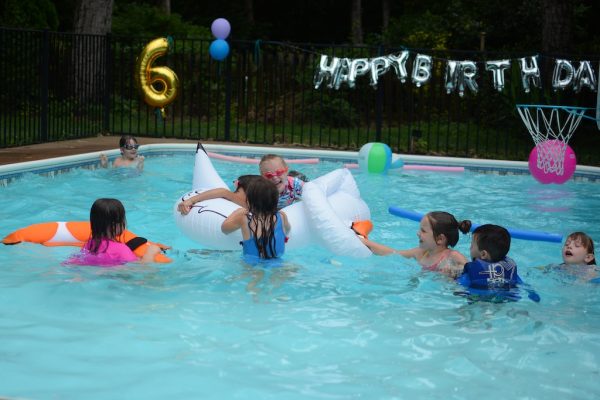 The entire party was cloudy and a little chilly, but the kids rallied, as kids tend to do.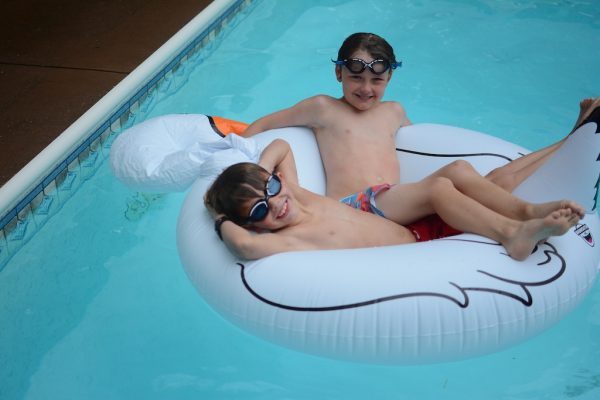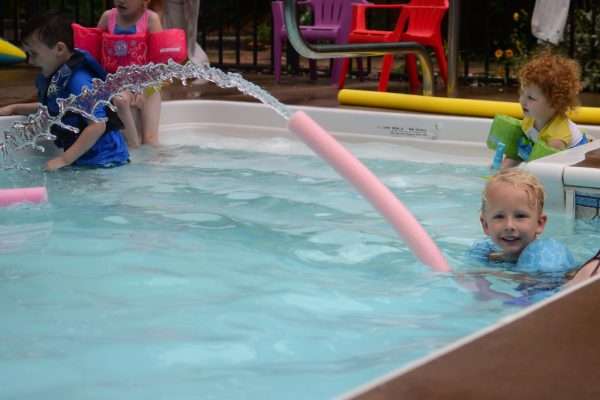 We only had one request to "make the water hotter." Besides that, the kids didn't seem to notice the weather.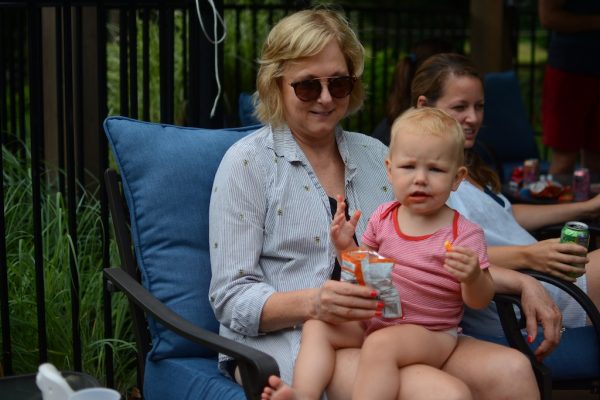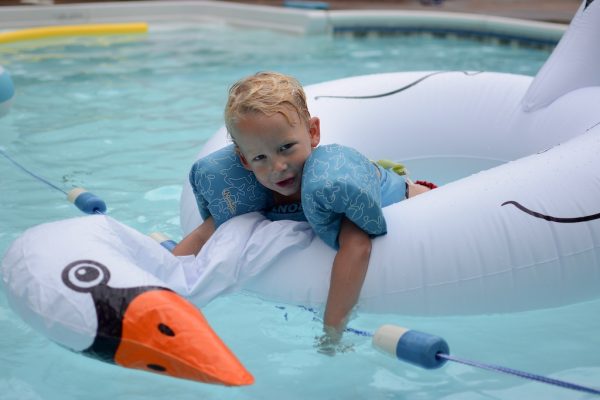 I saw this giant swan float in Target and, nostalgic for the years Mary spent obsessed with ducks, I bought it. The head deflated maybe five minutes into the party, but after that it was the MVP of the party. Someone was jumping on or wrestling in it the entire time.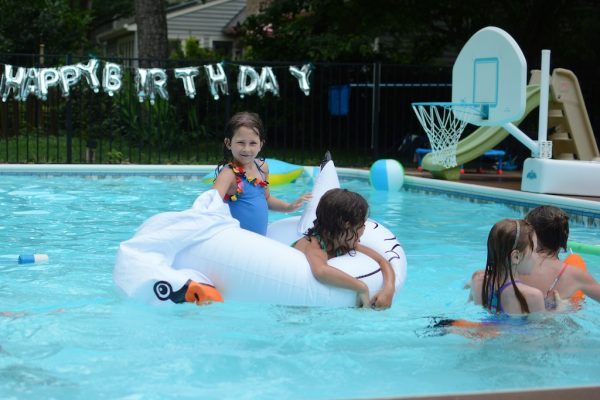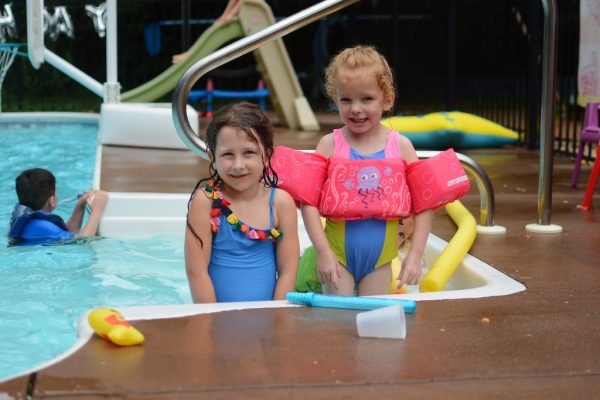 The kids took a swimming break to eat lunch (one of our pool safety tips — eat away from the pool and secure the pool until everyone is done eating and replaces their life preservers). They all started grinding our sidewalk chalk into dust and putting it in their hair.
Look at those imaginations at work!! Now go jump in the pool because you can't come inside until all that chalk is out of your hair!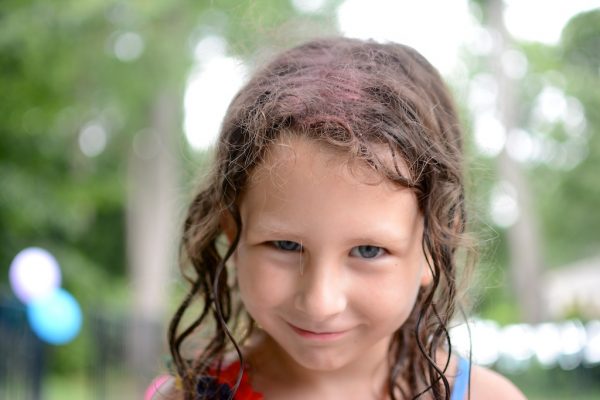 Every now and then I think about not throwing birthday parties. We can do family-only celebrations, a sleepover with cousins, or a family excursion. Maybe we'll do that sometime, maybe the kids will even ask for it. But for now it's working for our family. We keep it simple with easy decorations and food, the hardest part is cleaning up our house so our guests don't see the normal squalid conditions we live in.
We love hosting parties, and we love seeing our kids having fun, swimming in the rain with their friends, and feeling celebrated.
It was Mary's party, but I loved it, too.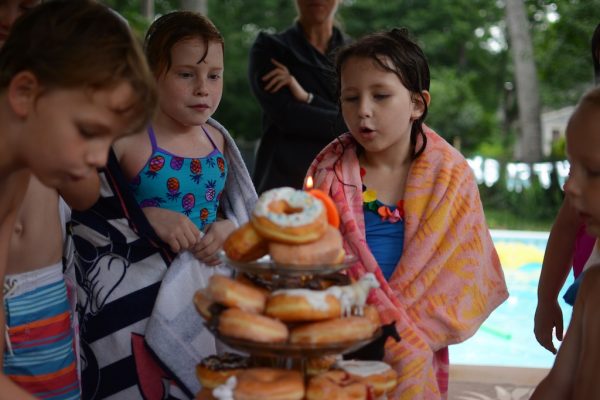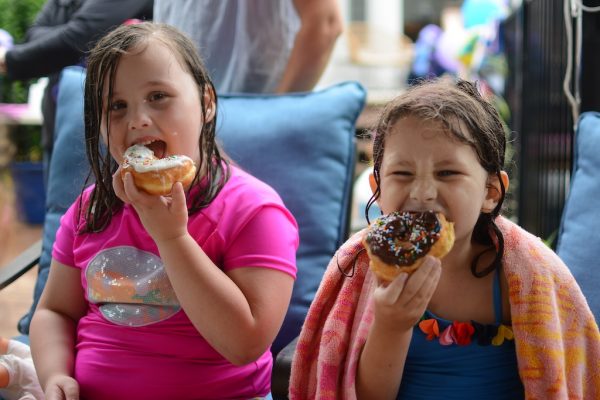 The rain moved in right as the party wrapped up. The guests left, and we all ran inside to get warm and dry. I asked Mary if she had fun at her party.
"I did, Mommy. I loved my party. And I know you did everything, the food, the planning, the inviting…"
I started laughing and cut her off. I'm not sure if she overheard me saying that to Tom (completely possible) or if she's playing a long game, trying to secure an even bigger pool party for her seventh birthday. Or maybe she genuinely observed my whirling-dervish preparations all morning and wanted to thank me for planning and then delegating everything to her Daddy and Grammy.
Either way, that's just one example of why this girl has had my heart for six solid years.