If you're looking for an extreme adventure to kickstart your spring break, might I suggest the passport office?
Like most adventures, this one requires a lot of prep work, document-gathering, and planning. For weeks leading up to our trip to the passport office, Tom would tell me he needed to "do passport stuff," and he'd go upstairs. Maybe this was all a ruse to get some time away from the kids, WE'LL NEVER KNOW! But either way, after about an hour he'd emerge from his office with smoke coming out of his ears and he'd shout something like, "WHAT'S THOMAS'S BIRTHDATE?" Or, "HOW DO YOU SPELL OUR LAST NAME?" And then he'd disappear for another hour.
When it was finally passport day, we arrived at the post office within minutes of opening. We tried to get there earlier, but we just couldn't do it. We left the house with two kids wearing shoes (I threw the remaining shoes in my purse), only three jackets, and two kids still technically wearing their pajamas. I did remember a baggie of Cheerios AND ALL FOUR KIDS, and that's something!
We grabbed a number and sat down in seats directly facing a sign that said "NO PUBLIC RESTROOMS." We had number five, but I'd seen the family in front of us take at least four numbers, so I had hope that we were actually second in line, and despite the gigantic cup of coffee I'd had right before leaving, I was optimistic that I could make it.
If you're wondering why we didn't make an appointment at the passport office, this is why: there were no available appointments. As in, making an appointment isn't an option for a family of six. Ever. If you try to make an appointment and you have four kids, a little error window pops up that says, "Excuse me, how many kids? Maybe international travel isn't for you!"
Other people we talked to said that they'd tried to make an appointment, but they were booked too close to their travel date. We heard a lot of passport horror stories — if there is such a thing — while we were waiting in line. It's all everyone talks about. What time did you get here? 8:55? Yeah, we were here at 9:01. 12 people in front of us. See that guy? He's been waiting since 1992. 
So anyway, I'm sitting there staring at the "NO PUBLIC RESTROOMS" sign when the clock struck 9:00 and a kind woman came over a loudspeaker and said, "Now serving number 93."
I looked down at the number in my hand. Five. Nope. Not gonna make it.
This whole time I was fixated on the bathroom, Tom was fixating on how to expedite our wait, which was NOT POSSIBLE because we all had numbers, TOM. We just had to wait. But he was sizing people up, trying to figure out how much time they'd each take. If they average four people per hour…
I told Tom that I had to go to the bathroom, so Anna and I left to find some facilities. I drove to a donut shop I'd seen on the drive in where I used the bathroom and had no choice but to buy a half-dozen donuts.
I figured my side trip took about thirty minutes. I would lighten everyone's mood with a donut, we'd all eat and laugh and high-five and soon enough our number would be called and we wouldn't even realize we'd been waiting! TIME FLIES WHEN YOU'RE HAVING FUN!
The kids were genuinely excited about the donuts, but what I quickly realized was that it takes about 45 seconds to eat a donut, and that left a cool 90 minutes of waiting ahead of us.
By then it was nearly 10 a.m., and everyone was starting to get a little edgy.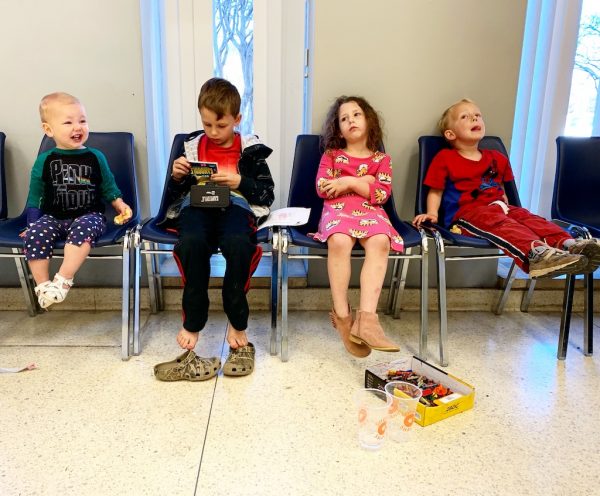 Our biggest problem was that the passport office happens to open at the exact time that every baby in the world needs a nap — 9 a.m. Anna's getting older, so she's more flexible about naps, but not when she's trapped in a government building. When she's trapped in a government building she really, really needs a nap.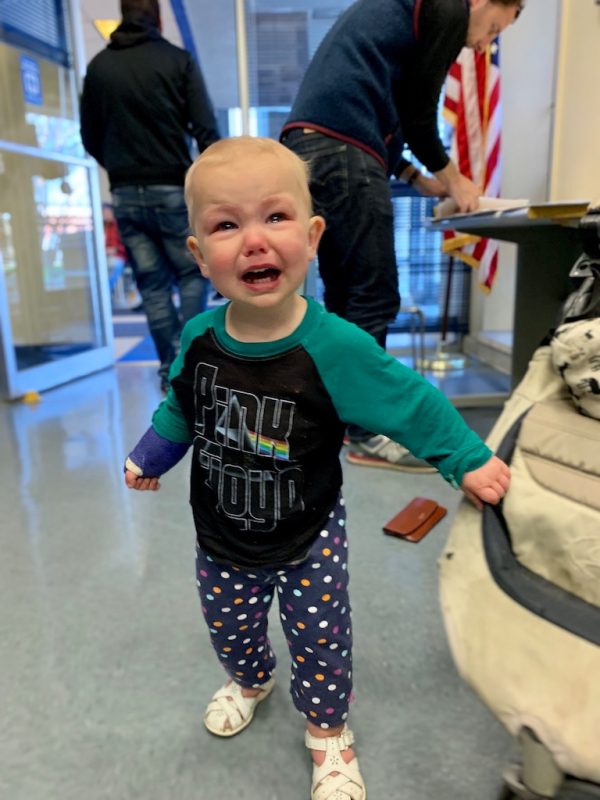 Turns out, spending a morning in a federal government building is kind of like a kid's equivalent to being trapped on a desert island. Sure, we started with fancy donuts, but by the end of it I was feeding the kids cracker crumbs from a bag I found a the bottom of the stroller.
I had packed a bottle of water for myself, naively assuming there would be water sources available for the kids but NO! There were no bathrooms and no water. I grabbed some cups for the kids back at the donut shop and was rationing water for them from my water bottle (partially because we didn't have much to go around, and partially because of the BATHROOM situation) and as soon as I turned my head I saw Mary dumping the remaining water in her cup.
"MARY!" I scolded. "That was all the water we had! FOR ALL OF US!"
"I was thirsty," she responded, batting her eyelashes over her cup.
I had to do some deep breathing while she drank the last of the water, and remind myself that we were not actually on a deserted island, and my 5-year old had NOT just sentenced us all to certain death by dehydration.
BUT!
We were STUCK in a building with four young children AT NAP TIME for an undisclosed amount of time without rations! YOU GUYS! Donuts do not keep you full for very long! WHY hadn't I gotten something with a little more PROTEIN!?!!?!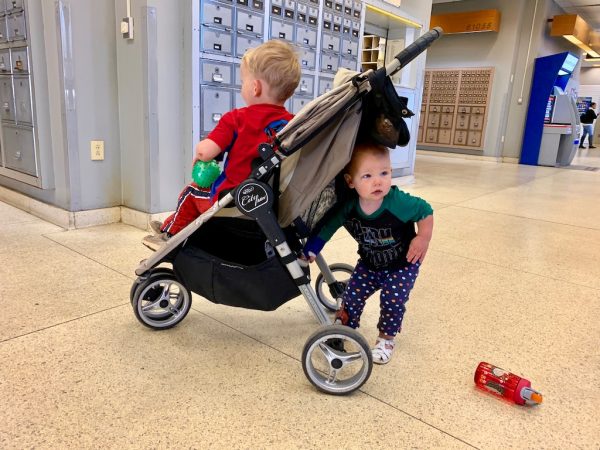 We were there for 2.5 hours, and the kids did great. Tom and I did ok. He was frustrated with the process and I was frustrated at him for being frustrated. This is, by the way, how we handle stressful situations. The kids were only moderately impatient, and at the height of that, a little boy with an iPad wandered our way, and all the kids snuggled close to it for warmth.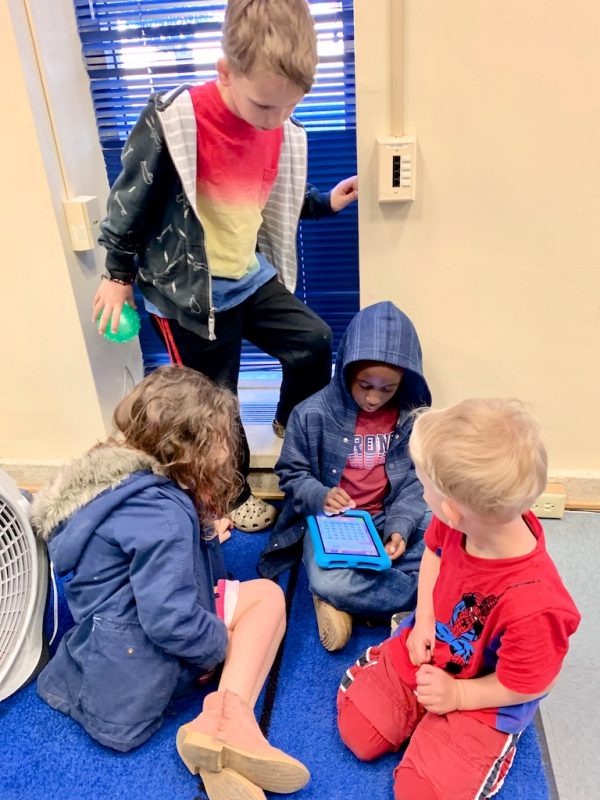 During our time at the passport office, I solved the problem of the long wait. Why don't we all just text each other? I have number 5, you have number 6, I'll text you when my number gets called so that you can go grab brunch instead of sitting here and watching your skin turn grey to match the color of these walls.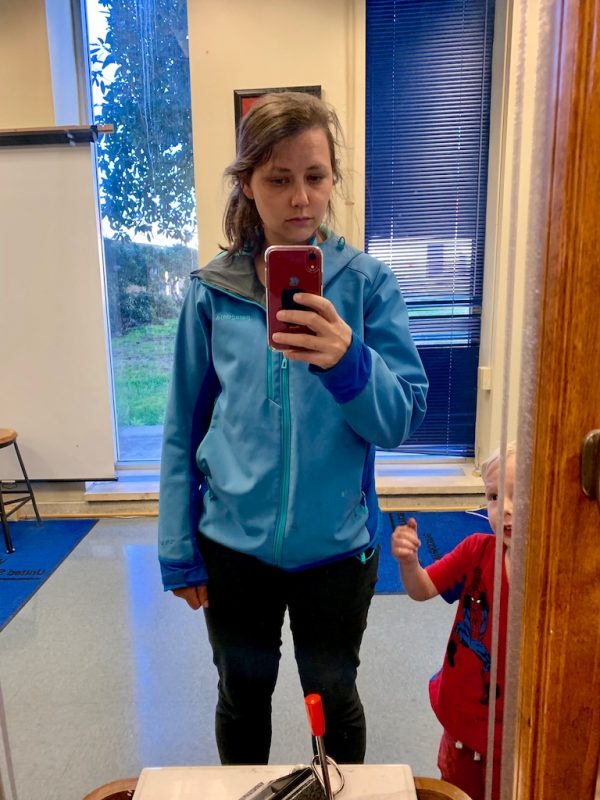 In a desperate moment of trying to entertain the kids, I asked them all to name something MORE BORING than the passport office. Cleaning up? Doing chores? WATCHING THE NEWS!??!!? Then I asked them if they'd rather be in school and they all said yes. YES! We'd rather be in school than here in this terrible boring building!!!
That's how you know you're having a successful spring break. When the kids are clamoring for it to be OVER by 10 a.m. on day one.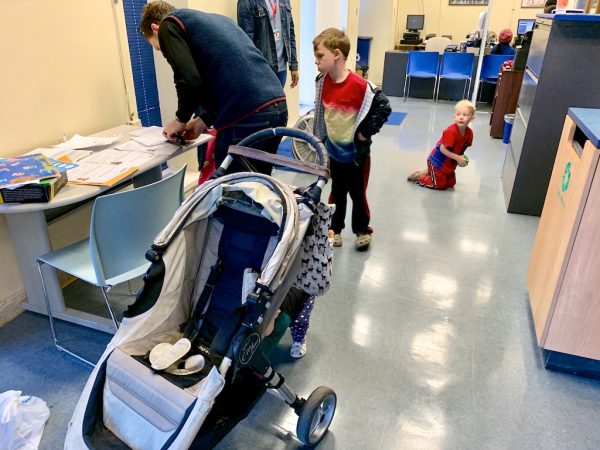 If we had to do it over again (which we have to do every five years to keep the kids' passports current) this is what I'd do next time:
Prepare for the no bathroom thing
Prepare for the no water thing
Prepare for boredom
Tag team waiting. Here's what I came up with:
The passport office opens at 9 a.m., but you can get in line at 8 a.m. Send one parent to the post office at 8 a.m. to get a number. Then the parent at the office can just text the other parent when they think they should show up. Office opens at 9, there are two people in front of me, be here at 9:30. 
It'd eliminate so much waiting, but more importantly, it'd eliminate waiting WITH KIDS. The parent that got there early could just enjoy a little peace and quiet. This? Waiting without the kids, every caregiver knows that this qualifies at a certified vacation. Even at the post office.