What's a little girl's favorite part of a father-daughter dance?
Gloating to her brothers that she's going to a dance and they aren't
Fighting with Mommy about what makeup is appropriate for a 5-year old (Answer: no makeup. Be glad that you're getting lip gloss. )
Having a special night with your daddy.
We'll never know! It doesn't really matter, as long as she has fun, right?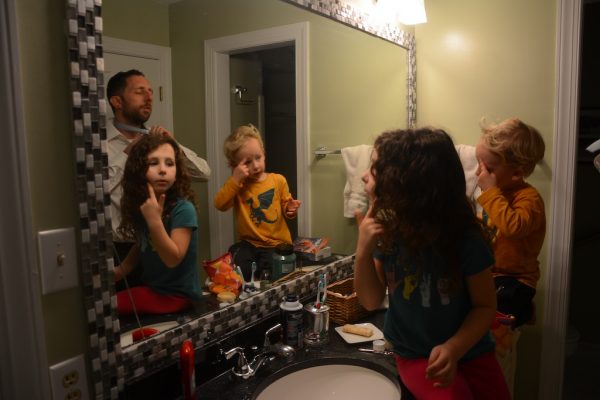 Mary is on a "big girl" kick and is absolutely offended by "little girl" things including, but not limited to, princesses, patterned leggings, the word "jammies," and being picked up and held by her father for a photo.
Since she wouldn't let Tom pick her up, he kneeled beside her, and per her request, didn't put his arm around her.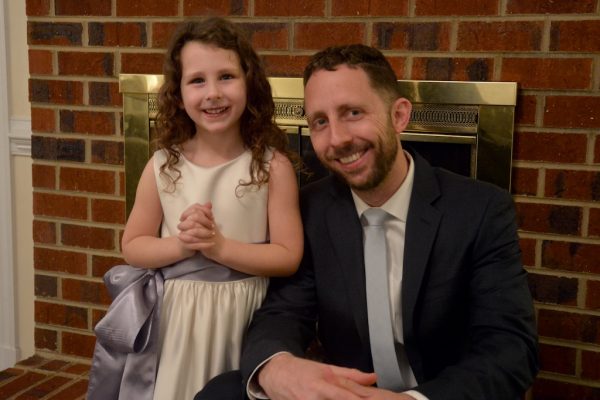 In the past I've taken David to Target on the night of the father-daughter dance, but with two sick siblings at home that didn't work this year. I promised him that we'd have some special time later, but I could tell he was disappointed.
These past few weeks seem to be full of "special things" for everyone but David. Thomas has pajama day, Mary's class has "play day," and then there's baby sister who gets literally everything she wants.
When Mary came home with the class pet, David was sad that he's outgrown that activity. I explained that it was just for kindergarteners, and he very thoughtfully responded, "But I'm just in first grade."
With four children in our family, Tom and I know that we have to be intentional about giving our kids individual attention while also caring for our family as a whole. No matter how hard we try, there will be disappointments. Whether real or perceived, inequity will always be part of the challenge of growing up with siblings. The scale will almost always be unbalanced. (As a middle child, I'm an expert in keeping track of The Scale. You're welcome, Mom and Dad.)
As parents, it's our job to allow them to feel their emotions, remind them that we love them, and help them to know that their longing to be loved and known completely is met in the person of Jesus Christ.
After Tom and Mary left, I told David that we would have a special mother-son night, just the two of us. The plan was to go through our bedtime routine for the younger two, and after Thomas fell asleep David could sneak downstairs (Thomas and David share a room, so David had to pretend to go to bed so that Thomas would, too).
While I put Anna down, David read Thomas a bedtime story, and then got in bed. I turned out the lights, and part of me wondered if David would accidentally fall asleep while he was waiting. But when I went upstairs to get him, his eyes were as wide as saucers, and he was practically shaking with excitement.
We went downstairs and let him have a ginger ale (his choice) and pick a show. We sat together under a blanket and drank ginger ale together and watched a weird Pac-Man cartoon.
I'll be honest, we didn't have any of the mother-son banter I'd imagined. He was engrossed in the TV, and most of the time it seemed like he didn't even know I was there.
But also, I know he knew I was there.