One side effect of having two kids in school is that we look forward to the weekend more than ever.
"Is today the weekend?" Mary asked me one Tuesday morning.
By Friday we are all tired and ready for a break from the bus stop, packed lunches, and wrestling all that hair into a school-appropriate ponytail.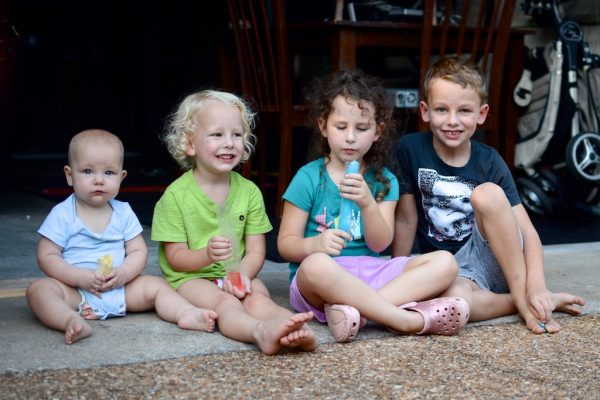 There are times when things are happening in the world and I choose to be quiet here on the blog. I can't imagine that anyone ever notices; I'm not a voice people look to for social direction or motivation. This is, by design, a mostly-fluffy mommy blog. If you want a story about dragging a toddler down the street, you've come to the right place. Social and political commentary? Keep clicking.
I'm quiet because, unless I feel like I have unique knowledge or experience, I don't want to add to the noise. Having a URL (or a Facebook profile) does not make one an expert.
But on the other hand, it feels flippant to write a story about, say, a teething baby, when the nation is in upheaval.
This week has been heavy. There has been a lot of grappling, and it will continue.
Last night I read the news and caught up on the Senate Judiciary hearings for Supreme Court nominee Brett Kavanaugh. During the day, I was distracted by yard work with Thomas, and making homemade rolls that didn't turn out. But after reading and listening, I joined in on the grappling.
This is really hard. It's divisive, and no matter the outcome, there are major, major consequences. I do not know what will happen, but I do know that Jesus is truth. When the vote falls there will inevitably be losers, and my prayer is that, come what may, in this uncertainty and discord we will take God at his word. Not influenced by a vote; God is sovereign, the one true judge and king, Lord of lords, forever and ever.
But. He is not a remote authority who presides over his people. The true judge, whose judgements have actual consequences for eternity, walks among his people, binding wounds, wiping tears, redeeming the deepest abuses and heartaches. Jesus is the judge and justifier. Sovereign and good. Hallelujah.
May this discord and angst cause us to love one another and long for Jesus, whose promises will not fail.
This verse is usually associated with Christmas, but I keep coming back to it today:
"For to us a child is born, to us a son is given; and the government shall be upon his shoulder, and his name shall be called Wonderful Counselor, Mighty God, Everlasting Father, Prince of Peace."
– Isaiah 9:6