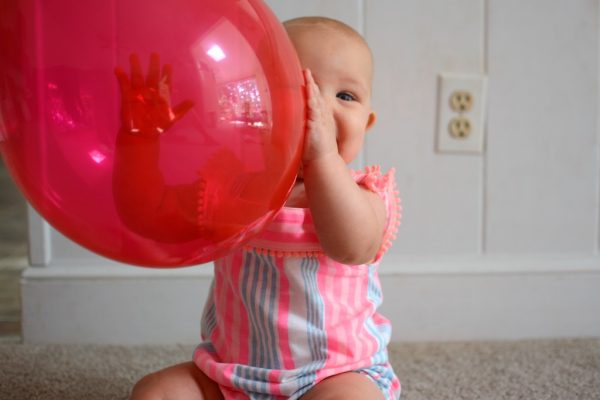 Anna is nine months old, but when I sat down to write this post I accidentally wrote "8 months" in the title. I don't think you can blame me. No one, not anyone, could be expected to keep track of the months when they're moving as fast as this.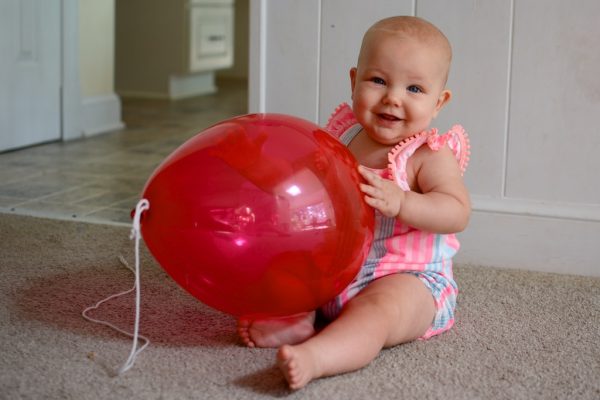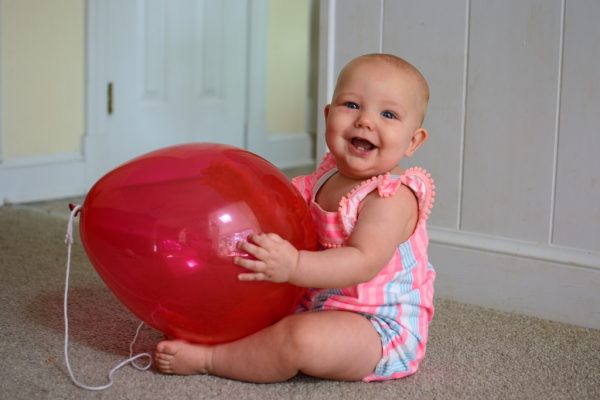 I'm not exactly sure what happened this month, except that we were very busy and barely did anything. That's always true, I suppose, when you have four kids. Every single minute is busy and full of requests. Even though I am The Most Boring Mom In History (trademark pending), and we barely go anywhere or do anything (Sorry kids! Unstructured play! You'll thank me one day!) every day seems very, very busy.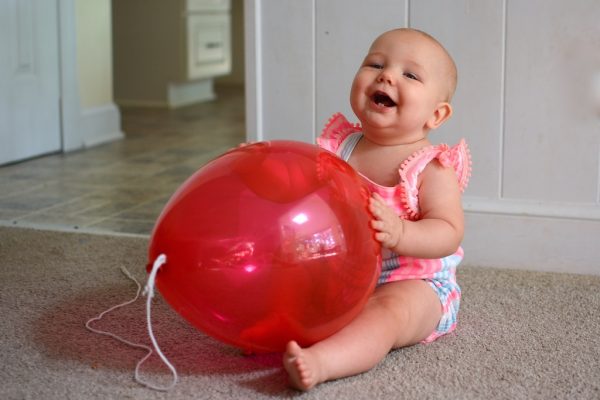 Anna is everywhere and all over the place and the best way I could describe myself during the day is running — constantly running from baby to toddler to big kid, then back to baby again.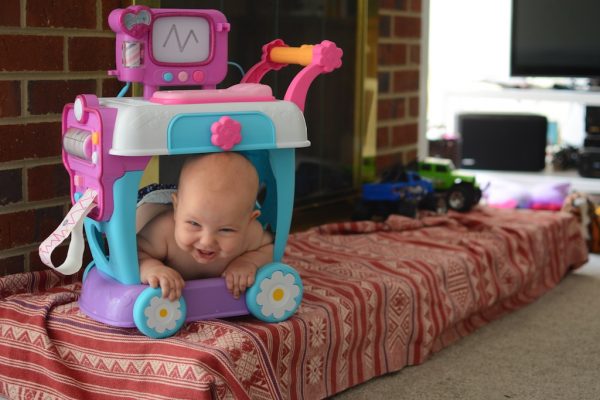 This month we took our very first road trip since Anna was six weeks old, and Anna lodged a formal complaint against her carseat. The complaint lasted the duration of the three-hour drive, except for a brief 20-minute intermission. When Anna did finally fall asleep for 20 minutes, I made the awful mistake of assuming that she'd sleep for the rest of the drive. And WHY!? What was I thinking?? The moment she stopped fussing, I propped my feet up, and started doling out snacks. I even made a few jokes!
Then Anna woke up and The Most Stressed-Out Mom In History (trademark pending) elbowed Chill Mom (trademark request cancelled) out of the way and spent the rest of the drive either with her head in her hands, or making futile attempts to appease Anna.
Every time I handed Anna a toy or a snack she took it from my hand and threw it straight to the ground, as if to say, "Do you really think I'm upset because I want a RATTLE? I WANT TO GET OUT OF THIS CAR WOMAN!!!"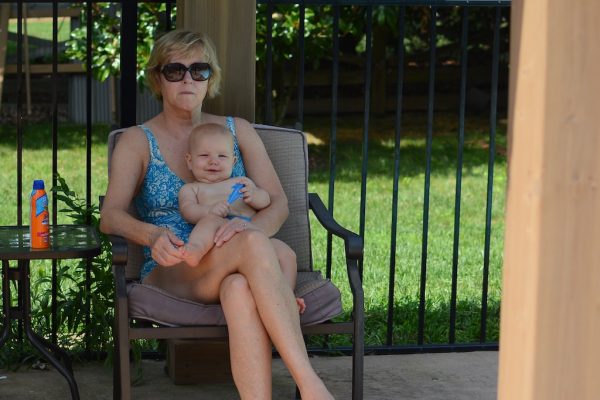 That three-hour car ride was the low point of this month for Anna. Aside from that, even though she spent most of the month teething, Anna remains equal parts happy and chubby.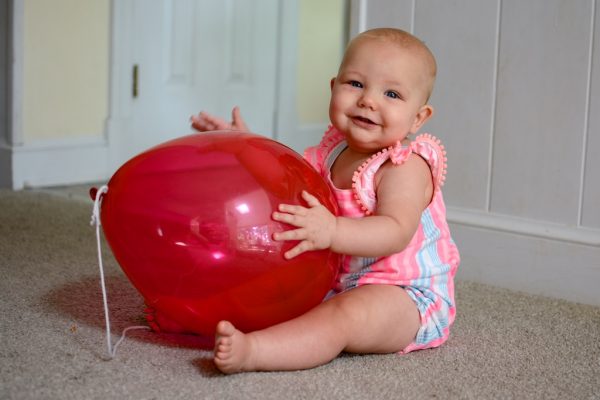 Just before her teeth started making the long, painful voyage through her gums, Anna had started sleeping much, much better. You might have already guessed that her new teeth disrupted her sleep. She now has four teeth, two more just under her gums, and fourteen to go. FOURTEEN!
I currently have a seven-year old who is rapidly losing those teeth that I once lost sleep over, and then diligently brushed and cared for for YEARS. This whole human teething process is so awful and inefficient. I could write essays on that topic alone but content that lurid can only be published on the dark web.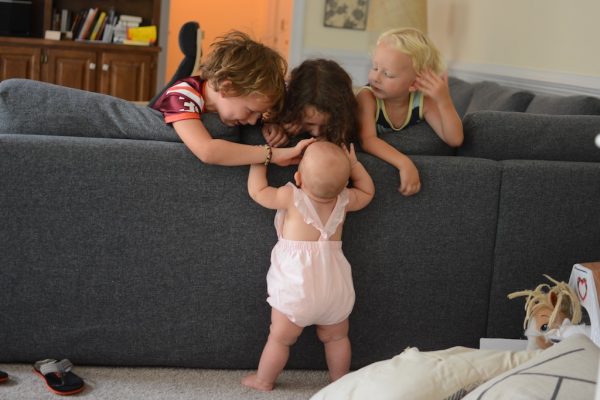 Anna eats three meals a day with us, and whatever else she finds on our floors (whoops).  Her favorite food is her morning eggs, and she can eat an entire peach in under 30 seconds. She nurses maybe four times a day, and takes two naps. We put her to bed every evening at 7:30 p.m. and she usually wakes up at least three times through the night before she wakes up for good between 6 and 7 a.m.
Anna is now standing confidently, beginning to cautiously cruise on furniture, and this month she discovered our stairs. Hey! Anyone got any recommendations for a non-frustrating, non-expensive baby gate?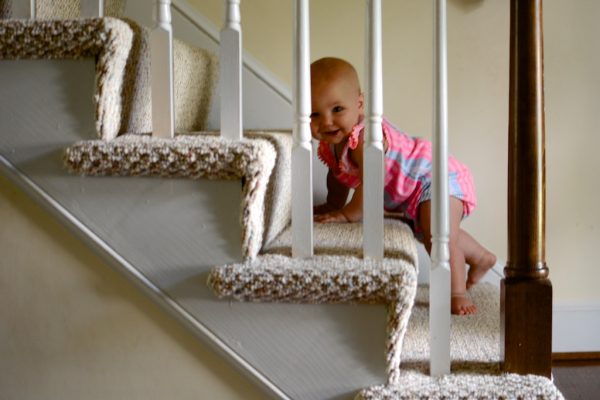 Have I mentioned that she's a happy baby? She's grumpy maybe three percent of the day. The rest of it, though? Smiles and laughs and sweetness.
We took Anna to a wedding this month, and all night people asked us, "Is she always this happy?" Each time I would look at my baby girl, smiling even though it was hours past her bedtime, and answer earnestly, "Yes. She's always like this."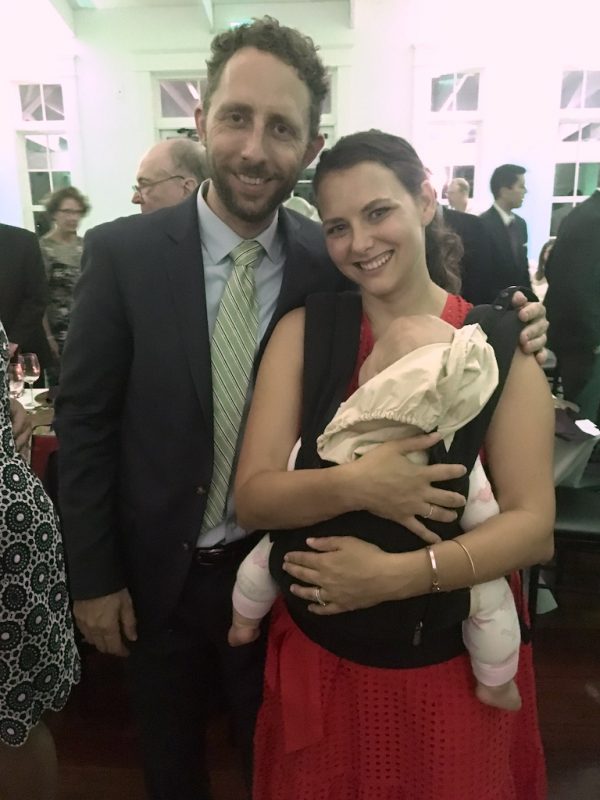 Every time I put Anna to bed, I nurse her, and then lower her onto her mattress. She flips over onto her stomach, tucks her knees under her belly, props her bottom up in the air, and then reaches behind her, looking for the baby blanket that drape over her back.
Before tiptoeing out of the room, I stand there and take her in, my beautiful baby girl (trademark pending).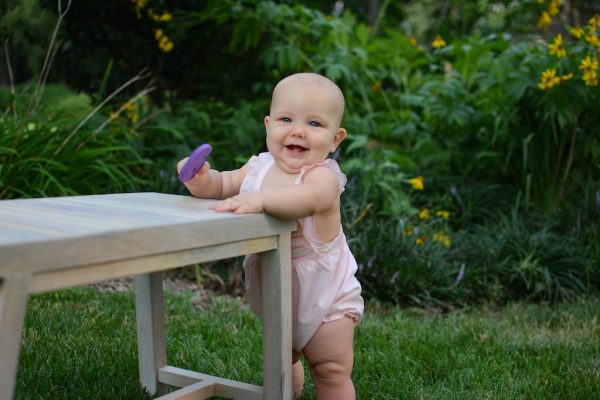 Dear Anna,
I call you Boozie. Anna-Boo, Boozie-Boo, whatever comes to mind. I can't quite remember where that nickname came from, but it's stuck, for me anyway. Everyone else calls you Banana or Meatball, but you are my little Boozie-boo.
Now you are nine months old and I feel like our heads are coming up from underwater. Those first few months with you were crazy, not because you were particularly difficult, but because having a newborn up-ends a family in a way that's unavoidable.
But now you've settled into a routine of two naps a day, you're nursing a lot less, and I'm starting to get in the groove of life with four kids. (Starting to.)
The dust is clearing, and it's so obvious that when God gave you to us, he knew exactly what we needed. No matter what is happening, you give us a reason to smile. You are unending optimism, joy, and generous laughter. You are sweetness and sunshine, and a daily reminder to me that God is good.
Love,
Mama