On our second snow day last week, the boys went outside. Since it was too cold for Anna, I stayed inside. Since I stayed inside, Mary Virginia stayed inside where she could maintain at least one point of contact with me.
The boys were running around, criss-crossing the yard and going into our playhouse, so I was having a hard time keeping track of where they were. David is six, so I mostly trust him to not wander out of the yard, but I don't trust Thomas with absolutely anything. It was about 20 degrees and windy, and since Thomas is a two-year old human boy, and not a yak, I wanted to keep an eye on him the entire time. That way if anyone did anything reckless, such as removing a glove, I could start screaming like the helicopter mom I shamelessly am.
The boys were dressed mostly identical, and I squinting out in the back yard, I mentioned to Mary Virginia that I was having a tough time telling them apart.
"Oh yeah," she replied. "That's because they both have blue eyes."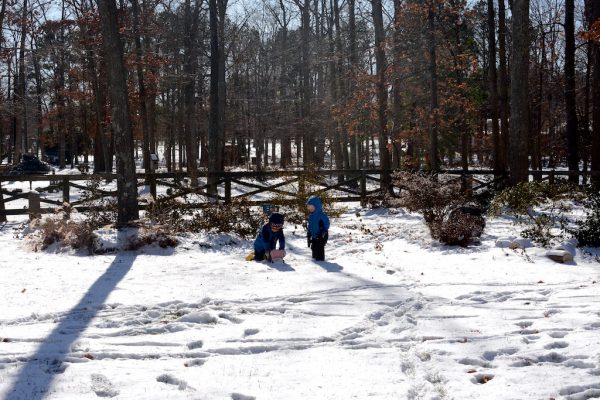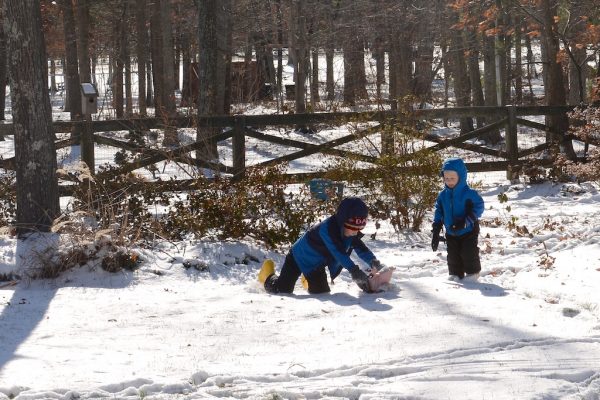 I stepped outside just long enough to snap a few pictures, and Mary Virginia stood in the doorway offering a commentary that let me know my helicopter mom-ness had rubbed off. Maybe too much.
"Mommy, why are you taking pictures? Never mind, I know. It's so if the boys get lost you can show people their picture so they'll know who to look for."