We call her fat face.
It's a nickname that stays in the family, though. We wouldn't want it falling into the wrong hands and resurfacing just in time for middle school.
But, for now, if the shoe fits, ya know?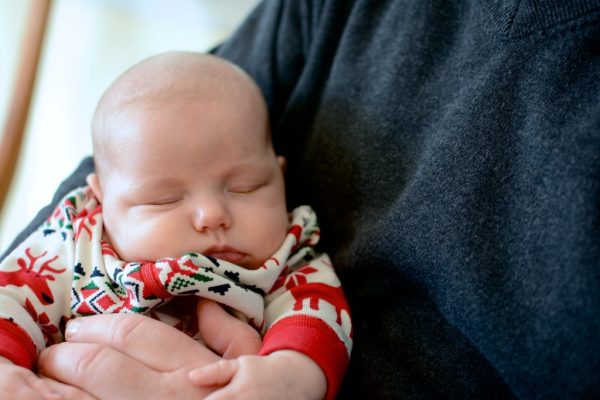 This month sweet Anna Leigh had her second cold, celebrated her first Christmas, started smiling, traveled to my hometown, rang in 2018, dodged the stomach bug, and saw her second snowfall. What a busy month! No wonder I'm so exhausted!
Anna is growing nonstop. She has bright blue eyes, weighs 12.4 pounds, is 22 inches, and in size 3-6 month sleepers. Despite all that growing and gaining weight, she still eats at least every three hours through the night. It doesn't make sense to me at all. Shouldn't she be exhausted from lugging those cheeks around?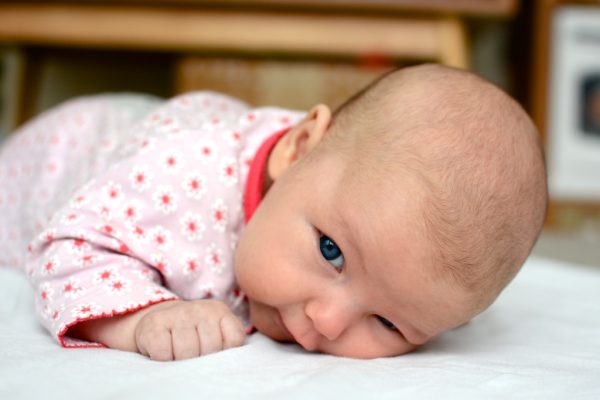 Sometimes people ask me if she's an easy baby, and before I can even answer they say, "I guess she has to be! She doesn't have a choice! FOURTH BABY!"
And then we both have a good laugh.
Turns out fourth babies DO have a choice. Fourth babies are just as capable of screaming as babies in any other birth order. If you have a fourth baby who is super laid back, congratulations. If you don't!? If your fourth baby is not about to be stereotyped, then we should get together for a glass of wine.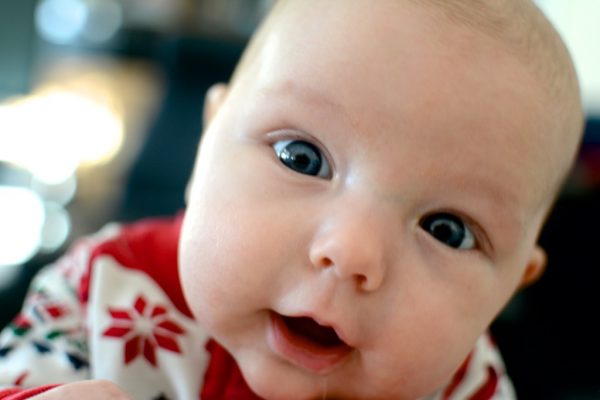 In all the things that matter, Anna is absolutely excelling. She's a great eater, she's gaining weight and developing right on track. In terms of my convenience, she gets a D-. She doesn't nap consistently, won't take a pacifier, isn't entertained by her carriers or chairs, and needs to be held all the time. Her best quality is that she doesn't talk through my favorite podcasts.
Her least favorite time of day is about 5 p.m. to 9 p.m. Consequently, 5 p.m. to 9 p.m. is also my least favorite time of day. It's a busy time, all four kids are home and I'm trying to make dinner, then trying to eat dinner, then trying to clean up, then trying to get everyone to bed. During all of that, either Tom or I are completely out of service because we're holding Anna while she fusses.
She hasn't fallen into any sort of schedule or rhythm except for her very, very predictable fussy time.
During that time she doesn't know if she wants to be held, swaddled, put down, nursed, in her swing, or in her Rock n Play. She tries it all and isn't ever satisfied, she just knows she wants SOMETHING so she chooses option X, screaming. She's like a 25-year old having a quarter life crisis — unsure of what direction to take so they just decide to just complain on Twitter.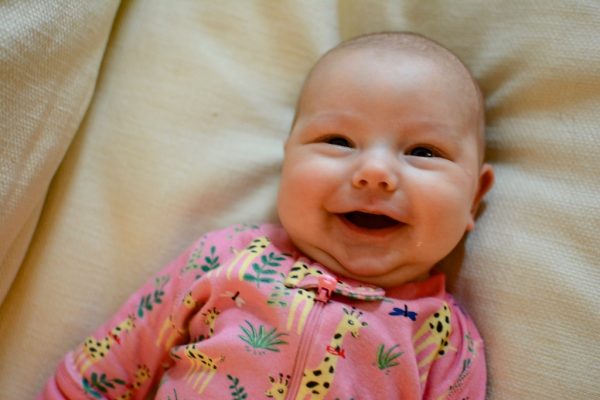 Before I complain too much, I have to also mention that Anna is impossibly sweet. She has bright, beautiful eyes, loves being surrounded by the noise of her brothers and sister, and is so, so snuggly.
I think Anna might be my fussiest baby, but I'm not sure if that's because she actually is fussier, or if it's because I have less time to focus on her to anticipate her needs and keep her from fussing. All I know is that we're still taking it one day at a time, trying to find time between chores and kids and keeping Thomas off high furniture, to just stare at the wonder of my new baby girl.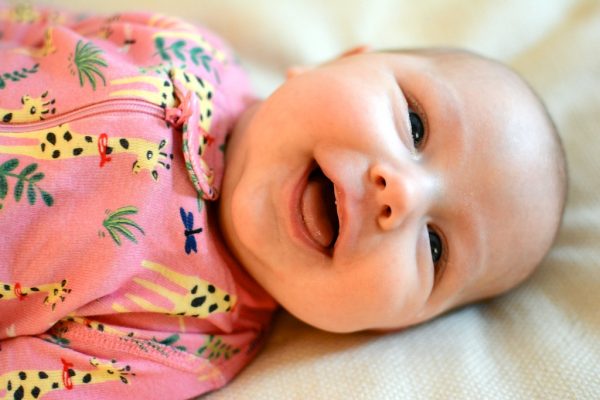 Dear Anna,
You're positively beautiful, wonderful, and a delightful blessing. But you aren't easy.
It's fine, really. You have a lot to say, I get it. One day you can start your own blog and maybe that'll give you an outlet for all of your FEEEEEEELINGS. Until then you can just cry while Mommy or Daddy holds you.
We shush you all the time. All the time.
If we have learned anything as a country this past year, it's that you should always speak up for what's right. God gave you a voice, and I want you to use it. For your own protection, for the rights of others; always stand for truth, justice and love. I hope you and your siblings grow into women and men who do not shrink in the background, but know their worth and the worth of others, created in the image of God.
Use your voice. Be heard.
(But maybe chill out during dinner, eh?)
Love,
Mama