UPS delivered my final package this morning. I did almost all of my shopping online this year, including stocking stuffers. I have only been in one store in the past month, and it doesn't count because it was Target and it was mostly because I only had the baby with me and I wanted a latte.
We have it so easy — to be raising small children in the age of indoor plumbing, antibiotics, and Internet shopping. WITH FREE TWO-DAY SHIPPING!
I've written about this before:
"Shopping this year was easy because of THE INTERNET. I bought every single gift online, and only paid for shipping twice. Every time I clicked "checkout" I thought of people who raised babies before the Internet and had to shop in stores. That they had to drive to. And park their car. And then unload their kids, their bags, and before walking into the store they had to lock the car by PUTTING A KEY IN THE DOOR AND TURNING IT. I can't think of a more inconvenient way to lock a vehicle."
The other day our doorbell rang, and when I went to answer it, all three kids ran out to the porch with me. By the time I opened the door, the delivery woman was practically back to her truck, and she waved and shouted, "Amazon!"
"Thank you!" I replied. Then she paused and looked at her little handheld scanner, then back up at me.
"Are you expecting another one?" she asked.
Very, very aware of my six-week postpartum belly, I smiled as kindly as I could and responded, "I actually just had another one!"
She looked confused, and looked at her scanner again, and then at me. "No, I mean…another box. Are you expecting another delivery today?"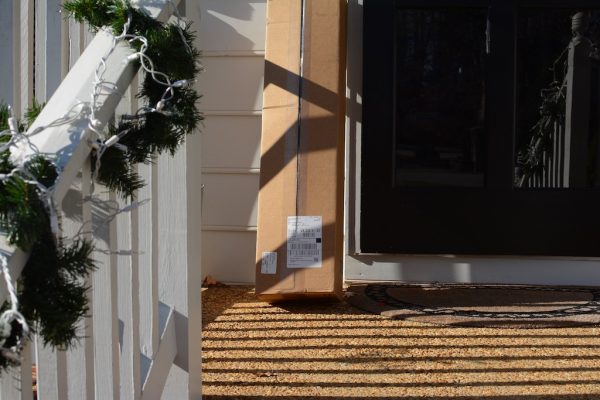 David has never been completely sold on the idea of Santa. Ever since he could speak in sentences, he's asked us with squinted, suspicious eyes, if Santa is real.
We hedge, we always hedge — walking a fine line between letting him believe in a very fun childhood tradition, not wanting to lie to our kids, and placing importance on the true reason we celebrate Christmas.
But this year when he asks, I get a faraway dreamy look thinking of all the packages that have shown up on my doorstep. There are gifts under my tree and I haven't had to put my newborn in the van and drive to the mall! Not even once! So who am I to question the existence of Christmas magic?