This is one of the most simple, best ideas I've seen in a while, and we've had so much fun this summer participating.
Ah, there's one of the great things about this — anyone can participate.
This project is easy, free, fun, inspires creativity, gets you outside, and encourages community. It does everything except  fix healthcare reform.
But I'm getting ahead of myself. Let me explain.
What I'm talking about is RVA Rocks — a community project of hiding painted rocks in public places. What could be more simple? Paint a rock, hide it, and soon after someone finds it and it makes their day.
I'm not sure when I first learned about this project, probably Facebook or Instagram, but it immediately piqued my interest. I'd seen people talk about finding rocks in nearby parks, but we didn't really get involved until David found this awesome rock at a park.
We took the rock home with us — generally the idea is that you re-hide it unless the rock is particularly inspiring or special to you. If you take it, you're supposed to replace it with another that you painted. When you're five and you find a volcano rock, it's ALWAYS special, so we kept it. David put it in his pocket and we promised to replace it x10.
David went home and immediately designated an egg carton for found rocks. He told me he just needed 11 to fill it completely, and he keeps counting just to quadruple-check his accounting.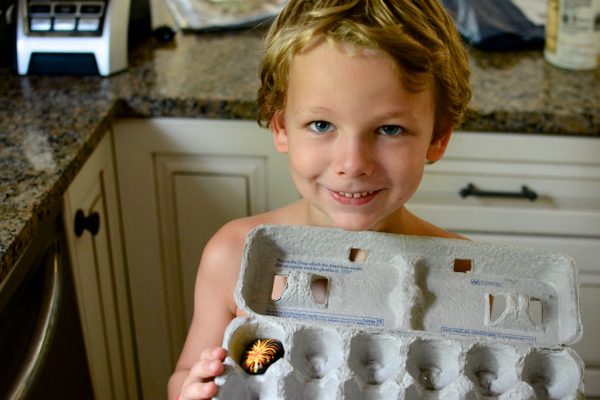 To make good on our promise, we went rock hunting in our yard and the woods behind our house. The kids went running wild with their bags, Thomas included, and came back with some great rocks.
We got out our acrylic paints and I said a special prayer against mess and chaos, and delivered a particularly moving speech about how these paints are different from our normal (washable, typically watercolor) paints. These are STRONG paints. You MUST listen to instructions. You may not paint your thigh. You may not have a handful of yellow paint and then decide to run into the house. Mama is not playing.
(Pssst — next time we paint rocks, I'm planning to use paint pens, something like this.)
I set them all up on their very own cardboard paint station, and it worked really well for thirty seconds.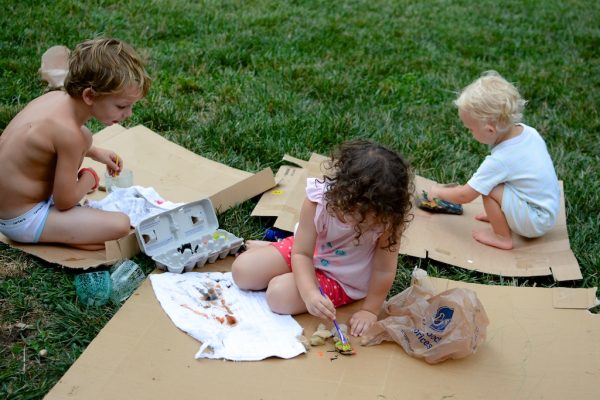 My plan was to sit with Thomas, but the  moment I got up to take a picture he made a break for it.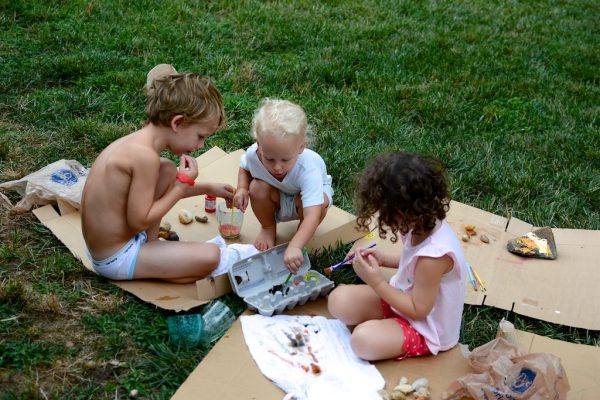 He mixed all the paint, stole a few rocks, and put blue paint in David's hair. He laughed the entire time.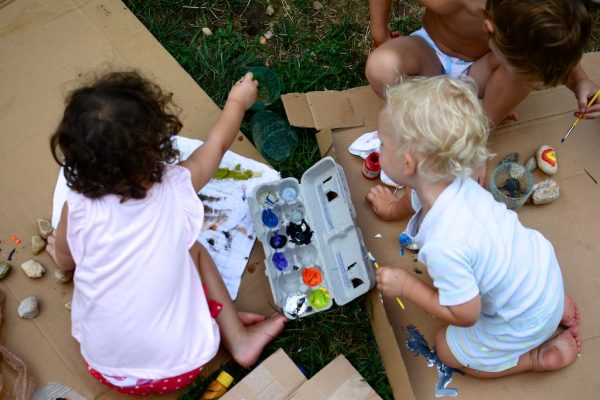 Eventually I lured him away with a Popsicle while the big kids finished, then threw everyone in the pool.
(FYI: pool water does not remove acrylic paint from any surface.)
Thomas mixed a lot of the paint into a nice shade of grey, so some of our rocks don't look like painted rocks at all. That's ok. I suppose it just makes them all the harder to find.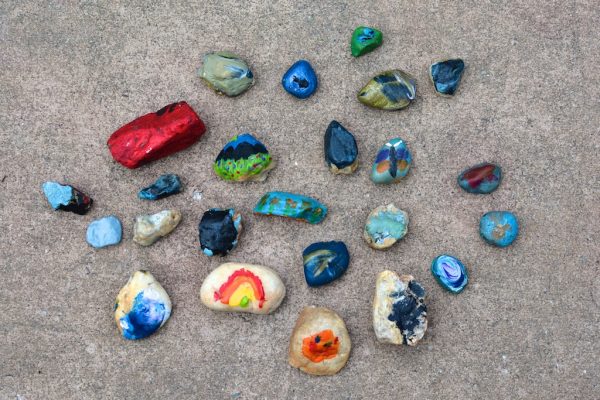 The next Saturday we took a family bike ride to a nearby park and hid all of our rocks; we found a few as well. Now we get to check the #RVArocks to see if anyone found our creations.
https://www.instagram.com/p/BW7t0WNFged/
(You can click on the arrows on the side of this photo to see the rocks we found.)
If you visit the RVA Rocks Facebook or Instagram page, you'll see that there are some really incredible creations out there. Like, some seriously beautiful rock art. But as beautiful as the art is — excuse me while I get a little corny here, remember, I'm pregnant — I think the real beauty of this project is the simplicity. The joy of finding a rock (like, not just for kids. I get super pumped when we find rocks), the creativity of making your own rock, getting out into nature and exploring your city, the way it gets families and individuals into and involved with community.
Pardon the pun but I CANNOT HELP MYSELF: it rocks.
You can visit the official RVA Rocks Facebook page here, their Instagram here, and see even more rocks with the hashtag #rvarocks