I've entered a new, strange phase of parenting where I hear a lot of talk about kids moving on from toys. I was dropping David off for a playdate once and, looking around their pristine home, I asked, "Where are all the toys?" She explained that her son, who is younger than David, doesn't play with toys anymore except for the Legos that are kept in his room.
Soon after, I saw a post on Facebook — "My daughter doesn't really play with toys anymore, anyone have any birthday ideas for a 9-year-old?"
One morning I was at a playground and my friend mentioned that her 8-year-old gets bored at playgrounds, so she has to come up with challenges to keep him engaged.
I know that all kids develop at different rates and have different interests, but I can't relate to this at all. David is almost nine and my house is still mostly toys. I still find Hot Wheels cars and plastic dinosaurs in his pockets when I'm doing the laundry, and collections of charms and plastic pieces on his nightstand. He still runs onto a playground with the same gusto as he did when he was three. This desire, this eagerness to play is something I hope he isn't anywhere near growing out of.
It's true that his interests are changing. At almost nine, David is an official big kid, and his favorite past times also fall solidly in the "big kid" category. He loves to read and he loves to play Legos. (He'd probably also ask me to add that he loves to play video games and watch YouTube, but I would like to add that those are "aspirational" hobbies that he almost never gets to do.)
David loves to ride his bike, prefers toys with the teeniest of pieces, and asks for science kits Christmas, but he's also just as likely to lay on the floor and play with Duplos, build a train track with our wooden train set, and once in a while he even picks up Anna's board books.
A lot is said about how older siblings mature their younger siblings. I think there's a lot of truth to this — Anna is more independent and capable than any of my other kids were at her age. And Thomas only knows about Pokémon and Beyblades because of his older brother.
But I think younger siblings keep their older siblings young, too. There's a good chance that, if I didn't have Anna, I would have gotten rid of our Lil' Tikes Cozy Coupe. And if I had done that, David wouldn't be draped over the top, riding it around our driveway. At some point, I'm sure, we'll get rid of our wooden blocks and doll strollers, but that's years away. And, for now, everyone is benefitting.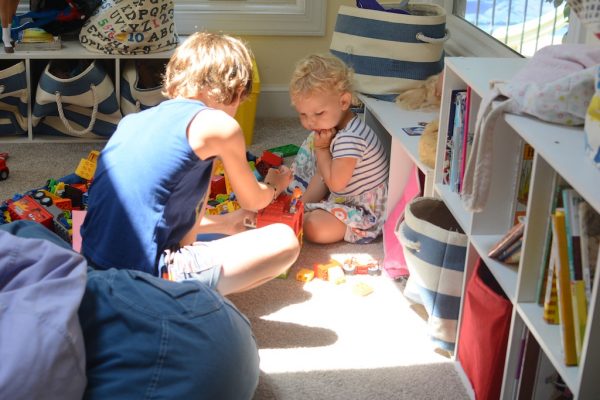 Perhaps the lesson here is just that we all learn, grow, and expand our interests because of each other. Perhaps that's another silver lining emerging in my home in these weeks and months of unbroken togetherness.