Last year, right around this time of year, David sat down at the table with construction paper, scissors, and glue, and independently handcrafted a valentine for his best friend. I was really, really impressed. I hadn't given much thought to the valentines he was going to give out to his class, but right then and there I decided we were going to make our own.
I suggested he  make another and he did — with enthusiasm and creativity. After the third one he moved on to Legos or Play-doh or something else. But I was satisfied and decided that if he made three a day until Valentine's Day, we'd be fine.
We managed a classroom full of valentines, but just under the deadline. By the time we were done David was SO OVER it, and he was doing the bare minimum for each card. But we did it. After the experience I decided two things:
I need to be more realistic about my kids' attention spans when it comes to crafts
As long as my kids give out valentines, they will be homemade
It's not even February and we're already neck-deep in Valentine construction. This year I want to give the kids plenty of time to make them, and I don't want to have to force them to craft. They say you can taste love in food, maybe it's the same for crafts, eh? This year we all sat down and took some time to plan valentines that they were all excited to make and give out, and I love the final products.
David's sticky hand valentines
Supplies: 
– Cardstock
– Assorted sticky hands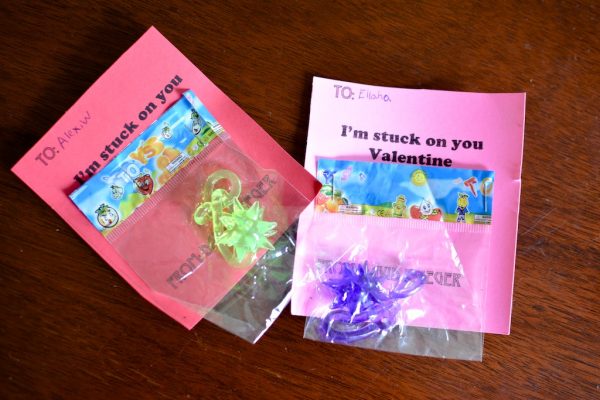 I didn't mention this little detail about Valentine's Day last year — David came home and was furious that he was the only kid who gave out homemade Valentines. I tried to encourage him that homemade is COOL! And he rolled his eyes…as if he needed more proof that mom is the most lame E.V.E.R.
This year he's making valentines that he thinks are cool. Or, as he said when he got off the bus the other day, "sick."
I ordered this giant pack of sticky-stuff from Amazon, then helped him use my computer to make a card. He typed the phrase, then I showed him how to choose a font (he loved that part. SO COOL, MOM!!!) and I formatted and printed them out.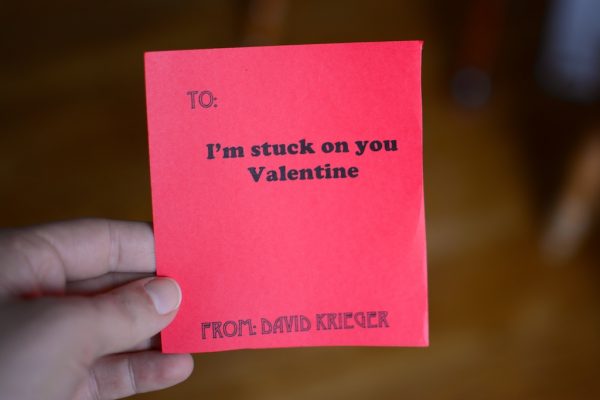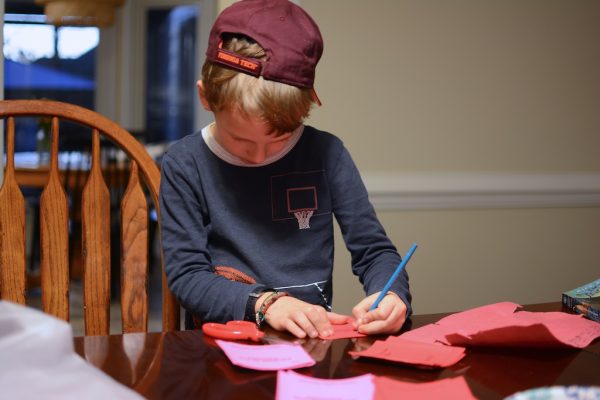 David cut out the squares, wrote his classmates names, and painstakingly selected a sticky toy for each person, which he stapled onto the card.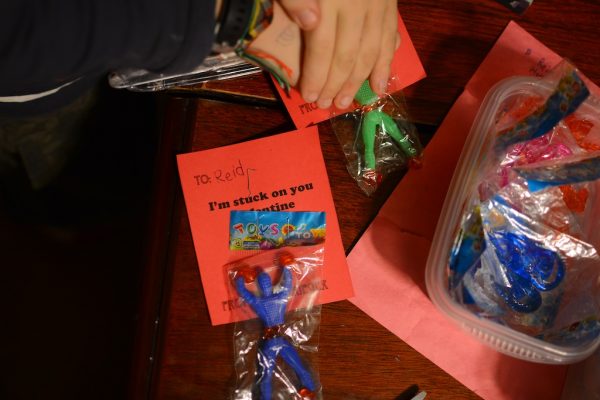 He worked diligently and it probably only took him about 15 minutes.
Part/all of the incentive was that I told him he could play with the leftover sticky hands once he'd given one to everyone in his class.
I think they turned out great, and he's really excited to hand them out.
Mary's bracelet valentines
Supplies:
– Cardstock
– Alphabet beads
– Beading thread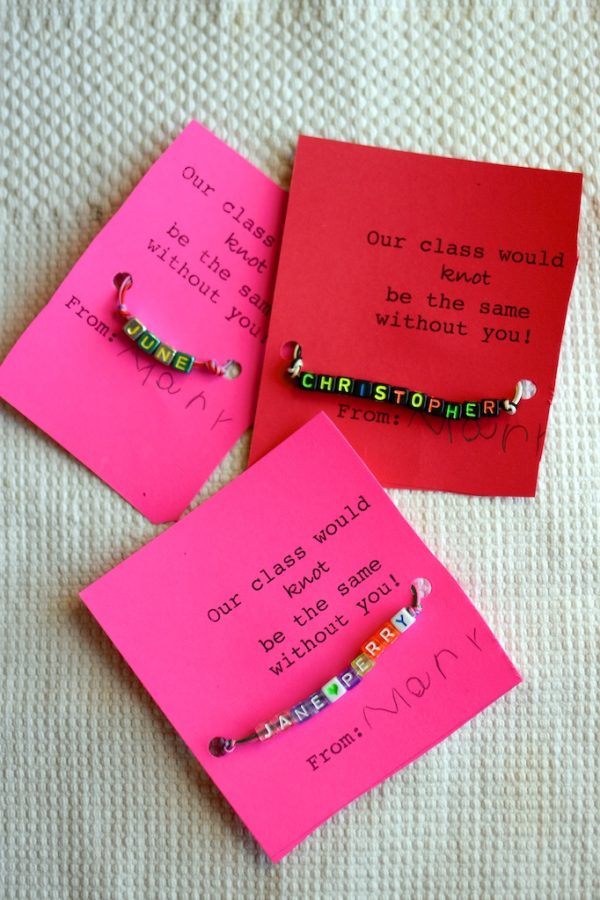 Mary's valentines were the most involved, which makes sense if you know Mary. Preparations are her love language.
Initially we planned on making knotted friendship bracelets, but then I realized that it would be great letter recognition and fine motor practice for her to make beaded name bracelets.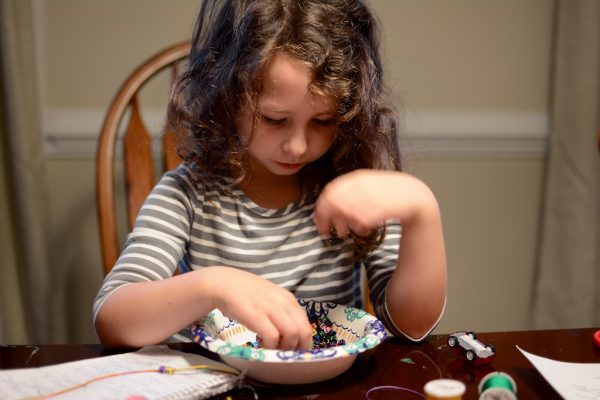 Because I knew it would be a lot of work, we started with plenty of time (and as I publish this, we still aren't completely done).
We used three strands of beading thread for each bracelet, and Mary put a lot of thought into which colors to give each person. I prepared each bracelet for her by cutting, knotting, and wrapped a bit of tape around the three strands of thread to make it easier for her to do the beading.
We wrote the names of each of her classmates together so she could find the letters and thread the beads independently.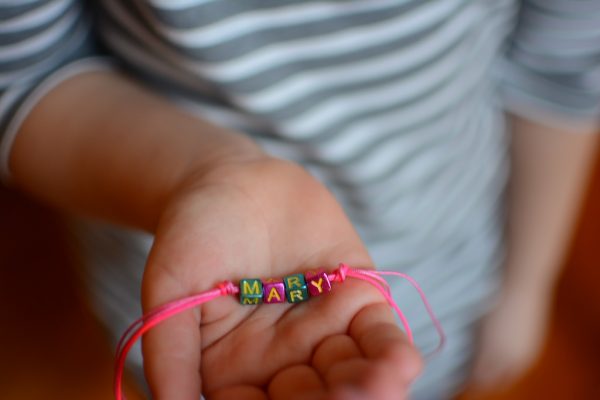 I helped her make the cards on the computer, then I drew lines as a guide and she cut out individual cards and wrote her name.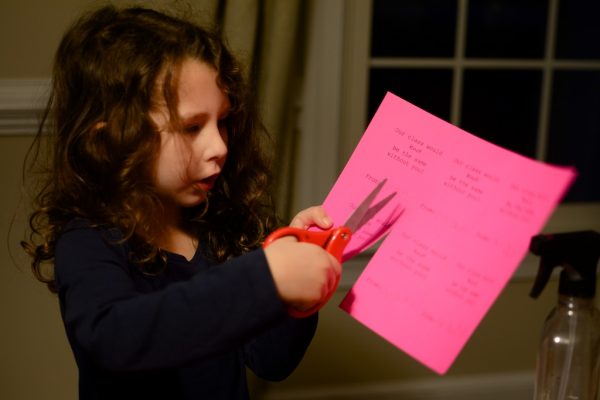 To assemble, we punched holes in each card, then threaded the bracelet through. I tied a loose knot, and then Mary taped it to secure them.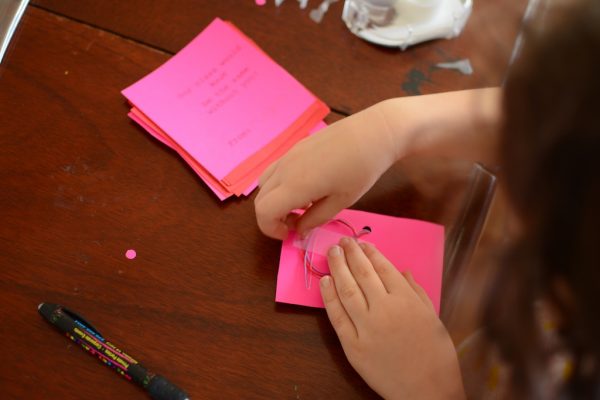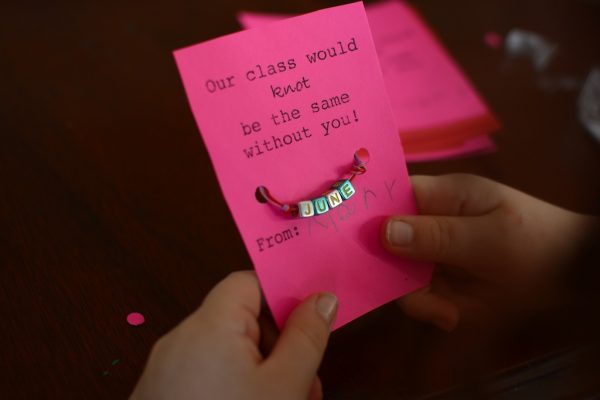 Thomas's Spiderman valentines
Supplies:
– cardstock
Thomas's valentines are my absolute favorite.
When his siblings were making their valentines, Thomas climbed on the table and insisted on making some too. But, in true three-year old fashion, after that display of passion he was tough to rally.
Thomas watched but refused to help as I made hearts and drew a web with a sharpie. While I was doing that, David traced a bunch of eyes WITHOUT BEING ASKED. Isn't that the sweetest thing you've ever heard? A big brother helping with his little brother's valentines!? COME ON!!
When Mary saw me praising David for his help, she drew a bunch of hearts on pink paper to make pink Spidermen. I wasn't planning on making pink hearts, but I loved her idea and welcomed her help and initiative.
(In sum, David and Mary did more for these valentines than Thomas did.)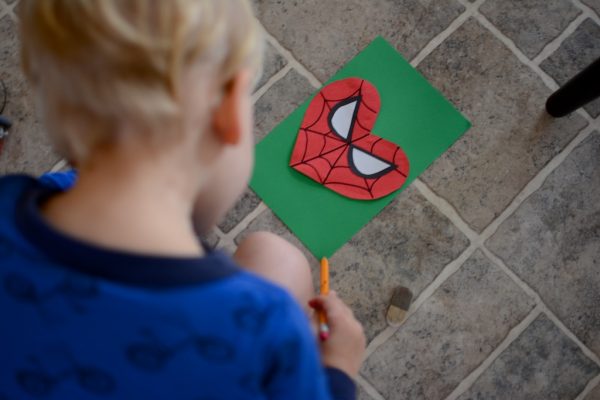 Thomas's preschool teachers have taught the kids the first letter of their name, and he loves finding his T and writing his T.
So, for his valentines, I asked him to write his T. Sometimes I had to write a T as a guide, sometimes I didn't. I gave him lots of breaks and also spread this task over a few days.
I also welcomed him to help with any of the other parts — gluing or placing the assorted pieces. He sometimes wanted to, sometimes didn't. Managing expectations should perhaps be step one in any craft with a three-year old.
(If you have a more enthusiastic helper, they could also trace the lines of the web, cut out the hearts, etc.)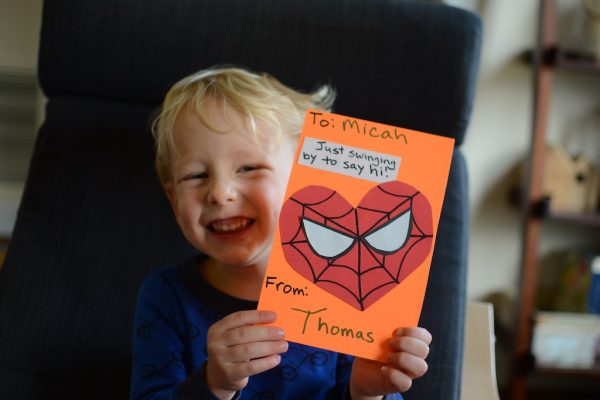 Thomas LOVES the end product, so much that he actually posed with these cards and ASKED me to take these photos. He wanted a picture with each one, but I stopped it at two.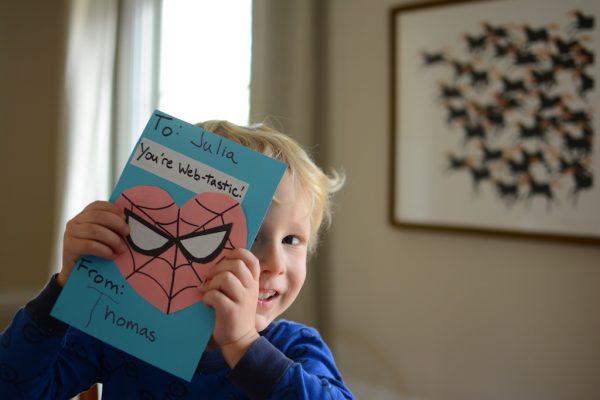 He is very proud of them and wants to give them out NOW, which makes me really happy.