On the first day of summer break we shared a big bowl of watermelon on the porch, then kids made a mud pit in the back yard while Anna and I sat on a blanket at a safe distance. When we got too hot and dirty, we all jumped in the pool. Before nap time, the kids had the idea to climb into Thomas's crib while David read a book.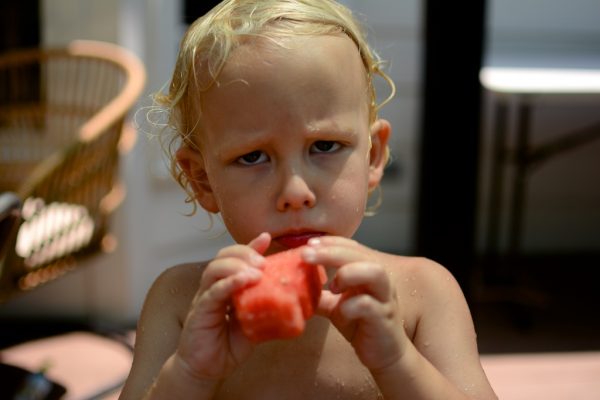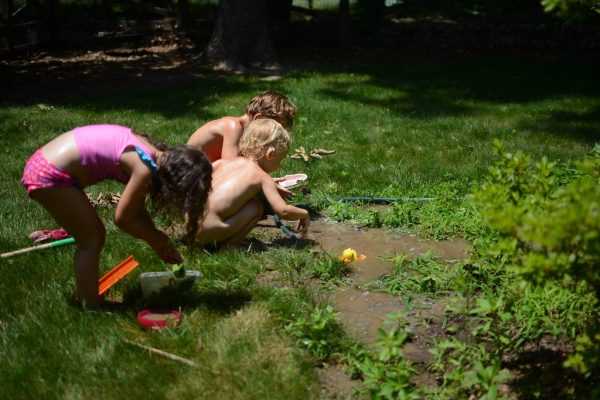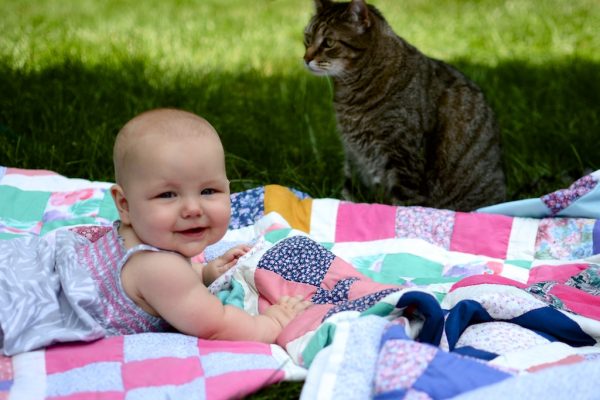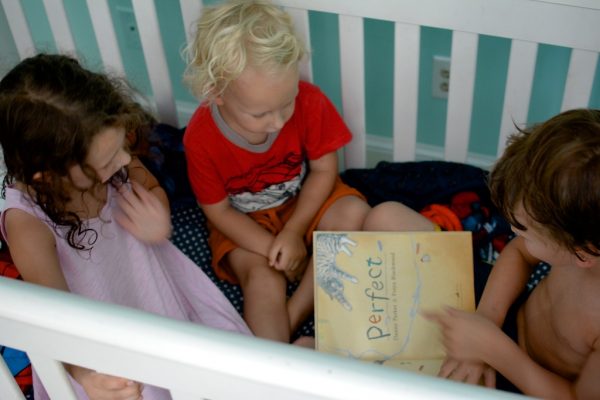 It was exactly what I'd been looking forward to in the weeks leading up to the end of school. But before you roll your eyes and write me off as one of those "my life is perfect and my kids are made-for-Instagram cherubs" let me add: the kids bickered ALL MORNING. I set up an activity that lasted about five minutes until Mary started SCA-REAMING because David drew a picture of her wearing boots. BOOTS! As if that even belongs in the category of "mean big brother caricatures."
Then I told them to go outside, and they spent the next 15 minutes finding excuses to come back in, so I started threatening them with things I won't write here because this is a family blog.
But then, after all that struggle, our morning unfolded into mud and imagination.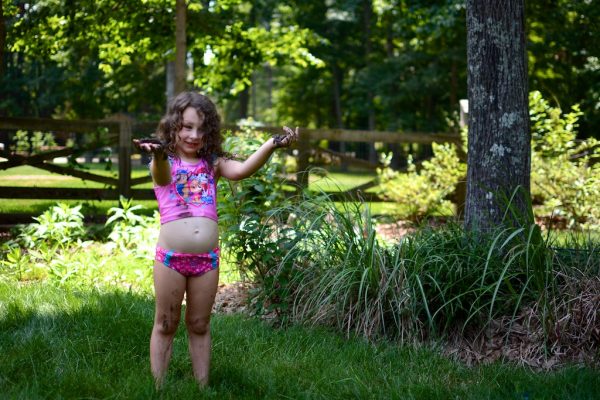 I have a lot of ideas about our summer. We'll spend a lot of time at home, a lot of time together, doing a lot of unstructured play. I want to shield this time from structure and allow for independent play, but I also know that kids don't always respond to their mom shouting, "GO PLAY!" from the couch.
After preschool ended I could tell that my kids were getting restless. I realized that the ideal of free play isn't realistic. Not for my kids, anyway. I was expecting them to take initiative when they needed a little guidance. Maybe this is confusing to you because your kids dive into play without 30 minutes of whining. Or maybe you're reading this thinking, "Um, duh, your kids need guidance." Either way, this is how things ended up in my house with the low level of patience God has blessed me with in this season of life.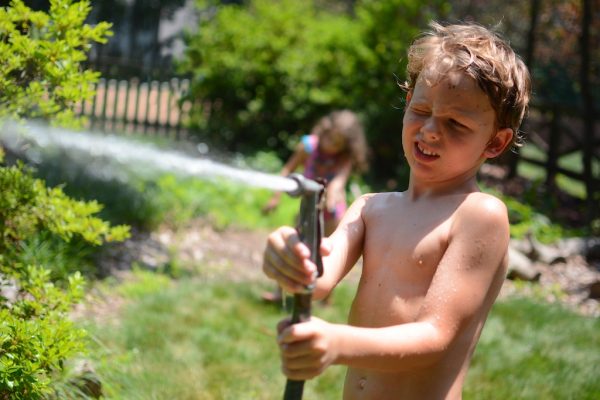 Armed with this new realization, one morning when Mary and Thomas were especially whiney, I made a big batch of cloud dough and handed them some scoops. They played all morning. And when they were done, I filled up the water table and they washed everything. By then it was lunchtime and we'd had our best morning in weeks.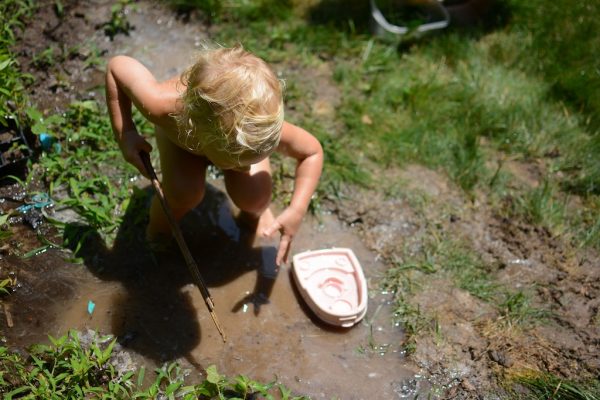 That's when I decided to create a list of activities that are easy, require little planning, little prep, and are hopefully fun-ish for kids ages three to six.
Here's what I have so far. This is different than a summer bucket list. Rather, this is a list of ideas that I hope will redirect our day. This is for when the kids are listless and I'm at my wits end and am tempted to turn on the TV. In those moments, I want to opt for a big bowl of cloud dough. Because that makes for a more memorable morning than a screen, and that sort of thing is why I've been looking forward to summer vacation.
These mostly require little to no planning or prep, few supplies, and are either not messy, or are mess that is best enjoyed outside. 
Here's what I have so far. But this isn't going to last all summer, so help me out and share your favorite summer activities with kids.
Note: All of this stuff involves different levels of supervision and some will happen only while Anna is napping because they (water beads!) aren't safe for babies. Where clarification is necessary, I either linked to instructions or wrote a brief description. If you're the Pinning type and would like to launch my blog into Pinterest fame, there's an image to pin below. 
Easy summer activities with kids
Blow up balloons
Keep a stash of balloons and blow up a bunch
Ice smash!
Freeze some toys in ice cubes overnight, then let them rescue them outside by breaking or melting the ice
Clean the walls
Give the kids a spray bottle and a rag, and let them clean some of the grime
Wash outdoor toys
Fill a bucket with soap and hand them sponges (works regardless of if the toys are actually dirty)
Hot Wheels in bubbles
Fill the water table with bubbles (or shaving cream) and toss in a bunch of Hot Wheels cars
Bake a cake
Requires a lot of involvement and patience, but worth it because, cake. 
Photo from above
Check out the hashtag #scenefromtheceiling on Instagram and challenge the kids to make their own
Write letters to cousins/grandparents/friends
Play with baking soda and vinegar droppers
Create landmarks with Legos
I love this idea, and encouraging creativity with Legos
Body tracing
Trace their body on craft paper and let them fill in the details
Water beads!
Salt dough beads (or other creations)
Choose a craft from our craft book
We love looking through this craft book for fun crafts